Johnson & Sons Paving
Smooth road ahead for Johnson & Sons Paving
Paving the leading solutions for Southern Wisconsin
Johnson & Sons Paving is a commercial asphalt-paving contractor that is well known all over the Badger State. It offers a full range of asphalt and concrete construction services for customers in southeastern and southwestern Wisconsin, including Milwaukee, Waukesha, Madison, Racine, Kenosha, and their surrounding areas, and indeed now all over the entire state.
Its asphalt maintenance and repair services feature a host of functions, including seal-coating, hot crack-filling, line-striping, excavation services, asphalt-patching, paving, and a whole lot more.
According to Johnson & Sons President Jason Johnson, the company offers stormwater management: critical in a place as wet as the Badger State. Also the company's owner and founder (he created it on his own, nearly a decade ago now), Johnson pointed out that Johnson & Sons Paving is uniquely suited to snowy Wisconsin, as it offers 24-hour snow-plowing, shoveling, and ice control for commercial clients. Johnson & Sons integrates civil engineering, skilled crews, responsive project management, and state-of-the-art equipment on all of its asphalt and concrete construction projects.
As the name suggests, Johnson & Sons is a family affair. Jeff Johnson handles sales and is in charge of the sales staff, as his brother, Jason Johnson, explained when we recently caught up with him. Jason Johnson has three sons and a daughter, and he plans on his sons (currently 14, 12, and 10 years of age) one day joining him in the business, hence the name, as he pointed out to us. Indeed, the boys are getting a jump start, their proud dad says, and they are already learning to run some of the company's equipment.
Mr. Johnson informs that his company can handle any project, big or small, from residential driveways to such large commercial efforts as roadways, parking lots, campgrounds, and much more.
"Anything that gets asphalt," he says, "we can pave it."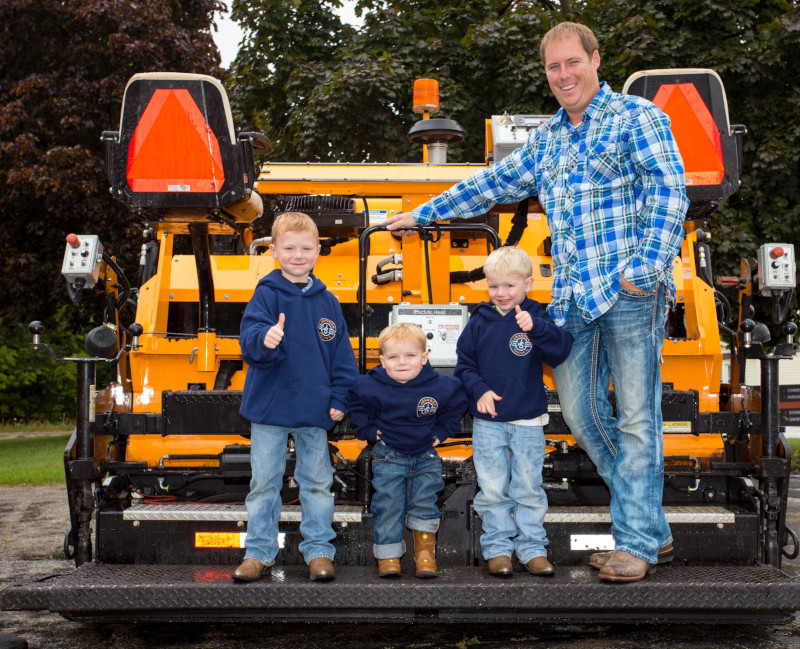 Johnson continues that he maintains a demanding schedule. He's on the job on a year-round basis, often putting in five-, six-, and seven-day workweeks.
"Just whatever we've got going on," he says, "getting everything ready. The phone starts ringing, usually before six o'clock in the morning, and it doesn't stop until sometimes eight, nine, or 10 o'clock at night."
Right now, on the concrete side of the business, Johnson's crews are working on Main Street in downtown Waukesha. They're also engaged in smaller such jobs throughout southeastern Wisconsin. In terms of asphalt-paving work, they're engaged in multiple projects, including parking lots for apartment complexes, condominiums, grocery stores, and more, also all over the southeastern part of the state.
Johnson also pointed out a major ongoing project. In Kohler-Andrae State Park in Sheboygan County, Wis., the company has a major paving endeavor scheduled for September.
Snow removal work is a Johnson & Sons specialty. Johnson points out that some customers are so happy with the company's work that they ask for it by name and won't do business with anyone else.
"We don't do it on a large scale," he reveals, "because it's very wearing on the equipment, but we take care of our good customers who want us to do their snow removal."
Stormwater management is another forte for the company.
"Everything has to do with the direction of water," says Johnson. "Oftentimes, because of where we are located, catch basins need to be rebuilt."
He continues that Wisconsin is more than just the heart of America's dairyland. With all that snow, Wisconsin can be very wet and soggy. Further, with more than 15,000 lakes, the Badger State can be quite marshy as well.
That's where catch basins come in. They are used to redirect water in an aim to prevent flooding. They are, of course, common on public streets, but they may also be installed on private properties as well. Catch basins collect rainwater or melted snow, transporting the run-off to a sump, réservoir, or treatment facility.
Residential catch basins need to be installed at the lowest point of a property. Large properties or those with uneven terrain may require more than one catch basin or drainage ditch. Catch basins use a grate to filter out large débris while collecting water in an underground tank. Most of this débris consists of sticks or leaves, though sometimes trash can collect inside a catch basin as well.
Ensuring that your property or municipality has good catch basins is among the things Johnson & Sons does best.
"Sometimes, they need to be readjusted," says Johnson, "and we can do that right in the field, as we're doing a paving project."
Good customer relations
Paving smooth relations with its valued customers is also of top priority for Johnson & Sons.
"We like to get to know our customers and what their needs are," Johnson notes, "because it's a relationship between us and our customers."
He adds that municipal paving projects are typically awarded to companies that are the lowest bidders; entities that probably don't have a vested interest in the communities they are serving. However, Johnson & Sons takes a much more personal approach, as Johnson points out, getting to know its customers and what they like and what they need, thus resulting in a more individualized outcome, unique to a given customer. Driveways may see one or two vehicles a day, whereas roadways may see hundreds or even hundreds of thousands on a daily basis, including heavy truck traffic.
"That makes a difference," Johnson observes, adding of his company's thorough knowledge of its customers' needs, "We then design a pavement around those needs."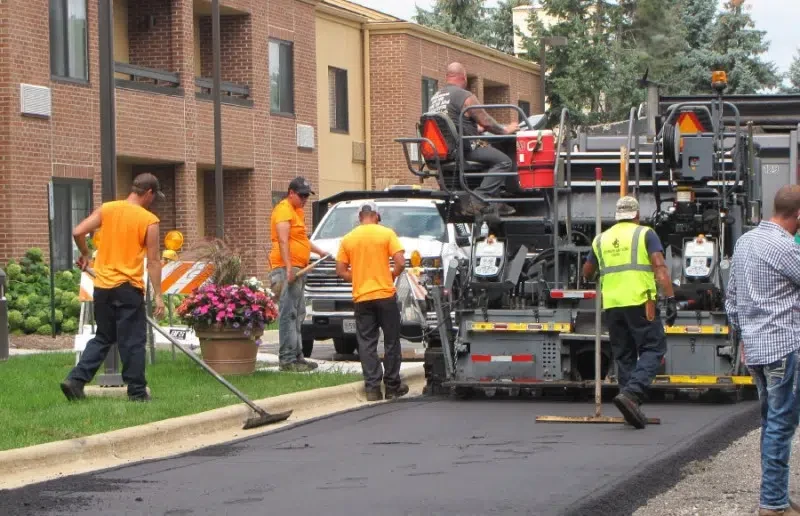 Paving the way to a successful future
Johnson & Sons Paving has grown exponentially since Johnson started the company in January of 2014. Back then, at first, he was the lone employee. Within the first year, the company had 15 employees. Today, with its concrete and paving operations combined, Johnson & Sons has about 120 employees.
"Our mission has changed a lot," Johnson reveals, citing multiple crews for preparation work, paving, concrete, striping, and other efforts. "As we've grown, the mission has changed."
Two years ago, he adds, the company created its own asphalt plant so that it could make use of its own material. This allows Johnson & Sons to have full control over the materials going into its customers' parking lots, driveways, and roadways.
Over the next few years, as Johnson speculates, the paving industry will continue to change and evolve.
"We are involved in oil," he notes. "We are involved in fossil fuels."
That part of things won't change, he adds. Yet there are efforts to include new plastics, polymers, and other such products into the manufacture of asphalt in order to make it last longer. However, as Johnson points out, the basic need for paved surfaces won't go away.
There is, he notes, a current push for electric vehicles, but they will still have to travel on paved roads, so that means the big picture won't be changing.
"Over the next 10 years," he says, "I believe we're going to see a very similar need in the asphalt world as we've seen in the last 10 years."
Will Johnson & Sons continue to be a viable voice for the paving industry? You bet, says Johnson.
"I have 10, 12, and 14-year-old boys who want to work for the company someday and carry on when I'm no longer here," he says. "We are not looking back. We are going to continue to build and do the best possible asphalt and concrete paving that we can for our customers."
The secret to the great success that Johnson & Sons enjoys? It's quite simple, says Johnson:
"Putting the customer first."
Whatever Johnson & Sons' customers expect, its employees exceed, as Johnson further points out. Whether it's repaving a parking lot removing a client's asphalt or new construction paving and grading, Johnson and his workers like to leave it better than it was before.
"We try to take care of everything on an in-house basis," he adds. "We don't use a lot of subcontractors."
Controlling their own schedules and materials is important to Johnson and his employees, as he points out. That's critical, as is being a good steward of the company that he created and looking out for its people and the clients they serve so well, as Johnson shares.
"I'm an engineer," he remarks, "and I'm a business owner. Taking care of my employees and taking care of our customers first are the most important things for me."
AT A GLANCE
Johnson & Sons Paving
What: a family-owned company that does concrete, asphalt-paving, and much more
Where: Menomonee Falls, Wis.
Website: www.johnsonandsonspaving.com