Boa-Franc
Wood Specialists, Wood Experts!
Business View Magazine interviews Brad Williams, VP Sales & Marketing at Boa-Franc, for our focus on the North American Wood Products Industry
A proud family business for over three decades, Boa-Franc is the North American leader in the manufacturing and marketing of superior quality prefinished hardwood floors under its highly acclaimed Mirage brand.
Boa-Franc was founded in Saint-Georges de Beauce, Québec in 1979 and acquired by Pierre Thabet in September 1983. At that time, they were only manufacturing unfinished boards. In early March 1984, the facility was destroyed by a major fire. However, that did not curb the ambitions of Mr. Thabet and on May 28, 1984, the construction of a new building was completed. In 1990, Boa-Franc launched the Mirage brand – their first foray into prefinished flooring and the first time they would sell outside the province of Québec in Canada. In 1992, Mirage products were introduced in the U.S. market and its growth has never stopped.
Between 1999 and 2020, Boa-Franc launched three new flooring platforms (technologies), three finishes, four collections and added new lengths, widths, and textures to existing collections within the Mirage brand. They also acquired other hardwood flooring manufacturers to diversify their activities and gain a better share in the market. In 2011, Boa-Franc acquired Vintage Hardwood Flooring located in Toronto, Ontario and in 2019, they acquired Ten Oaks Flooring in Stuart, Virginia. Reinforcing who they are today: Wood Specialists, Wood Experts!
Brad Williams, VP Sales & Marketing at Boa-Franc, shares insights into the company's operations and reasons behind its exceptional success:
"Innovation has always been at the heart of our management philosophy and we have been fighting more than ever against imitation wood 'look alike' products by highlighting the undeniable benefits of wood. Hardwood flooring comes from a renewable and biodegradable resource – Trees. Throughout its life cycle, wood requires less energy and has a positive impact on the environment through carbon capture and releasing oxygen. We aim to positively impact the well-being of people and the environment through responsibly transforming wood into the most naturally beautiful hardwood floors made in North America. It is the only floor covering proven to increase the value of your home and give the happiness of having a product that will last up to 100 years!
"We have amazing employees that have the know-how and are a key success factor for the company's success. We want them to live happy, healthy, and successful lives with their families. We have the best customers, and we consider them partners. Together, we will grow and give the peace of mind of the ultimate North American made wood floors to all end-users. It's the same for our suppliers, we believe in the importance of working together for harvesting and growing sustainable forests and maximizing the output that the trees give us. We have also many non-wood suppliers that are critical to the supply chain such as finishes, glue, machinery, and administrative services. We love our communities, and we want to give back and make a difference."
Operations
"Currently, we have five manufacturing plants in North America, and we employ over 600 people to maintain our production capacity. One of our strengths is that we control the whole process of manufacturing a hardwood floor; from drying green lumber, transforming, assembling, and finishing our products. Also, we are the only North American hardwood floor manufacturer that produces four flooring platforms (technologies) with a real sawn wood surface to meet all customers needs in terms of look and installation. Our TruBalance flooring technology is one example; the alliance of nature's strengths and Mirage ingenuity. This technology combines the best features of each platform which offer unmatched stability, ease of installation, peace of mind, and a wide variety of on-trend colors.
"We invest a lot in technology to help us add capacity, automation, and better-quality control. With the complexity of the products we manufacture and the shortage of labor, the addition of new, cutting-edge technologies in our plants allows us to meet our customers' demands on time and with the same quality standards from one plant to another."
Corporate Culture
"Our management philosophy is founded on five core values: passion, respect, integrity, commitment, and innovation. This passion, or what we call the Spirit, drives our day-to-day efforts and has grown over the years thanks again to our employees. They are our most valuable and distinctive asset. By treating our employees with the utmost respect, we know we can count on their loyalty. We focus on training and development, so they can reach their full potential and earn a great living. Mr. Thabet always says that we need to improve one thing a day and it will make all the difference for the company and for employees' daily lives.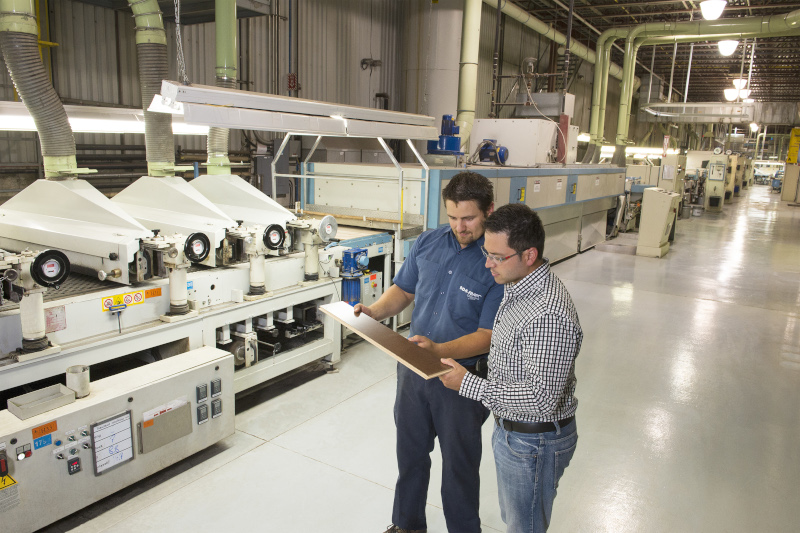 "We also have an Employee Assistance Program to help them evaluate and solve difficulties in various aspects of their lives, since mental health is one of our priorities. Worker safety is also a priority for us, so it is very important to provide a clean, safe, and stimulating environment. In this sense, we have created the BOA Excellence program which allows employees to suggest improvements to their workstations to be more efficient, ergonomic, and safe. A couple of years ago, we put in place a risk management committee with a mission to be proactive in our safety initiatives. It classifies workstations according to their level of risk on a scale of 1 to 5. The committee takes actions to reduce the level of risk before accidents occur.
"Boa-Franc has received many awards for human resources management over the years, such as AON® Best Employer Gold – Canada Best Small & Medium Organizations, and 1st Best Employer in Quebec of the Défi Meilleur Employeur. Boa-franc has also received the prestigious Gold Trophy Award at the 2013 and 2018 Canada Awards for Excellence which is on par with Malcolm Baldridge National Quality Award, and the highest honors at the Grands Prix québécois de la qualité awards in 2012 and 2017. Our Mirage brand has also received 39 awards for excellence and quality, which make it the #1 hardwood flooring brand in North America. Working for Boa-Franc is an opportunity to belong to a winning team and contribute to the success of our company on a day-to-day basis. Knowing they are making a product that is affecting positively the well-being of people gives them pride and happiness to do their job well.
"All these elements combined ensure that our employees stay with us for a long time – like Mr. Charles Pilotte, machinery project manager, who has been with us for 38 years since the beginning. Giving back to the community is also important for us and our employees. In 2020, we gave $92,000 to local non-profit organizations in Saint Georges, which help communities where our employees live. We want the communities that we are in to say, "We wish we had more companies like Boa-Franc."
Sustainable Environment
"Our manufacturing processes have been honed to perfection, allowing us to optimize the use of raw materials. This helps us design our floors with the environment in mind and ensure the sustainability of the wood we use. We efficiently manage wood in a sustainable way with our suppliers coupled with energy-saving manufacturing processes that generate zero landfill waste. For example, we are using recyclable packaging made from recycled material. We use our waste to power the energy that we use in our drying kilns and the balance we don't use is sold to manufacturers that process the material into particle boards or wood pellets. These are only a few actions we do to help the environment. We respect the highest environmental standards, thus providing future generations and the entire ecosystem with a healthy and non-polluting wood product which makes our flooring good for the environment. We are EPA TSCA Title VI, Lacey Act, and PEFC compliant and our products contribute to  LEED credits. We are also the first hardwood flooring manufacturer to receive ISO 9001 certification in North America."
Marketing
"Our beautiful floor photos in our marketing documents for our brands reflect what Boa-Franc is: class and quality. We are doing trade advertising, social medias posts, e-blast to consumers and clients, and press releases to promote our brands, our new products, and incorporate social actions. We are also doing seasonal manufacturer rebate promotions with our authorized dealers and distributors. All year long, we are doing web campaigns in specific areas to help our dealers get more traffic into their store. Since we are constantly innovating both in marketing and in our products, we have just launched a new website for Mirage that is more up-to-date and easier to use, and features the new Mirage InstaVu tool – a virtual decorator that allows you to see our floors in a picture of your own room in your home.
"Before the COVID-19 situation, we were doing mill tours for dealers, suppliers, architects, designers, etc., to show our manufacturing processes and for them to learn more about our brands. Those tours were really appreciated, and we plan to start them back as soon as its safe, since it is our best marketing tool. Visitors can understand how we produce the best hardwood flooring in North America. Seeing is believing!"
Future
"Our #1 goal will always be to manufacture the best hardwood flooring in North America. We strive every day to achieve this goal in both our products and services by improving, innovating, and setting new standards in the industry. Buying a hardwood floor is for life, Boa-Franc products offer the full package and the best customer experience from A to Z; a company that makes a difference, made in North America, superior value, sustainability, and peace of mind. We will work to achieve, maintain and surpass this commitment every day."
AT A GLANCE
Boa-Franc: owner of Mirage Hardwood Floors, Vintage Flooring, and Ten Oaks Flooring
What: North American leader in the manufacturing of superior prefinished hardwood floors
Where: Head office in Saint-Georges, Quebec, Canada
Website: www.boa-franc.com     www.miragefloors.com
Frank Miller – frankmiller.com
Located in Union City, Indiana, Frank Miller Lumber is a wholesale lumber supplier specializing in the manufacture of quartersawn hardwood lumber with the bulk of production in white and red oak. Other quartersawn hardwood species include cherry, hard maple, and walnut.