Homes by Managen
36 years of excellence
Translating homebuyer's dreams into houses that they can call home
The dream of owning one's home is alive and well. To translate these long-held desires held by potential homeowners only the best custom home builders can construct that dream into a reality.
For Homes by Managen, creating custom home options is what they do best and their respected work has positioned them as a leader in the Edmonton market in new home construction.
Serving Edmonton and the surrounding area since 1987 and a member of the Canadian Home Builders Association, the company is well known for building customized single-family homes, tastefully appointed estate homes, maintenance-free bungalow communities, and prestigious infills.
Homes by Managen was founded by Paul Kehler, Gail Kehler and Pat McKenna. The trio is known for their extensive experience in new home design and construction with contemporary design leanings. Mr. Kehler passed away earlier this year, but his tradition of excellence carries on.
Today, McKenna is the owner and on-site superintendent. He brings more than three decades of experience in new home construction and project management to the table. He is also an experienced framer and is primarily responsible for the day-to-day construction process, monitoring, scheduling, and more.
Troy Beattie is the company's project manager. With more than 16 years of experience in new home design and construction, Beattie brings his expertise to each project. He is primarily responsible for project estimation, sales, and coordination. He enjoys working as part of a team coordinating efforts to deliver timely and well-thought-out designs.
We recently spoke with McKenna and Beattie, and they told us more about what makes Homes by Managen synonymous with excellence in Edmonton.
"We're a rather small boutique company," says Beattie, which means I am lucky enough to be hands-on from the beginning build to the end.  "I get to meet with the clients. I put together pricing and specifications.
After that comes working through the design side of the construct; getting all the proper permits in place; and signing off on all the contracts. Then it's full steam ahead.
McKenna informs that the company has cut back on staff this year, going from about seven to three. Yet it's a family company, so being smaller just makes sense. Subcontractors fill up any holes, and it all comes together, par for the course in the homebuilding industry.
Beattie extols the late Mr. Kehler.
"A lot of my expertise comes from working closely with Paul over the last 16 or so years," he says, revealing that he started in the banking industry as an underwriter before transitioning into the homebuilding profession.
McKenna spoke of his duties, including work as a framer. Framers are construction industry professionals, responsible for building and repairing the wooden frames (the walls, floors, and roofs) of structures. They help construct residential, commercial, and industrial buildings. Framers also put doors, windows, and fixtures into place. McKenna says it's his responsibility to keep jobs moving forward and focus on paying attention to the details.
"That's a big part of it, actually," he says, "and the rest of it is scheduling and quality control."
"Pat's a problem-solver," says Beattie. "You run into challenges along the way, he's in there, getting things back on track. There are no real problems; only solutions."
Recovering from COVID
The Canadian housing industry was pretty hard hit by the restrictions of the COVID-19 pandemic. Thankfully, Homes by Managen and its fellow construction companies are now in the long process of recovery, as Beattie notes.
"The construction industry's history was deemed a necessary entity that kept moving during COVID," he says, "and we did suffer from plants being shut down, just like other small businesses that we deal with."
He adds that COVID-19 presented its challenges. It slowed down the housing construction industry and necessitated a different approach.  Beattie says we were able to pivot instead of hosting an open house and in-person meeting we turned to video tours and skype meetings.
It also meant fewer construction projects. Under normal conditions, Homes by Managen builds seven to 10 homes, each with an average size of some 3,500 square feet, in a year. Right now, the company has scaled back a bit and has three or four on the go at present, as Beattie informs.
Each has a price tag ranging from $900,000 to $2.5 million, and one house may take an average of 10 months or as long as two years to build in some of Edmonton's most prestigious neighborhoods.
"We are building generally larger custom homes," says Beattie. "But we certainly do build a lot of single-family homes in the million-dollar range."
A breed apart
What sets Homes by Managen apart? McKenna says it's simple.
"I think probably one of the key things is that we're very customer-focused," he says, "and we're very open to making changes and not just repeating what we've done in the past. I think that helps, but mostly it's the focus on the client to where we almost look at it as a kind of mini marriage, where, throughout the build, we're going to be involved in each other's lives heavily for the next year or so."
Being able to create homes customizable to the client's specific requests is a thing in which the company takes great pride, as McKenna notes.
"We start with a lifestyle meeting," he explains, to discover "all the things that you need in a home, and then we come up with a design. We keep tweaking that design until it gets to the point where you're 100 percent satisfied with it."
What does a Homes by Managen house look like? Stunning. Take this showcase home, for instance: a two-story executive family home in a lovely cul-de-sac, with three bedrooms, a laundry room, four bathrooms, an upper-level bonus room, and a first-floor den/office that are all included in 3,147 square feet of luxury living space. Throw in some high-gloss kitchen cabinets; a mud room with built-in cabinets with high-gloss doors and a wood feature wall; and a stucco exterior so strong it's resistant to those pesky woodpeckers; and you've a real showplace.
Being small has its advantages, McKenna remarks.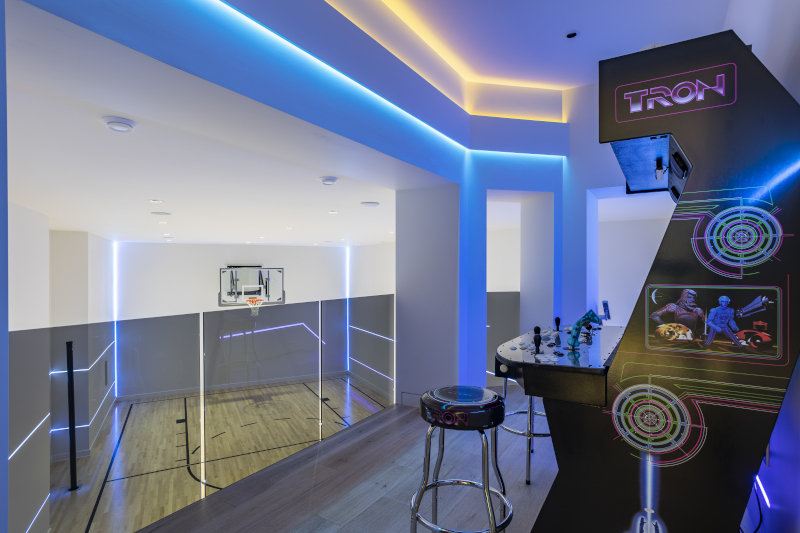 "Larger companies don't deal well with changes," he says, citing the bureaucratic red tape in which bigger homebuilders are apt to get lost, adding, "We have an open-door policy with our customers as well. They're welcome to visit the site, as long as it's safe to be there then."
Beattie discussed making homes energy-efficient. The National Energy Code for Building sets guidelines for this.
"It lifts the whole industry," he says, "so we try to not do just the minimum. We try to do a little bit above that, as far as energy efficiency goes."
Ensuring that a home is properly tight will help keep warm air in during the winter and cool air in during the summer. To that end, Homes by Managen has window packages that Beattie notes are far above the Canadian national standard.
As well, the company is going green. More and more of its new homes come with solar panels or are at least solar-ready.
McKenna adds that the company carries on its caring customer-centered approach, even long after the home is finished.
"We continue with that relationship," he says, "making sure that everything is 100 percent satisfied with the homeowner—with what we've accomplished together.
We even renovate houses for past clients long after they've been built. If the homeowners decide they want something else, we'll come in and take care of them. We're a small, quality-oriented company that has the flexibility to deal with anything that the customer can throw at us.
"We do a timeless design," he adds. "You can take most of our designs, and 20 years later, they're not looking dated. We don't throw a lot of current gimmicks at our homes. We take proven stuff from the past and meld it with some of the stuff in the future. Our customers are then given timeless homes that they're not going to be tired of in a couple of years."
Beattie shared McKenna's assessment.
"I'd say our style is contemporary," he observes.
"We usually try to steer our customers towards something that's going to stand the test of time and not be just something that they might have picked up as an idea at a home or garden show or something. It's why we've recently started renovating. We do renovations, but we've had quite a few of our past customers from 20 to 25 years ago.  They say, 'Hey, we love our home, but we want to bring it up to date,' and so we'll go in and renovate it for them as well."
A critical goal is to make sure Homes by Managen customers love their homes and love where they are, as Beattie points out.
"We want them to love the bones of their home," he says, "and to love everything in the house."
AT A GLANCE
Homes by Managen
What: a small, family-run business specializing in custom-built homes in the Edmonton and greater Alberta area, turning heads since 1987
Where: Edmonton, Alta.
Website: www.managen.com