Brault Roofing
74 Years of Excellence under its belt
From their expansion across Canada to their commitment to transparency and client-centric approach, explore how Brault Roofing has become a trusted name in the field.
Brault Roofing has a long-standing history spanning 74 years, during which it has consistently upheld its standards of excellence. As a multi-generation family business, the Brault family has been leading the company since its inception, with Marc Brault, a member of the third generation, taking over in the 1990s. In 2014, Executive Vice President Serge Tahmazian joined the company, bringing his business expertise and contributing to the growth of Brault Roofing. Since that time, the business has experienced rapid expansion, extending its operations from Quebec to locations across Canada.
Building a National Presence: Brault Roofing's Strategic Expansion Across Canada
"When I joined, we were a company operating only in Quebec, with about 40 employees. Now we're over 300 employees across Canada," Tahmazian shares. The company began its expansion by opening an office in Atlantic Canada in 2018. The following year Brault Roofing continued its growth by establishing offices in Prince Edward Island and Nova Scotia, and acquiring a roofing company in Ontario, further expanding its presence through Central and Eastern Canada.
In 2020, Brault Roofing extended its reach to Western Canada. The expansion started in Edmonton and then moved on to British Columbia. Subsequently, the company opened additional offices in Alberta and finalized the national expansion plan by opening offices in Saskatchewan and Manitoba.
Tahmazian admits that there are those who have questioned the rate at which the company has grown, suggesting they are moving too fast. He acknowledges, "They don't understand that there's a lot of work that happens in the back end before the final announcements are made. The key is finding the right person, someone who is going to be able to operate in that province, and who is going to fit with the corporate and family values. Sometimes finding the perfect fit is about reaching out, and other times it is about timing and luck. "So it didn't all happen overnight, it happened over a  few years of hard work and perseverance. When we look at a market, we dig into it and, scope it out to see if it is worth entering but, more importantly, we try to find the right person to connect with that will help us operate in that local market with his/her existing network as well," he conveys.
Finding the right person and fit is related to operations but there is also a financial aspect to this calculated expansion plan. I come from a financial background and I always say the biggest mistake entrepreneurs do is solely look at their profit and loss statement and they completely disregard their balance sheet. They don't understand that the balance sheet is what helps a business in the long run but focusing on the balance sheet takes discipline and financial sophistication, two things that Marc and I excel at."
Of course, there is still much work to be done, to continue to grow and strengthen the brand, even as it stands on its longstanding reputation of excellence. "We opened up all our places, and now it's just a question of growing these latest locations into mature businesses, something we know how to scale up pretty quickly given that there is a 75-year-old business behind the expansion plan and we have done this over and over before" explains Tahmazian.
The process of establishing a new location for Brault Roofing typically takes around three to five years before it is fully operational. During this time, the company provides the necessary tools and support to the new team and also offers coaching to ensure their success. "But what's important to understand is we're very, very entrepreneurial," he asserts. "It's guys that are go-getters, and that want to make it happen. Those are the guys that fit well with our group and that  are pushing the ship in the same direction."
Revolutionizing Reroofing: Brault Roofing's Honest and Sustainable Approach
As a company committed to delivering exceptional service and being transparent and honest with clients, Brault Roofing takes an unconventional approach to reroofing projects. Instead of automatically recommending reroofing, the company's knowledgeable team thoroughly assesses the condition of the existing roof and provides an honest evaluation. They often find that with some proper maintenance and repairs, the roof can still perform well and extend its lifespan by several years.
Tahmazian shares an example of a situation with a client in Quebec, who had been told he needed to reroof, and called Brault Roofing for a quote. "After the site visit, my guys came back to me and said, 'he doesn't need to reroof, it's just missing some love. He hasn't taken care of the building'. When I called the client and told him the good news, he was so happy." As a manufacturer, the client was caught between investing capital funds in the new roof or acquiring new equipment to move his business forward.
"I completely changed this guy's business. And now it's been five years, the roof is still going strong. We go once a year, and he spends a few grand on a general cleanup to keep the roof alive and functional. It was the right decision at the time and, more importantly, it helped him develop his business, and that's what I think we need to do with clients. We are there to develop longer term relationships with our clients. We are not looking for a quick homerun and that's the only way to do business in my mind and that sets up apart from many competitors in our field."
Brault Roofing also emphasizes the importance of a roof as a critical asset and tries to educate clients on the necessity of regular maintenance which can prolong its lifespan and minimize the need for premature reroofing.
This approach also has a very positive environmental impact, Tahmazian points out.
"I see these big companies creating a lot of green committees, and it's important, and I totally agree. The reality is you see them reroofing way too early. I mean, the worst thing you could do for the environment is reroof and take all those materials and put them in containers. We need to think about the environment and instead of reroofing prematurely, maybe we can stretch out the lives of these roofs to gain an additional 5 to 10   years depending on the systems in place. The key to this is to have us on the roofs at least once a year, there is no other secret recipe. This is how property owners will maximize the life of their roofs and put their business first. We have to be better at educating clients in the roofing industry on this as it has so many benefits for them as well as their tenants and the environment."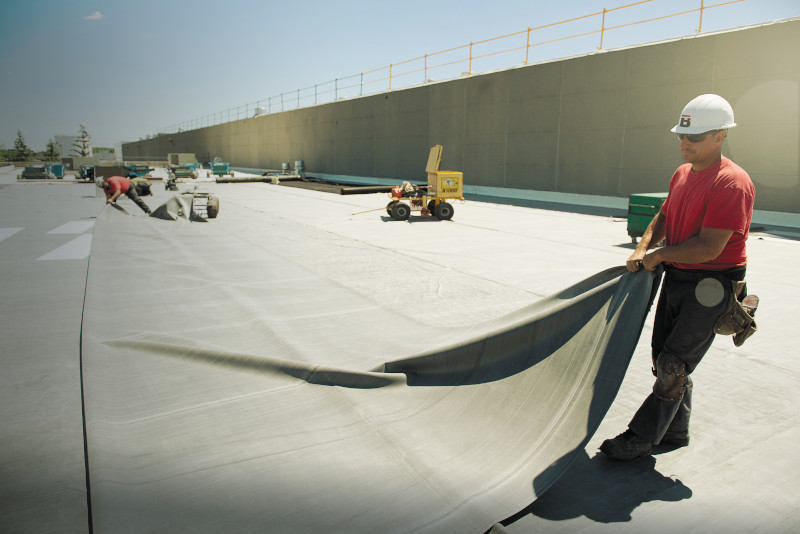 Navigating Workforce Challenges and Sustaining Growth
Supply chain shortages have been a significant challenge for the roofing industry in the past two years, however, Tahmazian has noticed improvements in the availability of materials. He attributes this to a combination of factors, including a decrease in demand and suppliers along with manufacturers replenishing their inventory.
As a result, he believes pricing will stabilize and return to more normal levels, although it may not reach the prices of five or six years ago. Despite the expectations of a slowdown in the current economic climate, Brault Roofing has experienced continued growth and success. "I will tell you that with our very client-centric approach we are transparent and honest with the clients, and this has gained traction in the industry, especially clients navigating at a national level like ourselves" he portrays.
"We're fortunate because we have very loyal customers and new ones are signing on. They like our approach and our transparency and our honesty. So, I think we're fortunate that we keep signing deals and keep signing contracts because I think by the end of 2023 and into the next few years, the economic conditions will get tougher and those that have not focused on their balance sheets will find the next few years very challenging."
In terms of workforce challenges, Brault Roofing takes a balanced approach, communicating the long-term benefits of working for a stable and reputable company, but also recognizing that they cannot compete with every competitor's offer. "The reality is that you're not going to be able to keep everyone because there's a competitor somewhere that's going to be in a worse position than you to find labor at any price. However, I think this is true for now as the past few years have seen an overstimulated economy but I foresee a market adjustment on this shortly, " he maintains.
"At some point, you have to rely on people being smart enough to understand that maybe the offer they are getting is too good to be true. It might be just for a few months, as opposed to here, where you are going to have stable and steady work. It's going to be more beneficial for you to stay with a stable company in your career. It's a fine line, and no business is immune from it."
The possibility of sponsoring immigrants who will come to Canada and work in the industry is also on the table, as a means of providing an opportunity, and maintaining a strong workforce, while continuing to grow the company.
Brault Roofing takes pride in the accomplishments they have achieved and the growth they have experienced over the years. "We're really proud of what we've done. That's what gets us up in the morning and drives us. Obviously, enough can't be said about our great team of managers we have across the country that shares our vision of becoming the preferred national roofer across Canada" Tahmazian relays.
As for what comes next, he remarks, "I think it's going to be another year of exponential growth. What we want to do right now is grow all of these locations, ideally, to what we are here at the head office. Last year was the first year where the rest of the country was bigger than Quebec, which is the core and kind of the mothership of the business. So that just goes to show you how much our presence has expanded throughout the country. We are also working on a few projects in the USA as well as Europe but these are still at the preliminary stages of our business plan. We're having fun, we're very passionate about the business, and we want to keep going."
AT A GLANCE
Brault Roofing
What: Industrial leader in Canadian commercial, industrial, and institutional roofing
Where: Headquarters in Saint-Jean-Sur-Richelieu, Quebec, with locations across Canada
Website: www.braultroofing.com