JD Stairs
climbing to the top of the luxury stair market
Recognized as the best-in-class brand leader in the Las Vegas high-end home space, JD Stairs reaches new heights
Who knew stairs could be so luxurious? The reality is that JD Stairs is about much more than, well, stairs. JD Stairs embodies what it's like to be artisans of their craft. Based in Las Vegas, the high-end luxury stair-builders have handcrafted metal, wood, and glass into beautiful, expertly functional designs for nearly two decades, and work with businesses and high-income homeowners to bring their preferred designs to reality.
JD Stairs executives believe that it provides the highest quality solutions within the industry. It creates visually impactful architectural focal points and meaningful elements that enhance interior and exterior spaces and communicate something spectacular. CEO Jonathan Webster considers much of the company's work to fall under the heading "ultra-modern architecture" today. That's because client preferences in and around the Las Vegas market have evolved from a more traditional design.
"A lot of the work we do and the creativity we provide has never been done before in this market," Webster says. "That makes us one of the best fabricators in the U.S. in my opinion. We've been able to adapt to changing (customer) tastes."
Given this level of expertise, the company has developed strong relationships and an extensive client base with builders and designers. Builders will come to the JD Stairs team with a design concept confident that they'll receive something completely unique. Those builders typically cater to high-income clientele with custom preferences and very high expectations.
Indeed, quality craftsmanship is the company's mantra with unparalleled artistry bordering on obsession. Its experienced artisans meticulously inspect every piece by hand to ensure perfection; the smooth, flowing lines of handcrafted wood; the magnificent glow of polished steel; and the scintillating shine and glitter of glass.
From initial contact through final installation, the overriding goal is to provide commercial and residential customers with an efficient, high quality, and attentive experience. Many of its projects require engineering plans to ensure the job gets done right the first time.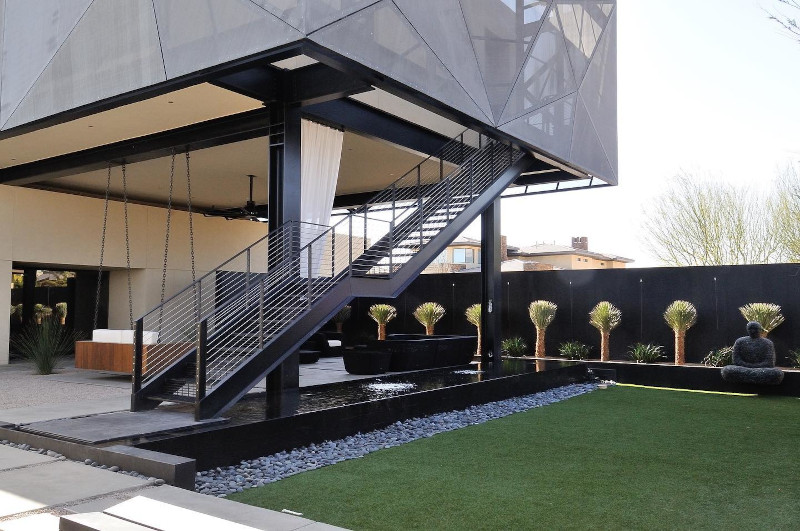 Specific jobs include grand staircases, steel cladding, doors, gabion walls, gates and fencing, structure design, and more. Essentially anything within a home or commercial building that can be designed as part of JD Stairs' capabilities.
JD Stairs is a family-owned business led by Webster. The family was originally from Canada but moved to Las Vegas for a job Webster's father took building stairways before JD Stairs was ever founded. Years after building stairs with his father and siblings, The Webster Brothers took a chance and founded JD Stairs in 2005.
Over time the family expanded its expertise in carpentry but a demand for metalwork further expanded their collective expertise. They realized that it was difficult for many general contractors to coordinate the work of various trades as part of one project. It was from this knowledge and background that JD Stairs was formed.
The value of working with architects and builders and building a sales team
It's not a stretch to say that JD Stairs' business really took off as it increased the relationships built with architects. COO Braeden Smith says that the company understands the role that architects play and their goals in creating an environment that will be remembered. JD Stairs professionals can help build a design, but it also wants to ensure that such designs meet industry standards developed by trade groups like the Stair Builders and Manufacturers Association.
For years JD Stairs has relied wholly on word-of-mouth marketing to grow the business. Up until two years ago they didn't even have an outside sales rep. Now, Kevin Smith, who's been with the company since 2012, dedicates his time to meeting individually with each potential client. He has spent countless hours meeting with builders and architects as JD Stairs begins expanding the company's external brand.
Expansion is possible but not a necessity
There is an expanded market for the quality work that JD Stairs offers to clients, but the family-owned business hasn't been forced to search too far for business. The greater Las Vegas market has provided plenty of demand for the company with a limited number of additional projects supporting clients in California and Arizona.
However, Webster says management is open to expansion if and when it makes sense. That expansion might not require opening offices in other states. But he says that demand in and around Nevada remains high with a growing population.
JD Stairs President, Bob Gabour, believes that one reason the company might expand is because of the growing interest nationally in the structural framing of houses. This is an area where the company has demonstrated strong expertise, with an estimated 25 percent of the firm revenue in 2022 coming from these framing projects. That type of work includes designing columns and beams as well as other high-end structural projects.
Says Gabour, "With the work we have done recently in this area, the structural side of our business has really opened up. We have long had a strong (share) of the local architectural works, but we are confident this is a segment of our business that will keep growing."
Growth despite COVID, labor shortages, and other industry challenges
The COVID pandemic was not an obstacle for JD Stairs as much as it was for some industries because of the investments made in housing at the time. However, the labor shortage and inflation have hurt the company's margins. The cost of some materials has grown exponentially over the last three years, although they are stabilizing. Wage increases have also made it difficult to always find the most qualified candidates.
Insurance costs have also doubled over the last five years. "The labor force has always been a challenge in Las Vegas," Gabour says.
Still, JD Stairs grew revenue moderately in 2020 and by around 20 percent in both 2021 and 2022, Gabour says. Creating that trust with builders and architects has been among the biggest reasons for their continued success. "They feel comfortable letting us build for both architectural and structural projects," Gabour adds.
Goals for this year and beyond
One of the most important reasons for continued growth within the construction and building materials industry is the creative use of technology. Smith says it is a "huge" part of the JD Stairs business along with capital investments. Some of those recent investments include a new metal CNC mill, CNC Router, Molder, Resaw, Robotic Welderand a 3D laser scanner. This last piece of equipment sits on a tripod in the middle of a room and in 30 seconds will create a three-dimensional scan of the room in a little over 30 seconds. This means JD Stairs' project managers will no longer need to worry about cumbersome tape measures. It also means we will have 100% accurate dimensions of the workspace to further increase the quality of a JD Stairs-built product.
Says Smith, "We invest in things to make our jobs easier and improve the services we offer to customers." That is important because, "our level of craftsmanship is ever improving. We need to provide our employees with the tools necessary to continue getting better at their craft."
Another goal is to further build the corporate environment to keep employee turnover low. That's why JD Stairs has created a culture of working hard while having fun. The organization's leaders listen, share, and keep an open mind to new ideas and differing opinions. Managers leverage individual strengths and overcome differences to produce the best possible results. Says Webster, "We try to respect all employees and both who they are and what they do. Every employee is an important part of our team who brings significant value."
The having fun part of the equation is demonstrated through an array of company activities that this spring included attending a minor league baseball game where spouses and family members were invited and welcomed. "This gives us a chance to interact with our (colleagues) on a more personal level," Webster adds.
Finally, JD Stairs seems to have achieved controlled growth without increasing sales too rapidly. While this may sound like a curious statement, growing too fast can put pressure on existing staff, reducing overall customer service.
AT A GLANCE
JD Stairs
What: A firm that handcrafts metal, wood, and glass designs into homes
Where: Las Vegas, Nevada
Website: www.jdstairs.com
El Paso Wood Products – http://www.epwoodproducts.com/
El Paso Wood Products founded in 1981, focuses on serving as a manufacturer rather than a retailer, concentrating on strengthening its custom-design skills and expanding its craftsmanship to include custom entryways, furniture components and stair parts. Since inception we have continued to grow not only in product line, but also the equipment in our state-of-the art factory.