Ithaca Tompkins International Airport
Making the connection
Business View Magazine interviews Ithaca Tompkins International Airport Manager, Mike Hall, for our series on American Public Airports
The National Plan of Integrated Airport Systems for 2019–2023 categorized Ithaca Tompkins International Airport (ITH) as a primary commercial service facility, but it is actually so much more. The airport's importance as a valuable asset to the whole local region cannot be understated. Located in the Town of Lansing, New York, three miles northeast of Ithaca (county seat and only city in Tompkins County), ITH is the closest airport to Cornell University, Ithaca College, and many popular Finger Lakes destinations.
ITH is in excellent hands under the watchful eye of Airport Director, Mike Hall – a retired Air Force fighter pilot. During his time in the Air Force, he flew for the better part of three decades, including commanding Fighter Wing. He recalls, "That gave me aviation experience. Actually, I learned to fly at the Ithaca Airport; my first solo was here in 1967, as part of the Air Force ROTC program. And then I had a great career in the Air Force and wound up being a leadership services consultant. When the Ithaca Airport needed some leadership services, I ended up becoming the Director – a position I've enjoyed for the past seven years."
ITH has had quite a makeover during that period of time. The most significant project, completed in Dec. 2019, was a $40 million expansion of the terminal and the building of a customs facility. That upgraded the designation from Regional Airport to Ithaca Tompkins International Airport. Hall reports, "We got the project done in three phases. That's the good news. And we were 20 percent up, in terms of traffic, a year ago in January. Then, of course, the pandemic arrived in our backyard. But as soon as the vaccine gets out there, we are very well positioned to recover quickly and we'll have lots of brand new infrastructure."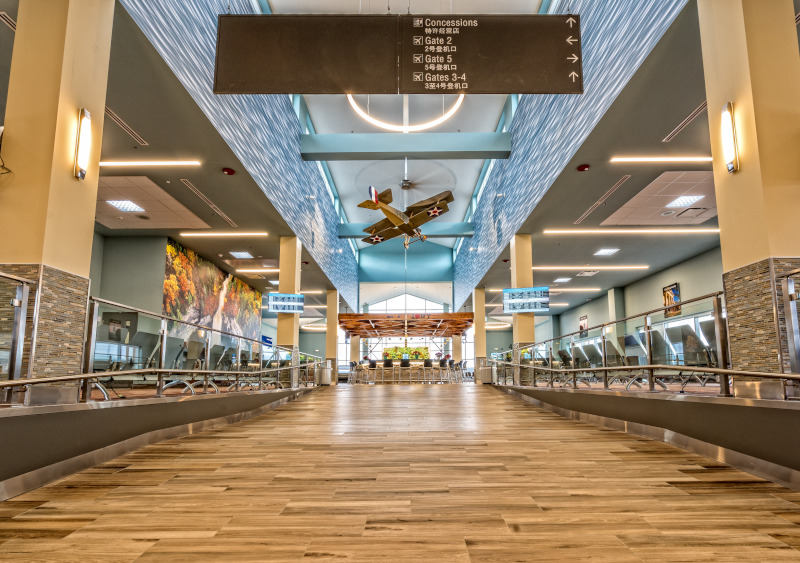 The new terminal is a beautiful sight to behold, with four jet bridges, two ground gates, and a thoroughly modern portal. Ithaca is colloquially referred to as "centrally isolated," since it doesn't have an interstate, or a rail system, or steamships on the lake. Which instills ITH as an essential means of connection. Hall acknowledges, "We are an international community because of Cornell University and other colleges here that draw very widely. Cornell U. is the largest employer in upstate New York. We have the strongest, most stable economy and a lot of it is built around the airport. You can't be a top 20 global university without connectivity and Cornell has that through Ithaca Airport. So ITH is critical to the economy here; connecting us to the markets we need in order to sustain that economy."
On tap for 2021 is a new flight academy. East Hill Flying Club (an airport tenant) is the current owner and it will be adding the East Hill Flight Academy. East Hill is already a Part 141 school and is one of the largest flight training and club operations in upstate NY. This will be a public/private partnership with the airport, and additional funding from a grant from NY State, plus money East Hill has raised. The current flying club is adjacent to the old fuel farm and that created a serious conflict between fuel trucks, student pilots, airplanes. Fortunately, the airport has just completed its new fuel farm (physically removed from that location) and the old fuel farm site will now be open space incorporated into the design of the new flight academy.
From a 'green' perspective, the airport has implemented alternative energy initiatives, taking the terminal off natural gas and replacing it with geothermal well-driven heat pumps which has been very successful. One bank of solar has been installed over a portion of the short term parking area, creating electricity for the airport and providing under-cover short-term parking. Further work has been on pause for the last few months, but there continues to be development interest in solar generation near the airport. Hall admits, "We don't have enough geography here to become totally self-powered, we would have to tap into an array that's off the airport property. That's our hope for the future, once the economy gets going again and developers start spending money on providing new renewable energy sources."
Taughannock Aviation Corporation is the locally-owned FBO and an integral part of the airport. It offers a full suite of services from the arrival point for general aviation and also does charter work. While the airport does receive occasional deliveries, there is no ongoing cargo service, as such. The reason being a lack of surface infrastructure. As Hall attests, "We're not on the interstate and most people would want to fly in and distribute from the arrival location.  But I think there is a market here and an opportunity when we build the new fire station, in a year or so, to convert the old building into a small package cargo facility – including international because we have Customs. We see that as a specialized growth area, probably built around Cornell and research. BorgWarner has an auto parts factory here and if they need a just-in-time delivery, they fly it in themselves or have it delivered. We're not talking about a UPS hub, rather expanding to have some cargo operations here."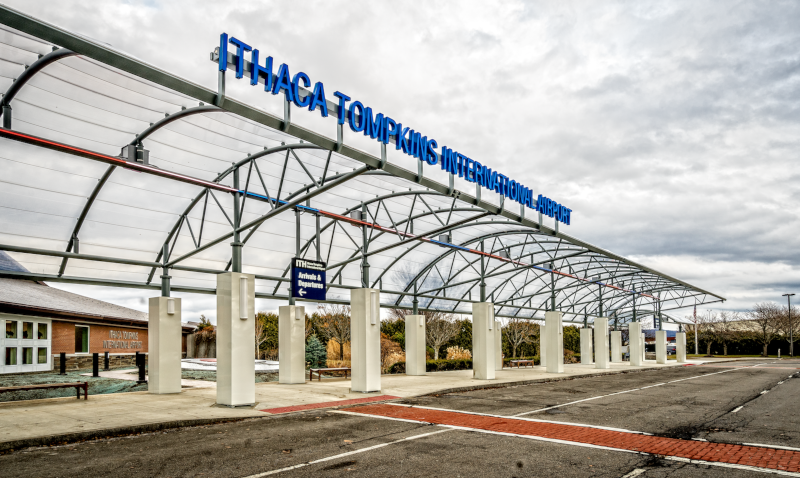 Ithaca Tompkins International Airport sponsors many local charitable causes. And every year they have a Community Airport Day which has a fundraising theme. This year it was the Childhood Development Council because of the impact of the COVID-19 pandemic and the need to provide families with some relief. ITH is also involved with the Ithaca Area Economic Development (IAED) organization to support sustainable growth in the community.
The airport's relationships with all its contractors went up significantly with the construction of the new terminal, which was a huge challenge because it had to keep operating while the work was in progress. "It was pretty impressive," says Hall. "Schuler-Haas Electric Corp. has done a terrific job across the board at the airport with the electrical systems – all the cabling and power supplies, etc. They are a quality contractor able to ride with the punches because it was a renovation project to a large degree. Which is tougher than new construction, in that you're never sure what you'll find behind the wall. They've done a great job. I'd also like to give a shout-out to Streeter Associates – the general contractor for our terminal project. We had a terrific relationship with them."
He adds, "We believe that success in projects comes through building a relationship up front, and regular communication so you're able to identify areas that need leadership and management attention before they become problematic. With every one of our contractors, the communication was great and we couldn't have had a better team. And we needed it because the timeline put on by Governor Cuomo in exchange for the award was extremely tight. Realistically, it should have been about a two-year project and we did it less than a year."
The next big construction project for the airport is the Crash Fire Rescue (CFR) building, to be completed in the 2022-23 time frame. Right now, the CFR building is in the way of the FBO and it will be moved to a standalone location. The vacated facility will then be potentially suitable for a small freight or an air ambulance operation. With the arrival of the new Fire Station, the airport will have a good, functional layout – no more conflicts. The only project remaining is to move the tower, which is adjacent to the air terminal and crowds that ramp for expansion. So the goal is to move it across the runway.
From an industry point of view, because airports are so infrastructure heavy, it takes years to accomplish things. In his years at the helm, Hall has learned that you need to be constantly taking advantage of every opportunity that comes along, or you will fall behind. He notes, "We built the terminal in the mid-'90s and it lasted over 20 years. But trying to stay as far ahead of the bow wave as possible is important because all these projects take lots of money, and there is lots of administration and program changes associated with it. The ability to look several years down the road is really important in our industry. Because, under any circumstances, it's going to take you awhile to get there."
AT A GLANCE
Ithaca Tompkins International Airport
What: A public-use airport that supports commercial and general aviation
Where: Upstate, New York
Website: www.flyithaca.com
Schuler-Haas Electric Corp. – www.schuler-haas.com
Schuler-Haas Electric Corp. Greatly appreciates being a part of the Ithaca Tompkins Regional Airport Expansion. The company has been part of the Ithaca construction market for over twenty years and we value our relationship with our local suppliers, employees and the surrounding communities. Schuler-Haas will continue to be a contractor who places jobsite safety as our number one priority on all our jobsites. We remain committed to the continued success of Ithaca and the surrounding area.