ISA Cybersecurity
cyber ready and putting its clients' safety concerns first
Providing cutting-edge cyber solutions, ISA Cybersecurity remains a leader in cyber security and a certified 'great place to work'
With locations in Toronto, Calgary, and Ottawa, ISA Cybersecurity is one of Canada's leading cybersecurity-focused companies, with over three decades of experience delivering cybersecurity services from professionals you can trust.
The company's vision, according to its CEO Kevin Dawson, is to help create a world in which everyone is safe from cyber threats. When asked to describe its operations, Dawson references the firm's establishment in 1992 and the fact that the frequency with which cybersecurity changes was the catalyst for its operations and continuing 'start-up' mindset.
While it has customers in a number of countries around the world, ISA Cybersecurity's primary focus is on the Canadian market. This is reflected in a customer base that includes numerous public sector and governmental agencies in the country.
One of the big goals that the firm has is to continuously educate customers on the existing risks and industry trends that are affecting the corporate landscape. Dawson says that customers often treat the Toronto-based firm as an extension of their in-house teams, with several customers even placing ISA Cybersecurity right on their internal organizational charts.
Dawson says that media reports of high-profile cybersecurity breaches are motivating companies to make the necessary investments to protect their assets. Further, heightened compliance and regulatory requirements are driving companies to develop more mature cyber programs. ISA Cybersecurity is helping to guide customers through these often complex processes.
One of the current prevailing industry trends is the need for experienced and qualified cybersecurity professionals, Dawson says. "The gap between jobs and qualified talent is getting bigger every year," he says. "There are way more positions available than there are candidates." To help close that skills gap, ISA Cybersecurity invests time and resources in educational and in-kind support for universities to help prepare the next generation of cybersecurity experts.
Another trend that Dawson identified is the emphasis on machine learning and automation, technologies that are being leveraged to help the firm become more efficient in meeting customer needs. By mastering these automated processes, ISA Cybersecurity can reduce the time needed to identify and detect threats, which in turn provides a better customer service experience for its clients. Automation allows for faster response times and frees up more time for one-on-one consulting which can support customization.

Comprehensive services and differentiators
ISA Cybersecurity customers have a full range of services available to them. One such service is role-based consulting, which provides customers with the skilled resources they need on a short-term basis. Consultants are vetted and hand-picked to meet customer requirements, and help assist customers address internal resource and skills gaps project by project.
ISA Cybersecurity's comprehensive GRC advisory and assurance services can pinpoint existing security risks while uncovering compliance requirements. The outcome is a risk-based security strategy and action plan used to better define the next steps.ISA Cybersecurity also offers a full range of threat hunting and threat intelligence services for its customers.
Detection, response, and recovery services are offered to build an intelligent, comprehensive, and multi-pronged approach to manage security incidents. Services like offensive security services help customers identify and prevent security issues before potential threat actors can exploit them. And the company's protection and assurance services offerings help strengthen customers' cyber posture to defend against attacks.
ISA Cybersecurity's managed security services are delivered from its state-of-the-art security operations center in Canada. Its SOC 2 Type 2 certified facility delivers these services 24x7x365. "We can fill gaps with turnkey solutions like alerting and logging, security awareness training, vulnerability management, and more," Dawson says.
The 24/7 customer support that ISA Cybersecurity provides is one of its differentiators from some competitors. It offers a rapid response team that can address evolving cyber threats and provides the control mechanisms and information management needed to improve security. Additionally, ISA Cybersecurity has developed strong relationships with third-party vendors that provide top-of-the-line technology and support.
Dawson says that the firm is "vendor agnostic" and works with as many industry leading partners as needed to get the job done on behalf of customers.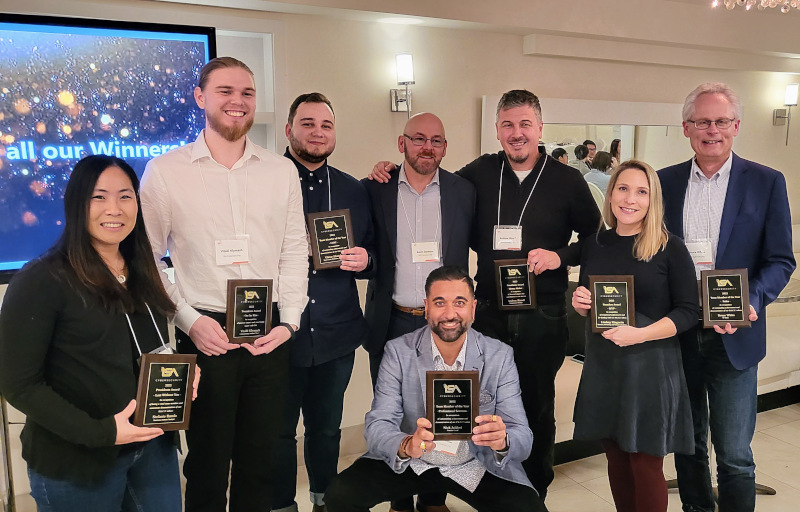 Creating a unique and compelling corporate culture
While ISA Cybersecurity works hard for its customers, it pays close attention to its staff as well. ISA Cybersecurity's Director of People and Culture, Andrea Bailey focuses on ensuring that the firm has the right systems, processes, and policies to support its employees. The HR team is committed to creating a culture in which company employees have meaningful opportunities to connect, even in a hybrid office/remote work environment.
There is no specific requirement for employees to come into the office on certain days, but Bailey explains that ISA Cybersecurity holds town hall meetings, provides lunch for team members on certain days of the month, and holds a variety of team-building initiatives and activities throughout the year. Bailey says there has been an appetite for a hybrid work model for several years, dating back to before the pandemic. The company has developed strategies to reduce the negative impact of isolation that can come with such a model.
"The remote work world has encouraged us to think even harder about the needs of our employees," Bailey says.
One of those needs is an awareness of mental health. ISA Cybersecurity's partnership with Shift People, an organization that provides mental health awareness training for high-performing companies and employees, and its partnership with RehvUp to promote connection amongst its team members, are examples of how ISA Cybersecurity has increased its investment and overall commitment to supporting the mental health needs of its staff.
Whatever Bailey and the HR team are doing seems to be working. ISA Cybersecurity received two honors for 2023 for the second straight year. It was recognized as a certified "Great Place to Work" for 2023-2024, and named as one of Canada's Top Small to Medium Size Employers for 2023.
That positive attention is a reflection of commitment from all employees. Says Dawson, "Andrea and her team have done an excellent job creating a culture where people want to come to work. It's great validation for what we want to be doing to support our staff."
ISA Cybersecurity recognizes the fierce competition for qualified cybersecurity staff in today's market. It takes steps to remain a preferred destination for top talent through such offerings as education reimbursement and new employee referral bonuses for its team members. It offers flexible sick and personal days, recognizing the need for employees to enjoy a proper work/life balance. RRSP employment plan matching funds and additional performance bonuses are also part of a full-time team member's compensation package, Bailey says.
Goals for this year and beyond
ISA Cybersecurity will always adapt to the ways the industry is evolving. Dawson made it clear that the number of cyber crime cases will continue to rise in the months and years ahead. The sophistication of these crimes and criminals makes cybersecurity a full-time commitment. Bad actors are increasingly using social media, voicemail, email, and other everyday communications methods to gain access to systems. This requires ISA Cybersecurity to help its customers to develop strong security programs to address such issues, and more efficiently measure and track risks.
"We have these discussions regularly. We work with customers to help them get the most out of their cyber investments, and help them plan resources for further initiatives to stay ahead of threat actors," Dawson says.
A second focus for the future is to advocate for more regulatory controls from local and governmental agencies. Such controls can help better protect employers from ongoing threats while protecting individual employee data as well.
Lastly, Bailey and her team will continue upgrading new employee onboarding strategies. This will better prepare new hires for their roles, while addressing some of the stresses and mental health challenges that such busy, high-profile jobs can cause. Bailey also says that the company's hybrid model is "likely here to stay," so providing opportunities for employees to connect and collaborate both in person and on the go is critical. "We want to always be improving the experience for our employees," she says.
AT A GLANCE
ISA Cybersecurity
What: One of Canada's leading cybersecurity firms provides leading cybersecurity solutions to its wide client base
Where: Toronto, Ontario, Canada
Website: https://isacybersecurity.com/

Check Point – www.checkpoint.com
Globally, billions of dollars are lost to cyber crime every year. One data breach costs an average of $4.35 million. How much could you save with cyber security that blocks nearly 10 million threats per day? That's only the start of the story about what the world's best security can do for you.
As you digitally transform your cyber security, you'll stop hackers and be able to harness cyber security as a catalyst for business enablement. A comprehensive cyber security approach translates greater agility, more resilience, financial loss mitigation, better business continuity, and heightened readiness to seize emergent opportunities.
It's time for a change. The cyber threat landscape is rapidly evolving. The hackers are innovating. Your security measures must not only keep up, but be able to outsmart adversaries at every turn.
Leverage leading solutions built on powerful artificial intelligence tools like ThreatCloud AI — the brain behind all of Check Point's products. Turn to next-generation firewalls with 99.7% malware block rates, 99.9% phishing prevention rates, and ultra-low false positive detection rates. Deploy industry recommended best practices; from a collaborative framework, to a consolidated architecture.

Be proactive. Take action. You deserve the best security.
Learn more at checkpoint.com/action.
TD Synnex