Hospitality Technology Next Generation
The Role of Hospitality Technology Next Generation (HTNG)
By Emily Wilson – Marketing Manager
Hospitality Technology Next Generation is a global, not-for-profit trade association that fosters, through collaboration and partnership among hospitality professionals and technology providers, the development of next-generation solutions that will enable them to do business globally in the 21st century. The following article was submitted to Business View Magazine and is reproduced here.
It seems almost every day a new problem arises, and a solution is created for a previous problem which already existed. Hospitality Technology Next Generation (HTNG) is a non-profit trade association set out to better suit the process of coming up with these solutions, and how they get implemented whether it be in a single property, or a global hotel brand.
HTNG anchors 400 corporate and singular memberships with a total of 4,500 individuals from hospitality companies, technology vendors, consultants, media and academic experts across the world. HTNG's direction-setting body is its Board of Governors, which consists of 21 top IT leaders from hospitality companies, and is responsible for technology in over three million guest rooms and as well as across world-leading venues.
In addition to HTNG's leading governance committee, HTNG has a leadership committee for the vendor community, ensuring the organization continues to recognize not only the needs of a hotel, but additionally the voices of technology providers. While HTNG was founded in 2002 with the name "Hotel Technology Next Generation," in 2017, it changed the "H" to stand for "Hospitality" and has since expanded its efforts into other hospitality verticals including multi-family unit housing, cruise ships and casinos.
HTNG collaborates with over 35 organizations in the hospitality industry ranging from joint events, workgroups, academic advisory councils and more. HTNG currently holds annual events in North America, Europe, the Middle East and Asia-Pacific and continues to expand through these partnerships to other regions of the world.
To expand their business development and help move hospitality forward, HTNG's members participate in focused workgroups to bring to market open solution sets addressing specific business problems. HTNG fosters the selection and adoption of existing open standards and also develops new open standards to meet the needs of the global hospitality industry.
The organization facilitates 10-15 working groups at any given time which each focus on a trending topic or problem in the hospitality industry. Through bi-weekly meetings, HTNG's members meet via teleconference to address these problems and collaborate to develop a deliverable for the industry. Workgroup deliverables can range in anything from best practices, white papers, self-assessment tests, buyer's guides and more.
Challenges the Hospitality Technology Industry Faces
HTNG's current workgroups are as follows: 5G for Hospitality, API Registry, Blockchain for Hospitality, Business Analytics Transactional Extract, Converging AV and IT, Fiber to the Room, Frictionless Check-In, Global Privacy Regulations, Improving the Guest Wi-Fi Experience, Internet of Things (IoT), Payments, Open Payments Alliance (OPA) Standards, Staff Alert Technology, Unique Global Identifier and Wireless Power.
While all of these topics matter to the hospitality sector in their own ways, the following fragments are going to walk through some of the groups that have made recent leaps of progress.
API Registry
There are a number of inefficiencies in the hospitality Application Programming Interfaces (API) space, including finding potential technology partners whose products and/or services could add value to a hotelier's offerings. HTNG members created a public API Registry as a repository for APIs to allow prospective business and technical partners the ability to find each other by quickly identifying counterparts with the most likely matches and most desirable options for their needs, and the best person to contact once you find them.
GDPR
The European Union's General Data Protection Regulation (GDPR) went into effect on May 25, 2018 with a mission to strengthen the protection of individuals' personally identifiable information (PII). This regulation affects any company doing business with European citizens, regardless if the company is based in Europe or not. Prior to the GDPR taking effect, HTNG formed a working group which produced a framework and a self-assessment tool to help the hospitality industry prepare for this new privacy regulation. Since the GDPR has been in effect, the group re-chartered to continue their work to update this white paper, and released a second version this past June.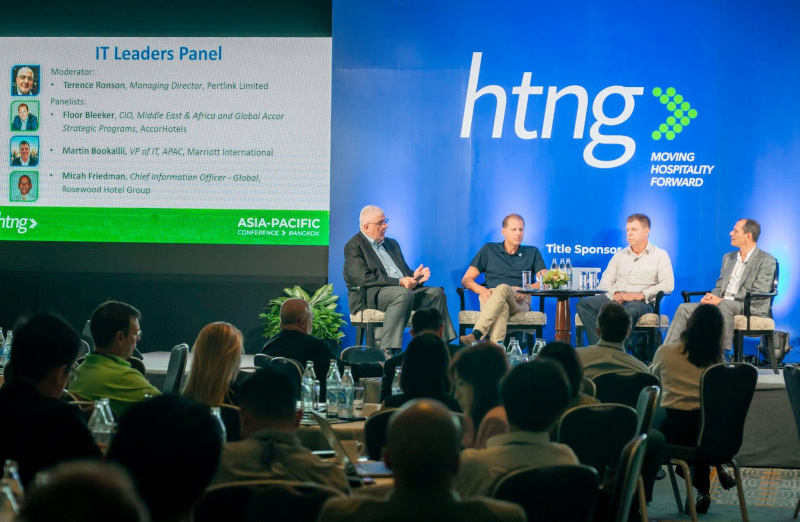 NFC Contactless Payments
Near-field communication (NFC) contactless payments include, but are not limited to, Apple Pay, Google Wallet and Samsung Pay. Among hospitality brands, there has been an uneven acceptance of these contactless payment methods, which causes an inconsistent payment experience throughout the industry. This conflict often results in a negative customer experience and the uncertainty for brands to continue to use this type of payment in the future. HTNG's NFC Contactless Payments Workgroup recently produced a white paper to help hospitality brands better understand the contactless payments-enabled solutions currently available and help drive other solutions to accept contactless payments.
Staff Alert Technology
In today's world, risks and threats are growing and it is becoming increasingly difficult to protect employees from privacy invasion, assault, noise, drug and human trafficking, and in the rare, but horrific instances, terrorists or active shooters. In 2018, the American Hotel & Lodging Association (AHLA) created a 5-Star Promise with five of the country's largest hotel chains committing that their properties would provide employees across the U.S. with employee safety devices, having a goal of broad implementation by 2020. Additionally, many U.S. cities have mandated this requirement including New York, Washington D.C., Chicago and Seattle.
HTNG partnered up with AHLA and grew upon the 5-Star Promise with its Staff Alert Technology Workgroup. Earlier this year, the group released a Device Buyer's Guide to point hospitality companies in the right direction whether at the start or during the process of device adoption.
Although many people outside of the hospitality industry recognize this safety impact, those outside of the field may not realize the difficulty of actually selecting and implementing a safety button. Here are some initial questions to consider:
The panic button might use GPS tracking, but how can it track vertically in a tall hotel building?
Should someone rush to the scene if a button is pressed? How do you know if the person may have an immediate health concern or if there is an active shooter where backup units are preferred?
How often do employees need to go through a safety training procedure?
Who is the proper person to respond to the scene if a button is pressed?
Since this has been a trending topic in the hospitality industry for the past couple of years, The Buyer's Guide Abstract is as follows for further reference.
With new issues arising every day, HTNG encourages those in the industry to become part of the group who is behind the conversations and the actions helping move hospitality forward.
Staff Alert Technology Buyer's Guide Abstract:
The hospitality lodging industry has always been driven by the purpose of providing the optimal guest experience and care. Hotel brands have long recognized the importance of providing a safe and supportive environment for their employees to empower them. Recently, many hotel brands have promised to provide staff alert devices to their employees to urgently and easily request assistance to their location.
There are potentially thousands of hotels that may need to select and deploy solutions to meet unique requirements and diverse environments. Members of the trade association, Hospitality Technology Next Generation (HTNG), have developed this buyer's guide to assist hoteliers, from general or operations management to corporate brand executives, build a Request for Information (RFI) or Request for Proposal (RFP) for their brands. The objective of this guide is to assist the procurement team to identify the most relevant questions, and to allow the development of the tailored RFI or RFP for their property or brand.
AT A GLANCE
WHO: Hospitality Technology Next Generation
WHAT: A non-profit
WHERE: Schaumburg, Illinois
WEBSITE: www.htng.org