The Association for Manufacturing Excellence
Share. Learn. Grow.
The Association for Manufacturing Excellence (AME) is the premier organization for the exchange of knowledge in enterprise excellence. Members come together to explore lean thinking and other enterprise improvement methods, exchange best practices, and network in order to advance their careers and improve the competitiveness and overall value of their organizations.
Recently, Business View Magazine asked Kimberlee Humphrey, President  & CEO of AME about the organization and how it serves its members. The following is an edited version of her written response.
BVM: Can you talk a little about the history of AME?  What was in the minds of its founders and what was the need that they felt had to be filled? 
Humphrey: "AME was founded in 1985, emerging from the American Production and Inventory Control Society (APICS). However, the ideas that drove this action began in the 1970s when Materials Requirements Planning (MRP) was the hot topic and many new software programs were being developed and marketed. APICS was essentially the professional MRP society. Because MRP came from a job shop environment of work order and push systems, mass production environments struggled to accommodate the paper blizzard that MRP created. A special interest group within APICS, called the Repetitive Manufacturing Group (RMG), formed to consider the problems and find solutions.
"Some of these early folks included Mac McCullough (Briggs & Stratton) and Doc Hall (Indiana University). At the same time, Doc and others had been exposed to 'Japanese Manufacturing' – which according to the early RMG members, was 'eating our lunch while we talked about MRP.' "In September 1980, Arthur Andersen and Ford Motor Company held a five-day workshop on Just-in-Time (JIT) and the manufacturing news was grim: Chrysler in bankruptcy, machine tools going down the tubes, and electronics beginning to hurt. Xerox found itself paying more to suppliers for the materials in a copier than the price charged to customers for a similar unit by Japanese competitors. In October 1980, the RMG co-sponsored, with Arthur Andersen, the first-known conference in the U.S. on Japanese Manufacturing at the Ford World Headquarters Auditorium, with Fujio Cho – then chairman of Toyota, as the featured speaker. Five hundred people attended this event. It was a wakeup call for all attendees and it spurred the RMG to action.
"Over the next several years, the sharing of activities at manufacturing sites grew, and by January 1983, the APICS Zero Inventories Crusade officially launched. As the movement grew, APICS and RMG separated, and by October 1984, plans were drawn up to become an independent association. The original name selected was the Association for Manufacturing Excellence Through Just-in-Time – although the 'Through Just-in-Time' was quickly dropped. AME was officially incorporated in February of 1985 as a 501(c)3 non-profit organization. The approved mission statement was: 'To achieve world class productivity through education, research, documentation, and interchange on the successful application of improved manufacturing practices.'
"According to the original founders, here is what they thought that they had accomplished:
A new organization, the Association for Manufacturing Excellence, was formed. At the time, it was the primary source of knowledge and leadership about "JIT" – now called lean.
They developed and honed their workshop, complete with a manual. Each workshop was to focus on a meaningful topic with a host company:

What the company had accomplished.
What the company had learned.
And leaving a critique for the host at the end.

They initiated:

Target magazine (in 1985)
AMEN newsletter (shortly thereafter)
Videos (first one appeared in 1988)

They educated people on JIT though workshops, seminars and publications.
They enjoyed rapid membership growth (it was the only "game in town" then).
They initiated practitioner networking.
They created the national office in Wheeling, Ill.
They tested collaboration with other associations."
BVM: What is the current mandate of the Association and how does that tie into the current state of manufacturing in North America Today?
Humphrey: Over the years, AME has evolved and the updated mission statement ties into the tagline of Share, Learn, Grow. The mission states: 'To inspire a commitment to enterprise excellence through experiential learning by bringing people together to share, learn, and grow." The vision of AME is: 'A manufacturing renaissance driven by people-centric leadership coupled with enterprise excellence.' And our key values are: Volunteerism, Practitioner Focused, Integrity and Trust, Passion for Excellence, Engaging and Welcoming. The current mission/vision/values tie well into the resurgence of North American manufacturing as we see many activities related to both global competitiveness and to reshoring initiatives.
BVM: What is your membership and are there different tiers of membership?
Humphrey: "AME represents approximately 4,000 members and has hovered around that number for the last several years. The trend for association memberships overall is down, so the fact that we are steady is a good sign that reflects industry's innate need for continuous improvement and practitioner-to-practitioner sharing. Our model is a bit different from others'. Companies benefit from having several employees who understand lean and can champion efforts in their facilities, so companies often send different people to the AME International Conference each year, so more employees understand operational excellence and can bring that know-how back to the workforce. As a result, the people who join our Association to get the member rate for the annual international conference don't always renew and come back the next year. We find that people who are sponsored by a company tend to come every few years.
"We offer various memberships including individual and two levels of corporate memberships. The individual membership includes discounts to all AME events, access to our members-only online networking portal, and many opportunities to share, learn and grow with other lean practitioners. Our corporate membership includes all that plus one free regional workshop each year, five memberships, and all employees at that site enjoy the member discount to AME events.
"We also have memberships to our Consortia groups – companies who form a local learning network, practitioner-to-practitioner. AME provides a facilitator and generally these groups range up to 25 companies and meet 10-12 times per year.
"Meanwhile, more senior leaders and those who want to go deeper in operational excellence discussions join AME as Champions Club members. The Champions Club has three events per year at host sites with a topical theme. We have visited companies such as Barry-Wehmiller, Savage Arms, Northrop-Grumman, Costco, and the military academies – West Point, Annapolis, and the Air Force Academy. Champions Club membership also includes free entry into most regional events and a full international conference registration."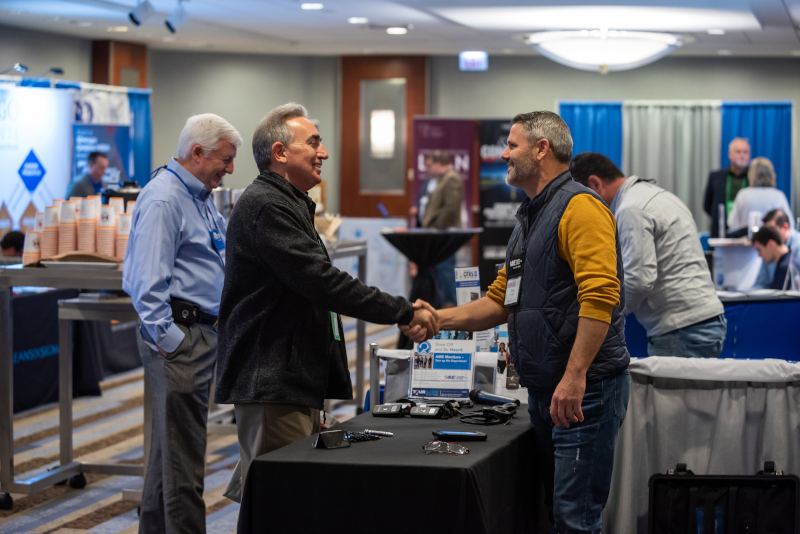 BVM: How do you communicate with the membership?
Humphrey: "Our most successful member communications happen when we host practitioner-to-practitioner events, summits and conferences. We facilitate these conversations between members and thought leaders and open doors so they can see lean in action and make connections. Our members and attendees find great value in our events and content, and often become ambassadors for AME. We are proud that word-of-mouth advocacy is the number one way that people learn of AME's value. Beyond these elements, we communicate with our members through our weekly digital publication, Target Online, our website and other email newsletters."
BVM: What qualities do the most successful manufacturers require today, and how will this evolve in the future?
Humphrey: "The requirements have not changed much over the years as manufacturers still focus on quality, cost, and speed. However, the speed aspect is accelerating at such a fast pace that it is difficult for smaller companies to keep up with the cost of changing technology.
"Another major change has been on the style of successful leaders today. As the baby boomers move out of the workforce, the old command and control style of leadership has also moved on. Replacing that style has been one that we have labeled as people-centric leadership, and we define as 'The awesome responsibility to create a cultural environment in which people can realize their gifts, develop and apply their talents, and feel a genuine sense of fulfillment for their contributions in pursuit of a common purpose.'
"For our members, this style of leadership resonates. Respect for people is fundamentally at the heart of lean. More and more, we see companies working to develop a culture of trust and respect before they begin tackling the tools of operational excellence. Once this culture is established, the tools go in smoothly and are much more sustaining."
BVM: What has stood out as essential over the last few years?
Humphrey: "For the past 11 years, the AME Excellence Award recognizes companies that demonstrate excellence in manufacturing and business operations. This is truly the lean elite, and only 44 facilities have been recognized for their operation excellence efforts since the award's inception. Our Lean Sensei tool provides a clear rubric to judge excellence and our assessors are well-versed in lean implementations. Past winners include Goodyear, Raytheon, Littelfuse, MillerCoors, Bombardier, AGCO, and HM Electronics, and we're beginning the evaluation process for the 2020 nominees now.
BVM: What does the landscape look like for the industry over the coming decade, and how will AME continue to be a viable voice for the industry?
Humphrey: "Technology will continue to evolve at a faster and faster rate. Industry 4.0 and the Internet of Things (IoT) are establishing a firm foothold in manufacturing. We've had keynote speakers and practitioner presentations on Industry 4.0 at past events and see an increased interest from our members. Businesses must be able to keep up and change quickly in order to stay competitive. But for AME, the pillars of what we advocate – enterprise excellence coupled with people-centric leadership – will remain and apply within any technology landscape. These principles apply to any business of any size with any products or services. They directly relate to those three unchanging focus areas – quality, cost, and speed. And when AME exposes our members to the people component, it is a winning combination.
"Beyond technology, green manufacturing has an important future within industry, and AME has been banging the drum to make sure our members can stay in front of this movement. Sustainability goes hand-in-hand with operational excellence because there is a focus on efficiency and long-term business viability – we call this 'lean and green.' It's not only being driven by a company's desire to be more efficient and make the world a better place, but also because of the priorities of the growing millennial workforce. Millennials now make up the largest block of U.S. workers, and there is clear data that indicates their desire to work for lean and green companies. Even beyond Millennials, the Business Roundtable released a new Statement on the Purpose of a Corporation in August 2019, which supports 'embracing sustainable practices across our businesses.' AME continues to bring to light best practices for lean and green implementations. Sustainability is in the lean DNA. We're excited to see it catch on more broadly, and happy to play our role educating organizations about this important effort."
BVM: If you were writing a profile on AME and the state of manufacturing today, what are the salient points that you would like a reader to take away from it?
Humphrey: "First off, manufacturing is alive and well in North America. In fact, there are literally hundreds of thousands of jobs waiting to be filled today. It is a career that is both fulfilling and lucrative. It is not the manufacturing job of 50 years ago, but a very fast paced learning environment where opportunities exist for those who want to progress.
"AME has a very special niche in the operational excellence field – one focused on practitioner-to-practitioner sharing. A first-time attendee to one of our recent conferences says he experienced 'real people with real problems with real solutions.' Now in its 36th year, our conference brings together 1,500-2,000 practitioners from all walks of life willing to share their story. And we are not just limited to manufacturing. We have a large and growing contingent of health care and government professionals attending and sharing as this methodology is relevant to any business scenario.
"Our entire organization lives our Share, Learn, Grow tagline, and we hope that your readers will come learn and grow with us, and then come back to share with others in future years."
AT A GLANCE
WHO: The Association for Manufacturing Excellence
WHAT: A non-profit trade organization
WHERE: Rolling Meadows, Illinois
WEBSITE: www.ame.org