Millennium
providing high-speed capability for all that need it
Working with fiber providers in underserved areas, Millennium lays the internet groundwork for increased connectivity 'for all'
In today's fast-paced world, reliable and high-speed internet connectivity is no longer a luxury; it is a necessity. Recognizing this pressing need, Millennium has emerged as a game-changer in the telecommunications industry.
With a steadfast commitment to bridge the connectivity gap, Millennium collaborates with fiber providers in underserved regions, laying the foundation for increased connectivity. Their visionary ecosystem expedites the construction of fiber to the home networks, ensuring that everyone can benefit from high-speed capability connectivity.
At the heart of Millennium's mission lies the belief that all Americans deserve access to the fastest and highest quality broadband internet service available. This unwavering commitment is shared by Founder and CEO James Kyle, who has been the driving force behind the company since its inception in 2004.
Originally established as a distributor of essential materials for fiber optic networks, Millennium  initially catered to the Madison – Milwaukee – Chicago corridor from a single location. However, fueled by their dedication to empowering communities with reliable internet access, the company expanded its reach to encompass the entire Midwest, stretching from Michigan to Indiana and beyond. Today, Millennium has transformed beyond a nationwide distributor, providing a comprehensive range of products and services to ensure their clients seize market opportunities swiftly.
Recognizing the unique challenges faced by small contractors in underserved areas, Millennium stepped up to support their growth. They introduced a rental leasing program that enables these entrepreneurs to accelerate their construction pace while minimizing capital expenditure. Furthermore, Millennium acknowledges that these enterprising broadband service providers often lack essential resources and expertise. To address this, they offer comprehensive support, including funding assistance, engineering guidance, access to materials, and staff training. By conducting feasibility studies and facilitating access to capital through their homegrown specialty finance fund, Millennium Infrastructure Fund, they empower clients to unlock their full potential.
As Millennium's clientele expanded and their brand reached new heights, they became acutely aware of the resource disparities that perpetuate a digital divide between the "haves" and the "have nots." To rectify this imbalance, they established an in-house engineering geospatial information systems (GIS) group. Leveraging the cutting-edge Esri platform, Millennium's GIS team generates real-time dashboards and maps, amalgamating data from multiple sources. This valuable information equips clients with the insights necessary to make informed decisions, evaluate competition, engineer networks, and manage assets effectively.
Driven by their unwavering commitment to empower communities, Millennium has witnessed exponential growth. Today, they operate 20 locations across the United States and one in Manitoba, Canada. Their success stems from their holistic approach, offering end-to-end solutions tailored to their clients' unique needs. From customized propositions to access to local inventory and seasoned professionals, Millennium stands out as the only partner in the industry to provide comprehensive support throughout the entire lifecycle of their clients' projects.
The growing recognition of the pivotal role broadband plays in society has spurred bipartisan support for its widespread adoption. Federal, state, and local governments are actively investing in initiatives to ensure universal broadband connectivity. However, despite these positive developments, only 40 percent of the United States currently has access to fiber optic connectivity, with rural areas lagging behind.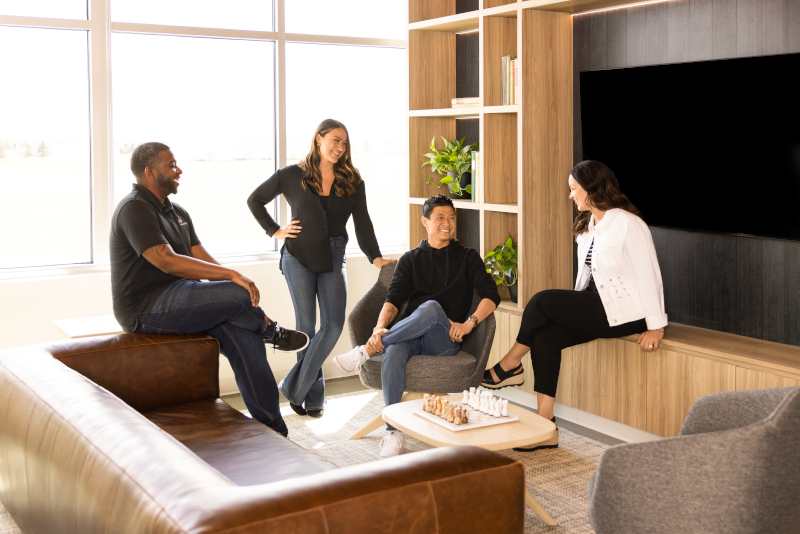 To address this pressing need, Millennium launched the Millennium Infrastructure Fund, designed to support the development of broadband infrastructure projects nationwide. This unique financing initiative connects forward-thinking network owners with visionary investors, enabling the realization of fiber optic projects. By offering interest-only construction loans, the Millennium Infrastructure Fund empowers network owners to expand their businesses and seize untapped opportunities. Through strategic partnerships with institutions such as Widelity, Live Oak Bank, and BMO, Millennium opens doors to enhanced access to labor, engineering resources, compliance expertise, and more.
A testament to Millennium's transformative impact is the success story of one of their clients. This client aspired to extend broadband access to the scenic northern lakes area of Wisconsin. However, they faced significant funding challenges despite being a profitable company. Collaborating closely with Millennium, they secured their first loan and received critical engineering support. Within a few months, the project was up and running, and the client successfully repaid their initial grant. This accomplishment showcases Millennium's unique approach, as they never require equity ownership from their customers but instead focus on creating opportunities for deserving companies in need of support.
While Millennium remains dedicated to facilitating infrastructure setup and securing funding for their clients, they offer a comprehensive suite of services. These include project management, resource allocation, and a wide range of equipment leasing and rentals. Leveraging their extensive distribution industry background, Millennium provides access to telecommunications equipment such as trailers, fiber blowers and pullers, fusion splicers, testing equipment, and various accessories. Their one-stop-shop approach ensures streamlined operations and empowers clients to stay on schedule and within budget.
Looking towards the future, Millennium's focus remains unwavering. In the next 6 to 18 months, they anticipate challenges in securing funding due to rising interest rates and a slowdown in the merger and acquisition market. Nonetheless, Millennium will continue to champion regional providers and advocate for fiber network expansion in rural areas. As part of their growth strategy, they plan to establish new warehouses along the East Coast and fill in gaps from Ohio to Florida. Additionally, Millennium actively seeks strategic acquisitions of regional distribution companies and engineering firms that align with their core values and long-term objectives.
Throughout their journey, Millennium  has forged valuable partnerships that have been instrumental in their success. Their GIS platform and software, provided by Esri, have facilitated precise engineering specifications and data analysis. Additionally, Widelity has played a vital role, offering business and network engineering consulting services that assist Millennium's clients in grant writing, training, compliance, and more.
At its core, Millennium is driven by a profound sense of purpose: providing access to broadband network infrastructure and giving back to local communities. Founder and CEO James Kyle firmly believes in the untapped potential residing within rural areas. He envisions a future where the next groundbreaking invention or life-saving cure originates from an entrepreneur empowered by reliable internet access. Kyle emphasizes that Millennium strives to empower both clients and employees to become the best versions of themselves.
As Millennium continues to redefine connectivity and uplift communities, their story serves as an inspiration to the telecommunications industry and beyond.
Hyesung Cable & Communication Inc. – www.hscnci.com
We tend to take progress for granted.
It's only human to forget the things that make our lives easier once we get used to their presence.
Just think about it. Only a few hundred years ago we communicated over distance by shouting, whistling, and signal fires. Morse code isn't even 200 years old, and the telephone? Patented in 1874. Remember the dialup sound?
Email, videochat, streaming…once surprising innovations are now the standard, and the more we use them the more we fail to see the lines carrying all this information.
These lines tucked away above your head, under your feet, in the walls of your home and workplace didn't just appear. An army of skilled technicians and professionals manufactures, installs, repairs, and upgrades these networks round the clock to keep it all going.
At Hyesung we do our bit by producing the latest and best standards of fiber optic cable in the industry. We work hard to make cables that last, and are more easily replaced when they don't. Cables like PSAC (Peelable Steel Armor Cable) that reduce install times to get your network rolled out faster, or TMFC (Traceable Micro Fiber Cable) to rejuvenate congested pathways and save on upgrades.
What does your network need? Find it with Hyesung.