Fallas Automation, Inc.
Agile & Sophisticated Packaging
Business View Magazine interviews representatives from Fallas Automation, as part of our focus on best practices in the packaging industry.
Fallas Automation, Inc. of Waco, Texas, manufactures packaging equipment and sophisticated, automated machinery, such as case and tray loading, sealing, and erecting machines; product conveyors; packing systems; accumulators; collators; vibrators; and tampers for bags, cartons, tubs, and trays, predominantly for the food industry, or as the company likes to say, "the kind of machines you'd build yourself if you had the time and resources."
Dave Fallas, who has a degree in mechanical engineering and had worked at Mars Incorporated, a global manufacturer of confectionery, pet food, and other food products, started his company in 1979. "There wasn't much as far as case packaging and secondary packaging," says Dan Maeyaert, Fallas' VP of Manufacturing Operations. "It was mostly hand packing; there wasn't a whole lot of automation in that area. An operator would grab a bag off a machine and place it directly into a case; it was all manual." Dave began by making a machine for Frito-Lay that helped flip bags of potato chips upright, so that they could be more easily packed. His semi-automatic case packing machines, over time, evolved into today's fully-automated and robotic lines all the way from bagging to palletizing.
According to Fallas' VP of Electrical and Controls, Jacob Cox, the need for fully automated packaging equipment is part and parcel of what has become known as "Industry 4.0," which is characterized by "smart factories" that contain cyber-physical systems that monitor physical processes and communicate and cooperate with each other both internally and across organizational services offered and used by all participants of the value chain. These machines are further augmented with wireless connectivity and sensors, and are part of a system that can visualize the entire production line and make decisions on its own, while simultaneously exchanging data over the Internet of Things (IoT).
"IoT and Industry 4.0 has grown a lot and is a pretty important topic for a lot of our customers," Cox explains. "That's really driven us to focus a lot more on the software side to make sure that we're being competitive and providing the information that the customer needs." Maeyaert adds, "We really are focusing on fully automating the machinery; making our machines as simple to operate as possible, while helping the staff that's there to maintain and run the machines without having to babysit them. So, the machine is able to say, 'Hey, something is going to happen soon; check on this,' as opposed to a maintenance staff saying, 'We need to maintain this,' or 'That doesn't sound right.' We really need the machines to be able to tell maintenance staff that something needs to be addressed."
In addition to being a relatively small company with less than 60 employees, which Maeyaert says allows it to be more agile than some of its larger competitors and, therefore, more able to focus on customer service, Fallas Automation had its beginnings in the food industry, and today, those clients make up most of the company's customer base, and includes such well-known brands as Hershey's, Kellogg's, and Pepperidge Farms. Maeyaert notes that a lot of the company's business comes from its existing portfolio, while new customers are cultivated via the trade show route, as well as word-of-mouth.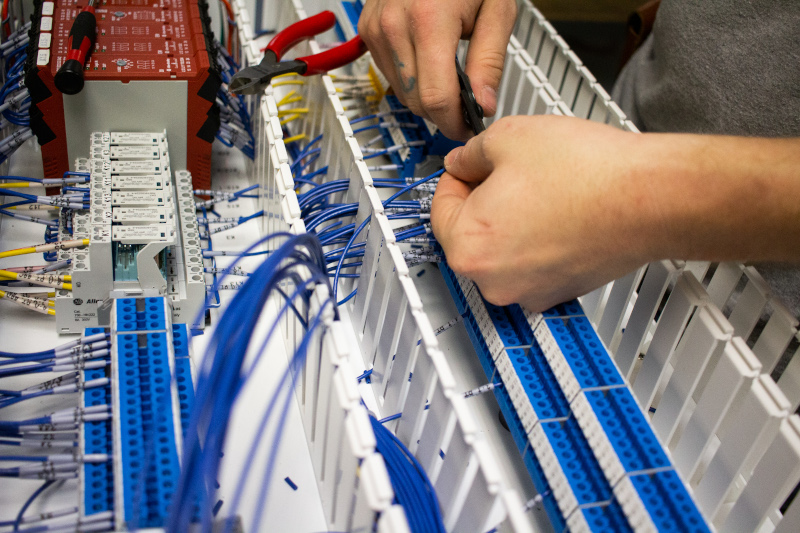 "The company is unique in the fact that Dave came from the industry, so we know what to expect when you're running lines," he notes. "But he's also very innovative and he's expressed that culture throughout the company. Throughout the years, we've done things that are not done just for our bottom line – they're done for our customers; they're done to make their lines run better. We're not doing IoT because we think we're going to sell 50 more machines; we're doing it because it's what our customers need and it will make their machines run better and more efficiently. So, as a company, we know where we're coming from, we know where our customers are coming from, and we're doing our best to try and provide the best machines that they need."
"One thing that sets us apart is that we are family-owned and Dave has been in the industry for 60 years, and is still highly involved," Cox adds. "He comes in almost every day and he wants us to continue developing and innovating. So, he's always pushing all of us to do that. And since it's a small company, we're all able to be involved in the development of new machines. And when a customer has a new problem that we haven't seen, we propose it to the team so we can all work together to come up with a solution. And since we have a lot of employees who have been with us for 20 or 30 years, it really helps when you have to come up with new solutions to a problem that might have been seen 20 years ago."
Cox also gives due credit to one of Fallas' long-time partners, Schneider Electric, with whom it has had a good relationship for the past 13 years. "We started using their platform to develop one of our flagship machines we call the R700 Adabot," he recounts. "We designed that back in 2006. We contacted a couple of our vendors and asked them if we could do this fairly complicated kinematic profile, and Schneider, which was known as Elau at the time, was the only one that proved they could do it. So, they sent a guy from Germany and he was able to conceptually create this machine. We've had a few different technical support people that we've worked with since then. Our main support is a senior technical engineer from Schneider Electric. He's been helpful in keeping this machine at the top of our list and making sure that it's performing exactly how we need it to and developing it over the last few years with better speed and performance. We've really enjoyed that relationship with Schneider Electric; we can always call on them and get responses, instantly."
Going forward, Fallas Automation will, no doubt, continue to be guided by Dave Fallas' oft stated goal: "To build machines that can adapt to years of change, withstand three-shift abuse, and keep on running when others have failed." Or as Jacob Cox puts it: "We're just trying to make sure our customers are getting exactly what they want."
AT A GLANCE
WHO: Fallas Automation, Inc.
WHAT: A manufacturer of automated packaging equipment
WHERE: Waco, Texas
WEBSITE: www.fallasautomation.com

Schneider Electric – se.com
At Schneider Electric, we believe access to energy and digitalis a basic human right. We empower all to make the most of their energy and resources, ensuring Life Is On everywhere, for everyone, at every moment. We provide energy and automation digital solutions for efficiency and sustainability. We combine world-leading energy technologies, real-time automation, software and services into integrated solutions for Homes, Buildings, Data Centers, Infrastructure and Industries. Visit us today at se.com