Holyoke, Massachusetts
A Renaissance in the City of Champions
Business View Magazine interviews representatives of Brockton, Massachusetts for our focus on Growth & Economic Development in U.S. Cities
As a community with its own rich story, the City of Holyoke is an echo of the accomplishments of an entire country, acting as a gateway for industry, innovation and immigration. Uniquely situated in western Massachusetts, the city of 40,000 is 30 minutes from the Connecticut border and a short ride to New York, Boston, Vermont and New Hampshire, on what is known as New England's "Knowledge Corridor." An industrial built city, Holyoke was designed to support 80,000 residents, and today they are working to grow the community, bringing new industry and opportunity and reviving the vibrancy of the past.
Aaron Vega, Director of Planning & Economic Development, shares, "One of the great things about Holyoke is its history. It's one of the first designed cities in the country. The Industrial Revolution and the  advent of energy through water power created the city. I like to say we were green before green was a thing."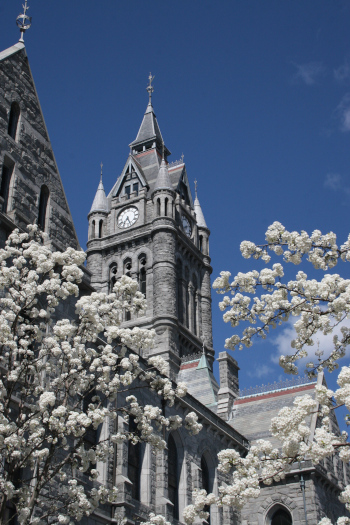 A man-made canal system off of the Connecticut River created a thriving paper industry in the first part of the 1900s, with Holyoke reporting more millionaires per capita than anywhere else in the U.S. at the time. Immigration has also contributed greatly to the history and vibrancy of the city. As Vega adds, "We are a reflection of America, in that every immigrant group has come through this community. So, when you look in the community, even through the architecture and the history, there are all these immigrant stories."  With a large Latino population spanning several generations, Vega notes, "We are in this interesting space because we're in a third generation of Latinos, particularly Puerto Ricans, and we have our first Puerto Rican mayor in Holyoke. We have a large community coming together, owning businesses and becoming firefighters and policemen. It's a community of opportunity."
Looking to population growth as a key economic development tool, a variety of housing options are in the works in Holyoke, including the creative repurposing of old mills into residences. "We really think that that can be an attraction for people who want that urban living, but also want to be 15 minutes away from being able to walk around a reservoir and walk up the mountains," relays Vega. "We are in this nice location where we have suburban style houses, some very rural areas, and an urban core."
Providing housing options for all demographics is a priority, especially as the city focuses on growing its commercial and manufacturing sectors. From studio apartments, to big open loft spaces, and more traditional home ownership, Holyoke is committed to having something to suit every housing need. Vega explains, "If people don't have a place to live, and as they move up the economic ladder, they don't have a place to keep moving up in their housing stock, people aren't going to want to stay here." Working with Winn Development, the city is also securing housing for the 55+ age group, repurposing a 100-year-old building in downtown Holyoke.
Holyoke Community College is a major employer and has been an important part of the city for 75 years. "That's a huge asset for us. They employ and educate people from all over the area. Even though it's a community college, we have a scope of probably 30 miles with people that come to the college. So, it's really well respected," says Vega. Holyoke Medical Center, one of the last independent community hospitals in Massachusetts, is another primary employer. Vega describes, "They are one of the leading places for cardiovascular care, they have a wound center, they have an ER. It is a very progressive hospital, it does a lot of community work, addressing things like homelessness, addiction, and food insecurity. So, they're a great partner and a big employer here in the Valley and in Holyoke."
Home to Holyoke Health Center as well, Vega says, "Healthcare is really a big industry for us. Our Community College has a nursing program with a pipeline for students to be able to work right at the health center or at the hospital." With more than 200 stores, and over 40 restaurants, the Holyoke Mall provides another main source of employment in the community. "Even though malls have been suffering over the last couple of years, they've been really smart and created more of a destination and more family entertainment," Vega maintains.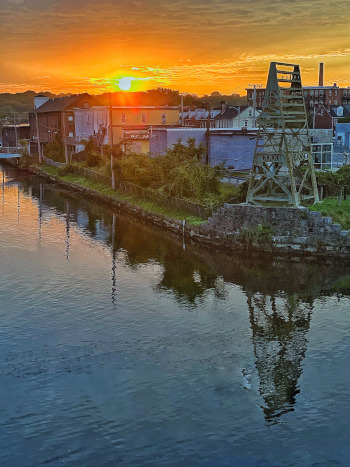 The legalization of cannabis in Massachusetts brought another opportunity for Holyoke to strengthen their commercial and manufacturing sectors, making it as easy as possible for those who want to open cannabis operations in the community. Vega recounts, "We have a very easy entry into starting your process, and we currently have about 500 people that work in the cannabis industry, between cultivation and retail. That's new in the last two years." Admitting that the introduction of cannabis brought some initial uncertainty for some residents, he says, "This community was built on manufacturing, and that was really the view that we took. Yes, there's been some social strife, but we say, if Guinness came into town and wanted to set up a brewery and a distribution shop, no one would blink an eye. And we would welcome them to the city with open arms."
Holyoke Gas and Electric (HG&E), a municipally run gas and electric utility is another attraction for businesses looking to move to the area, and a benefit to the community overall. "They are very progressive, over 80% of our current energy portfolio is carbon neutral," asserts Vega. With solar incentives and other purchasing agreements, Vega says that HG&E is a great partner for the city, and for companies in the energy sector. He explains, "We have a lot of energy testing types of companies that are figuring out innovative ways to create carbon free energy. Creating incentives and keeping those rates low for companies is one of the big reasons that would draw industries like cannabis here, as they use a lot of energy." HG&E has also installed fibre throughout the city, providing great rates for businesses and new builds. Hoping to see it taken one step further, Vega remarks, "We're working on that last mile, we would love to have HG&E run the Wi-Fi  and the wireless networks right to everyone's home."
Working to secure its reputation as a unique and international food destination, diversity is the name of the game in Holyoke. "Even during COVID, we had six new restaurants open up, and these are really homegrown," reports Vega. The cities growing entertainment scene includes Gateway City Arts, a performance facility that brings in known international and national names at least three times per week. "That's been really great to see, and the restaurants kind of follow that," he says.
With an added focus on tourism, Holyoke is also working to find ways to connect visitors to the various local attractions. Vega acknowledges, "We see some of our tourism attraction as our diverse and unique restaurants in authentic Puerto Rican and international foods. We have a great children's museum that brings 70,000 visitors a year to Holyoke. We are really thinking, hey, you're coming to the children's museum, we want to make sure you stay and have lunch." Adding public art throughout the community is another effort to support businesses, attract visitors, and beautify the surroundings. "We're an old mill town, and we've gone through some tough times, so we have some blighted areas. As we work together with business and private industry to bring in public art, everyone sees the benefit, and their www.exploreholyoke.com  website seems to prove that," Vega says.
With so much on the agenda already, the city hopes to attract ancillary cannabis businesses in the future, supporting the industry in much the same way the paper industry did in Holyoke's early days. "Cannabis is great to employ people, but the market is going to change over the next couple of years, Vega says. "One of the things that we think could make it stay stronger in Holyoke is to have the packaging type businesses, the companies that build the lights, the company that does the technology. We are trying to get those companies here, because their products relate not just to cannabis, but beyond."
Along with that, clean energy production will be another priority. Vega states, "We see clean energy production as not just critical to Holyoke's future and sustainability, but also supporting businesses, because energy prices are going up." Describing a desire to create symbiotic relationships between companies, using the example of an energy company generating excess heat, and the possibility of bringing in a plastics company who could use that heat in their manufacturing process, Vega says that this is one direction he would love to see the city move in.
"You could have a whole hub right there, having no impact on the on the environment, but creating all the things that we actually need, energy and plastic. Those are the kinds of sectors we really want to start looking at."
AT A GLANCE
Holyoke Massachusetts
What: A city of 40,000 built during the industrial revolution.
Where: Hampden County Massachusetts
Website: www.exploreholyoke.com

Hazen Paper Company – www.hazen.com
Hazen Paper was founded in 1925 and is based in Holyoke, MA with a satellite facility in Housatonic, MA. Hazen Paper is a world-class paper converter specializing in custom holographic originations, film, foil, and paper laminations, specialty and gravure coatings, and rotary embossing. Hazen Paper Company products enjoy a wide acceptance for use in health and beauty packaging, entertainment and media packaging, golf ball packaging, beverage carriers, lottery scratch tickets, merchandise tags, product labels, security applications, and ticketing applications.

WinnCompanies – www.winncompanies.com
Founded in 1971, WinnCompanies is an award-winning owner, developer and manager of high-impact multifamily communities and mixed-use properties. With 3,800 team members, WinnCompanies strives for excellence every day at affordable, senior, mixed-income, market rate and military communities that we own and/or manage in 23 states and the District of Columbia.