HHP Inc.
Sustainability starts in the forest
Business View Magazine interviews Joseph Carrier, co-owner of HPP Inc., for our focus on Growth of the Forest Products Industry in the U.S.
HHP Inc. has built a reputable name for itself on the foundation of quality, consistency, and family values. The family-owned hardwood products company operates a state-of-the-art hardwood sawmill,  kiln drying operation, paper-quality chip plant, and pallet manufacturing facility in Henniker, New Hampshire.
Having been established and growing for just over half a century, HHP plays a significant role in the wood products economy of the area, processing and supplying hardwood products to the local, regional, and international markets. Besides its core business of hardwood processing, primarily at its hardwood lumber mill, HHP Inc. also offers forest management services, a complimentary service that leverages its internal forest management resources.
One of the first things that strikes you about HHP is that it runs a zero-waste facility, which, according to second-generation co-owner Joe Carrier, is a matter of sustainability and practicality. "When we buy trees, we purchase everything, not just the trees with viable lumber," he explains. "After processing the viable logs from the tree, the tops of the trees and bark get processed into byproducts like hardwood chips for the paper industry & sawdust to be used in wood pellet production. The bark is recovered and sent to a biomass plant in northern New Hampshire, where burned for the production of renewable energy, or taken to our sister company, PR Russell in Brentwood, NH to be processed into landscaping materials.
HHP's primary service areas are hardwood lumbering, the manufacturing of pallets and roundwood chips, and woodland management. The company's hardwood sawmill is the cornerstone of its 45-acre operations site, producing over 14 million board feet of green and 5.5 million board feet of kiln-dried lumber per year. "We recently installed four new kilns, which has bolstered our production," says Carrier. "With the new kilns, we were able to take the three older ones offline, refurbish them, and convert them to propane kilns, which has increased their capacity and efficiency significantly."
The equipment upgrades and tweaks have made the plant's processes more efficient from production and labor standpoints. "With more streamlined processes, our workers don't need to manage so many moving pieces, making it easier to work faster, more safely, and efficiently," states Carrier.
HHP primarily draws wood stock from the southern tier of New Hampshire, where its facility is located. The area is better known as the Red Oak Basket and provides access to hardwood timber native to the area, primarily Northern Red Oak, White Oak, Hard Maple, Soft Maple, Ash, and Yellow Birch.
HHP also operates a pallet shop producing high-quality customized hardwood pallets, shipping between 425,000 to 500,000 pallets (1,000 trailer loads) every year. Carrier reports, "Our pallet shop can manufacture pallets to over 400 specifications using three systems: a pallet specifications software system, the National Wooden Pallet and Container Association Pallet Design Software, a Pendu cut-off and gang saw system, and a computerized automated Viking pallet nailing system."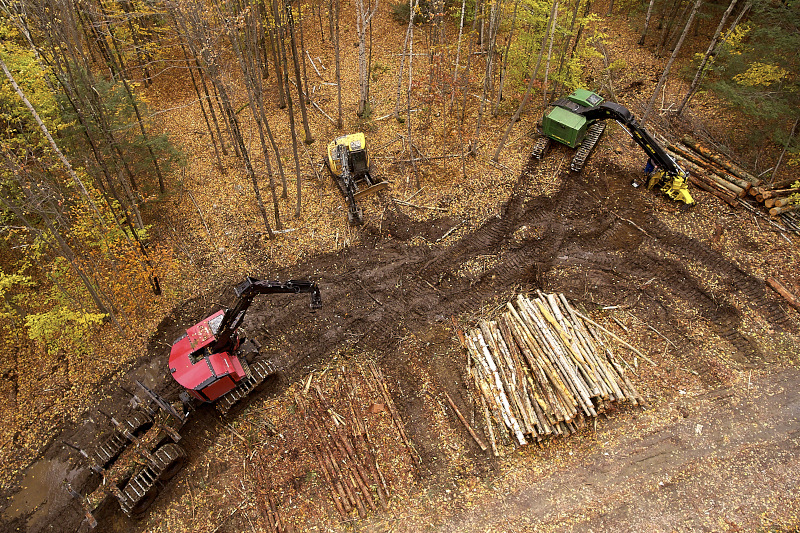 The last piece of the production puzzle is roundwood chip manufacturing. HHP manufactures more than 100,000 tons of clean, high-quality wood chips annually, supplying pulp and paper mills throughout the Northeast U.S. HHP's roundwood chip yard produces Hemlock, Pine and Hardwood for biomass boiler heating chips.
HHP currently has 77 full-time employees, most of whom work in various plant operations in the manufacturing facility, and a handful working in administrative and forest management departments. Although the plant is growing and demand is high, Carrier sees greater opportunity in increasing the plant's operational efficiency instead of hiring more people. "We've invested in a lot of equipment and provide a modern work environment to our workers," he explains. "Where we are currently, just buying more equipment or hiring more people will not help much. For now, we are trying to be as efficient as possible and utilize everyone that we can."
Since the company is not aggressively hiring, it has taken a more conservative path regarding workforce management. "Our culture, which is inclusive, enabling, and family-oriented, has been our savior over the last few years," says Christine Pefine, HR Officer. "Measures we took over that time to cultivate a positive work culture have borne fruit. We are seeing better retention rates, job satisfaction, and an overall more cohesive and collaborative work environment."
Over the last two years, HHP has made several investments in equipment upgrades, mainly to the pallet shop, where Carrier says investments ranged from $1 million to $1.5 million. These investments were directed towards increasing overall plant efficiency for the most part. "We're getting the same product with this new machine from Pendu, but it's less labor-intensive, more efficient, and much safer," explains Carrier. "We're still learning the system, but it's going very well. Once fully operational, it will yield twice the amount of production with fewer people who will become more of machine operators than laborers, which they seem to very much like." The company is also in the process of replacing all its lighting fixtures with energy-efficient LED alternatives.
Complementing the smoothly running internal systems is an adequate amount of wood feedstock, which is more of an anomaly in the timber industry, as most other mills grapple with limited supply. Carrier explains why HHP is in this unique position, noting, "Our current stock levels are a bit of a head-scratcher because it's surely not the norm in the industry right now. Part of it is because we are going through parts of our inventory that have been sitting around for a while. The other part is aggressively sourcing and procuring in anticipation for this upgrade to ensure we had enough. Our raw material levels are okay, but we always watch them closely because a lot can change very quickly."
Looking outward at the market, HHP faces tremendous demand, especially for pallet products, which Carrier admits the company simply cannot meet. "We can't satisfy every customer that comes our way," he adds. "We're doing our best to work with our core customer group, and any extra capacity we have, we take on what we can. We just can't say yes to everybody right now." Supporting HHP in meeting this demand are MES Forest Products and Abenaki Timber, two long-term partners the company works with to meet more aggressive production quotas for its core customers.
As demand rises downstream, demand is also heating up upstream, as more companies scramble for limited resources amidst supply chain issues and a possible economic slowdown. For HHP, this means dealing with higher prices for machinery, fuel, transport, and labor, all critical inputs for the timber business.
"Higher core input prices have a domino effect on smaller items," says Carrier. "For example, the price of nails has risen significantly, even though there's no shortage of nails." He also sees an impending crisis precipitating, one related to the shipping industry. "Supply chain bottlenecks have caused an accumulation of containers on one side of the ocean, meaning there will be a challenge bringing them all back to the other side, which may result in a severe shortage of containers, whether here or in China."
As HHP positions itself for growth over the near term, Carrier's top priority is to add more production capacity to the plant alongside more value-added processes and expanded forestry operations. "Offering more value-added products would open our customer base further, allowing us to upsell a range of finished products," he says. "The other aspect we are very keen on is building a sustainable company with our team as the foundation, which Christine has been helping a lot with."
Pefine agrees that corporate culture is at the heart of the company's next chapter as it transitions into a new generation of leadership. "We are working at building succession structures that combine the older generation with the newer one for knowledge transfer," she says. "We are also going big on cross-training to ensure all our employees remain valuable. Our long-term goal is to help people make forestry their livelihood and our company a place they enjoy coming to for work, friendship, and family-oriented culture."
AT A GLANCE
HHP Inc.
What: A leading integrated forest products company
Where: Headquarters in Henniker, New Hampshire
Website: www.hhp-inc.com