Groupe Savoie Inc.
Investing in hardwood
Business View Magazine interviews representatives of Groupe Savoie Inc. for our focus on the Wood Products Industry
Nestled in the Appalachian Mountains and just 50 kilometers west of Mount Carleton, New Brunswick's highest elevation point, is the charming town of Saint-Quentin. With a French-speaking population of just over 2000, the town is home to Groupe Savoie Inc., one of the largest hardwood companies in the province.
Six hours to the southwest, in Nova Scotia, is the company's Westville sawmill, the largest hardwood sawmill in the province and one of the group's primary sources of hardwood lumber. Heading up the Westville sawmill are plant manager Andrew Watters and procurement manager, Jody Hamper.
Groupe Savoie is a vertically integrated company that harvests and buys hardwood lumber in Westville and processes it into various end-user products at its Saint-Quentin plant. However, according to Watters, the company has big plans to increase its output and streamline its operations through strategic investments at the Westville sawmill.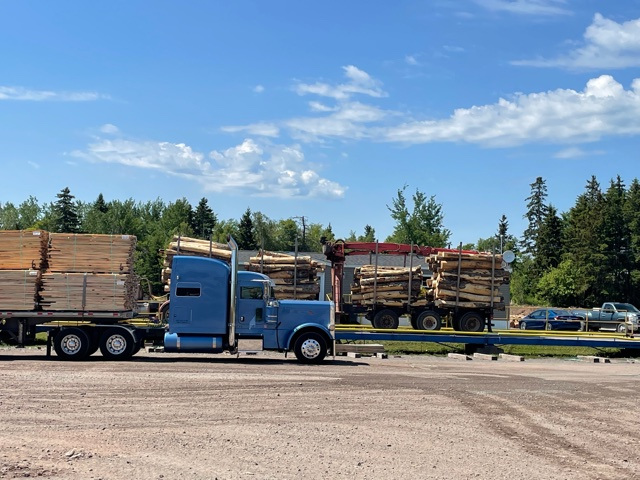 The Groupe Savoie story begins in 1978, when founder Hector Savoie and son, Jean-Claude, acquired two hardwood lumber companies. Watters explains, "In 1984, the company invested in value-adding processes and started manufacturing pallets and later, in 1988, they started a pulp plant, further enhancing its vertical integration."
By 1992, the company had grown significantly, building a state-of-the-art pallet manufacturing plant, and within two years, in 1994, Groupe Savoie Inc. was incorporated. Further expansion came in 1997 with the construction of the Westville, Nova Scotia sawmill. Between 1997 and 2013, the company constructed two more plants, as well as incorporating a subsidiary company, Précitech Hardwood International that specializes in tonewood supplies to worldwide customers.
"Today, we are still fully family-owned and remain true to our hardwood roots as we expand into more specialized hardwood products and seek to capture a bigger piece of the global hardwood market," Watters adds.
The Groupe Savoie Westville sawmill is an anomaly in the mainly softwood lumber industry of Nova Scotia. Since all of the wood it handles is hardwood, it processes differently from the more automated softwood plants in the area. "Our main processing plant is in Saint-Quentin," says Hamper. "The hardwood that comes in from Westville and other mills is processed into pallets and pallet components, cabinet and furniture components, hardwood lumber, tonewood components, ecological fuels, and wood chips."
Although Groupe Savoie started as a sawmill operation, today it boasts a comprehensive service offering that employs cutting-edge technologies to provide end-to-end services to customers. The Westville mill is just one of the facilities that Groupe Savoie runs. "Our other facilities include two sawmills, one pallet plant, one component plant, one pellet plant, and dry kilns in St-Quentin; one component plant and a dry kiln in Kedgwick; and one pallet production and recycling plant in Moncton," says Watters. There is also a dry kiln located in Westville, drying softwood lumber for Scotsburn Lumber, another local mill located outside of Westville.
The firm employs around 600 people across the various facilities, with about 45 working at the Westville unit. However, like most lumber companies, it experiences a degree of turnover, especially at the lower levels of the company hierarchy. Watters admits, "We have some turnover, especially on the harder jobs, but we also have some folks who have been with the mill since it opened in 1997." The majority of the team at the Westville unit work milling-related jobs and, as such, go through training programs related to that set of skills. "We do most of our training in-house, although our lumber graders must undertake outside training periodically to remain certified," explains Watters. "That's approximately every three to five years."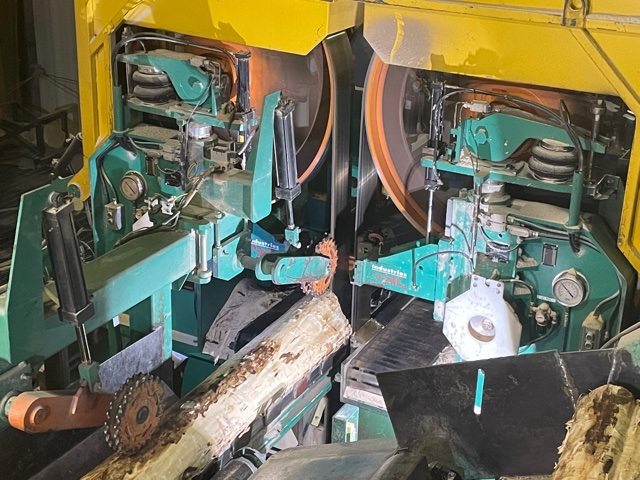 Unlike other mills in the area that also operate a truck fleet, the Westville division relies entirely on third-party trucking companies, with some offering both lumber sales and trucking services.
Groupe Savoie, Westville secures most of its timber from private sellers in Nova Scotia, Prince Edward  Island, and southern New Brunswick. Like the majority of lumber operations, the COVID-19 pandemic put some breaks on operations, especially as most harvesting operations slowed down due to labor shortages and social distancing protocols.
However, the market has rebounded significantly. As Watters notes, "Hardwood demand is not market-driven like softwood is, so there's always demand," he explains. "The pandemic slowed things down over the last year, but right now there's major demand and the prices are up a little bit, but not to the levels seen with softwood." Although the market is looking up, the mill still has challenges finding enough feedstock for its operations, a factor Watters says makes it challenging for the mill to invest further in modernizing or expanding the plant.
"Supply is a major concern for us because on any given year our plant is only running for a limited number of days," he says. "Once we have enough supply and our plant is running at full capacity all year, then we'd have a strong case to invest more resources in technology and expansions."
The limited supply is not just a local issue but an industry issue that affects hardwood production. Since most hardwoods grow on private land, educating private landowners on the importance of hardwoods as lumber is a significant hurdle the Westville mill faces. "Private landowners primarily sell their hardwoods as firewood, which provides them ready cash in hand," says Watters. "When we come in and say we'll buy the lumber on a contractual basis, it becomes a choice of whether to sell to us or sell to firewood dealers."
Currently the mill is working with local associations and pushing advertising to get the message out on the value of cultivating and selling hardwoods as lumber – that push is being spearheaded by the mill's procurement manager. Hamper reports, "I regularly meet with landowners to show them the value of the hardwood. It's a learning process, and we are making inroads in helping them know the value of hardwood logs." He adds that although theirs is the largest of only two hardwood mills in the area, the primary competition comes from the firewood cash market.
The company's primary customer is Masterbrand Cabinets Inc., one of the top wall cabinetry manufacturers in the U.S. Groupe Savoie also sells tonewoods, a specialty hardwood product used to make guitar frames, drum sticks, and other wooden instrument parts. A major client is Fender, the world's largest guitar manufacturer. "Our pallet business sells in Canada and the U.S.," comments Watters. "Chep Canada and Chep USA are major customers for that division."
All of the Groupe Savoie plants have achieved zero waste status, with some of them selling excess wood by products to other entities such as power generation companies. At the Westville plant, wood by products like chips are either used internally or sold.
Servicing such major customers depends on having a list of reliable suppliers. "Most of our suppliers have been in operation for a long time," says Watters. "One example is Sullivan Fuels, a family-owned business that has supplied us with diesel, hydraulic oil and other lubricants for many years." Some of Groupe Savoie's other suppliers include Northern Pulp, Scotsburn Lumber, Motion Industries, and Great Northern Timber.
Securing hardwoods from private landowners is an ongoing challenge for Groupe Savoie, which led the company to acquire a Crown Land license in Nova Scotia. "This license is our first, and it represents the direction we want to take going into the future," Watters says. "Although our current allotment is relatively small compared to our milling capacity, it does give us a foothold in the lumber supply market."
In the future, he hopes the mill can secure larger Crown allocations, which will provide a basis for further investments in the mill. These investments will help the mill process the logs further, which will drive down the cost of transportation to the Saint-Quentin facility. On his part, Hamper hopes to see better hardwood utilization in the province, and he's banking on the company remaining consistent with putting this message across to everyone in Nova Scotia.
AT A GLANCE
Groupe Savoie Inc. (Westville Division)
What: An innovative supplier and manufacturer of hardwood products
Where: Saint-Quentin, New Brunswick
Website: www.groupesavoie.com

Strongco Corporation – www.strongco.com
Strongco, a Nors Group Company, is a fully integrated heavy equipment dealer and your trusted partner for every project. Representing leading equipment manufacturers including Volvo Construction Equipment, Case Construction, Manitowoc, National and Grove Cranes, Fassi, Sennebogen, Eco Log Forestry, and Konecranes. Our expertise spans construction, infrastructure, mining, oil and gas, utilities, waste management and forestry.