Gillespie & Powers, Inc.
American owned, globally known
Business View Magazine interviews Ian Marsh, Director of Sales & Marketing at Gillespie & Powers, Inc, for our focus on Manufacturing in the Aluminum Industry.
Gillespie & Powers, Inc. is on a mission: to produce an innovatively superior product by integrating science, art, and experience to create solutions found nowhere else in the refractory services industry. The American-owned, globally known company dates back to 1902, when Gillespie & Daly Construction, a brick and stone mason firm begun by John H. Gillespie, supplied fire clay bricks used to contain the coal-fired boilers that provided heat and energy. Refractory materials remain chemically and physically stable at high temperatures, thus their use in furnaces, kilns, incinerators, and reactors.
Over time, the company began to specialize in boilers and high-temperature applications, then ultimately grew into the engineering and construction of high-temperature refractory furnaces and systems. Today, Gillespie & Powers designs, fabricates, installs, and maintains refractory-lined, high-temperature furnace equipment for the non-ferrous melting and hazardous waste industries. In its 5th generation as a thriving family business, Gillespie & Powers continues to lead the sector with owners Jack B. Gillespie and his cousin, John Peterman, at the helm.
2018 was the company's biggest year ever, and they're set to exceed that again this year – by about 10 percent. The reasons are many. The positive economy is certainly a contributing factor, along with increased automotive use of aluminum. Plus, Gillespie & Powers' reputation for excellence earned over five generations, and a number of valuable long-standing customer and supplier relationships, continue to be key building blocks for future growth. A full complement of 110 employees, including engineers, field supervisors, and office support, work at  the St. Louis, Missouri headquarters and satellite offices in Hannibal, Missouri; Rock Island, Illinois; Lewisport, Kentucky; and Muscle Shoals, Alabama. In addition, 300 people work in the field – brought in from union halls across the country and managed by the Gillespie & Powers team.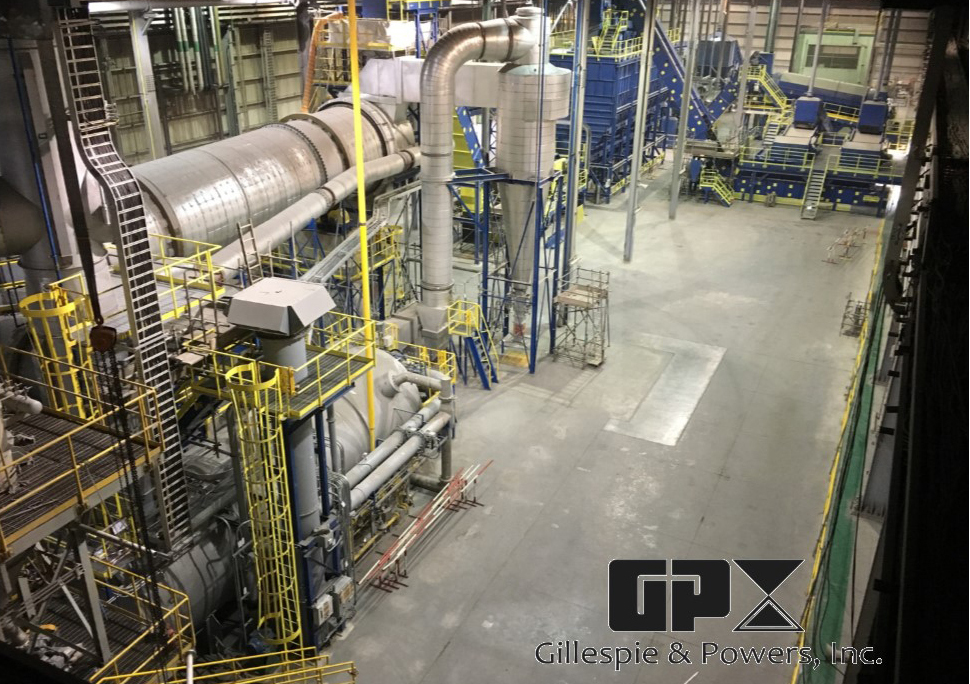 Ian Marsh wears many hats at this super-active company – on any given day, he may be heading up the growth and development team as Director of Sales and Marketing or trekking across the world to lead new equipment installations in his capacity as Project Manager. He reports, "We have a very strong order book. For new equipment projects, we are booked out until June of 2020. We recently brought on two new customers: Ellwood Engineered Castings out of Hubbard, Ohio, who are adding aluminum castings and forgings to their portfolio. We're supplying them with a new melting furnace and a new holding furnace, as well as a sow dryer, for phase one of their project. We also just signed a contract with Matalco in April for a tilting melter, tilting holder, three homo ovens, two coolers, and charging equipment for the ovens and coolers. They're building a brand new plant in Wisconsin Rapids, Wisconsin."
Marsh is now acting as onsite Project Manager in South Korea for a furnace installation for Novelis – a returning customer that's adding a fourth piece of equipment to their cast house. Owned by Aditya Birla Group of India, Novelis is a strong player in the industry. Marsh notes, "We have a long history with Novelis – we originally built that plant in 2012 and when it came time to add a piece of equipment, they didn't hesitate to contact us. We went to India to meet with the Aditya Birla/Novelis team in July because they're looking to add a significant amount of equipment. Another project is with Alcoa Corp. in Evansville, Indiana – a company we've been with for years. The new equipment we're providing is a coded scrap melter that removes and volatizes all the coded materials from the scrap metal inside the furnace before melting it. We also do a lot of business with Arconic, Inc., which is a spinoff of Alcoa."
Earlier this year, one of Gillespie & Powers' customers in Kentucky had a catastrophic furnace failure caused by water inside a casting that they were re-melting. When water hits aluminum, it tries to expand to a thousand times its size. There was an explosion inside the furnace that exerted two million pounds of force. The unit remained intact – only the roof blew off. Fortunately, nobody was hurt but the equipment was put out of service. Gillespie & Powers was one of the customer's first phone calls. G & P helped them determine the cause, worked with the insurance company, repaired the furnace, and had it back in operation in about 28 days – including modifications. The outcome could have been devastating if the equipment wasn't up to such high quality standards. The engineers of that company were singing the praises of Gillespie & Powers for the design of that furnace.
"The maintenance and construction side of the business has been going great guns," says Marsh. "We've had almost 300 people in the field for 12 months solid – doing repairs, maintenance, modifications, realigns of existing equipment all over the United States. When it comes to new equipment, from the time I start talking to a customer to the time they place an order is usually 18 to 24 months, so a lot can change during that time with regards to tariffs, and domestic and international trade agreements."
As for technological advancements, there are some new burner designs for furnaces but most of the new technology is in the monitoring and the programming. Marsh attests, "We do that as part of the furnace builds, as well, because the industry is going to what they call 'Aluminum 4.0' – like digital mirrors – trying to automate the equipment to increase the throughput and the yield with less human intervention. That's a challenge for us because it requires more monitoring than the old-style furnaces. On an environmental front, our equipment, in particular our de-lacquering equipment and this new CSM (coded scrap melter), they're all designed to volatize the organic compounds, so they don't get released to the atmosphere. I tell people, we were actually 'green' before green was a thing, because we build these waste incinerators and we've built this de-lacquering equipment for going on 30 years. It takes the paint and printing off of a soda can, for example, and removes it, volatizes it, and leaves you with no hazardous emissions. By removing all that before you re-melt the aluminum, you get a higher yield, so there's less waste going to the landfill from the re-melt process. We sell that equipment, mostly, to secondary aluminum processing companies."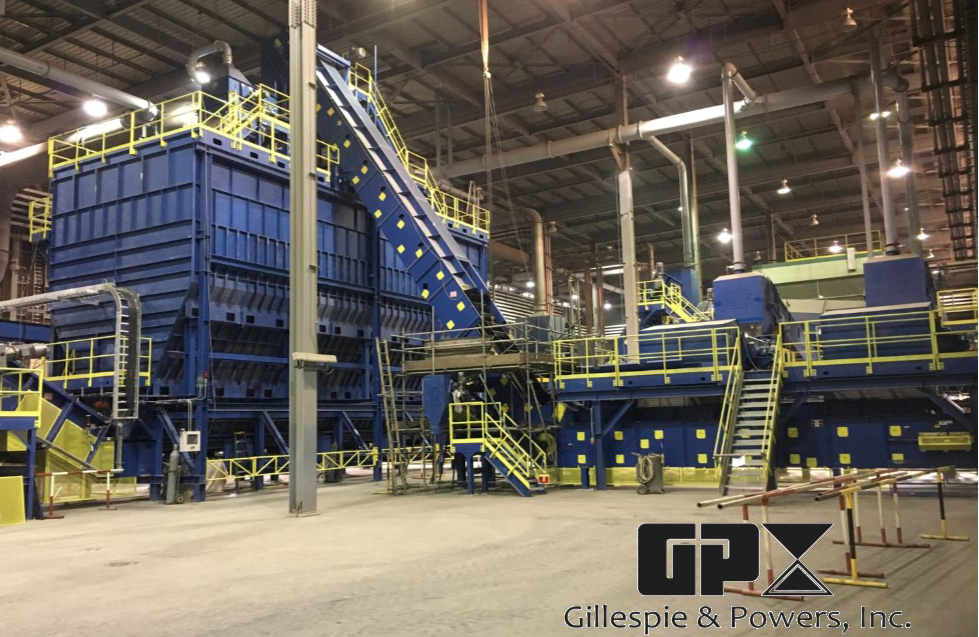 In August 2017, Gillespie & Powers finished a remarkable project in Saudi Arabia; remarkable because of its innovative efficiency and proven results. As Marsh tells it, "The company had purchased equipment from Samsung in South Korea and, after three-and-a-half years, Samsung had been unable to get the equipment to operate at the required throughputs. So, Ma'aden Aluminum Company (which is 75 percent owned by the Kingdom of Saudi Arabia and 25 percent by Alcoa) cancelled their contract and hired us. We took out almost 100 percent of the equipment they had installed and replaced it with all new equipment, including one of our de-lacquering units. We went to do the commissioning; started up a furnace on Aug. 7th and the first week we had more material produced through the plant than they had in the last 3 ½ years."
Looking ahead, Marsh forecasts, "We'll continue with the acquisition process and the growth. We are actively working on some acquisitions, and we've done some expansion into the steel industry, and we do work in the copper industry. And the glass industry, they're holding steady, right now. This coded scrap melter could be a game changer, as well, because it can be utilized at secondary processors, so they can buy less equipment to get into secondary processing."
Backed by experience, testimonials, family backbone, and a passion for the industry, there is no doubt, Gillespie & Powers has all burners fired and ready for success.
AT A GLANCE
WHO: Gillespie & Powers, Inc.
WHAT: Designs fabricates, installs, and maintains refractory-lined, high-temperature furnace equipment
WHERE: St. Louis, Missouri
WEBSITE: www.gillespiepowers.com
BDC, Inc. – www.gobdc.com 
BDC, Inc. Distributes industrial combustion and process control equipment, such as actuators, vibration isolation and seismic restraints, burners, burner controls, data acquisition, flow meters, fuel standby systems, gas regulators, heat exchangers, pressure transmitters and switches, process control, recorders, temperature transmitters, valves, spark plugs, flame rods, temperature controls, and flame supervision controls. The company also provides field services, emergency service, preventatives maintenance, inspections and testing, instrument calibration, and efficiency analysis services. BDC, Inc. was formerly known as Brandwine Equipment Co. And changed its name to BDC, Inc. In 1976. BDC, Inc. Was founded in 1946 and is based in St. Louis, Missouri with an additional office in Kansas City. 
Entecco USA – www.entecco.com
U.S. based with European roots, we are producing more and more in America, The ENTECCO group of companies specialize in air purification, with the manufacture of highly effective and efficient filter products for dust removal, flue gas cleaning, exhaust gas purification, ventilation and aeration, and surface engineering for virtually all industries including: Aluminum; Asphalt; Chemical; Food; Energy; Vehicle Construction; Foundry; Wood; Coal and Coke; Steel and Metal; and Cement, chalk, and Plaster. Its services also involve supplying power and other public utilities for production plants, including heat recovery systems.