FullSpeed Automotive
Driving the future of car care
Business View Magazine interviews Ronald Stilwell, Chief Development Officer at FullSpeed Automotive, for our focus on the U.S. Automotive Sector
The automotive space is set for significant change in the coming years, with electric vehicles (EVs) and autonomous cars expected to transform the sector. One company that has the longevity and experience needed to cope with these changes is FullSpeed Automotive®, a family of eight brands that has been providing quality car care internationally for over 70 years. Two of those brands, SpeeDee Oil Change & Auto Service® and Grease Monkey®, represent the company's main sources of income.
"FullSpeed Automotive's current strategy for growth is two-pronged," says Ronald Stilwell, the company's Chief Development Officer. "First, it focuses on franchise growth for both the SpeeDee and Grease Monkey brands and, second, looks at growing and managing company-owned units for both brands."
The company's growth has also been fueled by a spate of acquisitions. Last year, FullSpeed Automotive completed 26 acquisitions, totaling more than 67 units. In acquiring these small aftermarket auto service centers and converting them either to SpeeDee or Grease Monkey, 2021 added up to a great year for the firm. "We recently opened up our 700th store," Stilwell reports. "And this year, our goal is to acquire another 150 units and grow 50-plus franchise units. In total, we're hoping to add over 200 units – getting us close to the 1,000-mark."
Across the main company, FullSpeed Automotive now has more than 2,000 employees, with the brand placing a great deal of importance on how they are all treated. Throughout all its acquisitions, FullSpeed Automotive generally tries to retain most of the existing staff. It does so, at least in part, by recognizing the importance of caring for employees. Every individual is treated with respect. Stilwell notes that most employees don't leave their roles due to money, but because of their work environment and how they are treated.
FullSpeed Automotive recognizes that a satisfactory work environment doesn't purely come down to good treatment. It's also about providing an engaging atmosphere. Something that the company culture is geared toward. "It's hard to describe what makes up our corporate culture," Stilwell admits. "It's a culture that empowers employees to make decisions themselves. And that fosters the growth that we're currently sustaining by really allowing employees to have some autonomy and independence. They are free to make decisions that are in their own best interests – and the company's."
Some of the most important decisions that company personnel have had to make recently have revolved around managing the impact of the COVID-19 pandemic. In particular, supply chains have faced heavy disruption – something that FullSpeed Automotive has managed admirably. "We've certainly experienced supply chain disruption across the board, but the good news is we've never run out of any particular product," Stilwell explains. "We've had a number of different suppliers who have been unable to get us what we would normally use, but we've been able to obtain alternative suppliers, keep our business operating, and move forward without any interruption."
FullSpeed Automotive has been aided in managing the challenges presented by the pandemic by its first-rate franchisees. The company utilizes lead generation to find individuals who are looking for a new business opportunity and who meet specific criteria.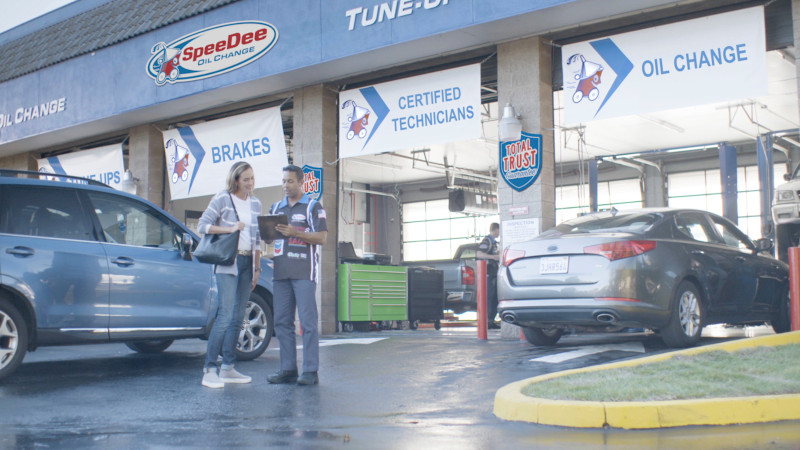 "When we're looking for a new franchisee, we are seeking someone who has good financial knowledge, a strong work ethic, and values honesty," Stilwell notes. "These three attributes are extremely important in franchising, especially in the automotive business. A lot of people who engage with the sector feel like they are always being taken advantage of because they don't know much about the automotive industry. So, it's really important for us to have honest franchisees, who treat people correctly, and carry out honest work."
FullSpeed Automotive's focus on finding the right candidates is resulting in franchisees who are keen to expand their operations. The company currently has quite a few franchisees boasting multiple locations, with around 15 to 20 currently looking for additional units. "Our newest franchisee is a single mom, a realtor who was looking for an additional business opportunity when she fell in love with the Grease Monkey model. She signed a license agreement back in September and opened her store in just over 90 days," Stilwell says. "She was incredible. She did a great job with her grand opening and is really a model for the type of franchisee that we're looking for in the future."
This ability to go from contract agreement to opening a new unit at such a pace is a major reason why FullSpeed Automotive is growing so rapidly. "We've really focused on what we call brownfield opportunities, which are automotive spaces that have been closed, or small mom-and-pop independents that are selling up," Stilwell adds. "Then, we convert those to either a Grease Monkey or SpeeDee unit. It's a much faster way to grow." Although FullSpeed Automotive continues to build new facilities from the ground up, the construction and real estate costs of doing so, alongside regulatory challenges, means that this can easily take between 18 months and two years. "It's a very long and arduous process," says Stilwell. "So, our growth is based on both greenfield and brownfield locations."
Even if FullSpeed Automotive is happy to buy up and convert existing units, it still takes great effort to ensure its facilities are equipped with the latest technologies. "We are designing the store of the future," says Stilwell. "This store is going to have new technological advancements that will make it more customer-friendly, increase our speed of service, ensure our guests are more comfortable while they're there, and allow franchisees and franchisors to access more data and information that enables them to run their businesses more efficiently."
Another major technological advancement that FullSpeed Automotive is keeping an eye on concerns EVs. The company has already been in discussion with several external parties that may be able to help with the installation of charging points. The fact that FullSpeed Automotive boasts a number of great locations in areas where people shop and spend a lot of time with their vehicles parked means that EVs could provide a great opportunity for franchisees. "We're also working on a program where we'll provide EV services. However, there are not a lot of EVs on the road today compared to combustion engines," Stilwell admits. "There are 279 million combustion engines in the United States. According to the last count, there were only 1.7 million electric vehicles. So, a very small percentage of vehicles are electric."
Of course, any new developments, like EVs, will require a knowledgeable base of franchisees to ensure successful adoption. Fortunately, FullSpeed Automotive boasts a state-of-the-art training program that includes both time in the corporate office and in store prior to opening. There's also a 24/7 online training and certification program, dubbed "FullSpeed University."
Communication plays a major role within the company's training program, and continues to support franchisees and employees regardless of their length of service. Annual conferences and quarterly team meetings are held to allow all the franchisees to come together to share recent developments, learn about quarterly results, and talk about new training opportunities – everything from fleet programs to operational efficiencies. The company also produces weekly newsletters that go out to all of its brands.
In the next three to five years, those newsletters are sure to contain some exciting updates. As well as finalizing construction on "the store of the future," Stilwell aims to open at least 1,500 units. "I think the thing that I really enjoy the most is the fact that FullSpeed Automotive is a company that puts its money where its mouth is," he says. "Unlike a lot of companies that operate with a franchise model, we own nearly half of our stores, which makes things more exciting and fun. It also helps fuel our explosive growth – both for franchisees and the company as a whole."
AT A GLANCE
FullSpeed Automotive
What: A leading automotive aftermarket services platform
Where: Headquarters in Denver, Colorado
Website: www.fullspeedautomotive.com

Heritage-Crystal Clean, Inc. – https://www.crystal-clean.com
Heritage-Crystal Clean, Inc. provides parts cleaning, used oil re-refining, and hazardous and nonhazardous waste services to customers in the automotive sector, as well as manufacturers and other industrial businesses. Service programs include parts cleaning, containerized waste management, used oil collection, wastewater vacuum, waste antifreeze collection and recycling, and field services.