Hall's Sport Center
They've come a long way
Business View interviews Harold Hall, owner of Hall's Sport Center, for our focus on Top Boating Dealerships in the U.S.
North America has no shortage of great boating locations, whether it's off the Florida coast or on the tranquil waters of one of the Great Lakes. But in order to enjoy this scenic outdoor pursuit, it helps if you know a business that can not only sell you a boat, but can tell you everything you need to know about its maintenance and operation. That's what Hall's Sports Center can offer in abundance.
"I started the company in 1972, a year after I finished high school," recounts Harold Hall, owner of Hall's Sport Center. "I started out with a pickup truck, $5,000, and a two-stall garage, and things progressed from there. I think with every business, you need a bit of help somewhere along the line. My father gave me lots of free labor and then a Chrysler representative started offering the company boats and motors from around the Midwest. And all of a sudden Hall's Sports Center had some inventory."
In the early 1980s, inventory was a key priority for Harold – capital could come later. He walked into a dealership and confidently declared he was going to buy one of everything in the catalog. Having little more than a $125,000 credit line and with a typical boat costing between $7,000 and $10,000 on average, it may have been a bold declaration. But it's one that has paid off.
Hall's Sport Center began in Muskegon, Michigan just across the street from one of the company's current stores. "In Muskegon, we have approximately 250,000 square feet, around 18 acres," Harold reports. "Even though inventory is difficult to get right now, there are probably between 700 to 900 boats on the property between storage, service, and RV boats."
Hall's Sport Center's inventory depends largely on the strong relationships the company has built up with manufacturers. Hayden Hall, Harold's son, shares, "Unlike a lot of dealers, we only offer four lines of boats, whereas I would guess that the average in the marine industry is between six and ten. We really take care of our manufacturers and expect the same in return. So with Bennington, we receive about four boats every week. We are somewhere around the fifth or sixth dealer in the country for them."
The close connections that the company has with manufacturers means that it is always keeping an eye on potential turbulence in the market, and preparing appropriately. Last year, when a motor shortage occurred, Hall's was able to secure roughly 100 loose outboard motors through various manufacturers.
"We are also always looking ahead for the next major development," Hayden confirms. "With our online presence, we have a web provider that nobody else has in the industry because they're local and really pushing the envelope as far as marketing goes and viewing the boats. They're really big into the RV side and they've translated this over into our marine website. We're seeing a lot of success with the website because we're doing a lot of things differently to the rest of the industry."
The quality of the website helps Hall's Sport Center deliver a seamless sales process – even when buyers are based at some distance from the company's stores. "If somebody sees a boat that they like online, the sale usually starts with a phone call, the price is negotiated, and if they're calling from a distance, they probably already know of the Bennington or Four Winns brand. If they want to finance their purchase, they can submit a credit application. We use digital tools like FaceTime to build up a customer relationship and solutions like DocuSign to sign all the necessary documents."
Hall's also boasts a successful partnership with Kool Stuff Transport – a shipper with a team of about six drivers. "They haul for several OEM manufacturers in the industry and not only can they deliver a boat but they will carry out a demo on that boat, which is a really nice bonus for our customers," Hayden says.
If the customers want to visit a store in person, Hall's Sport Center provides four options: two locations are in Muskegon, one is in Grand Haven, and another one in Standale, Michigan is called the Grand Rapids store. The company has around 45 employees overall, with a sizeable proportion having been with the company for over 30 years.
"We take care of our employees and we value the work atmosphere and relationships that we have with them," Hayden says. "We have a great Christmas party, we have a lot of cookouts and nights out during the year to keep morale high and give our staff something to look forward to. One thing that I think is unique is we have a lot of boaters on staff. If you're familiar with the restaurant industry, you sometimes find that people working in that field don't eat the food a lot because they're around it all the time. That's something you see in the marine industry, too. But here, you have myself, my father, our salesmen, and our service staff all with a boat and we try to get out on the water whenever we can."
Of course, not too long ago, the COVID-19 pandemic meant that many companies were forced to shut up shop to reduce the spread of the virus. However, Hall's Sport Center didn't let that time go to waste, instead using it to complete a huge renovation and upgrade project.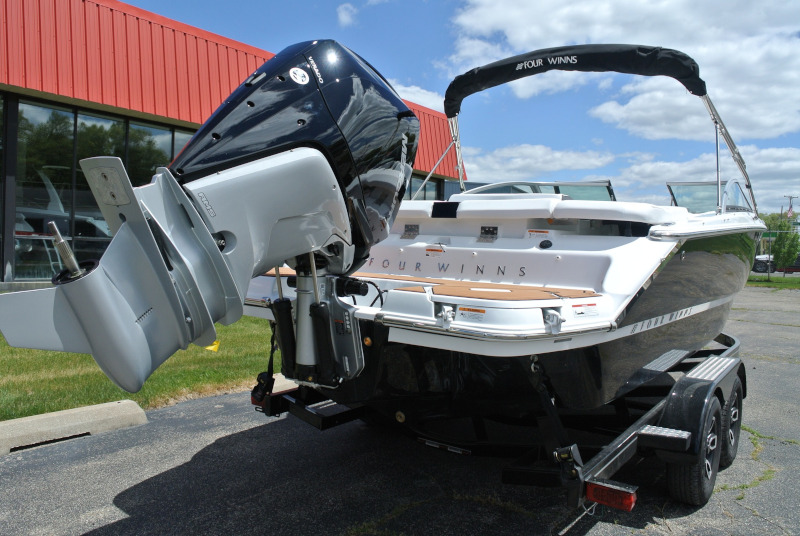 "Recently, we tore apart our parts building and put in all new air conditioning, heating, lighting, rack displays, and computers," Harold explains. "We now have a hundred-foot service counter with eight people working there. Everything's brand new and shiny. If we don't hear a 'wow' when people walk in for the first time, we've failed. Around 18 months ago, we also built a new warehouse holding 517 boats. We're the real deal. We'll sell you the boat, we'll take you to the lake, we have captains that'll show you how to run the boat. If you have an accident, we have a body shop, a detail shop, and an upholstery shop. We can do it all."
As well as being a one-stop shop for boating, Hall's is also well equipped to deal with real estate maintenance. Its Grand Haven store has recently reopened after being closed for 17 months due to Lake Michigan's high water level. "The City of Grand Haven got a grant from the State of Michigan for $2 million to raise the road in front of our store by four feet," Harold notes. "So we spent about $2.5 million gutting the building, taking everything out of the showroom, and essentially raising the entire building by four feet."
With maintenance complete on the Grand Haven store, Hall's can start rapidly increasing its inventory again. Even though it only carries four lines of boats, anytime new products are released, Hall's makes sure that its employees receive the necessary training.
"Bennington probably provides better training than anybody," Hayden says. "Bennington is now owned by Polaris, so we utilize a lot of the sales tactics that Polaris uses. There is extensive training, digital videos, and spreadsheets on Bettington's website. Four Winns, Wellcraft, and Scarab are our other three product lines. They're all owned by Group Beneteau, which is one of the largest and wealthiest companies in the marine industry and they do the same thing. Every time a new model comes out, they do a walkthrough video on YouTube or as part of our training seminars."
Recently, with outdoor recreation being one of the few activities that individuals could legally take part in during pandemic-enforced lockdowns, Hall's saw a lot of new first-time buyers. Fortunately, the company could count on its extensive partner network to ensure it could meet the surge in demand. "We have a couple of really strong partners," Hayden says. "Mercury manufactures our outboard motors and our MerCruiser inboard engines. We use them as our preferred power source. We also use Summit Marine – a father and son operation in Grand Rapids, for our hydraulic boat lifts and boat hoists. They are top quality and the company really stands behind their work."
Later in 2022, Hall's Sport Center is coming up to a significant anniversary. They'll be celebrating 50 years since Harold first opened the doors. "We're currently looking for a new location for a bigger store in Grand Rapids," he says. "But I think I'll let Hayden and the crew take care of the day-to-day stuff. As Hall's Sport Center moves into the next era, we'll continue to prioritize a first-rate service that goes beyond just sales."
With a bright future ahead for the company, it just goes to show what can be achieved with a little bit of credit, a customer-first mindset, and some big ambitions.
AT A GLANCE
Hall's Sport Center
What: A long-time supplier specializing in new, used, and brokered boats
Where: Headquarters in Muskegon, Michigan
Website: www.hallssportcenter.com