Reno Buick GMC Cadillac
"We Have a Heart"
Business View Magazine interviews representatives of Reno Buick GMC Cadillac for our focus on the U.S. Retail Automotive Sector
There's a car dealership in the heart of Reno that is a vital part of the community. Reno Buick GMC Cadillac have been around for a long time and are deeply invested there. They are seen. They are known. And they are respected.
"Reno," General Manager Garrett Green says, "is a tight knit community." Whenever he attends a local school sporting event, he says he might run into a handful of employees and anywhere from 10-30 customers. "We've got long-term customers. We have customers that have bought dozens of vehicles over the years from us!"
Today's Reno Buick GMC Cadillac has a long history in Reno. During the 1940s, it was a Studebaker dealership, owned by the well-known Winkle family, right in the heart of downtown Reno. It moved to its current location in 1966. By this time, they'd added GMC and Pontiac to the fleet. But the recession hit GM hard, forcing them to curtail numerous brands, including Pontiac. Eventually, though, they became a Cadillac and Buick dealership.
And that's about the time when current Dealer Principal Arne Hoel joined the company. Admittedly, he wasn't much of a car guy before he came on board. "I had just gotten involved in the industry and then had the opportunity to come to this dealership," he recalls. He, along with several others, were pivotal to the dealership's turnaround in the years that followed. Hoel relied heavily on Garrett Green and newcomer, Doreen Hicks. Hicks brought a wealth of sales and marketing experience to her new role in Community Events and Marketing. "She joined in the early months, as well, and kind of transformed the way that we were perceived in the community. We became very community driven and started working with lots of different associations and charities," Hoel says. "We really do believe in being connected to and giving back to the community," Hicks adds.
Together, the three of them were at the forefront of a renaissance, of sorts. Hoel proudly talks about their involvement with the University of Nevada football team. Each year, one of their trucks becomes The Beast – jacked up with fancy wheels and sports a specially designed wrap. The Beast drives out onto the football field for each home game, with the Wolfpack taking the field behind it. "It's been a lot of fun over the years," Hoel says.
But the fun, the business, everything came to a sudden halt on March 18, 2020. Hoel recalls, "We had to lock up the showroom. We had to keep the lights off. We had to chain the lot…  It was a scary time. Luckily, COVID didn't take us down." They had a few employees that kept things going. They pivoted to more online sales. They got creative.
It seems as though the pandemic has altered just about everything everywhere. In the car business, they are finding that shoppers are spending much less time in the store and on the lot. They still want to do a test drive and have someone talk about the car with them, but they show up with their homework done. These days, they build the car they want online and complete online applications. Gone are the days of spending hour after hour at the dealership for the car-purchasing process. Gone are the days of customers spending hour after hour at multiple places, too.
Hoel reports, "The average person used to visit seven or eight car dealerships before deciding what to buy – that figure is now down to 1.4 dealerships. That means, if a consumer doesn't buy from you, they will at the next place, which is definitely motivating to the salesmen. You better see if you can find what they are looking for."
A healthy company culture is important, and Reno Buick GMC Cadillac has it in spades. "It starts at the top and trickles down," Hicks says. "Our ownership and leadership not only have the business acumen to help guide us through this, but they also have a heart." Employees feel that the ownership cares for them. And that, in turn, carries over to the customer feeling cared for.
They used to host events at their dealership often – usually once a month – teaming up with different community organizations and charities. Much of those activities, however, slowed down due to Nevada's COVID restrictions. "We've become golf event Extraordinaires," Hoel laughs, "because those events are outside." They were still able to entertain people and show off their inventory. But there is a slight downside: "In the last couple of years, we've had to use personal vehicles at those events. So, we keep our fingers crossed that no one hits a hole in one and drives away in my truck!"
Customers have even more choices now, since Hoel and Green opened a Mitsubishi franchise right next door to their Reno Buick GMC Cadillac dealership in October of 2021. "We've pretty excited about it," Hoel says, "because Mitsubishi hits a whole different market demographic in Reno and Northern Nevada that we really haven't been able to serve." Even with very little advertising, they've averaged about 30 Mitsubishi sales a month since November. They've got big marketing plans for the future, including lots of fun events. They are just waiting to land some more inventory.
Like many industries, car sales look a bit different these days. Inventory isn't great.  "We haven't had a new car on the lot since July of 2020," Hoel shares. They are receiving new vehicles regularly (about 40-60% of their normal rate) but they are all spoken for by the time they arrive. The waiting list is long. Folks call from all over the country, looking for Escalades or Yukons. Hoel says they've filled about half of their Escalade orders. He adds, "I don't see it clearing up anytime soon. We're hearing from insiders that we aren't going to see ground stock for the remainder of the year."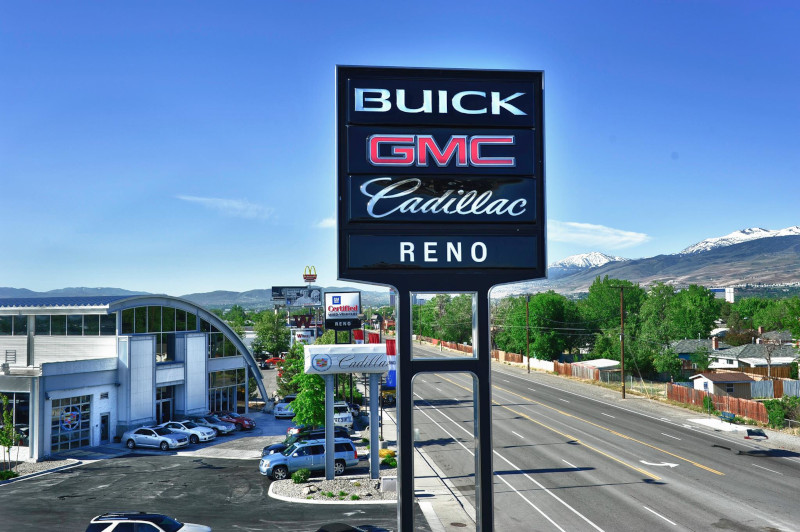 Garrett Green believes that the shortage of new inventory benefits the consumer because they are retaining value in their vehicles instead of taking a 40-50% hit a year or two after purchasing their car. "Now vehicles are valued where they should be," he says. "I hope that manufacturers take heed of that and don't over produce like they have in the past." He believes that the used car game has changed, too. There used to be a used car manager. But now, according to Green, "It's pretty much everybody's job to try to acquire them." The market for used cars is tough. So it's all hands on deck. Everyone is looking: salesmen, managers, and those in the service department.
They are also looking for employees. Hoel acknowledges, "Prior to COVID, we had about 125 employees. Since then, we've not had over 100, so we are down, on average, about 30 employees. The biggest issue is that there just aren't workers. Technicians are worth their weight in gold right now… It seems like the whole town has dried up of employees and I can't figure out where they are."
Another problem has also been the lack of chips. Vietnam and Taiwan are two of the big chip manufacturers. With the most recent wave of COVID, both suppliers were shut down for months, putting things even further behind schedule. Hoel is quick to note that the issues are deeper than just lack of chips, though: "There's anywhere from 70-100 ships sitting off the port of Long Beach that can't get unloaded and none of us laymen understand why that is."
But as spring arrives, hope is on the horizon. The company has plans for more events and getting the Mitsubishi franchise really rolling.  More inventory will eventually be on its way, as will the electric Cadillac Lyriq. Hoel has hope that things will return to normal in the car business by 2023. He reflects, "I've operated a business for the last 30 plus years. And the number one goal is to provide job security for your employee." Reno Buick GMC Cadillac has done just that. And they've done it with a lot of heart through a very challenging stretch. "We are really lucky with GM and Mitsubishi. We have a phenomenal product line and Reno is a truck community. And I think our trucks are by far the best," says Hoel.
Hicks adds, "The thing I'm really proud of is that our leadership here is super intelligent to work for… we've had strong leadership through this really weird, difficult time and I think that gives everybody here confidence that we can move forward in a real positive direction."
AT A GLANCE
Reno Buick GMC Cadillac
What: A well-respected, full-service automobile dealership
Where: Based in Reno, Nevada
Website: www.renogmc.com