Fairview Heights, Illinois
Pivoting Through the Pandemic
Business View Magazine interviews representatives of Fairview Heights, Illinois for our focus on Economic Growth & Development in U.S. Cities
St. Clair County, Illinois is home to the 'retail powerhouse' of Fairview Heights. Located only 15 miles east of downtown St. Louis, this growing city has all the advantages of a large metropolitan area while maintaining a small-town charm. Residents and visitors alike are treated to over three million square feet of shopping space from the St. Clair Square super-regional mall to half a dozen regional shopping centers and many other, smaller, centers . The community also offers an impressive array of 75 restaurants. Along with its convenient proximity to Scott Air Force Base, Fairview Heights has positioned itself as the popular go-to for retail and tourism for all of Southern Illinois.
"We're a young and exciting city, only incorporated since 1969," reports Mayor Mark Kupsky. "Since we have an overabundance of restaurants and shopping, visitors often think we're just a retail community, but that's far from the truth. Our 17,000 residents  raise their families, work, and enjoy amazing amenities. We truly are a melting pot with only a few of our current residents living here prior to our incorporation. Over the past 53 years, the city's footprint grew and so did the population."
This has largely been an organic transition. People are excited to visit and explore all the city has to offer, but soon realize there's more than just retail and restaurants. It's an ideal place to live. The short eight-minute drive from St. Louis is also a huge incentive. There's easy access to St. Louis Cardinals baseball and St. Louis Blues hockey games, as well as where the future home of the St. Louis City SC (Soccer Club), Centene Stadium, is being built. Closer, the state-of-the-art World Wide Technology Raceway hosts NASCAR events and other high speed racing events.
"All of those entertainment opportunities really benefit Fairview Heights, because we have even more accommodation, shopping, and entertainment for those visitors," states Mayor Kupsky. "Safety, however, is a top priority for us. Our world class Fairview Heights Police Department works hard to ensure everyone feels protected."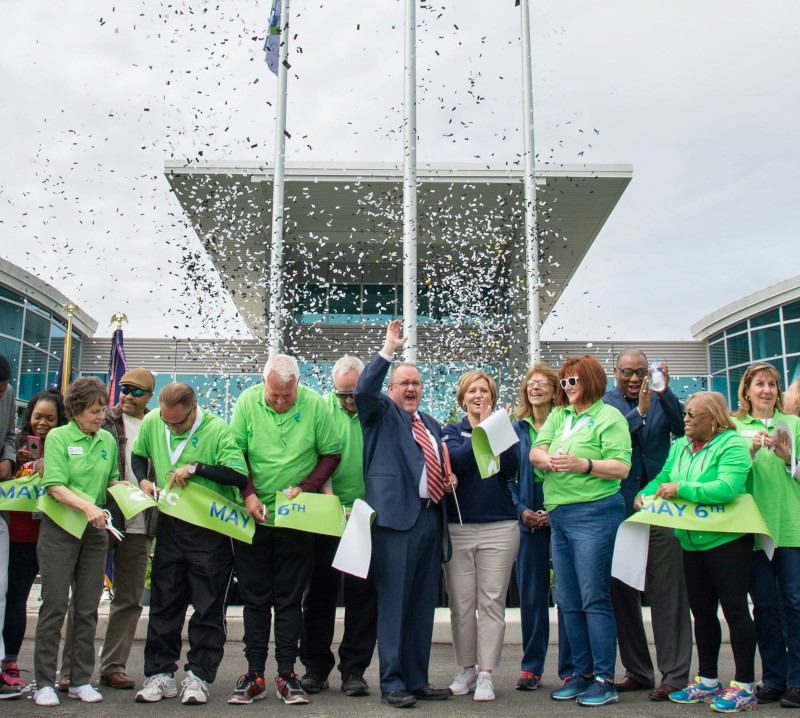 The city also excels at redevelopment, especially in the commercial sector. When, as often happens, a retailer closes its doors, city leaders always find resourceful ways to fill the empty space with a new tenant. Once signature example was the transformation of a regional strip center in 2016 into a power center offering Hobby Lobby, HomeGoods, DICK'S Sporting Goods, PetSmart and the first Fresh Thyme location in the St. Louis metro area. This past year, that same center revitalized outlots for JPMorgan Chase Bank and Raising Cane's Chicken Fingers. Local retail support like this is especially critical in Fairview Heights because it's just about the state's only city that doesn't levy a municipal property tax. Paul Ellis, Director of Economic Development, explains, "Sales tax is king here, although residents do pay property tax to the county, schools, and fire department. Not having a city property tax can be good from that perspective, but it can also be challenging."
Fairview Heights is successful at using creative solutions to navigate difficult situations such as the recent pandemic. Since the city depends on sales tax, it was a massive challenge when stores and restaurants suddenly needed to close. That challenge came to the forefront in March 2020, when the rise of COVID infections led to business shutdowns statewide. Fairview Heights felt the bite of lost sales tax immediately without a pool of funds from property tax.
Fortunately, city leaders were able to pivot through the pandemic. At the close of 2019, the city had launched the 'All in Fairview Heights' marketing campaign to increase retail sales per square foot. The campaign was an online program using  influencers on several different social media platforms and also deployed a new website and even a shopping app to build local customer loyalty. "We were able to pivot the campaign into a program that kept a lot of our retailers' doors open. We were able to persevere, and even thrive, as a community."
Fairview Heights has a super-regional mall but lacks an official town square or main street. Mayor Kupsky recognized this lack so, when he was elected in April 2015, he came up with a vision for The REC, a major new recreation complex & community center. "I wanted to show residents how we can add to their quality of life while also investing in the community. It's been very successful and has energized residents about the extra amenities we have for them here, and we've been able to do it all without levying local property taxes."
The 58,000-square-foot complex offers a full spectrum of activities including basketball courts, a Clip 'N Climb wall, and even a lazy river. Mayor Kupsky adds, "It's located on the city's western side, which is the older section of the community. Since it opened in May 2019, the property values in that area have gone up. That used to be a mostly senior neighborhood, but now we're seeing more young people because they like the historic homes. There's continued investment in those properties. It's exciting to know we did something as a community that is benefiting all our residents."
Since Fairview Heights is landlocked amidst several surrounding cities and villages, most future growth won't come from annexation. Major development began in the mid-1970s with the construction of Interstate 64 (I-64),completed it in 1977, and through the 1980s providing adequate housing stock for the influx of new residents was a challenge. Since then, the city has done what it can to maintain a robust inventory of housing options, ranging from simple to historic to affluent; for example, homes in the upscale Stonewolf Golf Club are situated around the Jack Nicklaus designed course.
Several other subdivisions have also been built, the newest being the Fountain Place Addition in Spring 2019. "That community has a wide range of housing from 3,000-square-foot single family homes to townhomes and apartments. There are even some villas for seniors. We also have Parkway Gardens Senior Living, which is assisted living for seniors," explains Mayor Kupsky. "And we're currently in discussions to add more senior housing." He shares that he expects that future residential developments will focus on "boutique-type projects" with 30 or 50 units to offset rising lumber and development costs.
The city is fortunate to offer residents a variety of jobs, especially in retail sales. Other sectors include health care and military with Scott Air Force Base only 20-minutes away. Fairview Heights also provides workplace development options like the Metro East Business Incubator (MEBI), which is focused on entrepreneurs. "We are working with multiple partners to align potential small business owners with a business mentor who can give guidance," says the Mayor.
The city also works with public agencies, charities, and non-profits to spread awareness about local jobs. Mayor Kupsky is particularly excited about the programs created in conjunction with the Urban League of Metropolitan St. Louis. He acknowledges, "They help disadvantaged individuals get into the workforce where doors sometimes close on them too early. We also do a lot of work with the African American business community to help entrepreneurs turn their dreams into reality and then become successful."
Fairview Heights doesn't operate any utilities. Ameren Illinois provides electric services, and water is secured from neighboring O'Fallon's Water Department. The city's sanitary sewers are managed by the Caseyville Township. "For years, we allowed multiple sanitation providers but, about a year ago, we implemented a single hauler system," reflects Mayor Kupsky. "It's more efficient and drove the cost down. The response has been extremely positive."
Most recently, Fairview Heights began work to transform its historic Lincoln Trail District, the city's first commercial corridor, into an arts district. A group of artists and investors have begun assembling property and funding for a sculpture park and, eventually, a non-profit community arts center, and the city has applied for funding through Illinois' Rebuild Downtowns & Main Streets Capital Grant Program to make streetscape improvements in support of the effort.
City leaders are also looking forward to progress in renewing the appeal of St. Clair Square, the community's flagship retail center. While the pandemic and associated lockdowns impacted the mall's sales and helped drive owner CBL Properties, Inc. (NYSE: CBL) into reorganization, the Real Estate Investment Trust has emerged stronger than ever and sales in Fairview Heights are breaking previous records. Plans for future revitalization of the 48 year-old-mall are on the horizon.
Fairview Heights has successfully maneuvered through the pandemic and "we all learned a lot in the process," according to Ellis. "We're positioned now to do even better in the city's next 50 years."
AT A GLANCE
Fairview Heights, Illinois
What: A fast-growing suburb of St. Louis; population 17,000
Where: St. Clair County in Southwestern Illinois
Website: https://fairviewheightsil.com