Fishers, Indiana
A forward-leaning energy
Business View Magazine interviews representatives from Fishers, IN, as part of our focus on best practices of American town, cities, and counties.
Fishers, Indiana is a city in Hamilton County, in the geographical center of the Hoosier State. The area was first settled in 1802 by William Conner, who built a log cabin and a trading post along the White River. Other settlers started moving to the area after Indiana became a state in 1816, and especially after the state moved its capital to Indianapolis, 20 miles away, from Corydon in 1825. In 1849, construction began on the Peru & Indianapolis Railroad, extending from Indianapolis to Chicago, which brought more people to the town, then known as "Fisher's Switch" or "Fishers Station." In 1908, the post office officially changed the name of Fishers Switch to "Fishers."
A northeast suburb of Indianapolis, Fishers has grown rapidly in recent decades. About 350 people lived there in 1963, 2,000 in 1980, and only 7,500 in 1990. Fishers transitioned to a city in 2015, and its current population has ballooned to over 93,000 relatively affluent and well-educated people, according to its first and current mayor, Scott Fadness. "We build about 600 single-family homes a year and about 200 multi-family," he reports. "Between those, I think it's reasonable to think we're growing by a 1,000 to 1,400 people a year. So, we've seen quite a tremendous population growth here in our city. We are starting to plateau in some regards, but we think our final population will be somewhere between 125,000 and 140,000 people."
Fadness believes that the main reason for Fishers' explosive growth lies in its character as "an innovative and very change-oriented community." He remarks, "In the last decade, the city has gone through quite a transformation in regards to the creation and formation of a thriving entrepreneurial ecosystem, as well as the creation of places and spaces that people want to come to. We have some of the most attractive locations in all of central Indiana, coupled with some pretty ambitious and aggressive public infrastructure investments that really set Fishers apart in a quality-of-life perspective."
"On the entrepreneurial front," Fadness continues, "Fishers is home to the largest co-working space in the state, called Launch Fishers. It's something that we founded nearly eight years ago, and we have lots of aspiring young entrepreneurs and young businesses in that location. We are also home to the only Internet of Things (IoT) lab in the State of Indiana. We also have Fishers Test Kitchen that is located in a $140-milion mixed-use development. It's culinary-focused, and a place where aspiring chefs can pursue their entrepreneurial and culinary passions."
"All these things coalesce around this idea that we want to be a home for the innovator and the entrepreneur," he adds. "And we've worked very diligently over the last five to six years trying to attract not only companies, but individuals who truly reflect the same entrepreneurial spirit that the city has. So, it's been an exciting time to be a part of Fishers' trajectory."
"We're a home for the innovator and the entrepreneur," echoes Megan Baumgartner, Fishers' Director of Economic Development. "I think that's how we look at our economic development strategy. The leaders of these businesses have an interest in making their mark within the community that they have their business in. So, we try to serve as a resource and a partner for these businesses, celebrating their growth.  And a lot of them live here, because we offer them a great quality of life. A key part of our economic development strategy is giving people great opportunities in the community so that they're not commuting 30-45 minutes one way, each day, and are truly able to achieve everything that they want in their career within our community. We really pride ourselves on creating relationships with our existing businesses. It's a selling point when we talk to companies about relocating and becoming part of the Fishers business community."
Another way in which Fishers caters to potential incoming entrepreneurs and innovators is by promulgating economic development programs that are equally creative. One such initiative is the city's Master Lease program. In a Master Lease agreement, the buyer gains equitable title to a property, which means all of the profits and tax benefits go to the buyer. In this arrangement, the buyer is also responsible for everything involved with the property, such as management, maintenance, utilities, taxes, etc., while the seller remains the legal owner of the property and receives monthly lease payments from the buyer. A major perk in a Master Lease is that the title and any loan on the property are still in the seller's name; in this case the City of Fishers. If the buyer has little experience, or poor or no credit, it can still get a bank loan to develop the property and the business therein, by using the good credit of the city.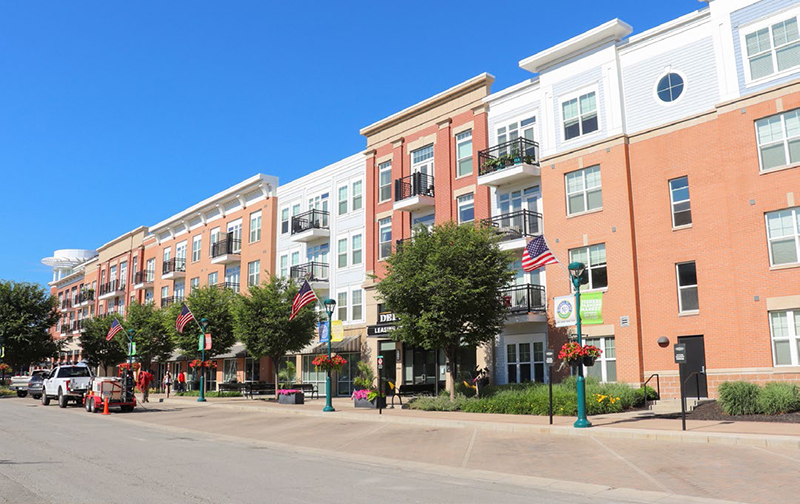 "It's allowed us to help with new redevelopment projects within our community, but also for attracting start-up companies and entrepreneurs here, as well," Baumgartner explains. "When we first started doing these leases back in 2013, we worked with a company, Meyer Najem, to build their corporate headquarters here and to help them get favorable financing. We came in and, in addition to some traditional incentives of land, etc., did a Master Lease, where they were able to take the city's credit, as a tenant, to their bank. We're an AAA-rated community, and that got them favorable bank terms.
"That kicked off all of our redevelopment projects. We've also been able to put entrepreneurs in there because under the Master Lease scenario, we're able to say we have an agreed-upon lease term, where we have the flexibility of offering people competitive office rates, and not have them commit to the traditional five, seven, or ten-year lease term. So, that's incredibly helpful for us in trying to attract innovators and entrepreneurs and people whose real core business is getting up and running and profitable instead of having have to worry about real estate. That's probably the most innovative program that we've offered."
Other city programs include build-out grants or forgivable loans for either tenant improvement allowances or other improvements to a building's exterior for companies that need a little additional assistance and don't want to have to amortize those expenses into their loans or leases. "That's been incredibly helpful and we see that as a deal-closing fund," says Baumgartner. "We've also done a training grant that's very similar to what the State of Indiana does through the Indiana Economic Development Corporation, where the city will reimburse up to 50 percent of eligible training expenses. This has been helpful, as all these companies are hiring new employees and there's a considerable amount of training going on. So, we said that for any new employees that a company hires, if they would relocate or expand in Fishers, we could match up to 50 percent of those costs."
"Another program that we created, but hasn't been widely used yet is our recruitment grant," Baumgartner adds. "It's very similar to the training grant; it's a reimbursement of costs that an employer might put out trying to recruit top talent to our community. Prior to COVID, when the unemployment rate was really low, just like every other community across the nation, finding and attracting talented people to our community was a challenge. We knew that a lot of these companies were spending a considerable amount of money to get those talented people here. So, we were helping with travel expenses related to it – again just trying to do our part to help their efforts."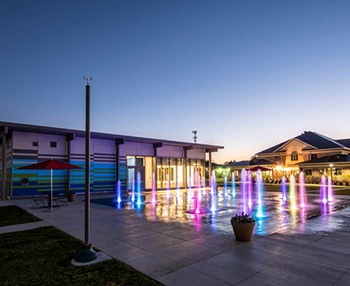 All of this activity has spurred a resurgence of downtown development, which, not coincidentally, has also been aimed at attracting the new generation of young workers and entrepreneurs. "We were doing well with the suburban environment – good schools, low taxes, safe communities – all the things that a person who is starting a family or who has a family wants," Fadness asserts. "But could we create an environment that the 24-30 year old would find attractive? So, we urbanized our downtown significantly over the last seven to ten years. We had about half a billion dollars worth of development, either completed or under construction – a mixed-use, walkable environment. Also, you can't discount the folks who are empty nesters who have the time and money and want to live in a more urban environment. So, we can actually cater to anyone at whatever point in their life, or lifestyle, that they choose to be in. I think that's been a concerted effort and it has helped us attract a lot of educated, talented people."
Baumgartner elucidates on Fishers transition from a small bedroom community to a bustling live, work, and play metropolis. "It was a great place to live, but you would leave each day," she states. "You knew you were safe and that it had great schools, but that wasn't going to continue to help us grow as a community. Especially over the last ten years, with our redevelopment, we've created a sense of place in our downtown we call our Nickel Plate District. There's $200 million worth of new redevelopment projects underway, right now, and one of the main infrastructure projects that's going through our Nickel Plate District and connecting the rest of the community is our Nickel Plate Trail. We had your basic trail system and great parks throughout our community, but we had an old railroad that wasn't in use and it was a lengthy process to get that converted, but that's our prize centerpiece, right now. It will connect to the larger trail system. It's another resource for people for a walkable environment; a place to get out and enjoy and not have to drive a car."
Fishers has also taken an aggressive posture concerning sustainability – yet another reason that it continues to remain attractive to its intended demographic – the young and educated. "We feel very strongly about preserving green space where we can in meaningful ways," he asserts. "We're also focusing on some key trail corridors that we think will enhance pedestrian and bike connectivity. Finally, we're in the home stretch of a pretty significant RFP for our first energy savings contract to implement solar throughout several of our facilities here in the city."
All of the aforementioned initiatives are part of what Fadness describes as the city's "forward-leaning energy and willingness to try new things. There's an inherent risk-taking here in our community that makes it an exciting and dynamic place to want to live and raise a family," he declares. "It's the core to who we are, down to our DNA, and I think that bodes well for the future. The world is becoming more and more challenging all the time and we're a city that's well-positioned to adapt, be nimble, and create opportunities where others may see chaos. It's a unique place to be."
AT A GLANCE
WHO: Fishers, Indiana
WHAT: A city of 93,000
WHERE: In Hamilton County, in the center of the Hoosier State
WEBSITE: www.fishers.in.us

Meyer Najem Construction – www.meyer-najem.com
Meyer Najem has been the go-to partner for construction management in the Midwest and beyond since 1987. We focus on a strong foundation, crafting buildings that meet the highest industry standards of sustainability, safety and technology. We approach each project with the utmost care and due diligence from start to finish. Knowing that teamwork, proactive management and continuous communication are instrumental in a successful construction project. 
Thompson Thrift – ThompsonThrift.com
With the combined vision of Mayor Scott Fadness and his team and real estate company, Thompson Thrift, one of the newest mixed-use developments in Indiana was born. Fishers District opened to the Fishers community and surrounding areas in October 2019. 
Fishers District features over 100,000sf of retail and restaurant space; The Yard, a green space for hosting small events; dual-branded Hyatt House and Hyatt Place; The Mark, a residential community featuring 260 luxury apartment homes; a three-story parking garage; and a culinary incubator space featuring new restaurant concepts from experienced local restauranteurs and novice proprietors. 
Thompson Thrift is an integrated full-service real estate company with offices in Indianapolis and Terre Haute, Indiana, Houston, Texas, and Phoenix, Arizona. Three business units drive Thompson Thrift's success—Watermark Residential focused on upscale apartment home communi­ties and luxury leased homes; Thompson Thrift Retail Group (TTRG), focused on ground-up mixed-use and retail development and leasing; and Thompson Thrift Construction, a full-service construction company. 
Thompson Thrift's commitment to quality and the positive impact their projects bring to a market is the cornerstone of their success. Their commitment to excellence is grounded in the solid foundation of the company's basic values and fundamentals and made possible by their dedicated teams.