Enerplus
continually leading the investment path with oil and gas operations in America and Canada
With an eye to future growth, Enerplus is focuses on its capital investment plan and employee well-being that clearly works
The oil and gas sector throughout North America has been on a roller coaster of sorts and continues to face a number of key challenges as we put the trials of the pandemic behind us.
Steering a clear and steady path, with an eye to future growth, has been the key to success for industry players that continue to thrive. Enerplus, a well-known and independent North American exploration and production company is a shining example of this successful approach.
Enerplus's chief operating officer and senior vice-president, Wade Hutchings, and its vice-president of people and culture, Pam Ramotowski, recently informed that the company has two big offices: one in Calgary and the other in Denver.
"We have operations concentrated in the United States, primarily in North Dakota,"
Hutchings said. "We have a long future-development inventory in front of us; over a decade of inventory. We generate attractive free cash flow and provide a competitive return of capital to our shareholders, and we do all of that by maintaining strong financial discipline most often measured by low financial leverage. Our low leverage has provided us the flexibility to acquire assets counter cyclically as well as return capital to shareholders"
Hutchings explained that in the 1980's, the company started out as an oil-and-gas royalty trust, and it has evolved since then. It successfully pivoted into other kinds of oil-and-gas investments.
"It ultimately pivoted into most of those investments being in the United States versus Canada," he said, "and today we now look like most other U.S. or North American resource plate-focused companies. That transition has been quite successful."
He noted that the industry has had a dynamic history.
"That's in some ways kind of an understatement," Hutchings observed. "The shale revolution kicked off 15 years ago in North America. A lot of companies in our space was rewarded for growing quickly."
Capital was readily available through both debt and equity markets, so many companies deployed all of the profits from their current business and sometimes even more capital to keep growing oil-and-gas production, as he explained. U.S. consumers and global consumers of energy were really among the bigger beneficiaries, and low-cost energy was one of the results.
"That is really not a sustainable model for an industry or for an oil-and-gas company, so our company approximately 10 years ago began to operate more prudently than many of our peers, to where we weren't growing as quickly," he said, "and we were trying to ensure that we could not get over-leveraged and that we could still return some of those profits in the form of dividends to our shareholders."
Fast-forward to over the last two to three years, and much of the industry has shifted to that model where companies are now being rewarded for not spending all the profits back into the business, as Hutchings noted.
"In fact," he said, "the reinvestment rate that we are seeing in the industry has even gotten to 50 percent or lower over the last few years. The rest of those profits are essentially being returned to shareholders. Those take the form of dividends––regular dividends."
"Some companies have paid special dividends or variable dividends. We have chosen to also look at the value of our equity, and when it doesn't fully reflect the intrinsic value of the company, we've been taking some of our profits and buying back shares and returning value to our shareholders in that fashion. In fact, over the last two years, we have bought back 10% of our shares outstanding each year. That kind of capital discipline is now what's being rewarded all across our industry for companies to become more prudent and try to return value today to shareholders."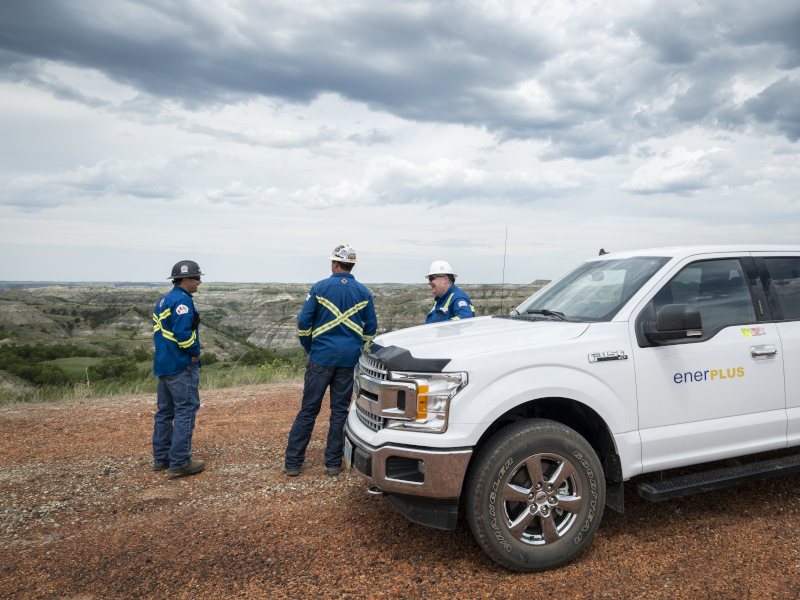 Staying focused
Enerplus remains focused on its core business of profitably finding, producing and selling oil, natural gas and natural-gas liquids, as Hutchings noted.
"The entire energy industry is in a very dynamic transition at the moment," he said.
"What we see is a continued growing need for energy all around the world. We would broadly say we are supportive of all forms of energy––renewable energy, ntraditional oil and gas, etc. We see a future that still requires lots of oil and lots of natural gas, as well as all forms of energy. For us, the longer-term demand for our product we still think remains quite strong."
Ramotowski spoke of the importance of Enerplus's company culture, as well as grappling with the problem of shrinking numbers of workers.
"We believe it's our competitive advantage," she said.
"It helps us produce our results," she continues. "Our formula is quite simple. We believe that once you've defined the results you want to achieve as a business, both the current and the future key results, it comes down to the experiences the employees are having each and every day, really shaping their beliefs, which then drive the actions that they take and the results we want to achieve. Aligning the type of culture that you need to achieve those future key results is really important to us: defining those cultural beliefs and then creating a work environment where those experiences that are part of those cultural beliefs can survive and thrive."
"We are seeing a shrinking workforce within the oil-and-gas industry, generally in Canada and the U.S.," she continued.
"We're not just seeing people leave the industry. I think the statistics were something like 75,000 people have left the industry in the U.S. over the last 10 years. That statistic comes from the U.S. Bureau of Labor Statistics. And they are projecting another 13-14 percent leaving within the next 10 years, as we lose them to other industries and to retirement, because we are seeing an aging population. We are not seeing as many young professionals coming into the industry."
Ramotowski cited the significance of maintaining good partnerships within the industry.
"We are trying to put a focus on student programs like others in the industry right now," she said. "We have a very vibrant summer student program right now. We have 22 students between Calgary and Denver, which is a growing program for us. We are looking for opportunities to educate them about the industry, expose them to others within the industry and bring them together to be representatives for the organizations and the industry when they move on to whatever is next for them.," she elaborates.
"We see a big focus on education and networking with this group. We are also seeing a focus on retention, looking at alternative ways of working: trying to integrate things like gig opportunities or shorter-term opportunities that may appeal to younger professionals or in fact individuals that are later in their careers and are looking for more flexibility. We are trying out all different types of programs that may not be common within our industry. We look for inspiration everywhere as to what programs will fit with our organization and culture and what we are trying to achieve."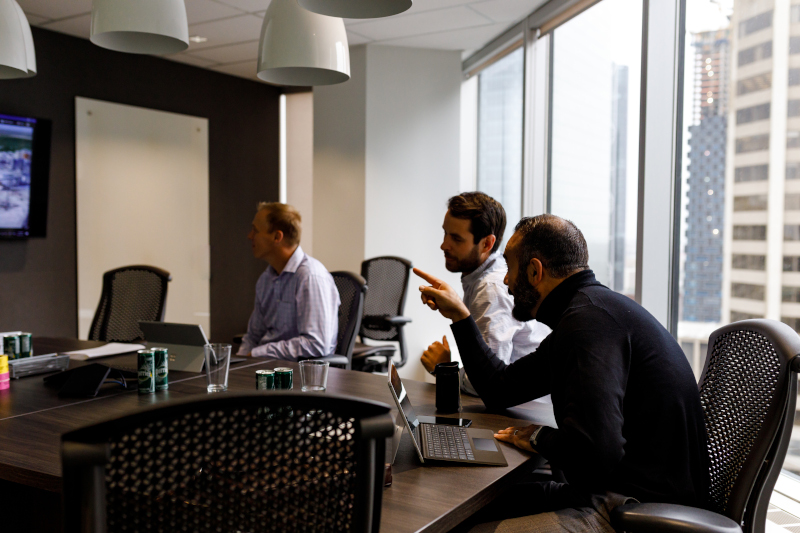 OURtime

As an example of this, Ramotowski cited an unlimited paid time-off program: "OURtime."
"We don't have a cap on how much vacation time people take," she said. "It's based on your accountabilities, deliverables and performance goals that you need to achieve, and we monitor based on those, and you work with your leader and your team to determine what's an appropriate amount of time to work, so that's unique. I don't know of any other oil-and-gas companies that have that."
"We have a program that's really about hybrid work," she added. "Everyone was forced to work at home, who could, during the pandemic. We've really allowed this hybrid to continue in a more permanent way. We allow employees to work with their leaders and with their teams and work through where the optimum place for them to work. It's not just about what I want, it's about what works for the team, what works for delivering the accountability that I have.
She was quick to highlight that the company has  some people that only come into the office a few times a month, and then there are some people who come into the office every day. She argues that it ultimately boils down to individual preference, the work and the company's  team.
"Again, a lot of our peers have mandated people back into the office or have mandated certain days that they need to be in the office, and we've taken an approach that we feel fits with our culture, with our environment and with our employee expectations, and we are seeing great results from our staff. And we're definitely seeing it as a competitive advantage as we seek to attract talent for the organization."
Ramotowski also highlighted a program known as "Performance Every Day."
"This is really about giving real-time, ongoing performance feedback," she said.
"This isn't just about leaders and their staff members. This is about employees and their leaders and their organization. This is about how we all know how we are performing, what we're doing really well, and where there are areas we need to improve. This is something that has been going on with the organization for a number of years, and it's just part of the pattern of the way we work, and we find it works well. It's not an annual event. It's an ongoing conversation so that we can ensure that everyone performs at the highest level."
AT A GLANCE
Enerplus
What: A leading independent North American exploration and production company
Where: Calgary and Denver with operations primarily in North Dakota
Website: www.enerplus.com
TEK Industries – www.tekind.com
TEK Industries: Providing Premier Oilfield Services on the Ft Berthold Indian Reservation
Founded in 2015 by Kenneth Danks, TEK Industries is a distinguished oilfield services provider operating on the Ft Berthold Indian Reservation offering a comprehensive range of top-notch solutions for the energy sector. Our unwavering commitment to excellence, safety, and community stewardship has solidified our position as a trusted partner for industry leaders; with Enerplus Resources of Denver, CO being a key customer partner in our journey.
Execution Excellence: At TEK Industries, execution excellence is the bedrock of our operations. We take pride in delivering unmatched services to our clients, driven by cutting-edge technology and innovative methodologies with a highly skilled workforce. From well servicing, transport, water logistics and more, our solutions and dedication to efficiency ensures that our clients' projects are executed seamlessly, safely and efficiently.
Safe Work Environment for Employees: We recognize that our employees are our most valuable asset, and their safety is our paramount concern. At TEK Industries, we foster a culture of safety, providing extensive training and equipping our workforce with tried and practical safety policies and procedures. Our stringent safety protocols ensure that every team member returns home unharmed, every day.
Stewards of the Community and Environment: As an integral part of the Ft Berthold Indian Reservation community, TEK Industries has the responsibility of being stewards of both the community and the environment. We prioritize practices that minimize our ecological footprint and work closely with local residents and landowners to ensure partnerships are mutually beneficial with minimal disturbance to the environment.
Empowering through Employment: TEK Industries firmly believes in the potential of the people and younger generation on the Ft Berthold Indian Reservation, North Dakota and beyond. We are dedicated to providing meaningful employment opportunities and empowering the next generation with the skills and knowledge necessary to succeed in the oil and gas industry. Through mentorship programs and educational initiatives, we aim to foster a skilled and diverse workforce for the future.
Key Customer Partners for Success: The success of TEK Industries is intricately tied to the success of our valued customers, and none has been more instrumental in this partnership than Enerplus Resources of Denver, CO. We take immense pride in collaborating with Enerplus Resources, and their trust in our services motivates us to continually raise the bar in delivering exceptional results. Vision for the Future: Looking ahead, TEK Industries is committed to remaining at the forefront of the oilfield services industry, embracing advancements in technology, and adapting to the evolving needs of our customers. As we grow, we will continue to uphold our principles of execution excellence, employee safety, community and environmental stewardship, and youth empowerment.
In conclusion, TEK Industries stands tall as a beacon of excellence in the oilfield services sector on the Ft Berthold Indian Reservation. Driven by our core principles, we forge ahead with determination, ensuring that our customers' projects thrive, our community prospers, and our environment flourishes. Together with our esteemed partners, like Enerplus Resources, we are focused on a sustainable and prosperous future for the region and beyond.
IMA Wealth Inc. – https://imacorp.com/
We work shoulder to shoulder with our clients to secure their future through a thoughtful, curious, and personal planning process.
Our planning starts with gaining an understanding of our clients goals. From there we develop a tailored service model designed to meet the unique needs of each client.
Homewood Health – www.homewoodhealth.com
Homewood Health offers expert, cost-effective EAP and workplace mental health programs to organizations across North America. Our comprehensive programs provide employees with in-person, online and phone therapy, a unique digital mental health platform, enhanced mental health programs and expert care delivered by Canada's trusted leader in workplace mental health.