El Paso Area Teachers Federal Credit Union
True community spirit
Business View Magazine interviews Max Villaronga, President of the El Paso Area Teachers Federal Credit Union – best practices banks and credit unions.
Established in 1936 by a group of teachers in El Paso, TX, El Paso Area Teachers Federal Credit Union (TFCU) was founded on the belief that educators are agents of change who should have an opportunity to shape the financial products and services they consume. Since those days, TFCU has expanded its charter to include all El Paso County businesses, organizations, and residents, making the TFCU family and its unique brand of community banking even more demonstrative of its region and values.
With ten local branches, over $740 million in assets, and 65,000-plus members, TFCU, today, is as dynamic an organization as the membership it supports, offering great, low loan rates, high-interest dividends, and – true to its roots as a teachers' cooperative – free financial education.
"The story of TFCU is really one of mergers," says Max Villaronga, President and CEO. "Loan sharks used to prey on teachers, administrators, and support personnel because the banks were ignoring that particular set of constituents. A group of teachers got together and started pooling their deposits and lending to each other. And over the next 84 years or so, TFCU absorbed other credit unions that weren't thriving – cooperatives like Ysleta Teachers Federal Credit Union, and even ones that had nothing to do with teachers that just happened to make sense."
"Back in 2015, we merged with one called Golden Key Federal Credit Union that used to support Safeway and Furrs Supermarkets employees," Villaronga adds. "Our story is one of different cooperatives, over time, coming together and evolving the TFCU into what it is today."
The National Credit Union Administration gives institutions like TFCU the opportunity to operate under three types of charter: single common bond, community, or multiple common bond. Historically, credit unions focused on a sole group or physical location (as TFCU did in its infancy); this allowed for stronger, more intimate member relationships. But, for those credit unions interested in expanding their pool of potential partners, the multiple common bond option was the better fit. "For us, one of those common bonds is anybody that lives, works, worships, or goes to school within El Paso County," explains Villaronga. "Basically, everyone's included."
Credit unions are unique in that shareholders don't own them; members own them. This difference is integral to what credit unions are, and it's what distinguishes them from the mainstream banks and alternative lenders. At the same time, individual credit unions also seek to stand out amongst others, and what truly puts TFCU above the rest of the pack is a signature business manner it calls "red carpet."
"From a product standpoint, you can certainly make the argument that our automobile lending tends to be extremely popular in the market," says Villaronga says. "Lots of dealerships choose to work with us. We also have a large and growing mortgage operation and a home equity loan operation. We have a business lending component to our operation, which is also growing substantially. But what I would tell you really sets us apart – and this is something that at many banks and credit unions, even in other industries, they talk about, but they rarely measure it the way that we do – is the concept of Red Carpet Service."
"To us, it's a conversation around the excellence of service," Villaronga continues. "And we define that very carefully. We train to it. We resource it appropriately across all our channels. And then we measure it incessantly through the Net Promoter Score."
The Net Promoter Score, or NPS, is a proven customer service metric that predicts business growth, using a 0-10 scale (e.g. 'How likely is it that you would recommend TFCU to a friend or colleague?'). On average, banks score around 34 on the NPS. By way of comparison, credit unions – which are usually regarded as having better customer service – had an average NPS score of 58 in 2019. As for TFCU, it scored a whopping 81 points on the NPS this year.
"That's better than the United Services Automobile Association; better than Apple; very, very strong scores." And that's not by accident, Villaronga insists. "We focus on hiring the right people, retaining the right people, training them to certain standards, and not accepting anything except that particular set of behaviors," he says. "We feel that's what our members deserve. That's the differentiator for us."
Every company's reputation exists on- and offline, in loyal customers and even in total strangers to the business. TFCU acknowledges its reputation as being primarily that of a real community partner. Staying connected to the outside world – particularly in these difficult times – is how it maintains leadership in its space.
"We've stayed involved through ventures that support frontline medical staff in local hospitals, providing them with meals," says Villaronga. "We've come up with several initiatives to promote healthy living and wellbeing through a variety of partnerships with local organizations."
One of those groups is Live Active El Paso, a city-wide platform that promotes better health and wellness through physical activity, improved nutrition, and strong mental health. TFCU has also partnered with the YWCA to become the title sponsor for its Race Against Racism – traditionally, a one-mile walk and 5k/10k race which takes place every year in August.
"We took a very public stance on the social justice movement that's been going on across the nation," says Villaronga. "We've felt it very personal here, particularly since the mass shooting last year at Walmart."
In addition, TFCU provides financial support to the technology initiative program of the El Paso Young Black Leaders organization. It's also pushed forward a diversity inclusion and equity initiative that would see the County's cultural diversity better displayed across their Chamber of Commerce board members' future nominations. "Ideally, the Board would reflect the citizenry and the business community of El Paso," says Villaronga. "I think that whenever you meet adversity in life, it's an opportunity for leaders to continue to lead, and not to retreat into what I call the ivory towers – you know, that sort of safe space."
Between board members, fellow staff members, client members, and the community of El Paso County at large, TFCU is in a constant state of relationship-building, reinforcing the benefits of banking locally and of working with friends and neighbors they know and trust. They do this by promoting the educational cause in the area, offering itself up as an educational resource for financial literacy and economic empowerment.
"Banzai is a company we've partnered with to use their online gaming platform to introduce high-quality financial curricula into virtually every high school in our region," says Villaronga. "In the wisdom of the state legislature here in Texas, they mandated many years ago that all high school seniors graduate having financial literacy, and they allocated zero dollars to it. It's a gaping hole. We've rolled this project out not just in high schools but in quite a few middle schools and some elementary schools, as well. We give these kids a pre-test electronically, and then, after they go through it all, we give them a post-test. We can actually – metrically – give feedback to the principals, teachers, and superintendents of nine different school districts in El Paso County. It's a really powerful process."
Another unique program is the one TFCU calls the High School Spirit Debit Card Program. "There are probably a couple of similar programs across the country," Villaronga admits. "But what we've added that's fairly unique is that we take a portion of the swipe interchange income – and we've signed contracts with all of the local public high schools and even some private ones – and we give it back to that high school's booster programs. When you look at the whole of the United States, El Paso is extremely low-income. There are areas of our city, lots of them, that are under heavy government assistance, and there's no discretionary income for these booster programs. I've heard heartbreaking requests from schools asking for donations to support their booster programs. I say, 'Sure, what are you looking for?' 'Can we have a bicycle?' they say. Think of how humble that request is. These are the schools that need it the most."
"With this debit card program, zero dollars come out of their pockets – they're just swiping for their groceries, their gas, whatever they need in their life," Villaronga continues. "And we're able to give generously to these school booster programs every single semester."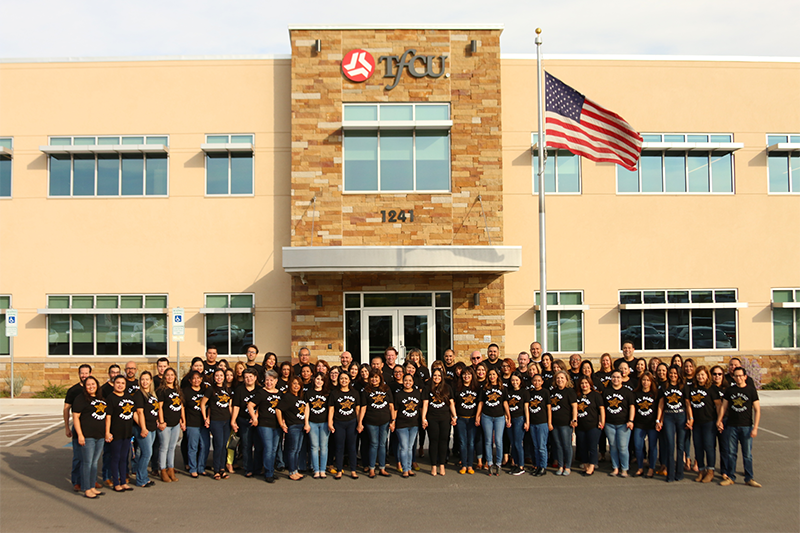 TFCU's true leadership in the community isn't something that's only talked about on rainy days; it's something it lives. "So many of us serve on various non-profit boards in the community – it's real community engagement," says Villaronga. "Our organizational culture is based on human dignity and fairness, and what's ended up happening, over the last few years, is whenever we have positions open up for jobs, the number of applications we get is outstanding. This happens because they've heard, through word-of-mouth, that the culture we have at TFCU is built on mutual respect. There's no elitism; no reserved parking spots for executives. We really try to live this every single day, this way of behaving."
And people seem to be feeling it. "They come into our buildings, and they feel that difference," Villaronga says in conclusion. "It's contagious, and it allows us to attract and retain the best talent – from Houston, TX, even from Jacksonville, FL."
AT A GLANCE
El Paso Area Teachers Federal Credit Union
WHAT: A federally-chartered credit union
WHERE: El Paso, Texas
WEBSITE: www.tfcu.coop
Finastra – www.finastra.com
With every transaction, your institution touches a life. The business of banking is often narrowed down into a stereotype of money movement and holding, but in reality, it's much more. It's about providing opportunities that affect lives … from buying that new car or home to paying for college, saving for retirement to building a business, even making sure that a trip to the grocery store is a seamless transaction.
Banking touches thousands of lives, both directly and indirectly. Strengthen your role and long-term relationships in your community with thoughtful technology. Find out how Finastra can help you along this journey.