Eagle County Regional Airport
Soaring above the others
Business View Magazine interviews David Reid, Director of Aviation at Eagle County Regional Airport, for our focus on U.S. General Aviation Airports
Vail, Colorado has a storied history as America's Ski Resort. It is the largest ski destination in Colorado and the most famous in the Rocky Mountains. Think upscale outdoors and everything you have ever seen in a movie about a ski resort – it is all there.
Now, imagine a place 30 miles west that the Native Americans once called the "Hole in the Sky" because there were never any clouds or storms – which shares all of the local beauty but is just far enough removed from the European-style vacation mecca of Vail. This is Gypsum, named after the mineral deposits, and home of the Eagle County Regional Airport.
"Picture yourself flying down into the Vail Valley, surrounded by mountains, crossing the Continental Divide," says David Reid, Director of Aviation for Eagle County Regional Airport. "Perhaps snowy peaks are greeting you as you glide into a landing at 6,800 feet. You might have to catch your breath a couple of times until you get used to it, but it is a beautiful river valley, and the mountains and forests provide not just skiing and winter sports but also river sports, hiking, biking – a year-round outdoor playground!"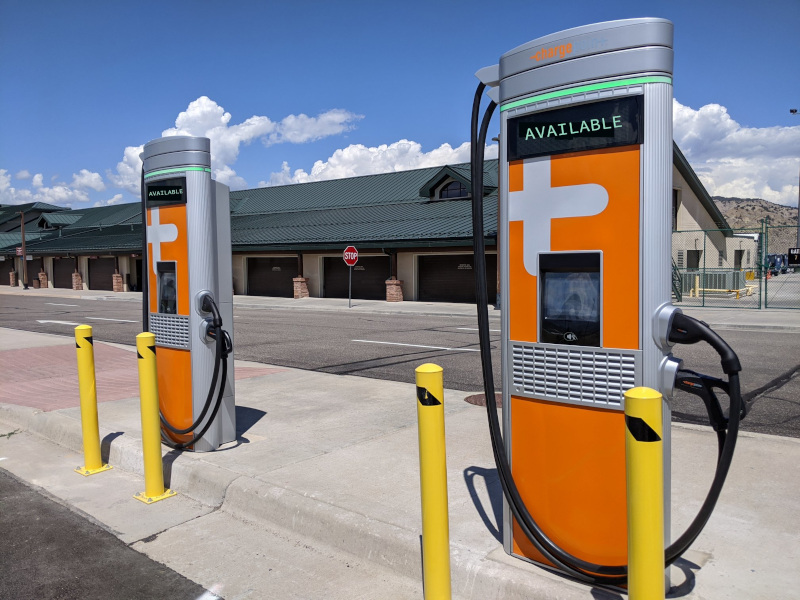 Welcome to Eagle County and its thriving Regional Airport. With a single 9000-foot runway, this is the second busiest airport in Colorado and offers commercial service from three major airlines: American, Delta, and United with non-stop winter service to 13 major cities: Atlanta, Chicago, Dallas, Denver, Houston, Los Angeles, Miami, New York (JFK & LGA), Newark, Phoenix, San Francisco, and Washington D.C. There is also year-round service to Denver and Dallas.
"Eighty percent of the airport's operations occur during the winter," Reid reports, "however, the summer traffic is also picking up and this summer we'll have all three airlines servicing us. Vail Valley Jet Centre is our FBO and they handle the General Aviation side of things. There are privately owned hangars, as well as some of our own on the north side of the property. Vail Valley has its own terminal handling the GA traffic. It is a top-of-the-line operation with a beautiful facility. Then there is the Air National Guard HAATS Facility which we partner with on the north end of the facility."
HAATS or High-Altitude Aviation Training Site is a million-acre facility based out of the airport, which trains pilots to fly helicopters at high altitude, with less oxygen. With more and more deployment in mountainous regions like Afghanistan, this facility makes quite a difference in the preparedness of pilots.
Eagle County Regional Airport has come a long way from its humble beginnings as an emergency landing strip on the Denver to Los Angeles air route of the 1930s. The Airport itself was dedicated on Sept. 14, 1947. It was a small airport, seeing just a few hundred passengers a year until recent times. It was in the late 1990s and 2000s that things really took off. In 1996, a terminal was built and in 2003, a control tower. 2006 saw the addition of an Instrument Landing System (ILS) and in 2009 the runway was extended and rehabilitated to its current length, allowing heavier weight take-offs and the possibility of any size jet landing.
"It was just a couple of years ago that we completed a terminal expansion project," Reid recalls. "It expanded the gate area and added amenities like a pet relief area, jet bridges, larger restaurant and bar, private nursing area, and a touchless experience in the restrooms. We worked with the folks at Gensler Architecture on this project. They designed this beautiful terminal, which was a $35 million project that focused mainly on the 'back of house' or secured part of the terminal. In the next few years, we will be giving some thought to the 'front of house' areas including ticket counters and baggage claims, as well as the front entrance and parking."
Plans for the near future in terms of expansion include more hangars and property development, but first, there needs to be work on the taxiways. The plan is to rehabilitate the main taxiway, Alpha, within the next couple of years and then build another parallel taxiway on the north side of the runway, Taxiway Bravo, to open up and develop more land on the north side of the property for hangars, as well as more aviation-related businesses.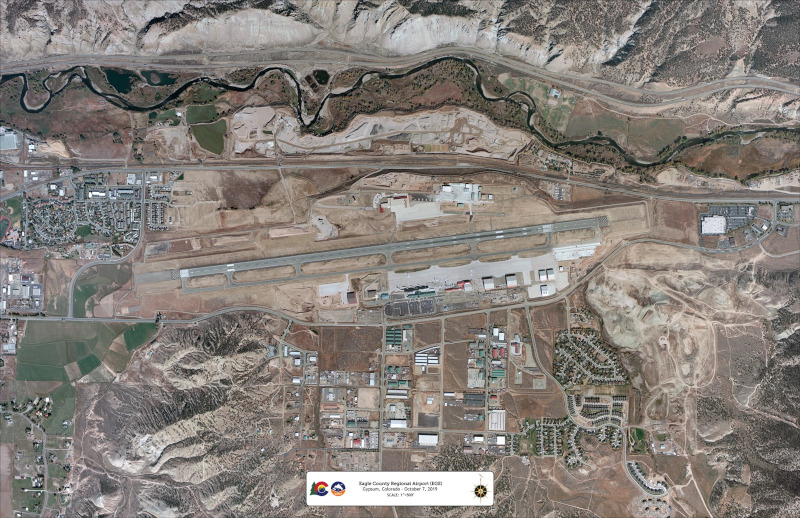 Airport expansion and maintenance always seem to come at an astronomical cost. When you look at economic impact, however, the numbers tell a different story. The Colorado Department of Transportation had just done an economic impact study pre-Covid and determined that the Eagle County Airport was directly responsible for over 5,000 jobs, $237 million worth of payroll, $388 million value-added dollars, and an astounding $642 million in business revenue. The county itself has a staff at the airport of just over 20, which includes the ARFF (Aircraft Rescue and Fire Fighting) Department with three fire trucks, including two state-of-the-art Oshkosh Striker trucks, as well as administration, operations, and maintenance staff. The airlines and tenants have their own employees as well.
No matter how much revenue is being raised, innovation and cost-saving never hurt. Eagle County Regional has taken several steps in this direction, including de-icing. Of course, there is a lot of ice at that altitude in the winter, so they recently constructed a specialized de-icing pad. All the airlines take their planes to this centralized de-icing pad (the airline uses their own handlers for this), but when the fluid is sprayed on the plane it is collected underneath and stored underground for either recycling or evaporation. The airport has also placed several solar panel arrays on various buildings at the airport, which has been deferring a lot of electrical costs. Currently, they are working on an initiative with the rental car agencies to partner with the state for grant funding to look at electrifying the rental car fleet housed on-site.
"The last year has been harder than most," says Reid, "and Covid-19 did cost us about 23 percent of our revenue. But because we are a leisure location, we probably did better than most. In fact, during the pandemic, outdoor activities like hiking and mountain biking became so much more popular because they were safer. Our area gives people a place to get away from the city and up into the mountains. This year, we are actually seeing a lot more activity at the airport."
The pandemic also meant adapting to new, safer ways of doing things. Reid admits, "COVID certainly presented a challenge in the busy season. We stepped up our cleaning protocols and encouraged social distancing as well as mask-wearing. We even went so far as to encourage people to meet their parties outside to help maintain social distancing. I really think we did our part and that people felt safe using our facilities."
Looking to the future, Reid shares, "I would like to see us continue to move towards being a year-round airport. We could be doing so much more to support our local economy all year. And I would see us continue to upgrade and improve the front of the terminal, the parking lots… perhaps even put in an international customs facility. We have some interest from our international airline partners – but until we have the customs facilities, we cannot have international flights. There are a few directions for growth that we are leaning pretty heavily into right now and we hope for good things in the future."
AT A GLANCE
Eagle County Regional Airport
What: Second busiest airport in Colorado; commercial and general aviation
Where: Gypsum, Colorado
Website: www.flyvail.com

Discover Vail – www.discovervail.com
There's no place like Vail for year-round recreation, outdoor pursuits and cultural experiences in the heart of the Colorado Rockies. As the snow melts, big adventures heat up as Vail welcomes you to explore its wide open spaces, paddle its rivers, climb mountains and wind down trails on two wheels. Nestled at the foot of Vail mountain just 40 minutes from the Eagle County Airport (EGE) or two hours west of Denver, Vail's fresh air, rugged beauty, and charming pedestrian villages await you.
With interesting venues, vast convention accommodations and over 350 shops and restaurants, mixing business with pleasure will come naturally. Put a fresh twist on your next group outing, with access to awe-inspiring guided mountain hikes, white-water rafting, a culinary tour of world-class dining in the villages or lunch with a llama, Betty Ford Alpine Gardens and more.
Find what you've been missing with summer events in vail, where outdoor venues come to life. There is something for everyone with adrenalin-pumping events like the GoPro Mountain Games, culinary delights of Gourmet on the Gore and Vail Farmers Market or the magic of performing arts with Bravo and Vail Dance Festival. Find the event for you at DiscoverVail.com/events.
Whether group or leisure travel, set your next summer or fall trip to Mountain Time, in Vail, Colorado.
Plan today at DiscoverVail.com
Gensler – Gensler.com
Leveraging the power of design, Gensler works every day to create a better world. For more than 50 years, Gensler has been a leading global architecture, interiors, planning, and strategic consulting firm that partners with clients to achieve measurable business and organizational goals through design.
Gensler brings a fresh, forward thinking approach to aviation design that focuses on the passenger. Individual experiences — like being dropped off, spending the night at an on-airport hotel, or relaxing at the gate before a flight — all play an important part in the overall experience. Terminals are no longer places where passengers wait for their trip to begin, they are a crucial part of the journey. Our team brings the expertise needed to create a memorable experience that can be delivered without adding extra cost or complications.
Working at more than 145 airports around the world, Gensler has planned and designed award-winning facilities that well serve the needs of their varied stakeholders. With achievements in airport, retail, and organization planning, our success in aviation design rests in strong, effective management, and the ability to coordinate the various professional disciplines required to successfully complete complex projects.