Lynchburg Regional Airport
"We're ready when you are"
Business View Magazine interviews Lynchburg Regional Airport Director Andrew LaGala for our focus on General Aviation at U.S. Regional Airports
Lynchburg, Virginia is both a beautiful and fascinating small city. Smack dab in the middle of the State, this vibrant community is steeped in history. Thomas Jefferson had his summer home there, it was a supply and transportation hub for the Confederates and a battle site during that war, and later became a manufacturing mecca.
Step forward through many decades and Lynchburg is now recognized as an educational center with several universities calling the city home. The largest – Liberty University – is in great company with the University of Lynchburg, Randolph College, Sweet Briar College, Virginia University of Lynchburg, and  Central Virginia Community College. It has become a youthful and exciting city filled with opportunity, and the Lynchburg Regional Airport reflects that in so many ways.
"Lynchburg Regional Airport (LYH) is uniquely situated at the foothills of the Blue Ridge Mountains," says Airport Director Andrew LaGala. "We are in west-central Virginia, a region that has a lot of outdoor activities and the airport is also nicely situated close to the heart of the city. It really combines the best of both worlds. Lynchburg is home to a variety of companies, including large nuclear-service corporations – BWX Technologies and Framatome –along with  the universities. It's a small city that is known as a great place to live, work, and play."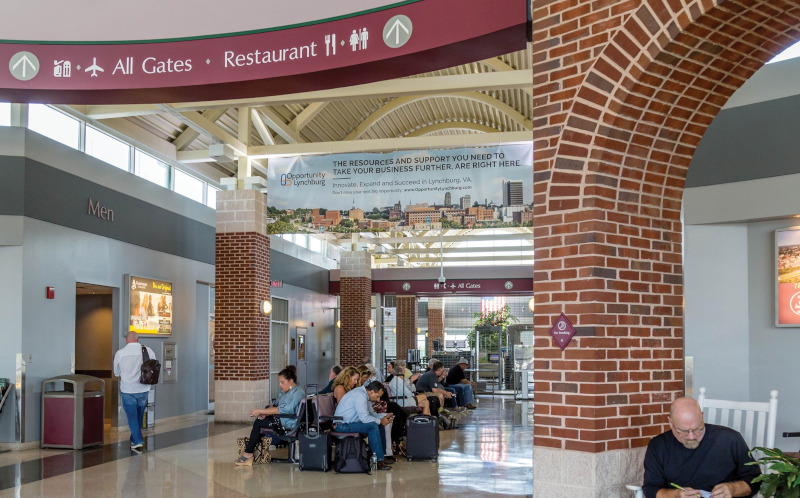 The airport was established in 1931 and was originally known as Preston Glenn Airport, named in honor of Lt. Preston Glenn, a Lynchburg native who died in service as an Army Air Corps pilot during World War I. In 1992, the airport's new terminal facility opened for business and the growth since then has continued unabated.
Today, flying into the airport is a visual treat all its own. As LaGala describes it, "First off, it is beautiful as you are surrounded by the Blue Ridge Mountains. But then you also notice that we are a large airport with two runways, the largest of which is our runway 4-22 coming in at 7,100 feet long by 150 feet wide. That's our main airline runway and is capable of handling most single-isle commercial aircraft in use today. Our other crosswind runway is 3,318 feet long and primarily serves general aviation aircraft."
LYH features both a modern airline terminal and a separate general aviation terminal to serve business and private aircraft. It is a robust airport with over 90,000 aircraft operations a year. LaGala boasts, "Not only is it a nicely situated airport, but we also offer all the facilities. We have an air traffic control tower that is staffed 18 hours a day and efficiently operated by Midwest ATC Service. We also have an Aircraft Rescue and Fire Fighting (ARFF) facility operated by Pro-Tec Fire Services Ltd., strictly dedicated to the airport with two fully capable response trucks. There's lots of parking, both short and long term, operated by Republic parking. We also have a full-service FBO in Freedom Aviation, that has a contract with the military and supports Liberty University's School of Aeronautics flight training program. On the commercial side, we have American Airlines offering dual cabin regional jet service to Charlotte, so our motto is "we fly you from here to there to anywhere" because once we get you to Charlotte you can go anywhere."
LaGala also reports that although there was some pandemic slowdown, they have made a great recovery and are seeing about 90% of their scheduled flights when compared to 2019, which was seven flights a day. They are also at between 80% and 90% of average passenger loads and are working on adding new ─ perhaps northern and midwest ─ routes.
Like most airports, hangars are in high demand. LYH has a good mix of T-hangars, conventional hangars, and corporate hangars, but there remains a waiting list and a market demand to build more.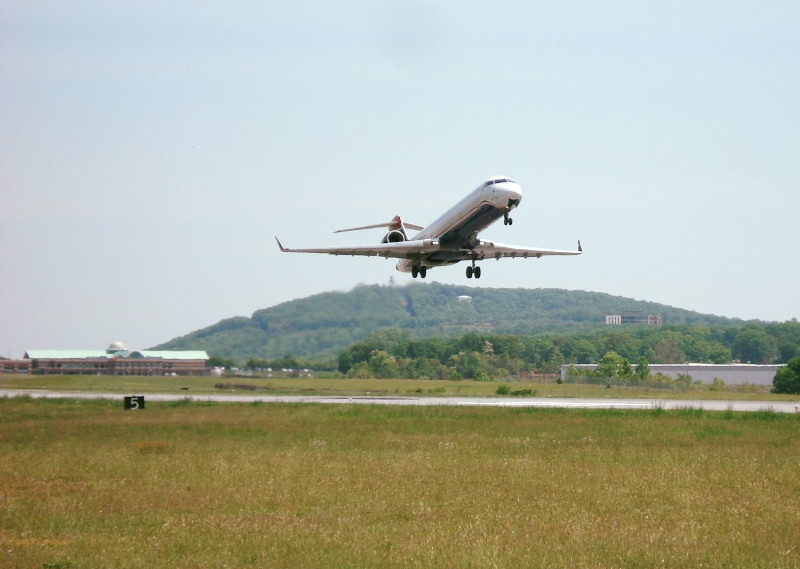 The airport is also about to start construction of a new, $5 million aircraft parking ramp to accommodate  over 60,000 square feet of private and/or commercial hangar and office space. The project is scheduled to be completed in the early spring of 2022, and will feature the addition of 15,000 square yards of new concrete apron, hangar sites, public vehicle parking, and a new adjoining taxiway. This is the first phase of a planned development that hopes to see an additional 80,000 square feet in Phase 2. Once  completed, it will accommodate a wide range of large aeronautical businesses and aircraft sizes.
There are also private hangars leased by companies on the airfield, especially Bon Air Brokerage, which provides aircraft management, brokerage, sales, and storage.  Another interesting tenant is Liberty University – they offer an aeronautics flight training program that takes students who have never flown all the way to being certified as a commercial airline transport pilot.
LYH is a busy and growing airport, which means a continuous stream of upkeep and redevelopment. As LaGala attests, "When you look at the work we have done in our terminal and for our tenants, it really is  significant. We have recently upgraded all of our interior lighting in the commercial service part of the terminal with the newest LED lighting, and we're getting ready to move on with construction to rehabilitate all six of the public restrooms – we're going to go into full non-touch systems. Next will be the design and construction of an automated exit lane at the passenger checkpoint. Another project we are hoping to begin involves looking for opportunities in the airline terminal vehicle parking facilities to go with new technology like mobile payments using your cell phone. We are also exploring options to add EV stations to those facilities."
In addition, there has been significant, ongoing infrastructure work done at LYH, including the recently completed, $2.5 million midfield aircraft parking apron rehabilitation. LaGala notes, "The most interesting thing about that project is we were able to use the industry's newest FAA-approved fuel-resistant asphalt, which is the latest and greatest technology when it comes  airport pavement. Actually, LYH was  one of the first in the industry to use this new asphalt." Finally, they will next be looking at a major rehabilitation of the airport's primary runway, which is in the preliminary planning stages and is slated for construction in 2024.
"I think if I could make a wish list for the next few years," LaGala concludes, "the main thing I would like to add would be additional airline service and new destinations. I'm in discussions with our current airline now for additional destinations and with that, of course, there will be additional growth at the airport. But it is all coming together nicely, and I do see a bright future ahead."
AT A GLANCE
Lynchburg Regional Airport
What: A progressive public use airport
Where: Lynchburg, Virginia
Website: www.flylyh.com

Lynchburg Regional Business Alliance – YesLynchburgRegion.org
The Lynchburg Regional Business Alliance is the combined chamber of commerce and economic development organization for the Lynchburg region. We can assist you with all your business needs including available sites and buildings, business development and connections, sourcing local talent, lobbying for legislative issues, and much more. Contact us today!