Raleigh Executive Jetport
Raleigh Executive Jetport
With an anticipated increase in passenger numbers, Raleigh Executive Jetport is cruising into the new year
In a world where Covid had for a time created a downturn in most sectors – general aviation is thriving once again with passenger numbers expected to increase even further in the coming months. One airport expected to benefit from a rebounding aviation industry is Raleigh Executive Airport. In close proximity to the famed 'research triangle' with aviation upgrades slated to meet executive air traffic, the airport is welcoming the new year ahead.
"I ran the economic development program in the county and served on the Airport Authority for 12 years," explains Bob Heuts, Airport Manager for the Raleigh Executive Jetport.
"They brought me on for three months to manage the airport. That was six and a half years ago. I was familiar with the finances – all the grant programs, budgets, and things like that were not foreign to me, and it was a good transition."
He goes on to point out that the airport is only 20 years old and has seen consistent growth. They now boast over 200 aircraft on the field with most of them being smaller turboprops, but with a distinct rise in jet traffic over the last couple of years.
Raleigh Executive Jetport specializes in corporate and recreational flights into the Research Triangle Region — an area that includes Raleigh, Cary, Chapel Hill, Durham, and the Research Triangle Park. Situated just 8 miles from downtown, it sits on 700 acres of land with one asphalt paved runway, designated 3/21, which is 6,500 by 100 feet as well as a parallel taxiway.
The airport is equipped with an automated weather observation system (AWOS), instrument landing system (ILS), ground communicator outlet (GCO), and automatic dependent surveillance-broadcast system (ADS-B). In 2019 they opened the new O.A. "Buddy" Keller III Terminal which also features all the modern amenities including a pilot lounge with "snooze rooms", several conference rooms, and an observation deck with rocking chairs overlooking the runway from the second floor. The airport sells Phillips 66 fuel, both Avgas and JetA competitively, while there are three maintenance facilities as well, Mag Aerospace, Elite Aviation and Bel-Air.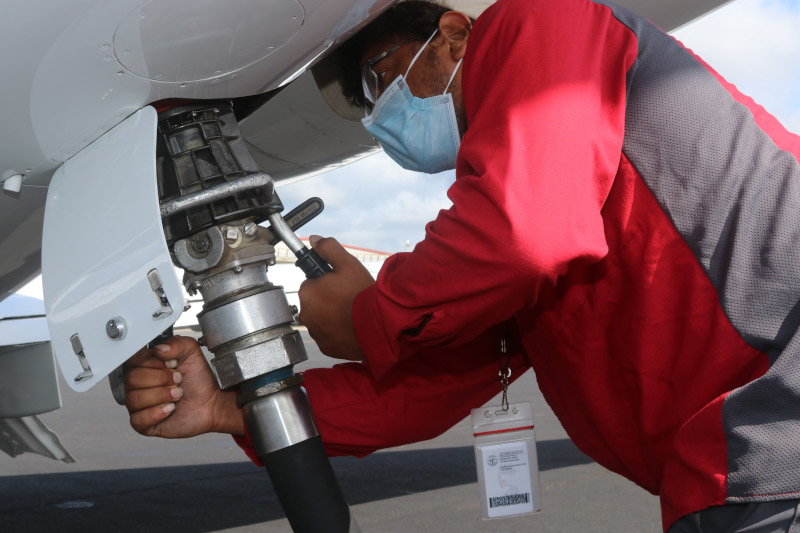 With a background in economic development, Heuts realizes the importance of the Jetport as an economic driver.
"When a company comes in looking for a new location or expanding a location, one of the questions is always is there a general aviation airport nearby. It just makes it easier in terms of bringing executives and products in. There is a direct link between economic development and the ability of this community, this region, to locate and expand projects because of the location of this airport."
This flows over into a larger investment in the local community. The airport hosts tours for groups, allows local organizations to make use of the meeting space, and yearly holds a Family Day, which brings the whole community out to the airport and gives them a chance to explore aircraft and enjoy aviation-related exhibits. The Young Eagles, EAA also gives free flights for children.
"I will tell you that pretty much ever since we opened in 2000, we have been planning for a new project, or we're building a project. We have expanded the apron and parking area for airplanes. We have rehabbed the runway and taxiway so that they are adaptable for larger aircraft, and we've opened a corporate area for large hangar development. We've been building those kinds of things just to give us more capacity to handle larger airplanes along with the smaller airplanes that we already have."
"The South development area is another one of those projects and we have added a new taxiway that connects all the taxiways between the 99 T hangars that we have on the field. We have also developed sites for box hangers with water and sewer – it is all about creating the infrastructure so that we can meet the needs of anyone who might come in here," he adds.
This means that the airport has close ties to funding and support agencies that have been critical to this growth. Raleigh Jetport works with the State of North Carolina, Lee County, and the City of Sanford as well as the Sanford Area Growth Alliance and Sanford Tourism Development Authority.
They also have four flight schools: Elite Aircraft Services offers customized training using Cirrus aircraft, Executive Flight Training offers flight training using Piper Cherokee, Piper Warrior, Cessna 172, and Cessna 182 aircraft, and a Redbird Flight Simulator. While the Odyssey Aero Club offers instrument training and commercial training in Diamond DA40 aircraft. Finally, the Wings of Carolina Flying Club offers a complete range of pilot training for members, including private pilot, instrument rating, commercial certificate, and multi-engine rating instruction in Cessna 172, Cessna 152 Piper Cherokee Warriors, and Mooney M20J aircraft.
"Given that we have some good-sized flight schools on the field," explains Heuts, "we have had a project on the books for a while to create bypass taxiways. We are finally in a place to start design and then construction in the summer. The bypass taxiways would allow students to sit do the runups, safety checks, and all the things that they need to be doing before they fly, without holding up other traffic."
"This project will probably come in at two million dollars. The South Development project was five million, and after that, we are going to look at the creation of two large hangars in that corporate area. New companies are moving into the Lee County and greater Triangle area all the time. We have high-tech companies like Apple, Google, and Meta as well as life sciences companies and many others," he elaborates.
Heuts does credit location for the growth in corporate traffic. The jetport is in the Research Triangle Region — an area that includes Raleigh, Cary, Chapel Hill, Durham, and the Research Triangle Park, which is the largest research park in the United States, situated on 7,000 acres, with more than 300 companies and 65,000 workers.
"We are going to continue to look at ways to develop capacity at this airport," Heuts says.
"We can help create the infrastructure to meet the needs of any company that wants to come in, and by doing that, we are supporting economic development in this region. About five months ago the state announced that they will be supporting the largest economic development project in the state of North Carolina, which is going to be located four miles from this airport. A Vietnamese company will be building electric SUVs," he explains.
"That project has the potential of having a huge impact at this airport and Region so we are going to be keeping that in mind as we create more corporate facilities. There will be a couple of thousand people working at the facility – but the logistics of such an operation means that our airport could be used for personnel, parts, customers," Heuts describes.
Heuts outlines that the airport represents a smaller-sized, noncommercial airport which translates into quicker and smaller operators to fly in and out.
Another advantage, he points out, is that the airport is also less crowded enabling the operators to have more of an eye on the different priorities that surface for the various clients it serves.
"I think people will find it a great experience to use the Jetport."
"I think we have a great airport, great facilities, and great people working here; both on the private side and the public side. We can never sit back on our haunches and say, oh, look what we've done. I think we need to continue to look forward and sit on the edge of our seats to make sure that we have the capacity to continue to grow and provide the customer service that gets people coming back," he reflects.
"When someone gets into their airplane and leaves here, I want them to have a smile on their face. So far, we've been very fortunate and we promise to continue to deliver on that."
AT A GLANCE
Raleigh Executive Jetport
WHAT: A general aviation reliever airport
WHERE: Raleigh, North Carolina
WEBSITE: www.sanfordexec.com
Elite Aircraft Services – www.flyeliteaircraft.com
At Elite Aircraft Services we have many roles, but only one mission – to exceed client expectations in all that we do. Our philosophy is that no two missions, and no two clients, are ever the same. Our experienced and dedicated team is always able to pivot when you need us to, with safety and reliability at the forefront of our minds. Contact us today to find out how we make the impossible happen every day.
Sanford Area Growth Alliance – www.growsanfordnc.com
Everybody promises. Sanford and Lee County, NC deliver! With shovel-ready sites, a highly-skilled workforce, strong pro-business leadership, and robust water and wastewater capabilities, we have everything your business needs to succeed. *117K SF Class A Shell Building Available Now at Central Carolina Enterprise Park. Call today. Phone: 919.775.7341x1501 Email: bjoyce@growsanfordnc.com