Hagerstown Regional Airport
Destination of choice
Business View Magazine interviews Rick Johnson, Director of Hagerstown Regional Airport, for our focus on General Aviation in the U.S.
The community of Hagerstown is a gem of Western Maryland. Surrounded by Limestone Ridges and rural charm, it has a storied history that began to take shape during the Civil War. Three major battles – South Mountain, Antietam, and the July 1863 Battle of Hagerstown – all took place in Washington County, home of the County Seat of Hagerstown and crossroads of the north and south.
Perhaps because of this strategic location, the city maintains an important status as a hub for transit and commerce. It is the point that intersects Interstates 81 and 70, CSX, Norfolk Southern, and the Winchester and Western Railroads. It is also home to the Hagerstown Regional Airport. Because of its nexus in terms of transportation, the city draws on commercial and industrial business from a Tri-State Area that includes Western Maryland, South-Central Pennsylvania, and the Eastern Panhandle of West Virginia.
"I have been working here for a few months now," explains Airport Director, Rick Johnson. "This is a beautiful city and county. It seems very relaxed, like we have left the hustle and bustle of a larger city behind. And I guess that is one of the main things that sets our airport apart – it is just so convenient and easy to use. We are a quarter of a mile from the highway to the parking lot, which is free, and then we have a small terminal with a ticket counter right inside the door. You sit right there and wait for your aircraft to pick you up. It is the ease of access that makes people keep coming back."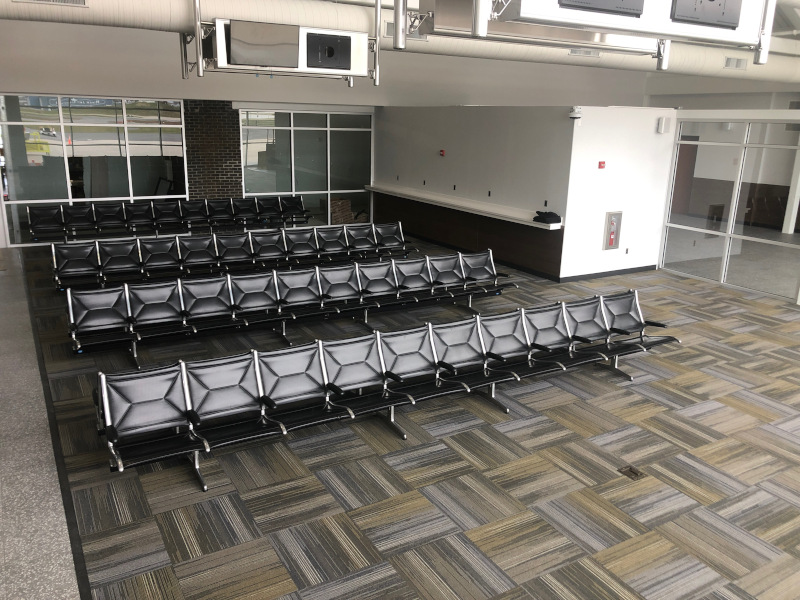 There are a lot of reasons people choose to fly in to the Hagerstown area as a destination. It is home to the Maryland Theatre and Performing Arts Complex, The Maryland Symphony Orchestra, the Washington County Museum of Fine Arts, historic battlefield, museums, restaurants, and more. Then there is the outdoor recreation, which may be the most popular reason to visit. Washington County boasts the majority of Maryland's Appalachian Trail, the Chesapeake & Ohio Canal, and the Potomac River. There are five national parks and eight state parks in the county, with an abundance of options for hiking, biking, kayaking, boating, birding, and photography.
When it comes to the airport itself, the backstory is just as interesting. In 1928, the Kreider-Reisner Aircraft Company bought 60 acres of farmland to use as an airport. The City of Hagerstown then purchased it in 1933. At the same time, Kreider-Reisner was purchased and renamed the Fairchild Aircraft Corporation. Hagerstown became an airport manufacturing hub and in World War II Fairchild built PT-19 trainers and C-82 Packet transport there. Then after the war, they produced the C-119 and C-123 military transports and license-produced Fokker F27 airliners. Production ceased in the late '80s and the Hagerstown plant was shut down. In their 57 years of operation, Fairchild built over 10,000 aircraft at the site.
Boasting just over 693 acres, the airport has two asphalt runways, the longest being 7,000 by 150 feet with a precision approach capability, and the shorter runway coming in at 3,165 by 100 feet. Both runways have a full, parallel taxiway. Allegiant Air is the only carrier that flies commercially – offering year-round service to Orlando/Sanford International Airport, and seasonal flights to St. Petersburg/Clearwater and Myrtle Beach, South Carolina.
There are 162 general aviation aircraft based on the field and more than 20 aviation-related businesses. The Fixed Base Operator, Rider Jet Center, offers over 40,000 square feet of heated hangar space and 10,000 square feet of office space. They also provide aircraft rental, maintenance, repair and inspections, aviation fuel, computerized weather information, and pilot supplies. Hagerstown Flight School provides flight training, while V1 Aeronautics offers flight training, air tours, and FAA testing. The airport is also home to the Pittsburgh Institute of Aeronautics education program for FAA-approved Aviation Maintenance Technicians, and a Redbird Simulator operated by SimFly, a producer and supplier of flight training materials and flight simulators.
"Like most airports, we took a downturn when COVID first hit," Johnson recalls, "but it did not seem to last long here. We are in full recovery mode now and everything from operations to fuel sales are back up. It really is a beautiful facility, with a great restaurant, The Grill at Runways, which offers everything from burgers to gourmet seafood dishes. You see a lot of corporate jets and private smaller planes, some very nice planes in fact, out on our apron all the time. When it comes to hangars, we maintain the hangars for smaller tenants and general aviation pilots, up to small jets, while the FBO manages the corporate hangars for the larger jets. We've also constructed some bigger hangars and have large jets in those as well and/or businesses operating out of them."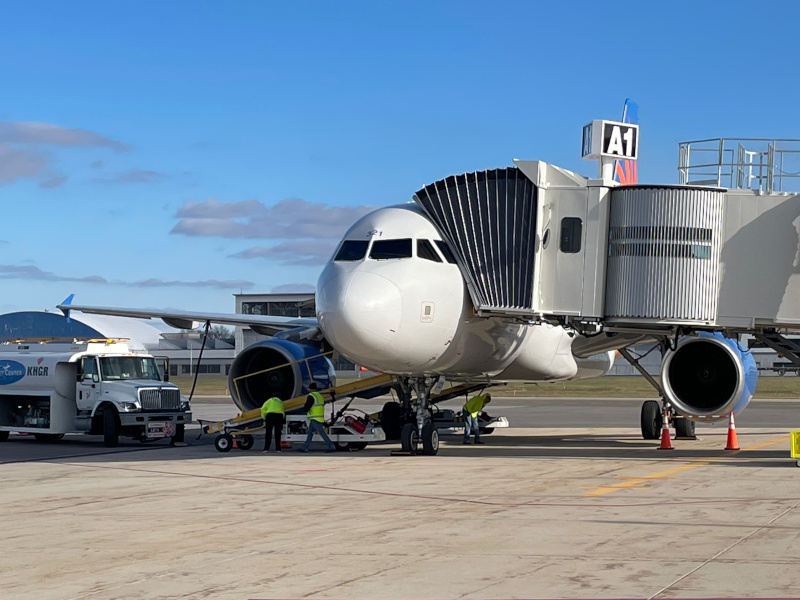 The airport has undergone a fair amount of renovations in the last few years. The major project which was just completed was a $7 million dollar overhaul of the terminal facility. Johnson boasts, "The facility is just  remarkable. We have added some new parts and renovated the older parts, so it all seems brand-new. It is very user friendly and beautiful, and we have constructed a new jet bridge so that you can board your aircraft without being exposed to the elements. That is a very welcome feature. Then the second project was a runway rehabilitation of the main runway, which has also been completed and includes newly updated markings to help make navigation easier."
Looking at the next few years, there will be a terminal access and control project which will add additional security measures and equipment, rehabilitation of Taxiway Foxtrot, the acquisition of a new parcel of land to improve the runway visibility zone, and an expansion for the building which houses snow removal and maintenance vehicles.
Running an airport also means community involvement and Hagerstown tries to partner with local agencies as much as they can. The most recent one was the Wings and Wheels Expo which was put on by the Hagerstown Aviation Museum. "We supported that and had our staff out there," says Johnson. "We also had our fire truck in the display and a few pieces of our snow removal equipment set up. That event was specifically set up to get people out to the airport to talk about the airport and airplanes. Things like that are a great way to get the word out and get people interested in aviation."
The Airport is a good economic driver for the community; employing 11 full time and 15 part-time staff while stimulating over $20 million in state and local taxes. It also has business revenue of $130,104,000 and provides 1,763 airport workers with a total annual income of $104,316,000. "We are always open to any additional profit streams that we can come up with," says Johnson. "Airports are not set up to be huge revenue-generating organizations just through flights, as we are always trying to encourage ways to grow. We rely on the Washington County Business Development Department to help us search out future development and promote us."
He concludes, "I guess looking at the next few years my wishlist would start with increasing the destinations that Allegiant offers. We could even potentially bring in another airline and serve other regions of the country. But I am very excited about the development of the property and think we have the opportunity to build more hangars, lease more space, and just generally grow. There are so many possibilities here that we can realize."
AT A GLANCE
Hagerstown Regional Airport
What: A busy public use airport
Where: Washington County, Maryland