Yeager Airport
Planning for success
Business View Magazine interviews Nick Keller, CEO & Airport Director of Yeager Airport, for our focus on U.S. Regional Airports
Creativity, Innovation, and Resilience –the three key factors that Nick Keller, CEO and Airport Director of Yeager Airport, highlights as the reason for their success. The Airport sits 300 feet above the scenic valleys of the Elk and Kanawha Rivers just three miles east of downtown Charleston, West Virginia. Covering 767 acres of land, it was originally opened in 1947 as the Kanawha Airport but renamed in 1985 for aviation legend Chuck Yeager, a native of nearby Lincoln County who piloted the world's first supersonic flight in the Bell X-1. Today, Yeager Airport is owned by the Central West Virginia Regional Airport Authority and employs a dedicated team of 85 full-time and 30 part-time employees.
Yeager Airport (CRW) is the largest commercial airport in the state of West Virginia, with worldwide service provided by American, Delta, Spirit, and United Airlines. Keller reports, "We are also a general aviation airport that sees a lot of traffic and last year we had over 100 different military squadrons come to the airport to fuel and train. We are still trying to catch up and build our infrastructure to maintain and promote growth – but even with COVID-19 we have seen a pretty good year."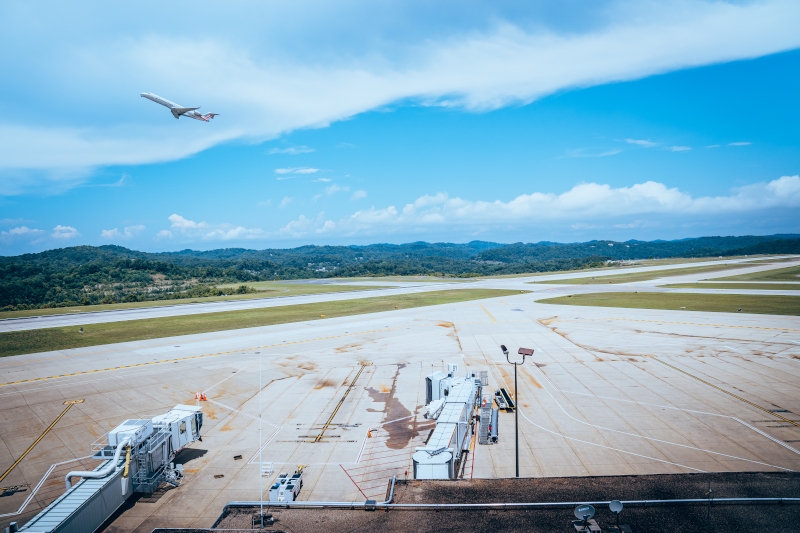 Looking back to April 2020, the outlook was pretty bleak when passenger service almost came to a halt. Yeager Airport usually sees about 750 enplanements a day but near the beginning of the pandemic, they were down to 13. Instead of 16 commercial flights a day, they were seeing two. Many of the projects they had intended, like a $5 million terminal refurbishment, were put on hold. It seemed like tough times ahead but the skies eventually brightened. "If you showed up at the airport today, you would see a lot of construction going on," says Keller. "What you see is that we are still progressing – still building up our infrastructure for the future, and we are doing that by recognizing the need to diversify."
Take for example the two major projects that came out of 2020, one of which was an alliance with the military to create the "Home Base Program" and the other is the launching of a new flight school in partnership with Marshall University. Keller explains, "Our fixed-base operator Capital Jet Center had a contract for military fueling, and that actually increased over 2020. So we've created a program, which is a marketing tool to target military use of Yeager Airport as the home base of operations for training. The Army, Navy, and Marines are all using this area for training; we have abandoned coal mines that make good training grounds nearby and it is working out well."
The Home Base Program – a partnership between Yeager Airport, the West Virginia National Guard, and the Kanawha County Commission – is designed to increase military training in the Mountain State and it's had a great financial impact on the region. The 61 military units that came to the airport in 2020 had a $2.1 million impact on Kanawha County with each unit spending nearly $7,000 while in Charleston, not including fuel sales. The largest unit that came through the airport was the United States Navy, which had three separate units of 100 sailors each in the city for two weeks.
"Think about it," says Keller, "those sailors are staying in Charleston and they're spending money in the local economy. So, what we've done at the airport is basically facilitate any of their training needs. And what they need depends on the type of service. We had helicopters practicing landings at the coal mine sites for example. But it could be everything from simulated combat, search and rescue missions, all the way to just landing in dirt and kicking up dust because that is what they run into when they deploy. The airport becomes like a staging base for their operations."
Yeager Airport also reached out to Marshall University, which is in the process of creating a school of aviation. Construction has started on a hangar and classrooms on airport property – the facility is around 12,000 square feet and is progressing ahead of schedule. Full completion is scheduled for July 2021 and Marshall's first class of 200 students is scheduled for August 2021. They even have one of their airplanes on site now.
Diversity of activity means a diversification of revenue, but it also means a very active airport with a lot of infrastructure needs. In the last few years, Yeager Airport has spent over $30 million on infrastructure work and are in the middle of a two-year, multimillion-dollar runway rehabilitation project. This will include a total rehab of the pavement, as well as new runway centerline lights, and new edge lighting, all going to LED.
"We are also going ahead with work on our customs facility," says Keller. "This project is currently under construction and will be finished in November or December. We are building what is called a general aviation customs facility to handle any type of corporate GA aircraft up to 20 passengers. This will definitely add to what we can do. We want to make things easier for people to do business in West Virginia; so, for instance, if somebody's coming from another country and they have business here, we want to reduce the barriers to conduct business. Right now, people would have to stop and clear customs at another airport, and so it would be easier just to come to Yeager. At the same time, we are targeting fly-over flights coming from Canada or the Caribbean. They need to get fuel somewhere on the East Coast and to be able to stop here, clear customs while at our airport, and get great fuel prices is going to be a real selling point."
Along with a new master plan, Yeager has created an Airport Organizational Vision Statement which has been at the core of their initiatives to branch out, while working hard to create an environment that attracts not only partners but passengers. The terminal expansion plan (on hold because of the pandemic) is one example that is in the works for the immediate future. In the meantime, the concessionaire, Faber Foods, did a complete remodelling of their terminal facilities with a new gift shop and cafe in the gate area, which is both professional and welcoming. Yeager has been slowly rehabilitating the gate area to make it more and more user friendly, and this has included a play area for kids, as well as a nursing area for mothers. It is this innovative, constant drive to make things better that seems to be working for them.
Despite the COVID-19 pandemic, Yeager Airport showed great resilience and was still able to go forward with a good number of projects. For the upcoming year, they have 10 projects slated for development – a big part of which centers around the runway and the customs facility, as well as the Marshall Aviation School. They are also doing a sewer line expansion along eight acres of property to make that space available for expansion and development. As well as planning a QTA, Quick Turn Around, area for the rental car companies. There are even plans to move the airport maintenance facility to make room for a hotel.
Keller shares, "One thing that Marshall University wanted to do was see if they could guarantee rooms at a hotel instead of having to build a residence hall. So we've conducted a feasibility study and I think we'll probably have a 100 room hotel open by 2024 for Marshall students,  as well as military and business traffic. Each project sort of ties in with the last, as we continue to develop. We are also in the process of creating an environmental impact statement for the runway 2-3 safety area and that project should start this summer. Because we are on top of a mountain, with cliffs at each end of the runway, you can imagine that having the best possible safety zone would just… feel better."
"What we are trying to create is a sort of one-stop shop," adds Chris Williams, Public Affairs Manager for the Airport. "Where people can clear customs, they can get fuel, they can have work done if there are any issues with their plane, and maybe even do a little shopping and get a bite to eat. Yeager Airport is the perfect place for all your needs."
AT A GLANCE
Yeager Airport
What: A commercial, military, and general aviation airport
Where: Three miles east of downtown Charleston, West Virginia
Website: www.yeagerairport.com

L.R. Kimball, a Division of CDI Engineering Solutions – www.lrkimball.com | www.cdiengineeringsolutions.com
Founded in 1953, L.R. Kimball offers multi-disciplinary engineering and architecture design services. We have worked in West Virginia for over 45 years, including 25+ years at Yeager Airport.  L.R. Kimball is a division of CDI Engineering Solutions. Together, we provide quality results to clients across infrastructure, energy and chemical industries.
Paramount Builders – paramountwv.com
Founded in 2006, Paramount Builders is a West Virginia-based general contractor and recognized as one of the most highly specialized and experienced firms in the region.
Our work is concentrated in commercial, design/build, construction management, and consulting.
Our project footprint extends throughout West Virginia, Ohio, Kentucky, Maryland, Virginia, and the mid-Atlantic region.
Paramount Builders is adept at managing projects of any scale and scope, underpinned by decades of team experience and a quality-first culture. We are an accredited LEED Building Contractor.