Four Corners Regional Airport
No Worries here…
Business View Magazine interviews Mike Lewis, Airport Manager at Four Corners Regional Airport, for our focus on Regional Airports in the U.S.
Location, location, location… location. When it comes to positioning, Four Corners Regional Airport certainly lives up to its name. Airport Manager Michael Lewis describes the scenario well, having had lots of practice. He explains, "Four Corners Monument about 30 air miles due northwest of the airport – indicates the point where four states come together to meet: Arizona, Utah, Colorado, and New Mexico. These states come together at one single point, thus the name Four Corners. Now, here's what is interesting. Anyone who has ever been there, whether they will admit it or not, finds that place with the brass plaque indicating the borders of these four states and gets down on all fours and says, "Look, I'm in four states at once!" So that is a pretty important part of who we are here. We are in the middle of everything."
Aside from the geographical uniqueness of this area, it also boasts the City of Farmington, New Mexico. Located in San Juan County, Farmington is the trade centre for the region and although only about 45,000 residents live there, the surrounding area encompasses some 350,000 people. The city is also found at the junction of the San Juan River, the Animas River, and the La Plata River. Surrounded by beautiful desert mesas, just south of the Colorado Mountains this was once ancestral Pueblo territory and traces its roots back to the earliest times of human existence in North America. Now it is surrounded by natural beauty and thriving with arts and culture.
Built on the back of the oil and gas industry, San Juan County produces petroleum, natural gas, and coal. Major coal mines are the Navajo and San Juan mines. The coal mined from the Navajo and San Juan mines is used entirely for fuel for the nearby Four Corners Generating Station and San Juan Generating Station to produce electric power.
Since 1941, the region has been served by the Four Corners airport. Once known as the Farmington Airport, it became a municipal airport in 1941 and it was only six years until commercial service followed. A variety of airlines flew in and out of the airport over the years, most notably Mesa Airlines which was founded in Farmington before moving on to Phoenix. However, the last commercial flight was in 2017. Since then Four Corners Regional Airport has been strictly General Aviation.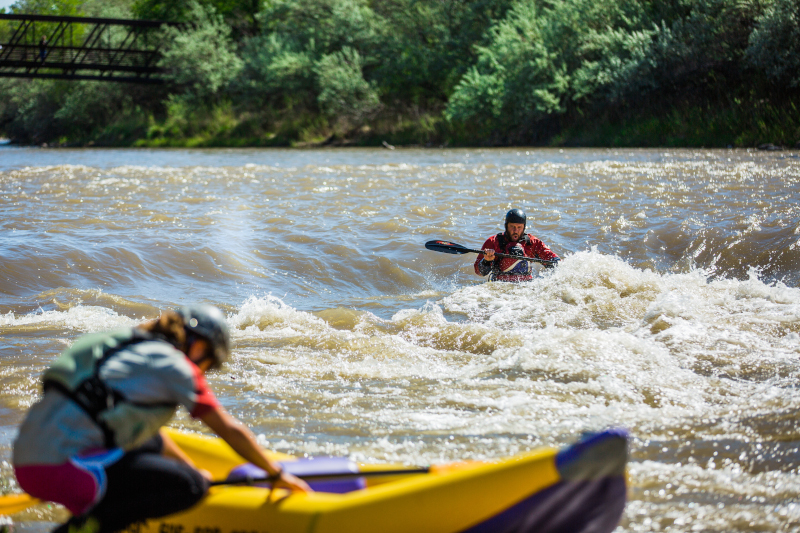 "But the term General Aviation encompasses so much more than most people realize," Lewis emphasizes, "if it's not military and not commercial airlines, everything else is general aviation! So, it's private pilots, it's business aircraft, it's firefighting crews, it's air ambulances, it's freight hauling companies, it's agricultural spraying, it's aerial surveying, and everything else you can imagine. And we have all of those here at Four Corners. We are still pursuing commercial airlines, and expect that commercial service will return in the not too distant future. The devastation to the airline network that was created by the coronavirus has played a major role in delaying the restart of service.
Despite COVID-19, General Aviation operations increased throughout 2020 and are currently at their highest levels in at least 10 years. "I suppose it is like campers, or ATVs for four-wheeling," says Lewis, "everyone is buying up those because they are safe to do during a pandemic. So, these single owner pilots are finding the same thing, they can enjoy their hobby and go fly even if they cannot go to the restaurant. Just like you would go for a ride in the car, you can hop in your plane and get away from it all. We are really seeing a resurgence of private aircraft operations."
Four Corners has 131 aircraft based on the field and there are always people looking for space. Lewis points out that there is a waiting list for leased hangars at the airport, but developable land is available for private construction. In the last five years there have been three private hangars constructed. The Fixed Base Operator (FBO) is Atlantic Aviation and they operate a terminal, sell fuel, as well as all the aviation-related amenities one might need. There are also two flight schools and a full-service restaurant, the aptly named 'No Worries Sports Bar and Grill'.
Speaking to recent upgrades, Lewis notes, "We have two asphalt paved runways, one is 6500 feet and one 6704 feet. This summer our major project is going to be to overhaul the 6500-foot runway. It is at the end of its useful life, therefore starting in August, we will be using $ 7 million in federal and state grant money to rehabilitate it. The other runway will still be open so it really will not affect operations. Next year we are going to do some taxiway realignment based on upgrading the category of our runway to handle regional jets. We can currently operate regional jets with a modification to standard and a memorandum of understanding from the FAA, but if we relocate those taxiways a sufficient distance from the runway, we will no longer require that waiver.
He adds, "We have been replacing our lighting systems with LED lights and hope to do both ends of the main runway this year and the taxiways in the following couple of years. Like any airport, we always have routine repainting, sign panel replacement, mowing,  and things like that which we upgrade all the time. We have upgraded our older technology VASI (visual approach slope indicator system) on runway 23 to the latest technology PAPI (Precision Approach Path Indicator), and plan to do the same on runway 5 along with the runway overhaul."
There are 130 acres of land on the north side of the airport available for commercial and industrial development, which would be perfect for an aviation company that needs access to the runways. "We have been exploring several options for development," says Lewis. "A lot of firms are insecure right now about the future but we have been working with the Economic Development office to try and attract the right businesses and what might be possible with those acres. With future development in mind, we also work with the Farmington Convention and Visitors Bureau, and they are a fantastic partner – we have been trying to create awareness for this region amongst people who would be flying into the airport or using commercial service. They've provided a lot of information that we've used in our discussions with potential commercial operators, so they've been an invaluable resource."
The region is well known for its natural resources, having a large deposit of natural gas in the San Juan Basin. The gas industry was once the major employer and Farmington was the headquarters for several energy companies. This was the economic driver. But the economic and tourism departments have been looking at diversifying the economy to include outdoor recreation as the region is blessed with many natural and manmade opportunities to be outdoors enjoying these amenities to their fullest. The community is welcoming private investment in developing these opportunities as well as encouraging companies to choose this region to live and work in manufacturing and testing all categories of outdoor recreational equipment.
This region and the state of New Mexico have recently began to realize that particularly this Northwestern region offers many untapped outdoor recreation opportunities. There is gold medal world class fly fishing in the San Juan River, the municipal golf course is always rated as one of the top five municipal golf courses in the nation due to its beautiful vistas and excellent condition. There is an ever increasing system of mountain bike trails that range from the most basic to advanced skill level. The city and surrounding area are very road bike friendly with many roads that include mapped bike trails and bike lanes.
Not only are there endless hiking opportunities but many of the hikes can be combined with site visits of archaeological or geological sites of interest. There is unique terrain for all sorts of off-road vehicle recreation. Farmington has been chosen to host the 2021 World Extreme Rock Crawling Grand Nationals 4-wheel drive rock crawler event in September. The varieties of things to do outdoors in the Four Corners are so much more than can be mentioned here. Visit the Farmington Convention and Visitors Bureau website at www.farmingtonnm.org for more information about activities in the beauty and wonder of the area. Additional information is available on the Outdoor Recreation Industry Initiative website at www.fmtn.org/742/ORII
"Post-COVID, when the restrictions are lifted, the travel industry is expecting a boom in travel to places where people can go to recreate without crowds," Lewis shares. "This is the kind of place where you can get away from it all, but also find everything you need or want! As the Four Corners Region looks into expanding our outdoor recreation opportunities, it seems everyone is coming on board, even the state of New Mexico has awoken to the missed opportunity for sharing the beauty and quality of our outdoor recreation economy, and is working in partnership to develop this untapped market."
*Photos credit Farmington Convention & Visitors Bureau
AT A GLANCE
Four Corners Regional Airport
What: A public use, general aviation airport
Where: San Juan County, New Mexico
Website: www.fmtn.org/172/Airport
Farmington Convention and Visitors Bureau – www.farmingtonnm.org
Farmington is an outdoor lover's playground. Energize your journey while rafting, off-roading and mountain biking. It's family-friendly and affordable.
Cool off at Lake Farmington, explore the otherworldly Bisti Badlands or learn of ancient cultures at Chaco Culture National Historical Park.
Jolt Your Journey today. Start planning your adventure at FarmingtonNM.org.
City of Farmington – FarmingtonED.com
Farmington, New Mexico — the nexus of work and play! Businesses in Farmington have access to a skilled workforce from the four-state region. During off-time, you'll love the countless outdoor escapes. Whether in energy, outdoor recreation, film, agriculture or remote work, Farmington is the place to start your business and adventure!