Dix Stadium
A multi-purpose facility
Business View Magazine interviews representatives from Dix Stadium, as part of our focus on best practices of sports venues and stadiums.
Dix Stadium is a multi-purpose sports stadium, located at the far eastern end of the campus of Kent State University (KSU), in Kent, Ohio. It is used, primarily, as the home of the Kent State Golden Flashes football team, a member of the NCAA's Mid-American Conference East division. In addition, since 2016 the stadium is also home to the Kent State women's soccer team and, since 2019, to the women's lacrosse team. In the 1970s, it served as a secondary home for the KSU men's soccer team. It was also home to the Kent State field hockey team from 1997 to 2004. In 2001, the stadium hosted the Division I NCAA Field Hockey Championship.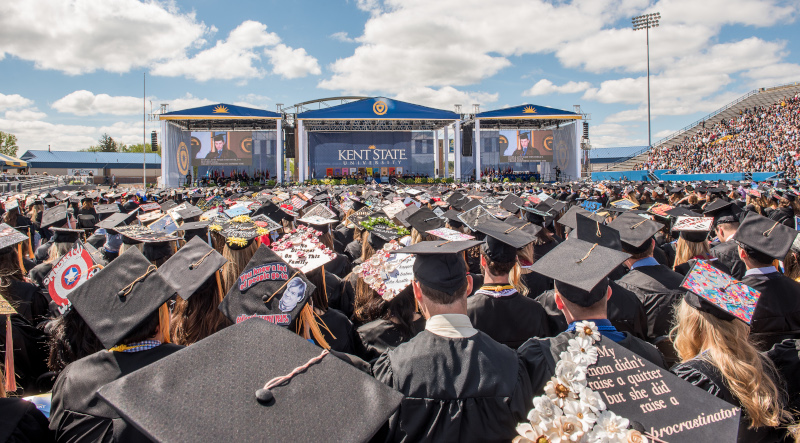 The $3.5 million Dix Stadium opened on September 13, 1969 and was named, in 1971, after Robert C. Dix, former publisher of the Record-Courier, a daily newspaper in Portage County, Ohio, and a member of Kent State's Board of Trustees for more than three decades. Known as Memorial Stadium until that time, the "new" facility was more of an expansion and relocation of the older building, rather than an entirely new structure.  A new grandstand on the west side of the stadium, with seating for over 12,000 people and locker room and press facilities, was constructed on a site east of campus, while approximately 17,000 seats from Memorial Stadium were dismantled and moved to the new site, as well. Memorial Stadium's sideline grandstands became the end zone seats in the new stadium, while the auxiliary bleacher sections were used for the east stands.
Today, the stadium consists of three separate grandstands on each side of the field except the south side, and has a seating capacity of approximately 25,000. On either side of the east grandstands are spaces for party tents, and the south end zone features a Daktronic video scoreboard, which was put in place in 2008, and an open plaza with concessions. Although the first night game was held in 1990, permanent lights were not added until 1996. Artificial turf was installed in 1997 and replaced in 2017 with the latest version of FieldTurf. Prior to the 2002 season, the old east side stands were demolished and replaced. In early 2008, the south end zone bleachers, another remnant of the old stadium, were razed as part of a two-phase renovation of the facility.
Other renovations and upgrades have been accomplished over the years, according to David Rush, KSU's Assistant Athletic Director for Facilities and Operations. "When the stadium was built back in 1969, football, and sports in general, were not as televised," he notes. "It wasn't every single day of the week you could turn on TV and see football, basketball, baseball – whatever your heart desired. Now, every one of our five home football games is televised. We've had to increase our cabling and our network to support TV in the stadium. While we currently do not have HD capability on the main video board, every TV on the concourse, every TV in our donor lounge, plays in HD. Our football team, our promotions on the field, our halftime performance with our band members – everything is crystal-clear HD, which is really nice when you go get a hot dog and popcorn at halftime and can see everything going on. Along with that, we are increasing our broadband and internet capabilities so, if you come to Dix Stadium, you can turn on your cellular device and use internet Wi-Fi. The big hope is to update our video board to HD. When you update systems, you get all those things that help patrons and fans enjoy the game a little bit better."
While conference games and practices of men's football and women's soccer and lacrosse teams take precedence, Dix Stadium is also used by the school's general student population for its recreational sports clubs. The surrounding communities utilize the stadium for a variety of events including high school playoff games, flag football, and more. In addition the stadium also hosts the University's undergraduate graduation exercises every spring. This past year, former Kent State quarterback, Julian Edelman, now a wide receiver for the New England Patriots of the NFL, returned to Kent State to receive the diploma that he started working toward in 2006. "I believe it is important to finish what you start," he said. "It is important to me that I make my parents proud, as I fulfill a promise that I made to them that I would, one day, be a college graduate."
Rush stresses that the stadium could not operate efficiently but for the teamwork among his full-time Facility Managers, Jimmy Fetzer and Mark Crohgan, four graduate assistants, numerous undergraduate students, as well as other university department personnel. "It takes a lot of hands-on love and care for the stadium to perform the way it should," he states. "Before a football game, it takes my entire staff, plus the balance of the athletic department, and other university personnel. Dix Stadium brings together a lot of different stakeholders into the facility – different athletic programs, different university personnel, and different fans. It's a multi-purpose stadium. It started off as a football stadium, but has evolved to support soccer, lacrosse, and other University events. The entire University takes a lot of pride in it, and every year, we try to make it the best version of itself."
Matt Papatheodorou, Director of Athletic Marketing Strategy agrees. "More than anything, I think the longevity of the stadium, the modifications that have occurred over time to try to evolve and grow a better experience for each and every person who walks into the stadium, would be the most important takeaway," he declares. "It's paramount that every decision that's made is done with the intent to make it an enjoyable experience for everyone who attends an event. It truly is a multi-purpose facility, utilized by many teams throughout the year. The department is always looking for opportunities and ways to best use this dynamic space."
Kent State University Hotel and Conference Center – www.kentstatehotel.com
Our Director of Sales and Catering, Mary Kline, would love to assist you with your special event.  She specializes in creating beautiful events that will make memories for a lifetime.  Call her directly at 330-968-6921 to discuss your special event ideas.