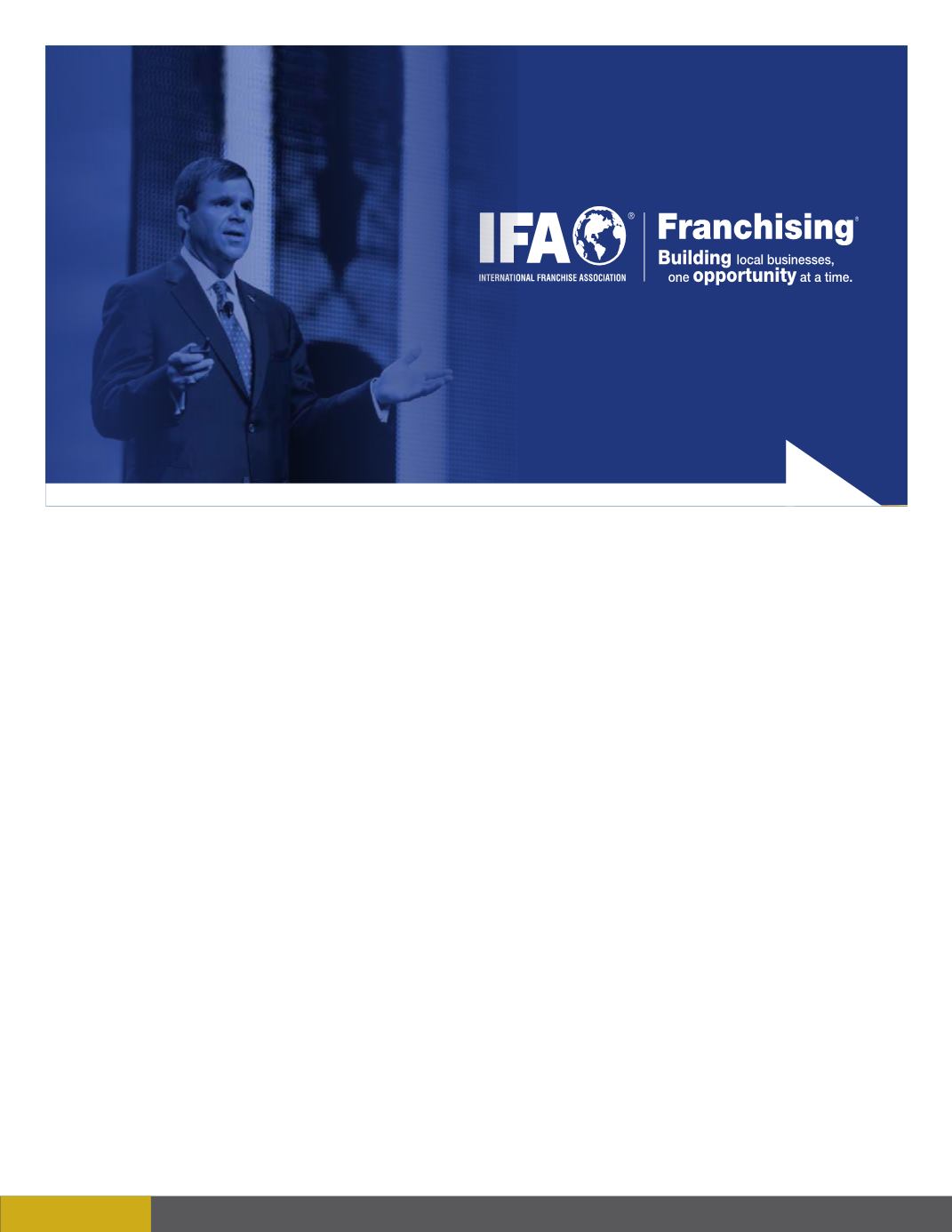 Business View - November 2014 57
Four leading franchise professionals have been elected
to the International Franchise Association board of di-
rectors. The newly-elected board members include are
Cheryl A. Bachelder, John C. Draper, Richard Emmett
and Matthew Patinkin. They will assume their positions
at the conclusion of the 55th IFA annual convention in
Las Vegas on Feb. 18, 2015.
"The levels of experience these four individuals bring to
the board, which spans across a broad range of indus-
try sectors, will be a boon to our industry and IFA," said
IFA Chairman Steve Joyce, president & CEO of Choice
Hotels International. "Our efforts to preserve and pro-
mote the franchise business model will benefit greatly
due to these highly-respected individuals' expertise
Cheryl A. Bachelder is a passionate restaurant indus-
try executive serving as the CEO of Popeyes Louisiana
Kitchen Inc. She is known for her crisp strategic think-
ing, franchisee-focused approach, superior financial
performance and the development of outstanding
leaders and teams. The Popeyes leadership team has
worked closely with franchise owners to accomplish
a remarkable turnaround in the business – with res-
taurant sales up 25 percent and restaurant profits up
40 percent in the last five years. In 2012, Bachelder
was recognized as Leader of the Year by the Women's
Foodservice Forum and received the highest industry
award, the Silver Plate, for the quick service restaurant
sector by the International Foodservice Manufactur-
ers Association. In addition to serving on the board of
directors for Popeyes Louisiana Kitchen Inc., she has
served on the board of directors for Pier 1 Imports Inc.
since 2012, and the advisory board of Agile Pursuits
Inc., a wholly owned subsidiary of Procter & Gamble,
since 2009. She served on the board of the National
Restaurant Association from 2009 to 2012 and has
a B.S. in business administration as well as a MBA in
finance and marketing from the Kelley School of Busi-
ness at Indiana University.
John C. Draper has served as president of restaurant
operations for V&J Holding Companies Inc. since April
paving the way for recovery and growth