Cayuga Lake National Bank
Putting community first
Business View Magazine interviews representatives of Cayuga Lake National Bank for our focus on the Growth of Community Banks in the U.S.
Cayuga Lake National Bank takes its role as a community bank to heart. "We encourage our employees to stay involved in the community," says Cayuga Lake National Bank's CFO Thea Miller. "We have people on various boards and in volunteer organizations… everyone is really part of the community."
Headquartered in Union Springs, NY, Cayuga Lake offers consumer and commercial banking opportunities for customers in the Finger Lakes region of Central New York. The bank has a full suite of consumer products available, including a variety of checking and savings accounts, mortgage loans, home equity lines and loans, and IRAs. They also offer online and mobile banking. For commercial customers, the bank offers business loans for all types of small businesses, corporations, and partnerships, as well as for agricultural financing needs. They also offer business checking and savings accounts, overdraft protection, Visa debit, e-statements, credit cards and more.
Unlike larger banks, Cayuga Lake's offerings are focused on the average person, working hard to ensure they can provide the assistance and services needed by the community. "We offer a pretty good mix of residential mortgages, small business loans, and really anything to do with small businesses," says Scott Babcock, the bank's Senior Vice President of Credit and Administration. "In the world of lending, it's definitely considered small to very small business lending. I'll do a $10,000 equipment loan for someone, which is unheard of in the big banking world. We also offer consumer loans, in terms of car loans and home improvement loans. We have a complete array of products and services."
Cayuga Lake National Bank also has a desire to give back. Every Friday, bank employees are offered the chance to take part in 'Jeans Day', where they can donate $5 to a special cause in order to dress casually for the day. "Each employee gets to pick a month and the money that we raised that month goes to a cause that's near and dear to their heart," Babcock says. "It gives them that feeling of giving back to something that they care a lot about."
Jeans Day became even more important during the pandemic when local food pantries were seeing increased demand. With help from customer donations as well, Cayuga Lake National Bank was able to raise $2,500 for the three local food pantries in their communities. "Our employees know that they have the openness to be able to bring their ideas to management and that we would definitely support that," says Kelly R. Wade, Cayuga Lake National Bank's President and CEO. "That is so important to us."
Their giving nature doesn't end there. One of Cayuga Lake National Bank's credit analysts has a keen interest in financial literacy, so he has connected with the business teacher in a local high school to help provide opportunities for learning to the students. "He and I have both lamented that there's just not enough in school in terms of education on things as simple as balancing your account," Babcock says. "So he sat in on some mock interviews. He's now going once a month and he's committed to going into the class to talk about different aspects of banking and finance."
The bank's push to help the community with its financial literacy is further advanced through a program run by Cayuga Lake National Bank's AVP of lending, Christie Schwab. Schwab provides financial literacy to the local school districts, as well as Girl Scout troops. "They've gotten tours of the bank and Christie will show them the vault and teach them about the basics – the concept of money and saving and interest and things of that nature," Wade explains.
Pre-pandemic, Cayuga Lake National Bank held a program called 'Bank of Wolves', after the local school district's mascot. Employees from the bank went into the schools once a week and collected deposits from students to be placed in their savings accounts. "We would go in during their lunch periods to be able to give them a way of depositing their money into the bank and watching their account grow," Wade says. "They could then come into the bank if they wanted to take out money. We wanted to be able to have a presence at the schools and always be there to educate kids, if need be."
Even within the walls of the bank there's a sense of family and community amongst its 36 employees.
"We are kind of a family," Wade attests. "We're really invested in supporting one another." When Miller joined the bank's ranks in early 2020 after leaving a decade-long career in the corporate sector, she was shocked at the difference in corporate culture between the two. "The shift in culture from that kind of nameless, faceless environment to a truly family-oriented company was pretty dramatic," she recalls. "The amount that people are invested in one another here, and not just their work life, but caring about their families and that sort of thing, makes it a remarkable place to be."
The open and welcoming workplace culture cultivated at Cayuga Lake National Bank has made for a very dedicated staff who want to do the best they can for their customers. When the pandemic hit in March 2020, bank staff worked tirelessly day and night amidst the chaos to ensure they could originate Paycheck Protection Program loans for both existing and new customers.
"The system was really bogged down – and you're talking about a community bank with a couple of staff members originating loans going up against institutions, not just banks or credit unions, but other financial institutions that have staff that were fully dedicated to this," Babcock recalls. "There were many loans that I originated at my kitchen table at night. We were fully committed to it."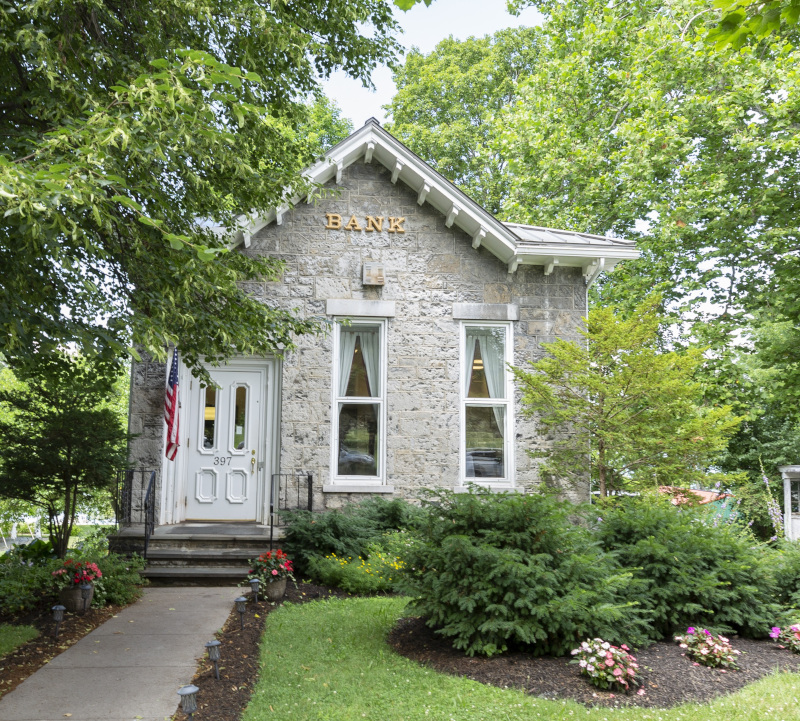 Over the past two years the bank was able to originate 175 PPP loans for a total of over $21 million. As of the end of April 2022, every single loan had been forgiven. "It was almost two years of originating and inputting forgiveness applications, reviewing, talking with customers, cultivating relationships," Babcock says. "There are a lot of businesses that I feel without it would have closed, and if they didn't close, they certainly wouldn't have been able to pay their employees. We're in a really rural area and a lot of their employees are our customers. We were able to provide these folks with some certainty during a time of complete uncertainty. It was absolutely rewarding and really kind of accentuates that community bank feeling that we are big on."
Cayuga Lake National Bank has been community-focused since its inception back in 1864. Established by Henry Wells and Edwin B. Morgan, the founders of Wells Fargo, American Express, and Wells College, the bank has remained a small, community-focused bank, but has grown to include three branches. The main branch is in Union Springs, along with one in Aurora, NY and the recently-opened Lansing, NY branch. Lansing was opened during the height of the pandemic, when most places were shutting down operations, rather than opening new ones.
"The bank's been in a unique position where we have a young management team that faced the pandemic together and got the employees in the bank through a time when there was a lot of uncertainty, and we've grown the bank exponentially," Wade says. "When you think about a time where there wasn't a lot of loan growth, our bank was seeing long growth and new customers, new deposits. There weren't many banks opening branches during a pandemic. But we did. We've set the course for a strategic plan and we've worked very hard together as a team to bring the bank forward."
Looking further into the future, Cayuga Lake National Bank plans to continue to maintain their community-focused path, while offering the top-notch service their customers have come to rely on.
"One of the things that we maybe lost during the pandemic was that face-to-face interaction with our customers," Miller says. "I think that is a really important aspect for us. So I'd like to see us reaching back out to our customers, enhancing some of those existing relationships and expanding the relationship with new customers. It's really about circling back with our customers and bringing it all together, so we can make sure they know all of the products we have to offer. So that we can continue to meet the needs of new businesses and help them grow."
AT A GLANCE
Cayuga Lake National Bank
What: A three-branch community bank with a 150-year history
Where: Headquartered in Union Springs, New York
Website: www.cayugalakenationalbank.com