Beachfront Builders
A passion for building
Turning a teenage love for home construction into a leading Florida homes business 'built' on excellence
David Shoultz, owner and president of Beachfront Builders, one of South Florida's leading luxury home builders, knows that home construction is not the easiest of pursuits. "Building a house is a challenging process," he admits.
"There are unknowns; there are changes and issues." And yet, for this Minnesota native who established his luxury, waterfront home-building business in Delray Beach, FL about a decade ago, building homes has been an enduring passion since high school.
"I grew up in construction," he recounts. "I joined the army when I was 17 and when I came back to go to college, I continued to take summer jobs in construction. I always liked it." However, when it became time to embark on a full-time job, Shoultz switched gears and went into IT, as a Director of Technology for a company in Colorado.
However, his passion for building persisted. "I got tired of writing code and staring at computer screens all day, and doing web development and database backups," he opines. "So, in my spare time, I would buy and renovate homes. When I came home at night, I'd hang drywall and install tile."
After the homes he bought had been renovated, they were resold, or in real estate parlance: "flipped," something that Shoultz became increasingly good at. At one point, he relocated to Buenos Aires, Argentina for a few years, and it was there he met his wife, Ivana. When they returned to the States, his passion for building reasserted itself. "I didn't want to do IT anymore," he offers. "I just wanted to do construction."
So, the couple went headlong into flipping — renovating and reselling some 30 homes over time, and even becoming TV stars on an A&E show called "Flip Wars." "She would do the land acquisition and find the homes. I would go in and renovate them and she would sell them," he recounts.
Eventually, Shoultz grew tired of merely renovating existing structures. "My passion is design," he states.
"When you're flipping homes, you're constrained by the house you're trying to renovate; you can't be too creative. I really wanted to do new construction. So, we built two homes and we sold them, and from then on we've been in the new construction world."
Husband and wife grew their businesses side by side – Ivana opened her own brokerage, Beachfront Properties, which today, has more than 65 real estate agents, and grosses between $200-300 million per year; David and his team of over 20 now sell about a dozen newly constructed homes, both custom and spec, per year. "We work together, but we don't work for each other," he notes. "She's her own broker and I am a general contractor and builder. But we get to do it side by side, which is pretty cool."
Beachfront Builders' focus is on building beautifully designed luxury homes, using the best architects, hiring the best subcontractors, building with the best and most durable materials, employing the latest in smart technologies, and most importantly, constructing the sturdiest, most solid homes to face the various wraths of Mother Nature.
"If you're living in South Florida, you have hurricanes to deal with, extreme heat, rising waters, torrential downpours," Shoultz says. "So, we're basically designing these homes to withstand the elements. We tell people that we design 'luxury bomb shelters.'"
That term is not too far from the truth, as Shoultz explains: "We build on the water, and in south Florida, the waterfront soil is not very good to build a home on. So our homes are built on concrete-augured pilings. It's like building a house on stilts.
The augured pilings go down 30-40 feet through the soil to the bedrock. Then they're filled with solid concrete and rebar and then on top of that, the slab of the house is all concrete and steel; we don't even use wood trusses for most of our homes.
"So, when I say we build luxury bomb shelters, it's a concrete structure, on stilts, with impact-graded windows, the best insulation, and reinforced everything. They're very safe and secure homes with materials that will withstand the test of time. And on top of that, they're beautiful," Shoultz outlines.
Those parameters underscore the fact that Beachfront Builders homes are expensive; priced between $4-15 million. Clients are often from out-of-state, or out-of-country, and are generally looking for a second home, built to their specifications, in the Sunshine State, and on the water, all of which means that satisfying the customer is absolutely key in this high-end market.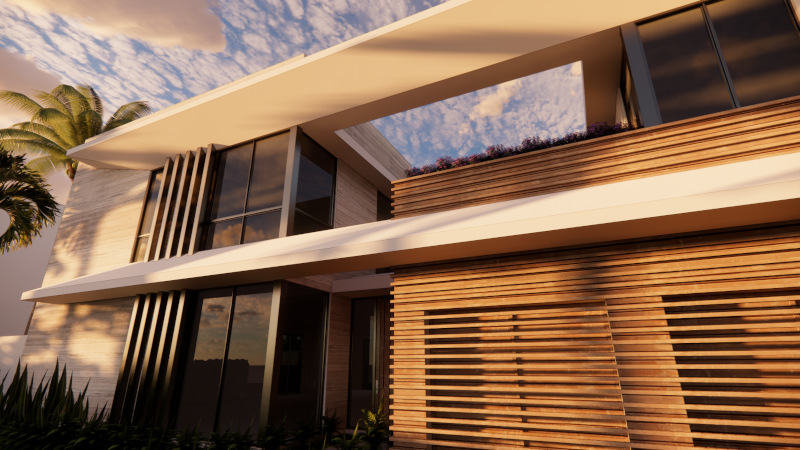 "We're very much a relationship business," says Shoultz. "And we want everyone who buys a beachfront home to have a positive experience working with us."
To that end, the company maintains extensive lines of communication with all of its stakeholders: designers, project managers and superintendents, suppliers, and most especially, the homebuyer.
"We've built an online portal for our clients to reduce their concerns," Shoultz relates.
"They see everything. Our superintendents in the field are required to do a daily log every day, which includes at least 10-15 photos; a list of subcontractors that came to the job site that day; what was done; any inspections that were passed; and any issues that came up that we had to address. It even reports the weather that day. So, every day of the week, our clients can open up their phones and see who's there at the house, what's happening, what's been completed. It's a great tool and it saves so much confusion because it's all out there."
"I think that automation allows us to get to the end of these projects with less stress and less conflict," Shoultz continues.
"I also think our clients are pretty happy toward the end of these builds because they're aware of everything, every step of the way. Changes happen, and prices increase. But our transparency goes a long way. Our goal is when we hand them the house, they're proud of it; they're showing it off to friends and family, and they had a good experience with us."
It's a process to build these homes; it takes a couple of years and generally a lot of money and a lot of time. I want to shake hands and be friends when we're done with this. I'm really proud of that and I try my hardest to make sure my clients are happy along the way and when they move in."
"When we finish these homes for people, we have an integrated QR code website for our clients that allows them to see every material used, every subcontractor used, and their contact information. There's a copy of their warranty. We have links to the specification PDFs of every client's house fixtures. We have a tutorial walkthrough – welcome to your new home; here's what to expect when you're moving into a beachfront home, i.e. where to find the breakers in your electrical panel; how to control your pool from your I-phone. We spend a lot of time building a user experience and when they buy a house from us, they're getting our team and we're here to support them in their transition to their new home."
The builder/buyer relationship doesn't end there. Shoultz says that he depends on his subcontractors to help Beachfront Builders stand behind its work:
"Over the years, we found an amazing group of subcontractors; we work closely together; we depend on each other. If I finish a home and sell it, and a client moves in and a couple of months down the road, the tankless water heater stops working, they'll drop what they're doing and go over there and fix it. So, those things matter – holding to our warranties, standing up for what we build, and supporting our clients through the life of their homes. We even offer property management services to maintain their homes and make sure that things are working properly."
In addition to the custom home market, Beachfront Builders also sells spec homes, built on land either purchased directly or by an outside investor. "We do the design, we build the house, and then we sell it when it's done," Shoultz says, adding that the spec home client gets the same attention as the custom buyer.
"When someone buys any house from us, they get our brand, our warranty and our subs' warranties. The homes are built in the right way and we're going to stand behind our work."
Going forward, Shoultz says that he is working to separate the company's custom build and spec build departments in hopes of greater efficiency and an enhanced customer experience.
"We have a director in charge of the custom homes that has to do certain things a certain way, say, talk to the interior designers to make sure we have the right colors on the floor tile and our client is happy with it. In our spec homes, we decide those things. We build the house the way we see fit. So, we're separating those things to make both experiences better for our clients."
"If we're going to build a custom home, they have a dedicated team and people to assist them through those decisions and make sure we get those decisions made so we don't delay the build time. Then, on our spec home side, we're looking to expand into multi-family, more townhomes. So it's a different business model. The nice thing is that because we're separating them, they're both going to run a lot smoother."
Today, although Shoultz runs a very successful multi-million-dollar business, he still retains the same boyish enthusiasm for home construction that he first experienced as a teenager in Minnesota all those years ago.
"I love working with the architects and coming up with really unique things in these homes," he says, enthusiastically
"I love walking into a house and showing it off: 'Alexa: turn on the fireplace!' 'Put the lights in dinner mode!' And then the lights dim and the pool lights come on! I love that stuff."
AT A GLANCE
Beachfront Builders
WHAT: A luxury home builder specializing in waterfront properties
WHERE: Offices in Delray Beach and Boca Raton, Florida
WEBSITE: www.beachfrontbuilders.us