Brenner Materials
A proud legacy in concrete
Business View Magazine interviews Travas Brenner, Co-owner of Brenner Materials, for our focus on the Colorado Construction Industry
In many construction circles, the name Brenner is synonymous with concrete. The family-run Brenner Materials has been providing ready-mix concrete to the Summit County, Colorado area since 2017, but the Brenner family has had its hand in the concrete business for decades.
"It originally started with my great grandfather, Larry Brenner," says Travas Brenner, co-owner of Brenner Materials. "He was a trucker by trade and he ended up getting into the concrete business in Craig, Colorado because he wanted to be trucking something, so that gave him the opportunity to move material."
Larry opened Yampa Valley Ready Mix in 1969. Though his passion was in trucking, the love for concrete began to trickle down the family line. Travas Brenner's father, Randy, joined the business as a young man and from there the family's name in concrete was cemented. "My father was the one who actually took a liking to concrete and the industry," Travas says. "He learned about the science behind it and the art of applying that science."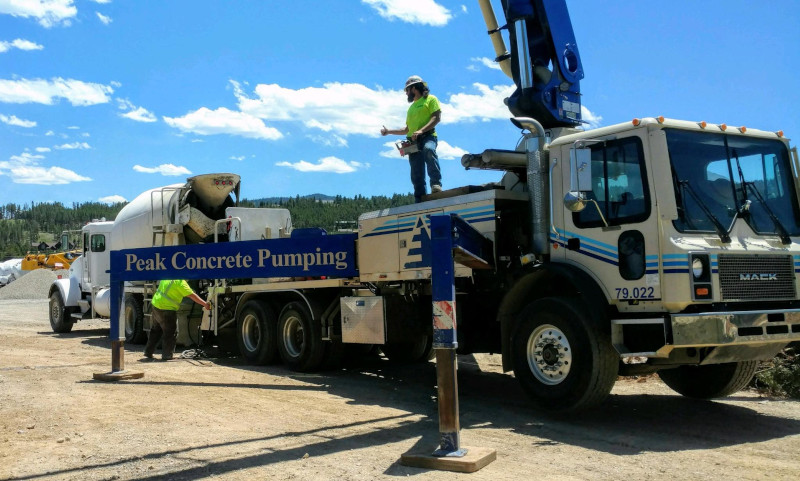 After Larry sold his company, Randy worked in the industry for a few years before branching out on his own as Northwest Ready Mix out of Craig, CO in 1996. That's where Travas picked up his own love of concrete. He recalls, "I worked for my dad at Northwest when I was a kid, running the loader and greasing the plant, just simple maintenance things."
Life changes eventually brought Randy to Summit County where he began working as sales manager for a local ready-mix company. Travas joined him there, where he took on the job as IT manager. "I came up and through the growth and development of a family-owned business, I ended up an operations manager for them," he explains. "I oversaw half of the operations, but everything related to the ready-mix division."
That business eventually ended up selling to a large, publicly-traded conglomerate. The change in ownership highlighted the importance of family-run companies for Travas. He acknowledges, "Being publicly traded, they had a very different approach to business management, and, in my opinion, the way they treat people. It became a difficult transition for me, coming from only family-owned businesses. I had different ideals than they had."
Travas and Randy both quit the company, and together with Travas's wife, Alaina, they started Brenner Materials. "The conglomerate was the only supplier for a couple years up here and their business ethics were very different, so that created a huge need for competition in the area," Travas says. "We were welcomed on about every angle with open arms. We were able to locate the equipment and we had the financial support of some of the locals that helped us get everything started, but it was definitely a rough beginning. All we had was our last name and our history to go on."
That history took them far. The first year the company made $4 million in sales, the second they doubled their volume and made close to $8 million. By the third season they had already acquired a competitor, which gave them two new locations in Kremmling and Walden. They also brought in more than $10 million in sales. "As bad as the conglomerate was for us, it was the blessing that created us," Travas says. "It's the difference between that philosophy and ours that makes us, in my opinion, the vendor of choice."
Brenner Materials produces and delivers ready-mix concrete for both residential and commercial projects of all sizes. They are currently providing 6,500 yards of concrete to replace the spillway for Goose Pasture Tarn Dam in Blue Ridge, CO and recently finished providing 8,500 yards of concrete for the Town of Breckenridge's new parking structure. "It was a big project," Travas reports. "But we are also replacing the sidewalks for civil work and we're building foundations for homes around here."
The company sources their aggregates from the mountains of Colorado, and almost everything they use is produced within the state. Most of their residential projects, being in a resort town, are for vacation homes with higher budgets. While bigger more frontline areas like Denver might face slowdowns in the market, Brenner Materials has time to see how things are changing and adapt to those new realities.
"When the front range, like Denver, slows down, we usually follow them about a year later," Travas says. "And if the slowdown goes away, we never experience it. So we have a really good business indicator based on what is happening on the front range market. We have the ability to shift or make new plans before the impact really gets to us."
The company has 23 employees, many of which are seasonal. Being in a resort town, many of Brenner Materials' employees can work the winter at nearby ski hills and spend the warmer months at the ready-mix business. According to Travas, "It's convenient for us because, although we never quit, we do slow down in the winter. It's difficult to pour in extreme weather conditions, so projects kind of slow down a little bit or they change in scale."
Brenner Materials is also working to build the next generation of the Brenner family with a love for concrete. Travas's sons, Tayden and Tannen, have recently joined the family business, becoming the fourth generation to work in the industry. "That's something unique about our business," Travas says. "My father is an owner, and my wife and I are owners, and my two youngest sons also work here. One is back from college this summer running our loader in the Kremmling location like I did as a job, and his youngest brother, who is 15, is running a loader for us in Breckenridge. The youngest can literally run the equipment before he can drive."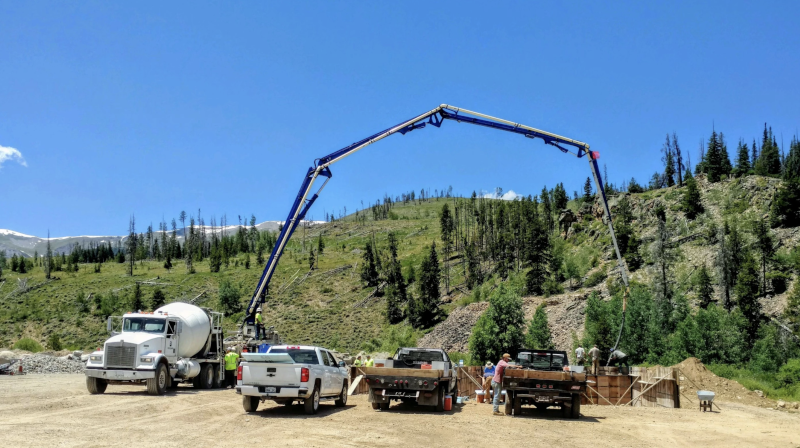 Today, the family has more than a century of combined experience in the concrete business, and that has made the Brenner name one that people trust. When the COVID-19 pandemic hit in 2020, it was difficult for businesses in the industry to get supplies. But the Brenner name proved valuable. "We had the right last name and the reputation in the industry," says Travas. "We have good working relationships that we have developed over my career and my father's career."
Their trusted name will take Brenner Materials to even bigger things in the future. They recently purchased a new plant and will be adding a new location later this year. "I'd like to expand to maybe three more locations, probably double our staff and sales revenue and then we probably need to fine tune everything that we are doing," Travas says. "There might be a few years there where we go back through our processes and the tools that we use – not that we aren't always honing as we go."
Travas is realistic about the challenges that come with expanding. He likens it to having successive children. "It's kind of like kids. If you have one kid, it's pretty easy to have two kids. Then you have three and all of a sudden it's 400 times harder," he explains. "It's not linear, so growth in a business can be that same way. Us having three locations is being managed fairly well, but if we were to double to six, the assumption that it will be managed the same way that we manage three or that we don't need to change lots of things, I know that not to be true. As you grow, what you did as a small company doesn't always work in the next evolution of it."
So Travas anticipates taking some time to breathe and evaluate as Brenner Materials grows into the future, so they always keep that small, family-run feel that comes with the Brenner name. He shares, "At some point, if you get too big without working at it, you can create a culture similar to the one that we didn't like. We want to be successful, but we don't want to lose what makes us a better company in that growth."
AT A GLANCE
Brenner Materials
What: A proud four-generation family-owned and operated ready-mix concrete company
Where: Based in Summit County, Colorado
Website: www.brennermaterials.com