Breakhouse Inc.
Blending the best of branding with architectural expertise
Breakhouse Inc. draws up the blueprint that best fits the brand while keeping its client's preferences front and center
Despite the recent overnight rate hikes implemented by the Federal Reserve and its Canadian counterpart, the Bank of Canada, it is fair to say that new construction is not about to slow down anytime soon in Canada and across the continent. The demand for new retail and commercial development is on the upward trajectory and design/architectural firms are keeping busy providing the blueprint of what these homes, stores, and commercial buildings will look like aesthetically.
Work is plentiful for those design firms that stand out from the pack in both the commercial and retail space providing great opportunities for companies to put their unique design stamp on both smaller boutique sized projects and those larger in scale.
For Breakhouse Inc. designing cutting-edge commercial spaces is what it does best. Standing out from its competition and setting the industry standard is nothing new for this high-end design and architectural firm. However, it is not just its sought-after designs and commercial construction documents that clients are gravitating to.
Breakhouse Inc. has moved beyond the competition based on another key criterion that gives it an edge in a market that can often be oversaturated.
Combining design insight in addition to branding is the secret building block in Breakhous Inc.'s client offerings.
"We are a blend between a branding agency and an architectural and interior design firm," Vincent Vandenbrink, President of Breakhouse describes.
"So we do both of those which allows us to provide a lot of design insight to build work like restaurants, hospitality spaces, and even larger developments in multi-unit residential with a really strong design point of view, because it is rooted in what the end user should experience," he continues.
Brand positioning is a unique offering he points out. "Our office bridges brand and built development which is unique in Canada in particular. There are some in Canada and also some in the US but it is not a typical offering."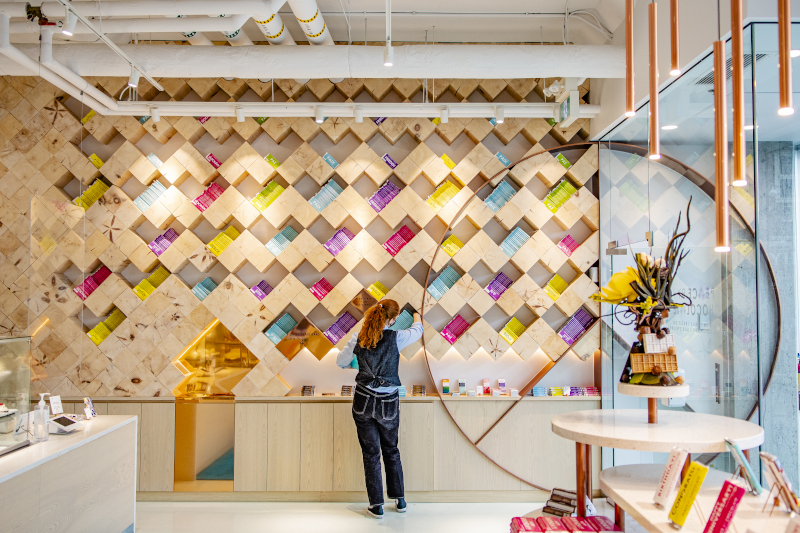 'Breaking' down the brand evolution
The move towards providing brand expertise was not in the original design scheme for Breakhouse. Based in a beautiful area of the country, Halifax, Nova Scotia with design options to suit the uniqueness of this breathtaking region, the company started as a design firm of retail and hospitality (branching out to include large multi-unit residential design work).
It was through the design process that the idea of branding became a key component of the company's business operating principle that naturally fell into place.
"It wasn't intentionally isolated as an offering, it was always what we did, we just didn't realize 15 years ago that it was called branding" Vandenbrink remarks.
"We have always been doing design work within some retail and hospitality spaces and whenever we started our design work, we were asking a lot of questions about what kind of customer a client would want to have or what sort of experience are they looking to create and what is the client's business position," Vandenbrink reflects.
It became clear to Breakhouse that messaging was the nucleus from which the design process took root.
"When we were working with a large brand and marketing firm client designing their offices. We were in what we call the discovery phase of our design process, which is essentially asking a lot about the company culture, how clients move into their space, and so on that someone in the meeting said – we were branders, not just designers ."
Vandenbrink recalled that his colleagues went back to their offices and put their collective heads together to determine how to incorporate the notion of client branding and how to be able to offer this service along with the traditional architectural and design divisions that were already clearly defined and established in the company.
"We realized that our core point of view in design is coming from a brand lens," Vandenbrink recalls.
"It wasn't until another company told us what we were doing that we realized that we're a brand or branding agency as well," Vandenbrink suggests. "Today our office is a mix of talent that can lead the variety of things we do.  We have Creative Directors, Art Directors, Architects and interior designers."
"Branding for us is essentially customer-focused design. With our brand perspective, all aspects of a design are woven in with the brand.  Brand for us is more than graphics or a logo.  Branded design is about thinking about the entire environment as a way to connect with customers."
"Every touch point in a space from menus, furniture, signage, exterior design are all moments to reinforce the brand experience.  So it is not just a secondary layer – like a bumper sticker on a car. For us the brand is what decisions you make to design the entire car."
"When we approach projects like this, design is a business tool that helps customers connect with our clients."
"The true strength for our clients is that our full team is engaged in projects.  It is a deeply collaborative approach which means we bring to our clients a variety of viewpoints to any problem. What do they say-if you give someone a hammer all they see are nails? We're like a Swiss Army Knife, we have so many tools, you just use the one you need."
'Breaking' down the design strategy
When asked to describe Breakhouse's design strategy Van den brink states that the company has broken their design approach into three clearly defined steps or stages involving research, creating, and delivering.
"We are very strategic in our thinking and our design solutions are not coming from a purely aesthetic point of view which is often the case for a lot of designers," Vandenbrink explains when asked to describe the company's design approach.
With the element of branding the process is viewed from another angle, he outlines.
"When you end up designing based on research into what let's say a restaurant is looking to do in its competitive landscape or a retail space, for example, we need to know how to position that best, so that it stands out and that is true to what the offering is intended to be and the experience we're trying to create," he outlines.
"This means that our design is looking to empower that strategic position."
"When we are doing that research and investigation first, then we know we're designing it around activating a business and it's great because it can give you an illustration of whether a design is on track or not because you are hitting it relative to specific markers of what the space has to do or the brand has to communicate," Vandenbrink continues.
The second stage of the design approach concerns working through the design with the client keeping the benchmarks of their branding in mind leading to the third leg of the designer stool- activation. "This last step is being part of the build or construction document process."
"So we see the project from the very beginning through to the very end, the only thing we don't do is build it physically. However, we are always on site as our clients representative until the very end."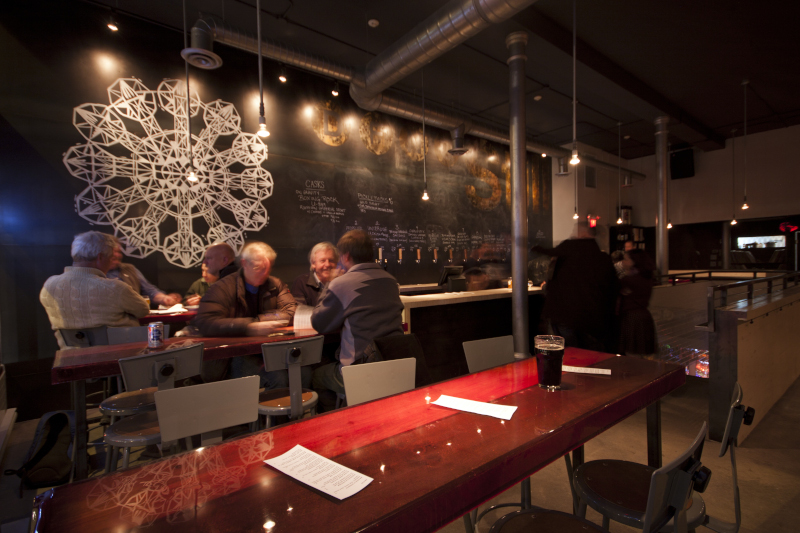 'Breaking' down projects in the pipeline
Van den brink is quick to illustrate some of the top-tier projects the company is currently involved in as well as projects in the design pipeline.
"We are working on some residential projects which are multi-unit however we are not involved in private projects such as single-family residential," he notes. "Which makes sense if you think about it, a single family home is very personal, loaded with personal tastes, and no customers for our clients."
"In Halifax, we are working on building a very large 450-seat restaurant and we are working very closely with the restaurant owner to develop and articulate what the full experience is going to be."
"This is a seafood restaurant and we are working very closely to build a full interior design and patio design."
"We are also working on a few other retail spaces including developing a retail technology space for St Mary's University which will be a real innovation hub for the university to test out some of the retail technology that they are developing."
"We are looking into doing some more of the multi-unit residential and we are in construction for a 29-storey, mixed-use development. This will be a hotel and a series of office spaces and apartments above that which includes a very large outdoor public space," Vandenbrink details.
'Breaking' down partnerships and the road ahead
Vandenbrink is cognizant that part of the success of Breakhouse boils down to the relationships the company values with partners and suppliers. Working in collaboration helps with both efficiency and provides for a seamless design strategy.
"They have [collectively] done so much for us over the years. Corp for example has been such an amazing partner for us and then Killam Properties which is a really strong community relationship company or REIT that does a lot of work with us and Kings Wharf."
Working collaboratively and with the client in mind while helping to position clients on the branding end has paid off for Breakhouse. Success has followed, and the unique approach has been recognized throughout the region.
So what is next for Breakhouse?
"We are very much East Coast Canadian at heart and that is reflected in our general approach which is very heavily community focused. We love living here too."
"Our expertise, however, is very much transferable, so this approach has lent itself to working in Vancouver, working in the US and even doing a project in Australia.
"We see ourselves as a strong North American design firm; we call ourselves a massive project boutique," Vandenbrink adds.
The company has proven to provide leading design and brand positioning for a cross-section of clients and with so many projects in the pipeline it is clear that the company certainly will not be taking a 'break' from the dynamic business of design any time soon.
AT A GLANCE
Breakhouse Inc.
What: a leading design and branding agency with impressive commercial projects in the pipeline
Where: Halifax, Nova Scotia
Website: https://breakhouse.ca/ also providing a podcast entitled: "Design Makes Everything Better