Bow Valley Credit Union
a locally oriented, gold backed, financial solution that puts members first
Business View sat down with the CEO of Bow Valley Credit Union to discuss the credit union model and the financial institution's commitment to the community and its members for our ongoing series focusing on community banking with a special interest in North American- based credit unions
Bow Valley Credit Union's Head Office operates out of the western community of Cochrane, in Alberta, Canada. With strong connections to the region, Bow Valley Credit Union says up front that it is a bank that makes decisions on local trends and believes in a strong Alberta.
As a cooperative financial institution with more than 70  years of history, it has helped multiple local businesses thrive in the local communities and has helped to create a solid and prosperous economy.
Bow Valley Credit Union has decided to take a step to ensure their member's financial institution common shares are more secure by backing them with precious metals. At the moment, they are using gold.
"I might need more than a few hours of your time to explain the rationale behind taking this route for backing our organization, but it's becoming a key feature that our members and ourselves see incredible value in," says Brett Oland, CEO of Bow Valley Credit Union. Oland tries to sum up the rationale for taking this route by addressing the "why",
"It stems back several years. In the last decade and a half, Bow Valley Credit Union has seen an incredible amount of currency getting printed throughout the Western world. What this means is government spending into their societies.
This spending has led to the devaluation of many Western world currencies, which means increased government debt. We expect that money printing will continue for the foreseeable future, and we want to protect our membership against major inflationary events," says Oland.
What it boils down to is the devaluing of paper (fiat) currency.
"You can go to the Royal Canadian Mint, and they still consider it [gold] a legal tender. And for the past 5,000 years, people have used it for money. Bow Valley Credit Union thinks that by going the precious metals route, the probabilities are much better with something like gold and silver protecting people's savings, than opting for anything else," says Oland.
Initiatives such as backing member common shares with gold differentiate Bow Valley Credit Union from the usual local banking establishments. This being said, the institution is always on the lookout to push for more financial freedoms for the people of Alberta.
In the last few years, many financial freedoms have been withdrawn from the sector. Bow Valley Credit Union wants to ensure that it can offer more options to its members by becoming less government-influenced and more community influenced.
The members have mandated this structure, and they are thrilled with this style of banking. Bow Valley Credit Union ensures that they only provide a financial service, with no judgments made against anyone associated with the members.
Bow Valley Credit Union has offices in Banff, Canmore, Cochrane, Calgary, Cochrane, and Airdrie. Each of these communities has representatives on our Board of Directors. The membership votes for these representatives, as they are the major stakeholders within the organization.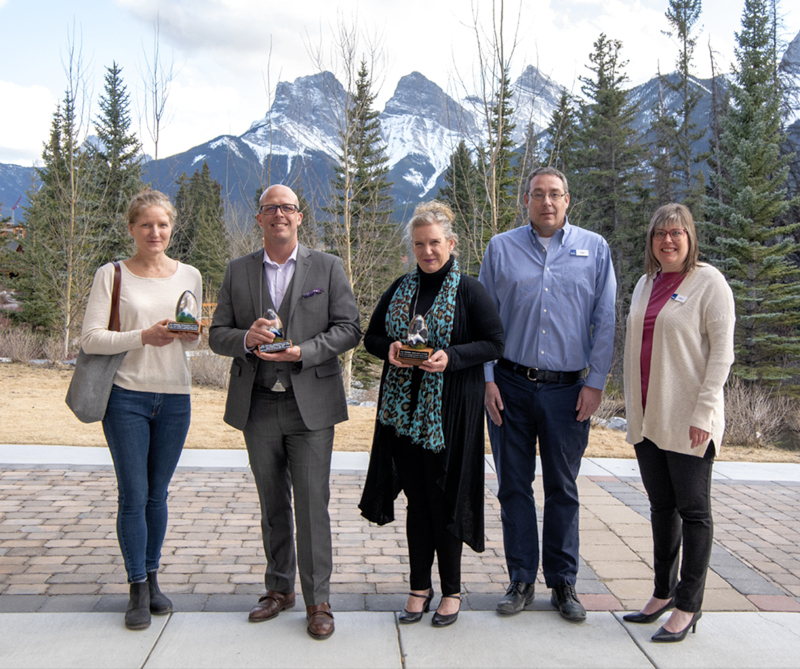 Oland reiterates this fact by stating, "We're here to provide a financial service to people that need it. Full stop. We're not into dictating health standards, political standards, partisanship, or anything like that. We're here to provide financial expertise. Full stop."
Bow Valley Credit Union prides itself on providing the membership as much freedom as possible. The company offers a full suite of flexible banking products. One major differentiator is that the company provides a "Gold Backed" solution.
Bow Valley Credit Union has its members best interest in mind and never offered a variable rate mortgage. While many wanted the option two to three years ago, the company advised them of the risks. Now with the hindsight of what has happened in the market, many members are thankful for being dissuaded as they would currently be in a world of financial trouble.
"In some cases, rising interest rates have tripled costs, which would make anyone blush. But for the majority of our members, we've hopefully done enough due diligence, and they've been properly prepared to keep out of financial trouble. And if they need assistance, we're willing to help," says Oland
Oland shares a story about someone who was trapped in the housing market hysteria, "This person qualified at a schedule one bank for a $750,000 mortgage. They came to Bow Valley Credit Union because they wanted to work with a local credit union. The most we were willing to do for that individual was $500,000. This was because we recognized the risks and the housing hype.
Eventually, that individual went with a more prominent bank. They returned later to say they wished they would have listened to us. They now have a three-quarters-of-a-million dollar mortgage and can't afford their car, a vacation, or a Friday night pizza. We're unwilling to do that to our members."
Bow Valley Credit Union has positioned itself as an institution that emphasizes the importance of its community rather than selling a product. After all, the community is at the center of everything the company does.
As a community company, each branch engages in its own outreach and non-profits, as they have literal boots on the ground. These employees also understand what programs need assistance. Bow Valley Credit Union is engaged with organizations that include food banks, local festivals, sports teams, and much more.
Regarding internal technology assets that many companies adopted to streamline processes, Bow Valley Credit Union has taken the road less traveled and steered away from Customer Relationship Management (CRM) software systems.
CRM systems allocate automatic responses to clientele, whereas at Bow Valley Credit Union, these members have names, and everyone knows who those individuals are. But at the end of the day, Oland believes that some technology systems are not needed, "We found that technology's gotten to a place where you can spend a large lump sum of cash to make things only incrementally better, which doesn't help people.."
While the company offers online banking and other selected services that are found to improve members' processes Bow Valley Credit Union is providing a stable service for its local community and is invested in keeping them financially safe.
This being said, the company could adopt these new technological tools for individuals to apply for mortgages but has decided that venturing into the global market arena is too risky.
"In the future, for the banking industry, you could have applicants apply for a 'vanilla mortgage' with a T4 and tax returns, which would be automated. But eventually, larger multinational tech companies would swoop in and undercut all the banks," says Oland.
The majority of members at Bow Valley Credit Union run businesses, have side hustles, as well as different types of jobs, and can provide more financial proof than a T4 and tax returns.
Bow Valley Credit is leaning heavily toward the introduction of the gold back initiative, and there has been a significant uptake in interested parties. Launching four weeks prior to this interview, the bank has had thousands of phone calls and internet impressions, which indicates that the company is onto a good thing.
On a larger scale, Bow Valley Credit Union hopes more credit unions take up the challenge and consider backing their capital with precious metals.
As a whole, Bow Valley Credit Union believes that society has positioned itself as a light switch between inflation and deflation.
"We hope we're starting a movement towards sound money, honest money and getting away from all this currency printing that we think is very detrimental to our society," says Oland.
However, if the government wants to address inflation, they need to stop spending, which, in Bow Valley Credit Union's opinion, will trigger a deflationary event.
And no one can stop and start the system because the economy can't take the hit. This means that, at the moment, this cycle is indefinite. And with green bills proposed that will reducing  carbon will only make the problem worse.  
Moving forward, Bow Valley Credit Union knows it's onto a winning idea. Growth is at 11%, outpacing the other credit unions in the province. This growth has been attributed to the Gold Backed Initiative.
"There's a lot of interest in what we're talking about, and we're trying to get the message out. Compared to last year, we've had 23 times more growth than other Alberta credit unions and 27 times the amount of Canadian Credit Unions. So, we think we're onto something here," concludes Oland. 
AT A GLANCE
Bow Valley Credit Union
What: a credit union that reflects the community's values of freedom and "Gold Backed" solutions.
Where: Cochrane, Alberta
Website: https://www.bowvalleycu.com/