NebraskaLand Bank
Motivated to grow
Business View Magazine interviews Michael Jacobson, President & CEO of NebraskaLand Bank, for our focus on Growth of U.S. Community Banks
Headquartered in the charming city of North Platte, Nebraska, locally-owned NebraskaLand Bank has exemplified its core focus of serving the community's interests for nearly 25 years. Unlike larger commercial banks that focus on transactional relationships with customers, NebraskaLand Bank prefers to cultivate relationship-based ties with customers. This factor has made it a pillar of the area's business community.
"A key factor behind our success has been choosing relationships over transactions, which has helped us cultivate and maintain strong ties to the business community here," explains Michael B. Jacobson, President and CEO of NebraskaLand Bank. "When you focus on transactions like financing a car purchase, home mortgage, or other consumer credit, most times there are no relationships, and you end up competing on rates and perks. When you build a relationship, it is more about the long-term value you offer a client, so even if another provider gives them a lower rate, they will still come to you because they trust that you have their best interests at heart."
NebraskaLand Bank opened its doors on May 14, 1998, as a de novo charter bank operating out of a small storefront in downtown North Platte, with banking veterans Jacobson, Kimberly A. Schroll, Krista K. Heiss, and a handful of staff as the founding team. Jacobson picks up the story: "When we started, we had a handful of investors and about three million dollars in capital, which at the time was enough, but today would not be anywhere near enough capital to start a bank. Since I had almost 20 years of commercial banking experience, plus a team of seasoned bankers around me, we were able to use this capital to jumpstart the bank."
As the bank began taking in customers, the founding team soon realized two things would help them grow faster – mastering operations and hiring smart, motivated people. As Jacobson explains, "Most bankers think that starting a bank is just about issuing loans. While working in the banking industry, I discovered that operations could make or break a new bank. I also knew that micromanaging just was not going to work. So, we resolved to focus on operations early on and hire smart and motivated people who could work with little supervision. These two things are the main reason we have grown so fast and maintained an excellent balance sheet."
Leveraging these two areas of focus, plus an entrenched relationship-building culture, the bank achieved profitability within just a first few years of inception. Another significant milestone Jacobson notes is that the bank has only incurred about $300,000 in net credit losses since its founding, even factoring in the credit crisis of 2008/2009.
Today, NebraskaLand Bank has close to $900 million in assets and operates out of six locations, including a subsidiary, Commerce Bank of Wyoming, in Rock Springs, WY. Although the bank offers personal banking services like checking and savings accounts, its primary focus is on business banking, including commercial real estate (CRE), which makes up a considerable chunk of its business credit business.
"Over the years, we found that working with businesses was easier from a financial evaluation standpoint because most have quality financials that we can look at," says Jacobson. "These financials allow us to offer them better advice and counsel relating to what they are doing. At the same time, we also found that most of our losses were consumer credit-related, which compelled us to further focus on business banking."
From this focus, the bank has grown into the most prominent business banking entity in a market of 25,000 residents, while competing with 13 other banks and two credit unions. Jacobson notes, "Our relationship banking focus has been a major selling point for us over the years because we don't just sell loans but go in deep with our clients into their businesses and help them find the right solutions that will help them meet their objectives."
Besides its commercial services, NebraskaLand Bank also has community-focused initiatives that give back to society, including NebraskaLand University – a free financial literacy training program for high-school seniors. "NebraskaLand University is a six-session program taught by our senior leadership from October through to April every year," shares Kimberly A. Schroll, Chief Operating Officer at NebraskaLand Bank. "The course covers various topics, including budgeting, using credit wisely, and saving. Mike (Jacobson) leads a session that teaches how to build wealth, borrowing from principles in the book 'The Millionaire Next Door'. After the sessions, participants write an essay that can win them between $250 and $1000 in scholarship funds. Last year we had 32 participants, and this year we have 42, so there's a lot of demand for this kind of training."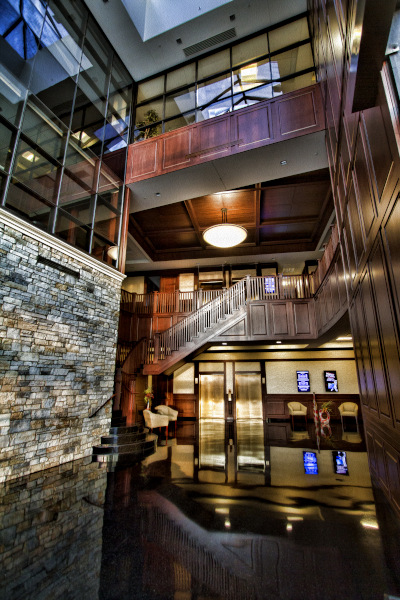 As the COVID-19 pandemic spread in late 2019 and into 2020 and 2021, NebraskaLand Bank braced for impact by empowering its workers to work from home using remote working technologies like remote desktop access and virtual conferencing. "We undertook measures like remote working and in-office safety protocols to ensure all our workers were safe," says Jacobson. "One of the things we wanted to ensure is that our people could work from wherever they wanted to work from, whether that would be from home or the office. One interesting thing that came out of this arrangement is that our employees decided to support each other based on their work needs. For example, several older tellers who did not have small kids at home volunteered to come in and work in place of those with younger kids, who stayed home while still on the payroll, knowing their jobs were secure. Because of this and our overarching commitment to supporting our workers, no one was laid off, neither did we lower salaries."
Another factor that helped the bank pull through the pandemic was the various government programs issued to support businesses, with Jacobson singling out the Paycheck Protection Program (PPP) as the central pillar that supported most of their clients. "Ty Lucas, our Chief Credit Officer, was instrumental in developing a comprehensive PPP application process, plus other protocols and procedures to train our loan officers," shares Jacobson. "Unlike most other banks that went online with an app, we wanted to work with clients one-on-one to ensure they understood the program, were qualified for the loan, and knew what to do to get forgiveness."
To date, NebraskaLand Bank has issued over 500 PPP loans worth $55 million, of which close to 100% have been forgiven through the PPP forgiveness program. Jacobson reports, "Because of the program, everybody kept making their payments, and we saw no past dues throughout the height of the COVID period from all the clients who accepted the PPP loans, with only a handful of customers inquiring about our mortgage forbearance program."
At $900 million in current assets, the bank is close to becoming a billion-dollar bank, a threshold Jacobson sees as a defining moment in the bank's future. Speaking candidly about the excitement and the growth pains, he admits, "We are running close to the billion-dollar mark, which to us is an indication that it's time to grow exponentially. However, one of the challenges we will face with this trajectory is finding quality staff at scale to cater to a billion-dollar bank's additional regulatory and audit requirements. When you are growing that fast, it is not enough to hire people one at a time, so one of the avenues we are looking at is acquiring smaller institutions that fit into our strategic plan."
Speaking about the future, COO Schroll states, "Maintaining the same culture will be pivotal to helping the bank maintain its growth and meet its billion-dollar bank objectives. We have a very respected culture throughout our industry. It is well defined, and we celebrate it every week, so culture will be key to meeting and exceeding those goals."
AT A GLANCE
NebraskaLand Bank
What: A true, full-service community bank
Where: Headquarters in North Platte, Nebraska
Website: www.nebraskalandbank.com