Bonita Bay Club
Live your best life
Business View Magazine interviews General Manager Fred Fung and Fitness Director Tammy Mugavero of Bonita Bay Club for our focus on Top Fitness Facilities
Bonita Bay, as the name suggests, is a community of natural beauty that hugs the white beaches between Fort Myers and Naples in a little southern paradise called Bonita Springs, Florida. For more than 30 years, this iconic destination has stood out among the most desired addresses in the region for its impeccably stylish neighborhoods, award-winning private golf and sports club, and full-service marina located on the Imperial River at the south end of Estero Bay.
In 1985, the 2,400-acre, golf-oriented property was opened for sales for the first time. Management of the community has continued to foster the preservation and enhancement of the natural terrain on which Bonita Bay is placed, combining high standards of real estate development and amenities with natural landscaping themes to maintain the locale's authenticity.
Bonita Bay Club's vision has been built around an intimate, highly-curated atmosphere centered on healthy living and environmental stewardship and, in 2010, it was turned over by the developers and became a members' owned private country club. Bonita Bay Club's excellence has been recognized with exclusive designations including the "Distinguished Club", "Platinum Club", "America's Healthiest Club", and the "Grand Aurora Award". They were also the first club in the country to be designated as "America's Greenest Club."
Today, Bonita Bay Club is officially the largest country club facility in the state, with two campuses enfolding what defines southwest Florida's healthy, lively, and active lifestyle. Golf Members have access to three Arthur Hills-designed courses, all within an Audubon Cooperative Sanctuary setting, and two incredible Tom Fazio courses secluded just outside of the community in North Naples.
The Golf Membership also comes with full use of all club facilities and amenities, including two classic clubhouses, 18 Har-Tru green clay tennis courts, five (soon to be 10) Laykold Masters gel-surfaced pickleball courts, six restaurants, a geothermal zero-entry saltwater pool, and a 600,000-square-foot Lifestyle Center that houses the Fitness Center, Spa and Salon. Sports Members enjoy all these same privileges, except for the golf.
"We came from very humble beginnings, and I only mention that because of where we are now," shares Director of Fitness Tammy Mugavero. "When I started out, we had 5,000 square feet dedicated to fitness and a spa. And that was in a converted cart barn!" That was back in 2000, when Mugavero first joined the Bonita Bay Club team. Over the years, she's seen the Fitness Center expand to four times its original size.
"One of the best decisions we've made was identifying that building to purchase. With that entire floor – which gave us about 20,000-square-feet to work with – I said, 'Well, here's the box, Tammy, how would you design this?'" says General Manager Fred Fung. Mugavero met that challenge with aplomb, overseeing everything from organizational size to interior design. "She's designed what's truly the premier fitness facility for private clubs in North America," adds Fung. "Every couple of years, Tammy reinvents that entire space,"
It's reasons like these that Bonita Bay Club's high level of pride in membership has never wavered. Even in the face of the COVID-19 health crisis, the club has flourished largely due to the strength, energy, and enthusiasm of its members. Fung reports, "Going into the pandemic, we had a full membership and a full waiting list. We've been just incredibly in demand, I think because we offer the facilities, the amenities, and a culture that provide unrivalled and unparalleled value. It's to a point where we now have four separate waiting lists to get in to utilize the club, each with varying degrees of access as they work their way up to where they'd like to be – in most cases, that's to a full Golf Membership."
When the pandemic really hit hard, all of their amenity centers were shut down to prevent face-to-face contact. During those two months, Bonita Bay Club pivoted to some digital platforms that kept members engaged, active, and feeling supported. "I was doing regular video updates, just giving encouragement," Mugavero recalls, "and we started offering a fitness video library. Our instructors would come into the Center, one at a time in a room by themselves, and they'd record a class so that it was accessible to our members, no matter where they were. Many of our Canadian members took advantage of that because they were really locked down. We've continued to update that library so that we can stay fresh and offer more to those members who may not be quite ready to come back to in-person classes. And, of course, we're doing virtual trainings via Zoom. We've also loaned out some equipment from the Fitness Center, so that members could perform the exercises at home under the guidance of one of our personal trainers."
She shares a statistic that's kept them going: their personal training in May 2020 exceeded what it was in May 2019 by almost 20%. "We were creating an environment where members felt they could come and safely work out," Mugavero affirms. "They felt comfortable with our staff. They felt comfortable with our policies, with temperature checks – all the things that we were doing to make the members feel secure."
As the winter season approaches, the Bonita Bay Club is seeing numbers that are comparable to pre-pandemic figures. "It's a great thing," Mugavero declares. "We're able to get back to live events – a lot of education.  We're also doing group fitness classes again. And while we're still paying attention to class sizes and making sure that everyone is comfortable with the changes that we're making, things are slowly returning to normal."
While everyone waits for the dust to settle on a post-COVID-19 world, Mugavero admits her mindset has shifted towards prevention and creating more safeguards around health and wellbeing. She notes, "With our focus shifting to prevention and longevity, we've partnered up with some area healthcare providers including Fountain Life to give our members education and access to predictive, preventative, and regenerative medicine.  Some of the tests that we have made available to our members through our partnership with Fountain Life are cutting edge and are life-changing. All too often, we do not go to see a doctor until we have symptoms, and sometimes that's too late.  These diagnostics and treatments can change all of that and can give our members the opportunity to live longer and to live better."
She continues, "We also believe that exercise plays a big role in that preventative medicine, and Technogym has been a valued partner for us for many years. They have been part of our 'reinventions' and continue to be as we have brought in the BioCircuit for this season. The BioCircuit is a system that allows members to get a full-body workout in 22-30 minutes and it allows us to monitor their progress so they know it's working."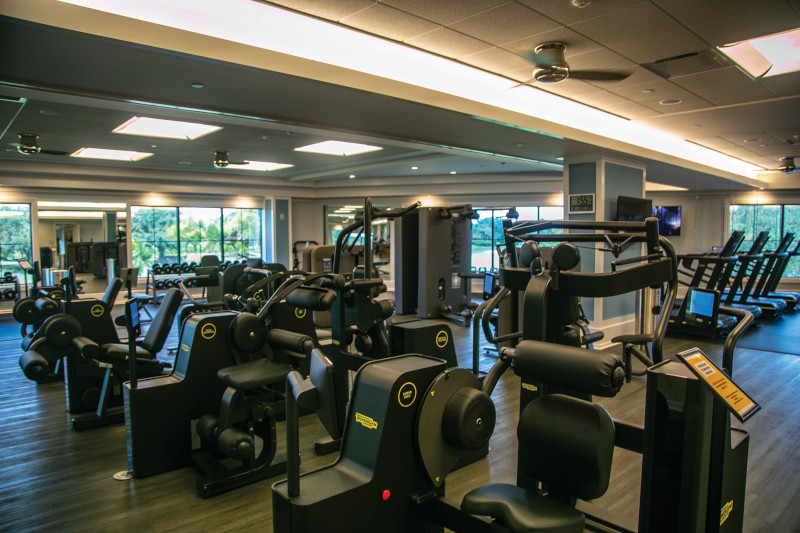 Echoing Mugavero's point, Fung confirms they've always made an active lifestyle Bonita Bay Club's top priority. It's this very outlook that is reflected in their continued and extensive capital reinvestment into maintaining world-class golf, sporting, and fitness amenities. As Fung attests, "We firmly believe that there's a strong need to continue to reinvest in the facility. As such, we've done it like no other club in America has done it; we've done it without burdening the membership with continued project assessments. Since the turnover happened when the members purchased the club, we've spent over $100 million in capital reinvestment to maintain the current facility and build new things for them. We're currently in the process of renovating all five of our golf courses. In addition to that, we're putting in a Golf Performance Center. We're also planning on redoing both of our clubhouses. The data shows that the best clubs in America reinvest and increase their compounded annual growth rate at a rate that's 5.5% or greater. We're there. And we've been able to do it with a very judicious utilization of moderate short-term debt, plus the initiation fees."
As more and more country clubs evolve to adapt to a changing industry in which sustainable practices, the incorporation of new technologies, and virtualization strategies become even more key, the Bonita Bay Club is sure to set the bar for service, standards, and what an exclusive community is capable of.
"We love this club, we love the membership, and we love the culture that exists here," Fung boasts. "There is a full understanding and appreciation – especially among the senior leadership team that I work with – that we're part of something bigger than ourselves. None of us operate in departmental or individual silos. That's what enables us to think in big-picture terms and prompts us to ask, 'How does this benefit the overall wellbeing of our membership, current and future?'"
AT A GLANCE
Bonita Bay Club
What: Award-winning private golf and sports club
Where: Bonita Springs, Florida
Website: www.bonitabayclub.net
Fountain Life – fountainlife.com
Live Longer. Live Better. Live Healthier.
Fountain Life is committed to accelerating longevity and making 100 the new 60. Our world-renowned team of health experts and performance disrupters want people to live longer lives, but we also strive for our members to live disease free and operate at peak performance at every stage of life. We do this by changing healthcare from reactive to proactive, and putting our primary focus on preventative and regenerative medicine.
Precision Diagnostics is the foundation of our health practice. This annual testing package includes full body and brain MRI, executive blood paneling, early cancer detection, epigenetic DNA testing, GI health mapping and more. Advancements in AI, biotech and medicine enable us to identify disease markers earlier than ever before possible. We can identify heart disease to prevent heart attack and strokes. We can identify evidence of neurodegeneration early and take steps to slow the onset of dementia or prevent aneurysms or other vascular malformations. We also test for over 50 types of cancer and can identify them as early as stage 0 or 1. Then, our team of doctors can act quickly to prevent spread and prevent it from ever advancing.
It's time to take charge of your health. Call us now at 888.266.0313 to ask about our longevity and early detection services. The call may save your life.