Forest Highlands Golf Club
Forest Highlands Golf Club
Business View Magazine interviews Patricia Ashbrook, General Manager of Forest Highlands Golf Club, for our focus on Top Residential Golf Communities
Settled within a heavily wooded forest of Ponderosa pine, beneath the San Francisco Peaks and amongst grass covered meadows, mountain springs and canyons lies one of the country's premier residential communities. Forest Highlands is an 1100-acre master-planned residential golf community in Coconino County, Arizona that was designed in harmony with its natural landscape, while providing residents with family-friendly top-of-the line amenities.
"We are nestled among the world's largest stand of Ponderosa pine… it's amazing," says Patricia Ashbrook, Forest Highlands Golf Club General Manager. "We have done a really tremendous job in meeting the needs of a vast variety of members – those who are looking for just that quiet, peaceful retreat in a pine forest, as well as that individual who is looking for something to keep them busy all summer long with outdoor and social activities."
Forest Highlands was established in 1987 with the objective to remain one of the finest residential communities in the western United States, while maintaining the dramatic landscape that surrounds it. The community began with one 18-hole golf course and one clubhouse. A positive reception was almost immediate, with the Canyon Course receiving numerous accolades and top rankings when it first opened in 1988.
The Canyon Course was designed by Tom Weiskopf and Jay Morrish and measures 7001 yards. The par 71 course is in harmony with the natural landscape, complementing the rich forest and canyons it surrounds. Forest Highlands was honored for the course's preservation of its natural resources and wildlife with the 1996 Best Golf Award by Audubon International.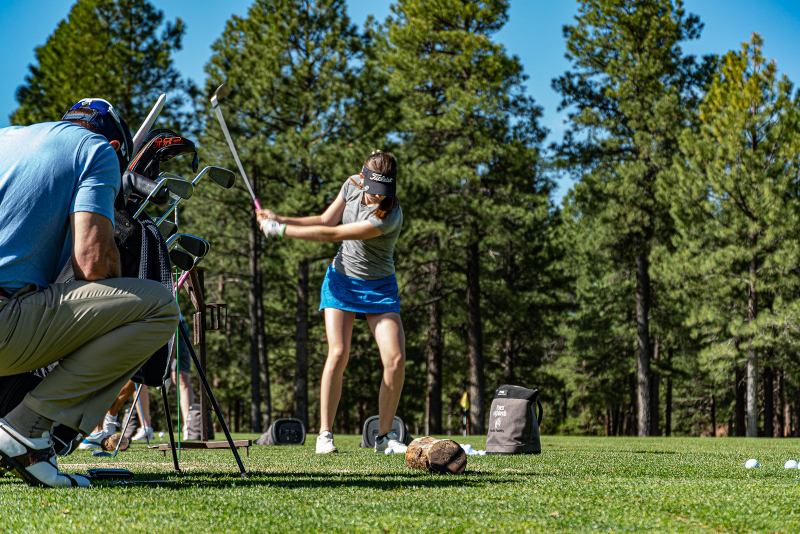 The 29,000-square-foot Canyon Clubhouse offers a formal setting for dining, as well as an indoor/outdoor lounge, kitchen facilities, a large banquet hall, men's and women's locker rooms, a practice facility, cart storage, pro shop and administrative offices. "We have amazing fine dining," Ashbrook boasts. "Our executive chef is a bit of a celebrity. He has brought our food and our cuisine offerings to the next level, which is very attractive to the caliber of member that we're looking for here."
In 1999, Forest Highlands added the par 72 Meadow course, also designed by Tom Weiskopf. The 7000-yard course surrounds a large meadow with lakes, wildflower areas and scenic wetlands. It features a park-like setting reminiscent of golf courses built at the turn of the century. The accompanying Meadow Clubhouse features 22,400-square-feet, offering a more casual atmosphere. The complex includes its own practice facility, swimming pool and kids splash pad, as well as several parks, playgrounds, fishing ponds, an 18-hole putting course, health and fitness facilities, basketball, volleyball, tennis and pickleball courts, and a path and trail system that is nearly five miles long.
"We cater to the full family, as well as the retiree," Ashbrook says. "For the retiree who just wants to play golf and enjoy their time on the golf course, we've got two amazing courses that will keep you interested constantly because they are constantly changing. And then for that full family of young children up to teenagers, there is a huge youth recreation program that we offer including camps, field trips, and special events. We even do a kids 'Chopped' program. It's really tremendous, a great diversity of offerings that we have."
Forest Highlands is comprised of 825 units, including 685 single-family lots and 140 cluster home sites within a 24/7 gated community – the majority of which are occupied as summer or secondary homes. Access to the golf club and its many amenities is exclusive, with memberships awarded only to those who own property. In the event that someone chooses to move from the community, their membership is then transferred to the new property owner. Ashbrook notes, "When you buy here, you're not just buying a home, you're buying into the club itself. You're buying a lifestyle."
There are a limited number of "Special Memberships" available for purchase without property ownership, with only 40 active at the club at the moment. Property owner memberships, also known as 'Regular Memberships', are virtually sold out. Seven hundred and sixty homes are currently built, with about 30 vacant lots left over. Those are individually owned – the owner has the choice of whether they want to build a home or just leave it as a vacant lot. But Forest Highlands, in essence, is nearly built out.
To help preserve the natural landscape, their land-use plan utilizes a "building envelope" concept, which allows for room for a building site per property with the area outside each envelope remaining in its natural state, free from any improvement.
Since the club was established in the late 1980s, Forest Highlands is currently starting to see a second generation come through the ranks. According to Ashbrook, "Quite a few of our long-time members who have raised their families, we're now seeing their children coming back in and buying property or taking over their parents' house and taking over their membership. And we have quite a lot of grandchildren who are around. We're very popular for families to come back. The kids that grew up here are now bringing their kids back because they enjoyed it so much they want that same summer experience for their own kids."
Located six miles outside of the City of Flagstaff, Forest Highlands is almost completely self-sufficient, operating its own water and wastewater reclamation companies. "We've really come to think of ourselves as a small town because of everything that we have and that we provide to our community members," says Ashbrook. The community is governed by a Home Owners Association through a nine-member board of directors.
Forest Highlands operates year-round administrative services with just over 100 full-time staff, including year-round security staff and water utility employees. In the spring and summer months, they add an additional 300 seasonal staff, often hired from Northern Arizona University's Hotel and Restaurant Management Program, through the recreation program and culinary program. "We have great retention in terms of seeing our same staff members come back year after year," says Ashbrook. "For our seasonal staff we get a good three to five years, and for our full-time staff, our average tenure is well over 10 years."
The dedicated team of full-timers works year-round to ensure the club is running successfully each summer, with new improvements and activities to keep residents entertained. As Ashbrook explains, "The hallmark of a vibrant and healthy club is to continue to improve what we are doing for our members to bring enhanced value to them. We always have the goal of coming up with either enhancements or new facilities – anything that we can do to improve the experience for our membership."
One of their current projects is expanding their pickleball offerings at the club. "We know that pickleball is a tremendously growing sport in the nation and the demand for it has continued to increase year over year here at the club," says Ashbrook. "We are in the process right now of finding a good location for building six dedicated pickleball courts, plus a small pro shop and social area."
Forest Highlands is always working to keep its programming fresh. "We don't want anything to ever get stale," says Ashbrook. "Although we might offer very similar programs year after year, we're always trying to change it up and keep it interesting and fun for the members so they don't get bored. While the club is typically only open for a six-month golf season, we continue to offer fitness, wellness and dining year round, and are constantly working behind the scenes to keep Forest Highlands as top-notch as possible. With 26-miles of roads and multiple facilities, we have a commitment to paying attention to the details and making sure everything is sparkling both for our full-time members and when we welcome our members back for our next summer season."
AT A GLANCE
Forest Highlands Golf Club
WHAT: An elite, master-planned residential golf community
WHERE: Coconino County, Arizona
WEBSITE: www.fhgc.com
WM Arizona – wm.com
WM is always working for a sustainable tomorrow. It's what drives us every day, as individuals and as a company. We never stop innovating or asking what if. Our innovations make our facilities more efficient, our landfills safer, and new forms of renewable energy to ensure a cleaner, brighter future.
You can see our commitment to sustainability and innovation right on the streets of your community. Our trucks are outfitted with technology that helps us collect your waste more effectively, safeguard your community and reduce our impact on the environment.
Each day we're working to find smarter ways to manage your waste and offer you more ways to be more sustainable. For us, good enough simply isn't good enough. That's why our WM Arizona team of 2,300+ employees goes beyond what's expected to find what's possible. Because to them, it's placing their customers at the center of what they do every day. It's not just collecting trash, recycling and organic waste from homes and businesses. It's waste management.
Learn more at wm.com
WM Arizona is proud to be an integral partner of Forest Highlands Golf Club.
Together, we are leading the way, for tomorrow.