Touchstone Communities
"The Glory in Caring"
Business View interviews Touchstone Communities President Bryon Sehlke, and COO Leslie Cunningham, for our focus on U.S. Health Care Communities
At Touchstone Communities, residents, patients, and team members all benefit from the value-based culture that is a part of the 'Touchstone Experience'.  Touchstone was founded in 1992 by Stan Studer, who was quickly joined by its current CEO, Carl Fellbaum. The company has boldly made it their purpose to Glorify God through this work.
Over the years, Touchstone has grown to include 29 skilled nursing communities throughout the State of Texas, six of which are Texas State Veterans homes which Touchstone manages for the Texas Veterans Land Board. With a mix of long-term and short-term care options, Touchstone Communities offer services to support people through a variety of healthcare needs , including short-stay rehabilitation, respite care,  memory care, and traditional long-term care
Touchstone Communities' President, Bryon Sehlke, shares, "Touchstone has been around for almost 30 years, and we intend to be around for 30 more years. Our business model isn't one that has us trying to grow to a certain size and then exit. We basically just want to continue to care for residents and continue to add value with what we do. Fifteen years ago, prior to my arrival at Touchstone, the leaders, Stan and Carl, embarked on an effort to publicly state our purpose and vision. It has been massaged along the way, but it has been at the heart of Touchstone. We publicly stated our purpose is to glorify God. It's been harder in these challenging times, but to hold true to that, it holds us to a higher level, and it invites others to hold us to a higher level as well."
With most of the 29 communities having between 60 to 160 beds, a large complement of staff is required, and Touchstone employs approximately 2500 people. Leslie Campbell, COO, offers her thoughts on the corporate work culture, "One of the things that attracted me to Touchstone right out of the gate was the way in which the culture was manifested. This is a purpose that's much bigger than us, and we are building something very special that will be around a long time. Even as the company has grown, it has maintained its familial atmosphere, and everybody's voice matters. Every team member has a seat at the table."
Referring to employees as team members is one way that Touchstone sets themselves apart, changing the mindset to one of togetherness and sharing a bigger purpose. The term 'community' is used in place of nursing home, and people are referred to as residents, veterans, or patients, depending on their circumstances. "What we say is different, and how we think is different," says Campbell. Really, how we think, how we talk, and just being focused on something bigger than ourselves is a driver of everything that goes on here at Touchstone."
Challenged with skilled workforce shortages, the company is working to not only attract new team members, but also to find solutions to deal with current staffing issues. Looking back to the early days of the pandemic, Campbell describes the resiliency of the Touchstone Communities team, recounting, "When I think about how our team members approached this, it was a learning curve. We went from being overwhelmed and not knowing what to do with circumstances we had not seen before, to building organizational learning and delivering best-in-class care during unprecedented times. Our team members rose to the top of their licenses; they rose to the top of their heads and hearts,  mapped out solutions and were the ultimate heroes."
Applying this same determination and strength to the current situation, she adds, "As a company, we are leveraging the perseverance, strength, and resilience that allowed us to manage through the challenges of the novel pandemic and seeing how we can apply that to the staffing challenges. Clearly, we are going to have to think much differently than we ever have before." Some of what Touchstone is doing to attract and retain a skilled workforce includes accommodating flexible shifts along with non-traditional perks such as uniforms, shoes, and gas cards and offering a unique workplace experience where every voice on the team matters. Campbell shares that it is her belief that many who exited the profession over recent months will return, suggesting, "I am an optimist in that I believe if you have a heart for this business, you can't stay away."
Technology upgrades have helped to streamline workflow during these challenging times, offering more efficiency for staff at all levels. Touchstone has invested in dashboarding tools, allowing community leaders to intervene before problems occur, saving time and manpower. Lifts have been upgraded to state-of-the-art systems, providing a smoother transition to patients and residents, while requiring 50% less staff. Campbell notes, "We have invested in screening technology that reduces the time that it takes to assess our team members prior to entry into our communities. We have invested in vital signs monitoring tools that automatically integrate with the electronic health record to save hours there. So really, it's about investing so that we spread the manpower hours that we have, towards those items that require actual hands."
During the stress and demands of the past several months, Touchstone Communities has continued to foster a culture of connection through activities that encourage team member friendships, while also taking the time to know each individual team member. "Everyone within our communities has a story, and we endeavor to not just know their story but honor their story," says Campbell. "That is our goal as leaders within the company, promoting that culture of connection and living our purpose."
Sehlke adds that he believes the current situation has given people a sense of hopefulness, explaining, "We don't know what is going to happen in the next three to six months, but as it relates to our experience, from the initial months of the pandemic and the initial waves in Texas, our experience now is tremendously different. I think there is an element of success and an element of 'we've got this', that is present in our communities right now. These folks know that they are currently managing this very well and that, in and of itself, I think is very helpful."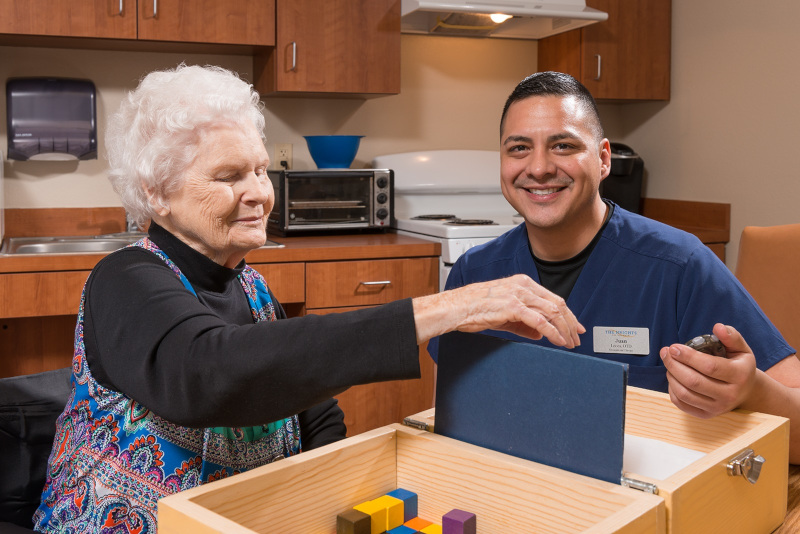 Looking to the future, Sehlke says he expects Touchstone Communities will continue to pursue growth opportunities that not only add value but stay true to the company's purpose of providing quality care to residents, veterans, and patients. Although there are no current plans to expand outside of the state of Texas, he suggests that it is always a possibility. Focusing on more than just growth, he states, "I am very excited about the team we have in place, and I feel like we can accomplish much. At the same time, our industry is changing. There are a lot of changes in healthcare, in payment models and things like that. We have an equal focus on making sure that we are continuing to be relevant, while we continue to adapt with the industry."
Campbell sums it up well, acknowledging, "This is a company that is invested on all fronts for the future. Some of that involves continuing to grow in skilled nursing, evaluating opportunities to diversify, looking at and transforming our model of care so that we are positioned to bring value to the health care system, and to the people who need care. That is exciting as we look to transform, disrupt, and bring the Touchstone experience to the market in a much broader, solution driven, value based perspective."
With so much possibility on the horizon, Touchstone Communities is poised to succeed, as they continue to bring care, comfort, and hope to the people they serve.
AT A GLANCE
Touchstone Communities
What: A group of 29 skilled nursing long and short term care communities
Where: Headquarters in San Antonio, Texas
Website: www.touchstone-communities.com

Healthcare Services Group, Inc. – www.hcsgcorp.com
info@hcsgcorp.com / 1-800-363-4274
Healthcare Services Group is a leading national provider of Environmental, Dining, and Nutritional Management for the senior living and hospital market sector in the healthcare industry. Headquartered in Bensalem, Pennsylvania, HCSG supports over 5,000 facilities across 48 states, employing 65,000 employees.
HCSG's foundation begins with our Environmental Services. For over four decades, we have been at the forefront, supporting Infection Prevention and Control initiatives for housekeeping and laundry departments in thousands of communities across the country.
Delivering exceptional dining experiences is a significant responsibility and always top of mind. Our Dining Services programs consider diverse tastes and nutritional requirements to source quality ingredients that culinary professionals expertly craft into aesthetically and aromatically pleasing meals.
Just as important as culinary output is careful attention to all aspects of nutrition. Our experienced and expertly trained Registered Dietitians work in close collaboration with Medical Directors, Administrators, Directors of Nursing, and Dining Managers to deliver people-centered nutritional care. We continually focus on developing menus and nutritious solutions that help residents live as healthfully as possible.
Through our methodology to implement systematic, proven programs, HCSG helps improve operating efficiencies to deliver high-quality services to thousands of customers and their residents across the US.
Reliant Rehab – www.Reliant-Rehab.com
Reliant Rehabilitation provides physical, occupational and speech therapy services to skilled nursing facilities, servicing over 37,000 patient interactions every day in over 870 facilities in 40 states.
Because not all partners are created equal, Reliant prides itself on a sophisticated Customer Relationship Management Program that ensures greater transparency, communication and performance.  We are dedicated to our employees, patients and the customers we serve.  Our therapists provide the highest level of care and outcomes utilizing proprietary programs, protocols and best practices.
As a leader in Client Education & Industry Expertise Reliant works strategically with our partners to identify best practices for delivering quality care and measurable outcomes, while providing a model of care that fits within current reimbursement guidelines for each individual patient. Reliant understand that our partners' financial success is vital to our mission of providing quality care and great customer service.  In both current and future classification systems, whether traditional or managed, we proactively assist in analyzing and planning for rule changes.
Reliant Rehabilitation partners with our clients to develop growth initiatives, offer creative solutions, provide clinical expertise and support their business development goals. Our programs provide an expansive approach to marketing to patients, families and your referral partners.
Healthcraft Creative Solutions | Aegis Therapies – healthcraftcreative.com
As one of the nation's leading providers of contract rehabilitation and wellness services, our professionals at Aegis Therapies® apply proven techniques to help individuals move through life. No matter the setting, Aegis specializes in providing services that adapt to each person's individualized needs. Our therapists use evidence-based approaches and leading-edge technology to help restore strength and confidence after illness, injury or surgery.
As a true problem solver and partner in care, Aegis Therapies brings new, innovative services to help you overcome the challenges of today. Healthcraft Creative Solutions, our award-winning marketing branch, brings creative marketing, social media and analytics support to the healthcare industry. Healthcraft's team of senior care marketing experts help to solve census and recruitment issues and strengthen brands.
PACS Consulting helps to ensure that our partners are being appropriately reimbursed for the care delivered. PACS' proactive support includes real-time MDS coding support, clinical and financial audits, targeted clinical support and market-specific analytics.
Get the support you need to drive lasting success with us. For more information, visit:
aegistherapies.com
healthcraftcreative.com
pacconsulting.com