Bestbath
The shower of choice
Business View Magazine interviews representatives from Bestbath®, as part of our focus on best practices of American manufacturers.
Over the span of 50 years, Gary Multanen started his career, purchased the company he was working for, designed a solution for his mother's mobility issues, and used it as inspiration to build Bestbath® into an internationally-leading design and manufacturing firm. With his children now at the helm, his life's work is moving swiftly into the future.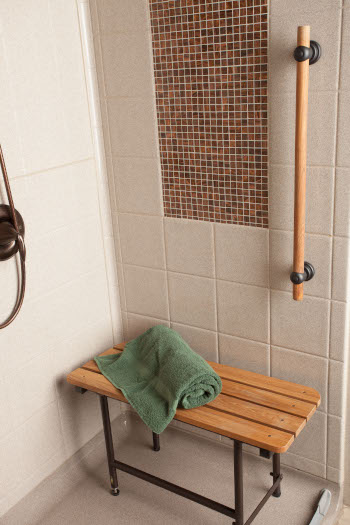 Bestbath began in 1969 as Component Structures, Inc., producing commodity-based bath and shower units for manufactured housing developments. Two years later, Multanen joined the company as a plant manager. After 10 years with the firm, armed with "an SBA loan and silent investors, he purchased the company and became soul owner and Chief Executive in charge of Bestbath," explains Megan Multanen, Multanen's daughter, and now, Chief Sales Officer and Co-owner of the company.  As she explains, after Multanen purchased the company, he oversaw its growth for another 10 years before realizing a new opportunity.
"Really, the game fundamentally changed for us as a company in 1993. My dad recognized his mother, my grandmother, was having difficulty getting in and out of the shower. He was looking around for options to remodel her house so that she could remain independent longer. There wasn't a Home Depot, no Lowe's and not many contractors, either. Since he was a manufacturer, he realized it was beneficial to provide a solution himself. He and the engineering staff, here, developed the first tub replacement – a barrier-free shower made for home renovation."
The team at Bestbath soon realized they had a successful product that allowed them to convert an existing bathroom into one with a barrier-free, zero-entry shower. As Megan explains, "We had always been in the commercial space, but from that point forward, we focused on building ready-made products that could be installed quickly, whether you were a commercial contractor or a homeowner." With the new mindset to build a bath/shower system that is designed to last the life of a building, meet all code and livability requirements of a family, their business boomed. Megan sums up the company's progress with, "We no longer compete in the commodity market. We are truly a specialized architecture product."
Bestbath now has a 20-plus year span of innovation in the industry, beginning with its multi-piece, tub replacement barrier-free shower in 1993. In 2016, the company's creative and contemporary improvements to design garnered it the Product Innovation Award from Architectural Products Magazine for its Designer Series 90-degree Corner Showers. Megan touts the project's merit: "People used to composite showers are used to those rounded corner, smooth-wall showers. We were able to innovate our project in such a way that we can provide 90-degree corners. That was pretty revolutionary at the time."
Obviously, the work hasn't stopped with the award. Always improving, Bestbath "continues to update and change the way our shower looks," Megan adds. Recent aesthetic improvements, and their benefits, include subway tile textures without the leak and bacteria problems associated with traditional tile, and a single-piece, infinity drain system.
Upcoming plans for improvement include customer behavior applications. "Were seeing in commercial and residential that people want to be as independent as possible," says Megan. "So we're looking at web development as a tool for them.  Can we provide options that will allow you to design your shower on our website and submit that order without ever having to pick up the phone? At present, no. But our goal is to get there for those who want to self-serve in that way."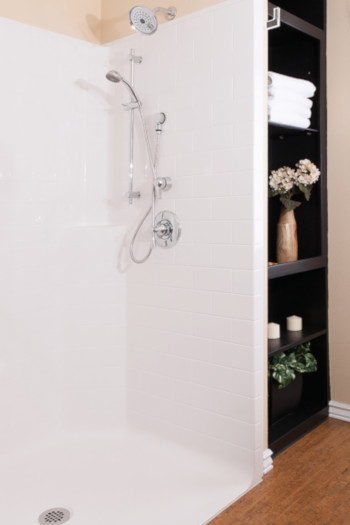 Innovation aside, the company also continues to build strength through operations. Jay Multanen, Chief Operating Officer and Director of Manufacturing, explains the ways in which the company continues to improve its value. "From an operating perspective, we like to focus on the value stream, and service that as best we can," he states. "We utilize our assets and strive to eliminate waste in that value building process. In doing so, we've been able to sustain a tremendous amount of growth, nationally, from our location here in Idaho."
Bestbath operates with 175 employees on a 10-acre tract of land in Caldwell, Idaho. While it has doubled its revenue over the past several years, it has maintained operations within the same footprint, a testament to the company's efficiency – maintaining a low overhead by not building out inventory. The firm builds to order, standard or customized, with the fastest lead times in the industry. This lean construction allows for delivery when needed, as well, to the benefit of its partners. Megan gives an example of just-in-time delivery, "We can deliver showers to a commercial project a floor at a time."
Megan and Jay attribute the company's success to its founding ethos.  Jay explains, "We want to continue the legacy of this family-owned company. Megan and I are second generation and we owe a lot of the success of the business to family. Designing a shower with our grandmother in mind is why we exist in the first place. Next, it's because we want to improve lives and empower people, from our staff to our community, customers, end user, or even third-party influencer."
By linking the company's health to employee wellness, Bestbath creates a symbiotic relationship between its people and their products. Megan delves into the concept: "We feel very strongly that all our employees deserve a living wage. From the person who has worked here for 40 years, to the one who has been here four days, we want to make sure they feel as strongly about this organization as we do. That's one of the reasons why we see a low number of manufacturing defects. Everyone knows that if something goes out the door, or beyond their department with a defect in it, all that does is detract from our bottom line. So, effectively we have 170 employees focused on the bottom line. And we take our profit sharing very seriously. That is how we ensure every member of the organization is committed to a company that is healthy, financially, and with a healthy pipeline."
Looking toward the future, the end goal is to keep the business a family business. With the eldest of the next generation in her teens, Megan and Jay have time to continue their and their father's work. Megan shares company's current projections. "We have a goal of $50 million in five years. That's tangible, easily accessible, and we're on track to be able to do that. We're continuing to focus on the home renovation market out there, which is a $314 billion industry. Bathrooms are about eight percent of that."
When it comes to the future of the brand, she adds, "We'd like to be the shower of choice for people renovating their homes. So we're focused on finding the appropriate partners to do that. Whether it's an individual business owner who does seven to eight houses a year, or larger companies that cover multiple states, we'd like to be their product of choice."
Check out this handpicked feature on Carrick Contracting Corp.: Providing Turkey Construction Services.
AT A GLANCE
WHO: Bestbath
WHAT: A manufacturer of barrier-free, zero-entry shower units
WHERE: Caldwell, Idaho
WEBSITE: www.bestbath.com‎