Athens County, Ohio
Adventure awaits
Business View Magazine interviews representatives of Athens County, Ohio for our focus on Economic Development in U.S. Cities and Counties
Southeastern Ohio is home to the most beautiful areas of the Unglaciated Allegheny Plateau, land so eroded that its vertical elevation is extremely steep. Geographically, it's spectacular; with rugged hills, narrow valleys, and sparkling rivers. Nestled amongst this gorgeous scenery is Athens County, which embraces its unique location by offering respite from the hustle and bustle of everyday life. Athens County was officially formed in 1805 from Washington County. In honor of the original state university, now Ohio University, founded in 1804, the town and county were named after Athens, Greece – the ancient center of learning. Today, the university is the area's largest employer with the City of Athens serving as the county seat. Whether it's taking a tour of the university campus or biking along a scenic trail, there's always adventure waiting in Athens County.
"Our population is around 66,000," reports Kate Perani, Project Specialist at the Athens County Economic Development Council. "The City of Athens is our largest community. Its downtown area, which we call uptown, connects with Ohio University. We also have a few other communities including the city of Nelsonville, and eight incorporated villages, and other unincorporated communities." Jessie Powers, Executive Director for the Outdoor Recreation Council of Appalachia (ORCA), adds, "Uptown has brick streets, a remnant of the once flourishing brick industry here. Coal and clay mining were prevalent and there were many brick manufacturers in this area; many of our state routes even have brick underneath. Natural beauty is abundant here, and we have lot of outdoor recreation assets too. There are around 45 state parks in Southeast Ohio and in Athens we're roughly 30 minutes from Old Man's Cave in the Hocking Hills. We have rivers and creeks worth paddling, places for climbing and bouldering, and hiking, mountain biking, and equestrian trails too."
Powers' role at ORCA involves advancing asset-based economic development and diversification in rural Appalachian Ohio. The goal of this newly created council of governments is to sustainably develop the area's existing outdoor recreation opportunities to deliver economic, social, environmental, and healthy lifestyle benefits to Ohioans. She explains, "Our vision is to expand throughout the region to ensure we're developing world-class outdoor recreation assets connected to appropriate infrastructure, and activating them to enable business/job creation and youth engagement."
Currently, ORCA is working on the Baileys Trail System, which covers about 9,000 acres in the Wayne National Forest. Once completed, it will offer 88 miles of trails for cyclists, hikers, and runners. "The idea dates back to the late 1990s, but never had traction," says Powers. "In 2015, with a leadership change at the Wayne National Forest and the persistence of the Athens Bicycle Club, the idea came up again. In 2017, a Master Plan was developed and a feasibility study conducted for conservation financing and modeling." Phase three should be completed in September 2021, and the Baileys Trail System will feature 31 miles of trail and two operational trailheads. One of these is located at the Chauncey-Dover Community Park in Chauncey – a former mining town that hasn't seen significant investment since its last coal mine was closed in the 1960s. Phase four construction will begin next year.
The Baileys Trail has already been successful in attracting businesses. "With the Chauncey-Dover Trailhead, there is about 37 and a half acres of land to be developed," says Perani. "We have an Athens County company interested in expanding and building a new facility right across the street from Baileys. "We're also seeing other organic business development as a result of the Baileys Trail," says Mollie Fitzgerald, Executive Director of the ACEDC.
Lenny Eliason, Athens County Commissioner, adds, "The scenic beauty and our focus on developing our recreational opportunities makes Athens County the perfect place to locate when looking for a community to live, work and play. Having Ohio University in our backyard provides tremendous educational and cultural experiences for people of all ages."
Part of Perani's responsibility at the Athens County Economic Development Council (ACEDC) is handling expansion plans like this, along with maintaining business retention and attracting new companies to the area. The ACEDC also partners with the Entrepreneurial Development Group (EDG), which offers both support and continuing education for entrepreneurs along with additional community partners. Fitzgerald explains, "Earlier in the pandemic, we worked with many of these partners, as well as the Athens County Commissioner to create the COVID-19 Small Business Relief Fund program. It used money from the Coronavirus Aid, Relief, and Economic Security (CARES) Act. In total, $256,092.93 was awarded to 30 county businesses for expenses related to interruptions due to state-mandated closures or payment uncertainties caused by the pandemic."
The Athens County Port Authority will be adding two more speculative buildings to its Bill Theisen Industrial Park, located just west of The Plains in Athens County. The speculative building project is still in the design and funding stages, but the vision is already well-planned out. "The first building will be a manufacturing and warehousing facility making Athens County more competitive for state leads and potentially attracting businesses that could serve as suppliers for our existing companies; improving efficiencies in production," states Fitzgerald. "The second will be a biomedical lab and office facility to accommodate the growth and expansion of companies that matriculate through the Ohio University Innovation Center; a business incubator that graduates many biotech and biomedical-oriented companies."
With such a burgeoning economy, developing a strong workforce is key. In that regard, the county has a great deal of support from Ohio University, Hocking College, and the Tri-County Career Center. "Here at ACEDC, we try to maintain a great relationship with the leadership at Ohio University," says Perani. "We keep a great relationship with OhioMeansJobs.com and Athens County Department of Job and Family Services (ACDJFS). There's also the Area 14 Workforce Development Board (WDB). The Director is Laurie McKnight, and we work with her regularly. We hold retention and expansion meetings with our businesses where they tell us about some of the workforce problems they're having. We put those companies in touch with the WDB to help them hire more skilled workers suited to their needs."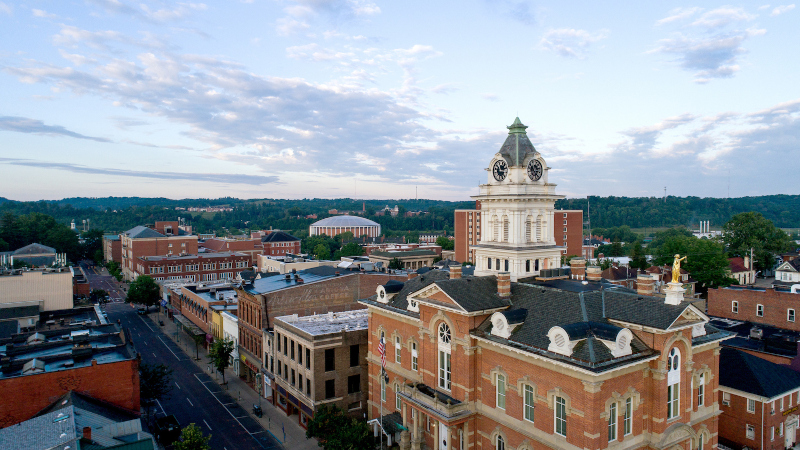 A good example is the connecting of Appalachian Renewable Power Systems Ltd. and Stirling Ultracold, a subsidiary of Global Cooling, Inc. with the WDB to help them upskill their workforce. This was especially critical in the case of Stirling Ultracold, which manufactures ultra-low temperature (ULT) freezers; an essential product in the storage and transport of the MRNA COVID-19 vaccines across North America.
The county is also investing in infrastructure, such as the large sewer expansion that will connect to the Athens Water/Sewer Department. Investments are even being made for supportive infrastructure along the Baileys Trail System. Powers reports, "Through a variety of partners, we have secured over $8 million in mainly public grants. Some of this funding will be used for infrastructure items such as: the extension of a sewer line to a restroom, expansion of Hockhocking Adena Bikeway, creation of a new trailhead, and sidewalks. Those enhancements will be appropriate for the trail system we're developing here – the largest contiguous mountain bike optimized trail system east of the Mississippi River. It's also going to connect people to resources they don't typically have access to because of geographic barriers preventing access to employment and educational opportunities."
Environmentalism is another important focus. The City of Athens Environment and Sustainability Commission implements any green initiatives and sustainability goals. Rural Action, a membership-based non-profit organization has been working on The True Pigments project in the county's Millfield area along with some other partners. "They're taking the acid mine discharge (AMD) from the Sunday Creek watershed, extracting it, and making paint with it," says Powers. "They're actually removing the old coal mine runoff from the water and utilizing it in a different form. That's a really neat sustainability project."
Looking ahead three to five years, Perani would like to see continued growth in the county's broadband infrastructure. She acknowledges, "The county currently has many partners in the Athens community that are working hard to expand broadband infrastructure. The Athens County Broadband Advisory Committee was formed specially to help tackle this problem. As we know, broadband access plays into health, education, and economics. For the county to keep moving forward, we need to expand broadband."
Perani also looks forward to having companies in The Ohio University Innovation Center expand, maybe into one of the new speculative buildings. Powers would like to continue growing the county into a vibrant thriving area, and notes, "Having the Baileys Trail System completely built out and in full use will certainly help. I think we have an opportunity to lead the region in doing this correctly by being holistic and collaborative. That way, we can deliver more opportunities to Appalachian Ohio."
AT A GLANCE
Athens County, Ohio
What: A prosperous, mostly rural community; population 66,000
Where: Southeastern Ohio
Website: www.co.athensoh.org