Americorp – Laricy
Continuing to make waves in a down market
Despite the woes of the Chicago condo market, Laricy Properties continues to dominate the local competition
"In today's day and age, the prevailing theory is to hire as many people as possible and many don't care about the quality; we're more about quality than we are about quantity."
This key philosophy, directly uttered by the CEO of the highly successful boutique real estate agency, Americorp, forms the backbone of a business principle that has landed Laricy in the number one spot year after year in the highly competitive Downtown Chicago condo market that arguably has seen its share of ups and downs.
For Matt Laricy, owner of the Laricy Properties, a division of Americorp, the housing market's shift downwards that took place coming out of the global pandemic was not unexpected.
Although some realtors were ill-prepared to handle the pendulum shift from a market that was on fire to one that has gone down a whopping 37% this year alone, Laricy, as he is well-known in the local condo market to always do, anticipated such a shift and made the necessary adjustments to lessen the blow.
Already enviably positioned far ahead of even its number two competitor, Laricy has looked ahead and predicted the movements of a downtown Chicago condo market that has been on somewhat of a roller coaster ride for the last several years. As a top performer, Laricy set forth this year to ensure a far less steep reduction in revenue than others in the same housing space have felt of late.
Making waves using the right approach
Laricy quickly points out that he did this by putting in work processes that keep the client in the loop and utilizing tried and true methods that he argues, many have been lost along the way when so many other realtors remain heavily focused on transactional business models.
"Many realtors are trying to play catch up and get a good system in place whereas we had had that good system in place to help make client's lives extremely easy."
"For someone to be able to lean on us and I can say here are the facts of what it means to be in the business it helps to de-stress things," he elaborates.
"We try to do a hybrid approach," Laricy argues. "I believe in today's day and age people want everything done and they want it done now.
"What we are trying to do is alleviate any part of the process that our clients don't want to have to worry about and stress the importance to them of how we are going to make the process easy," he adds.
"We have a dress code; men have to be in suits and ties and women have to be in business attire," he elaborates
Although professionally turned out, Laricy insists his staff are approachable and that the real estate process is seamless for their clients.
"We are alleviating any part of the process or systems on our clients because we don't want to have them worry about pretty much anything. We stress the importance of how we are going to make this easy."
He notes that this naturally draws his team more into the relationship aspect of the process.
"I'm with you a little bit more, I'm talking with you a little bit more so I am naturally going to be forming a little bit better formal friendship with you."
"I do believe that in our job, the only way to succeed and to exist and continue to grow is by making sure that the relationship with our clients is there that we have their back, and that they like us which is why we continue to try to build that bridge," he summarizes.
"Most agents hire junior agents and they will schedule appointments until they are good enough and then the junior agents are put in the field and the agency runs the risk of losing that person and then they end up hiring somebody else; this doesn't look good."
"I have somebody that specializes in each thing. If you are going to list your property, I have someone who is just going to handle all of the listing paperwork. I have another person who just specializes in doing showings."
"We have a real-time person who handles different areas. These days the communication with the client and the back to what I call, back-to-basics
The numbers tell the story. Last year Laricy finished as the number one brokerage for transactions year to date and "we are number one in every category."
"So, we continue to make waves."
"We are also hands down the biggest most reviewed agent online, with 1000 or more reviews than the next guy; I think we do a fantastic job."
Making waves in a down market
"Look, the market in Chicago is down. The numbers are about 37.5% year to date from this time last year and this is just a stat. Most people's businesses are way, way down year over year."
Laricy attributes these numbers to the general tendency for sellers to "stay frozen" due to the fact they are locked into low interest rates. They don't have anywhere to move, and do not want to lose the rates they have.
"Even our sales are down about 15% year to date. So, although we are lower than where we were last year, we are still beating the average substantially.
"At this point, I am at least 10 million above the number two person right now and I am about 100 sales more than the number two person right now."
"We are doing extremely well and we are on pace to finish around 275 million in sales and roughly 500 transactions which will put us down about 20 million for last year, however for the environment we are in we are crushing it," he highlights.
Although buyers may be hesitating as rates head northward, Laricy argues that there are other factors at play to hamper the Chicago condo market that may not be immediately obvious. He draws attention to the work-from-home philosophy that is stalling the return of many to the downtown offices and downtown living.
He also points to the fear of crime in the downtown area as continuing to be a factor working against robust condo sales.
'I tell people that you can't worry about the rate because when the rates do go higher you can take your money and put it into a market for a completely safe harbor and money is to be made."
"We try to stress to our clients that there is money to be made and other avenues to get wealthy," he stresses.
The rates have been up for a few months now, he adds, and the initial shock is wearing off as people get used to the new higher rate environment.
Working remotely for many, however, as well as those safety concerns among potential buyers continues to be a stumbling block for the downtown Chicago market.
"A lot of people said 'Hey I can work from anywhere' so why not work somewhere that is hot," he describes.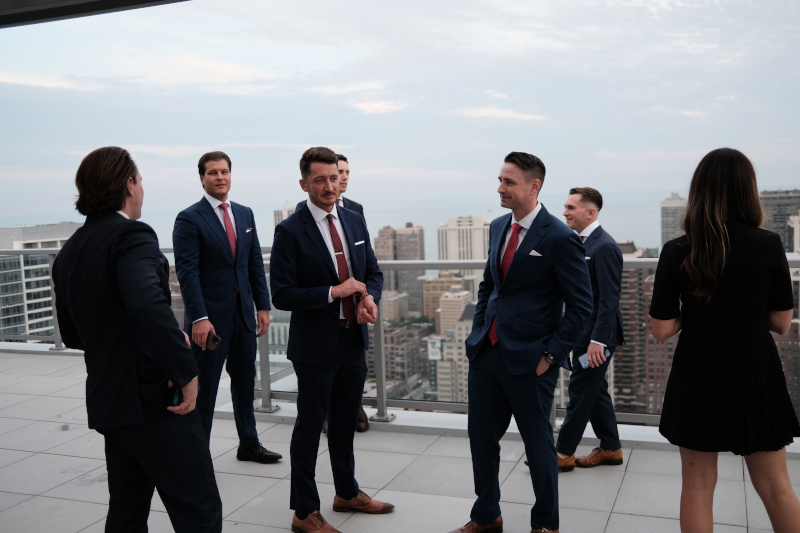 Making waves in a market rebound
Although firmly convinced that workers need to get back to downtown offices sooner rather than later and this will lead to better productivity and a revival of the downtown condo scene, he is starting to see the trend in this direction and views it as only a matter of time before most workers are back at their office desks.
"We are starting to see a change. Our inventory levels are half of what they were at this time last year, but our prices have still dropped again for this year, not a lot, just by a couple of percent."
"I think we are in three and half years into a five-year cycle," Laricy predicts. "Typically, real estate goes on a four to six-year cycle with an average of five and I think we are coming out of it. We have bottomed and we are seeing a glimpse of the light at the end of the tunnel."
Laricy says the Chicago market is now seeing some of those international buyers slowly coming back, as well as couples who plan to have children or those who already have a family who are willing to live downtown before switching gears in the suburbs.
Making waves into the next couple of years
It is clear that with the right mix of a relationship-driven approach and setting in place the mechanisms to make the process a stress-free experience, Laricy has been able to outperform its competitors.
Being able to predict market fluctuations and providing clients advice on the best timing to buy condos in the Chicago market has also kept Laricy ahead of the real estate game.
So what is next for Chicago's top condo real estate performer?
"It's going to be to take advantage of the front five to six months market next year in what is an election year," Laricy answers.
"If you look historically the person in power always tries to use something in the housing market to show that it is better than it is to try to capture those votes."
"What that does is create a buying frenzy in the first half of the year," he continues.
"By the middle to end of June the market is going to completely and utterly die, so what I am going to do is to take advantage of this information and put all the systems in place to allow my team to crush it with a phenomenal start predicted."
"Then in the latter half of the year when others start pulling advertising money; that's when I'm going to double down."
Predictions like this are just another example of how Laricy is dominating the local market.
"It is a game of thrones," Laricy concludes.
AT A GLANCE
Americorp – Laricy
What: Top-performing boutique condo real estate agency with winning strategies in place
Where: Chicago, Illinois
Website: https://mattlaricy.com/

Lincoln Title Company – lincolntitlecompany.com
A proven leader and partner in the title industry
For 25 years, our dedicated team of professionals at Lincoln Title Company have been focused on one key premise – to get you the best outcome for your situation. To truly protect the long-term value of your investment, where you do your title work makes a big difference. Lincoln Title Company offers our clients a distinct advantage, based on personal attention and a wealth of experience and success dealing with complex title issues.
We proudly work with the nation's top developers, law firms, and attorneys to get residential and commercial properties closed, insured, and protected. Every title and deal is different, that's why we use our decades of experience and collaborative approach to resolve the most challenging title issues and ensure a smooth transaction. No surprises, only results.
The team at Lincoln Title Company is made up of industry professionals and a talented team of national underwriters with a combined 50+ years of experience. We find and resolve title issues that other companies can't. We're known for our practical approach to underwriting and specialized treatment of our customers. We listen, understand, and make decisions with your best interests in mind.
We are proud to serve and support The Matt Laricy Group and wish them much continued success!
For more information, please visit our website
lincolntitlecompany.com