Stern Laboratories
Stern Laboratories serves the nuclear power industry with its unique capabilities
Reliably providing the necessary testing of new reactor designs, Stern Laboratories has taken the lead for decades
Every sector faces a set of ongoing challenges. The nuclear power industry is no exception. Despite any challenges that may have come into play including any safety or efficiency concerns, this unique industry has grown substantially over the last few decades.
The proof is in the numbers. Today, there are 436 nuclear reactors in operation in 32 countries with a combined capacity of about 390 gigawatts. There are 92 commercial reactors in the U.S. at 54 plants, and 19 in Canada at six. The world's largest plant is the Bruce Nuclear Generating Station in Ontario, on the banks of Lake Huron. Globally, around 10% of the world's electricity comes from nuclear; in Canada, that number is a little over 12%; but in Ontario, nuclear energy produces about 60% of the province's electricity.
Stern Laboratories was born
Before a new nuclear plant can be built and operated, its owners and designers need to know that the new facility will be reliable, efficient, and safe, so testing its components before any shovel hits the ground is a key step in the development process.
Stern Laboratories of Hamilton, Ontario has been a leader in the field of testing and reactor simulation since 1962, when its founder, Frank Stern, launched a research and development laboratory for Westinghouse Canada, an early builder of CANDU (Canada, Deuterium Uranium) pressurized heavy-water reactors.
In 1988, Westinghouse sold its atomic arm to another company, which then sold it to Stern and the employees, becoming today's employee-owned, private company, specializing in the design and construction of complex experimental facilities and devices to simulate different types of nuclear reactors' systems and components. Its customers include corporations, government laboratories, reactor owners, nuclear facilities, nuclear regulators, reactor fuel vendors, private laboratories, and universities, both within and outside of Canada.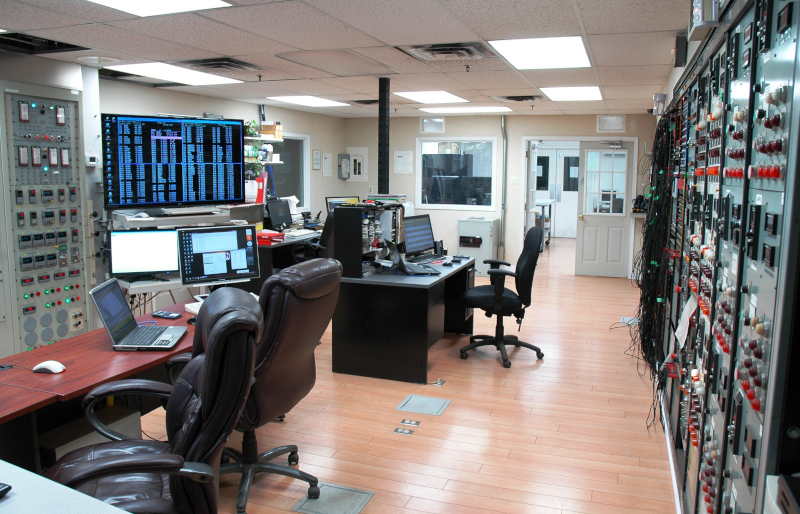 New designs emerge
Gordon Hadaller, President of Stern Labs believes that today, his company is on the cusp of another one of nuclear power's upward trajectories.
"These are quite exciting times in the industry," he states.
"There are lots of new components in the form of SMRs — small modular reactors." This newest generation of nuclear reactors represents a variety of sizes, technology options, capabilities, and deployment scenarios, and portends to offer many advantages over previous systems, including relatively small physical footprints in sites unfit for larger nuclear plants; reduced capital investment; provisions for incremental power additions, known as 'uprates;' and enhanced safety and security controls.
"Reactor designers and operators need to demonstrate that their reactors are safe under a broad range of conditions," Hadaller explains.
"So this usually requires simulating the heat transport system of the reactor from the fuel channel that generates the heat to the removal system for extracting the heat – the cooling towers and heat exchangers — as well as the appropriate pumps and control systems to operate pressure and temperature."
"The key thing we have here is the largest lab in North America devoted to nuclear heat transfer; we have 17 megawatts of DC power and we can use that to power up fuel simulators to simulate the core parts of a nuclear reactor. Having that hardware and the hydraulic facilities to pump liquid around gives us a unique position in the industry."
"We have lots of customers coming to us for help in completing their designs and also providing the data required to license their designs," he continues.
"Over the years, we've been doing work for a lot of the SMR vendors like NuScale, B&W mPower, and KAERI (Korea Atomic Energy Research Institute), which has a SMART (System-integrated Modular Advanced Reactor) reactor. And of course, there are companies like GE (General Electric) that have a new BWRX-300 (Boiling Water Reactor) reactor. We also work on projects for Westinghouse and Rolls-Royce, as well. These are the people that are looking to use our facilities."
Stern's capabilities
Stern Labs has a staff of 32 experienced technologists, technicians, and engineers, another valuable asset for its many clients.
"We have a couple of PhDs and several Masters Degrees," Hadaller reports.
"A lot of them are long-term employees and most of this work requires experience to be able to do it successfully. Most of them are in mechanical engineering because you need the nuclear engineer for the physics of the reactor, but a lot of the plumbing and things like that are mechanical. And that's what we mostly work on – setting up these simulations for pressure, temperature, and power."
Project Manager, Richard Van Lochen talks about a normal workday at the lab: "It depends on what programs are going on at the time," he begins, "but typically, an engineer is working with a technologist or multiple technicians, setting up hardware, preparing for a test program, or running test programs. We do various daily tests to keep our quality systems and our data acquisition systems up to par; we have a fairly extensive quality program that requires lots of checks and balances, whether that's on the documentation side of things or the testing side of things."
"There are lots of different activities going on that involve the whole team and require coordination with the whole group to make sure everything happens as expected. We like to keep our customers engaged and meet their requirements, as well. Often a customer will come to us with a general design or program and we'll work with them to make sure that the program they're implementing will be cost-effective and meet their end goals," he details.
Educating the public
In addition to supplying its array of services to its clients, Hadaller believes that a necessary part of Stern Laboratories' agenda is addressing one of the public's main fears concerning nuclear power – the safe storage of nuclear waste, when reactor fuel rods, which has a limited life span of one to two years, need to be replaced. "We've been operating these reactors in Canada since 1971, and all the spent fuel will fit inside the boards of three hockey rinks. So the volume of spent fuel is relatively small, compared to the amount of power we generate," he relays.
"The power is clean and the industry has done a good job of looking after its waste, unlike the fossil plants, where everything goes up into the atmosphere. In fact, in Canada, every time a fuel bundle comes out of a reactor, some money goes into the Nuclear Waste Management Organization (NWMO) for its long-term disposal. We might bury it, but we also might recycle and reuse it because a reactor only burns up about two-and-a-half percent of the fissionable isotopes. So, there's lots of fuel that can be reused."
The other thing that people don't understand, according to Hadaller, is how nuclear plants also produce isotopes that have many commercial and medical applications. "The medical isotope business is quite significant," he states.
A Nuclear Power Renaissance
Hadaller believes that an uptick in the siting of new reactors is due to several factors, most specifically, the growing emphasis on the perils of climate change which is spurring increased ventures in the decarbonization of the electrical grid, and the equally growing awareness that having one's own, independent energy system is a hedge against the vicissitudes of the fossil fuel market and the shifting international politics that can affect its global supply and transport.
"These things are making nuclear power a much better system to put in place," he offers.
"In Ontario, they're saying that by 2035, we'll need to double the electricity grid, and that's a huge task in a fairly short period. Nuclear plants are extremely expensive to build, but they are a long-term investment; once they're built the fuel costs are relatively low, so it's kind of inflation-proof power over the long run. Some of the Pickering units put in 1971 are still running after 50 years. That's quite a good investment for the province." (The Pickering Nuclear Generating Station, located on the north shore of Lake Ontario in Pickering, Ontario, is one of the oldest nuclear power stations in the world and Canada's third-largest, with eight CANDU reactors.)
Hadaller says that some of these older plants are now being primed for uprates: "Ten years ago, there wasn't a lot of hope for the industry. It looked like the plants were just going to run their course and then be shut down. But in Ontario, 12 plants have life extensions on them. The nuclear operators in Ontario are customers of ours and they're renewing their fleet with life extensions and looking at new builds, as well, so we expect there's going to be some business that will trickle down to us.
"There are four new SMR plants planned for Darlington; these are BWRX-300s and shovels are in the ground. There's also talk about a large nuclear plant in Ontario, again. So, this is a huge change in the last five years. We also have contracts and negotiations with customers in Europe that we're working with on some of their projects and power upgrades. I'm also pleased to see that in the U.S, The Inflation Reduction Act includes life extensions on existing plants. So we see opportunity."
Continuous improvement
Having recently celebrated its 35th anniversary, Hadaller says that Stern Laboratories will continue to make improvements to its processes and procedures. "The experiments we do are extremely complicated," he says in conclusion.
"They often have some challenges that need to be solved and we're always looking to make sure we apply lessons learned so we meet our customer expectations, or exceed them if we can. That's what we're striving for. We have a unique view of the industry because we're working across a wide range of customers. That means we can often try and use some of the things that we used in one jurisdiction to help others," he adds.
"That's something we bring to the table for a customer. We're always learning new things, and things look bright as far as we can see."
AT A GLANCE
Stern Laboratories Inc.
WHAT: A Canadian-owned private corporation that conducts reliability and safety experiments for the nuclear industry
WHERE: Hamilton, Ontario, Canada
WEBSITE: www.sternlab.com

The MultiCare Group of Companies – multicarebenefits.com
The group benefits and retirement industry has witnessed a gradual commoditization. However, we firmly reject the notion that this fate is inevitable for our firm. Instead, we wholeheartedly embrace a different perspective – one that centers on collaboration and personalized service with our partner clients.