Tillsonburg, Ontario
leading in economic growth, housing solutions, and quality of life
A jewel in the heart of Southwestern Ontario, Tillsonburg welcomes residential and commercial growth
As a vibrant and growing community of over 20,000, the Town of Tillsonburg, in the heart of Southwestern Ontario, is home to a diverse blend of rich farmland, quality-of-life amenities, and cultural attractions. Situated midway between Toronto, Canada, and Detroit, U.S.A., Tillsonburg was historically known as the heart of Canada's Tobacco Belt, but is now a thriving town in the center of Ontario's trade and manufacturing corridor. The town is a manufacturing hub within the region, with High-tech/Advanced Manufacturing comprising 82% of its manufacturing workforce, along with a growing food processing sector.
Economic Diversification
Economic Development & Marketing Commissioner Cephas Panschow emphasizes Tillsonburg's unique strengths within this "manufacturing heartland" pointing to the harmonious blend of rural and urban elements in the region. Notably, one-third of jobs in Tillsonburg are in the manufacturing sector with a significant presence in the automotive industry. The last decade has also seen a promising surge in food processing, including notable companies like Tillsonburg Custom Foods and Shaw's Ice Cream setting up operations, with more investments to be announced.
"Certainly, the surrounding agricultural area produces many of the products that go into our food processing value chain," Panschow remarks.
"Second to that, we have that rural mindset concerning work. So, not being afraid to get your hands a little bit dirty, to put in a good day's work, but also being rewarded by having a good lifestyle. You can work, earn a good income, and also enjoy your lifestyle by taking advantage of the natural amenities, including the Lake Erie shoreline, which we call Ontario's south coast."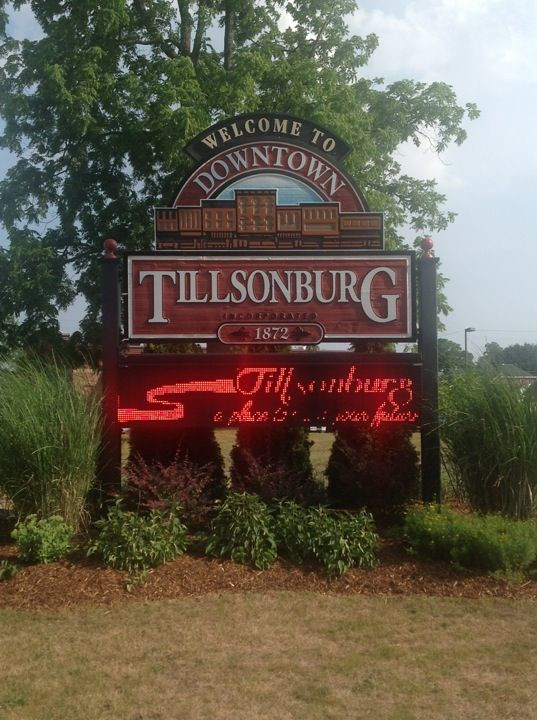 Moving forward, the town is committed to attracting more investment in the Food & Accommodations sector to complement the growing experiential tourism trend in the area. "With Tillsonburg's strong population growth ranking us as the 3rd fastest growing community in Canada, according to the 2021 Census conglomerations, our strong industrial growth and more tourism happening, we see the conversation around Tillsonburg shifting" adds Panschow.
Housing Development
Evidence of this growth can be seen in the residential construction happening throughout the community, as Renato Pullia, Director of Innovation and Strategic Initiatives boasts, "Between 2020 and 2022, our construction values were higher than the previous 13 years combined. The town has been experiencing tremendous growth, which has made us look at those extra amenities, not just for today, but for what is coming down the line over the next 5, 10, 15 years."
These efforts include seeking Federal Government funding through the Canada Mortgage Housing Corporation (CMHC) for investment in strategic infrastructure to support housing needs across the housing spectrum, which is seen as critical for Tillsonburg's growth as the community attracts a diverse group of new residents.
Panschow elaborates, "Really what that application is asking is, how can we help you invest in infrastructure that will help you either lower the cost of new construction and/or pull that construction forward into a quicker time horizon?" He points out that residential growth and infrastructure development in Tillsonburg have traditionally operated independently, not aligning with economic development goals or Ontario's broader housing objectives, suggesting that this initiative signifies a pivotal shift for the community.
Jonathon Graham, Director of Operations and Development relays that one of Tillsonburg's primary objectives is to provide housing options that support transitional housing and aging in place.
"What we're looking into is the proper housing complement for the area, taking advantage of some of the new economic factors within the southwestern Ontario region, the recently announced VW Electric Battery plant being one of them, in terms of offering the proper housing in the mix," he acknowledges.
"Corporately, we've been supportive of transitional housing and aging in place initiatives, which are very important in keeping people in our region." He says that Tillsonburg has been actively engaging with developers to address the housing stock shortage. Currently, there are approximately 3,700 residential units in the planning stages, and the town is working closely with the development community to align infrastructure development with their needs.
"What's unique about Tillsonburg is that we are working in parallel with the development community in so far as being able to match their needs with what we can do infrastructure-wise," Graham reports.
"That's part of the grant with CMHC that we're putting together, being able to position ourselves in a way that we know what the housing stock is coming forward in the next 10 years so that we can match the infrastructure that is required to be able to fulfill that need."
The town is aiming to meet the CMHC recommendations for a blended housing stock, by offering a mix of housing options, including townhouses, mixed-use developments, and apartments. This approach also aligns with the needs of the community, creating housing options for a wide range of demographics.
"We have some promising proposals in the sense of aging in place, retirees, seniors living apartments, those are coming through. We're punching up, as it will be, in terms of our housing stock. It is only in the planning stage right now, but in the next five years, it's going to be something to see for sure."
Pullia delves deeper into the specific strategies and objectives related to housing development in Tillsonburg, stressing the importance of addressing the "missing middle", which includes various housing types such as garden suites, secondary suites, duplexes, triplexes, fourplexes, courtyard housing, row housing, and low-rise apartments. He says the focus now is on ways to accelerate the development of these units by addressing infrastructure requirements and working closely with developers.
"Of those 3,700 units that will be built over the next 10 to 12 years about 1,450 of those are single detached, and 1,900 are what they call the missing middle," he says.
"We are trying to target that gap to help the community grow in terms of transitional housing, and meeting federal targets, but also in what the CMHC fund calls the development of complete communities." This entails an investment in not only the necessary housing infrastructure, but also community-related infrastructure such as fire, emergency services, parks, arenas, and community centers.
Downtown Revitalization and Intensification
For nearly five decades, Downtown Tillsonburg has been a central focus of the town's economic development efforts. A distinctive addition to the downtown area occurred in the late 1970s when the town partnered with the private sector to develop the Tillsonburg Town Centre Mall in the heart of the community.  The mall, which features national chains and local brands serving a wider 50,000+ person market area – is one of the many initiatives undertaken by Town Council to ensure that the downtown remains vibrant.
Future initiatives will look at increased residential development in the town core, assessing the need for the 2000 parking spaces that presently exist, and considering the changing housing landscape. "Our community is largely a low-rise community, most of our housing at one point up to 10 years ago was bungalows. Now, of course, it has moved to two-story townhouses and apartment buildings. So, we've seen quite a change in our mix, and we certainly see those intensification pressures in our downtown," Panschow admits.
He shares that a project known as the Stationview Development represents a $100 million private sector investment, with plans to convert a vacant city block into mid-rise buildings, including condominiums, apartment buildings, and potentially mixed-use structures.
"A cool part of that is that the developer of that Stationview project has asked the town to look at potentially turning one of the main streets, Bridge Street, into a more pedestrian oriented street, such that we can add a lot of these amenities that we're seeing in many communities, that we want to bring to Tillsonburg as well," he adds.
Strategic Partnerships
Tillsonburg's economic development efforts are driven by partnerships with key organizations. Panschow describes Tillsonburg's Downtown Business Improvement Association as "very leading edge," sharing, "They've been visionary in leading our downtown, and they're a key partner in several initiatives we're that are underway."
The Tillsonburg District Chamber of Commerce, a certified chamber, is another valued partner, along with Tourism Oxford, the regional tourism authority, and Oxford Connection, who market the county. Additionally, Tillsonburg participates in the Southwestern Ontario Marketing Alliance (SOMA) to attract foreign direct investment.
Looking to the near future, Panschow believes Tillsonburg will be a leader in its contribution to finding a housing solution in the province. "Not just the affordable, not just social housing, but also market-rate housing," he asserts.
He conveys that the construction of a new Town Hall is another priority, along with ongoing recreation center and waterpark renovations.
From an economic development perspective, he says the focus will be on developing phase two of the Van Norman Innovation Park, bringing over 100 acres to market, concluding, "With less than 1% industrial vacancy in Canada, we want Tillsonburg to grab a bigger piece of the growth that's happening across this country, and to seize opportunities in a rapidly growing industrial landscape with minimal vacancy."
AT A GLANCE
Tillsonburg, Ontario
What: A growing community in Southwestern Ontario, bringing housing solutions and growth to the region
Where: Oxford County, Ontario
Website: www.tillsonburg.ca
Tillsonburg Economic Development – www.tillsonburg.ca/invest
Tillsonburg is a dynamic and growing community of over 20,000 people. Located 90 minutes west of the Toronto area, Tillsonburg offers companies a strategic location in Ontario's agriculture and manufacturing heartland. With low business and development costs, progressive policies and a high-speed fibre optic network, Tillsonburg is home to over 600 regional, national and international companies.
www.tillsonburg.ca/invest