CW & Sons Infrastructure, Inc.
With Washington, D.C. infrastructure in mind
Capital upgrades leading the infrastructure path 'below'
When it comes to underground infrastructure in and around the Capital, few companies can compete with CW & Sons, a leading D.C.-based company created back in 2009, CW & Sons have become an undisputed leading utility contractor in the Mid-Atlantic region.
The company  specializes in the installation of underground infrastructure that supports utility companies, public and government agencies, and private companies. Building on the foundations of its experienced and professional employees, CW & Sons has become a recognized industry leader that is capable of delivering exceptional quality both safely and efficiently.
As a certified business enterprise (or CBE), CW & Sons proudly serves the greater Washington and Mid-Atlantic region, according to Dusty Harbaugh and Jacob Robertson, respectively the company's president and vice president for the past five years now.
We recently spoke with both gentlemen, and they told us more about what makes CW & Sons stand out. Harbaugh says the company is 135 employees strong right now, with 14 crews and 13 foremen. He adds that CW & Sons is committed to diversity and inclusivity, and the company is proud that fully half of its crews are Hispanic.
Being the number-one such contractor in the Mid-Atlantic region is a goal for the company, as Robertson notes.
"I would describe our company as a large company that operates as a small, family-run organization," he adds. "We've grown tremendously over the past 10 years. One of our goals internally has been to provide opportunities from within the company. That helps foster our family-oriented culture. We all know each other, and we all know what each other's capabilities are, from the guys out in the field to our superintendents."
That kind of ability to have upward mobility is a key component of CW & Sons' success, as Robertson points out. He began as a laborer working out in the field, and today he has risen to the role of company leadership.
"Having that sort of culture is a large part of what sets us apart from other companies performing similar work in our area," says Robertson.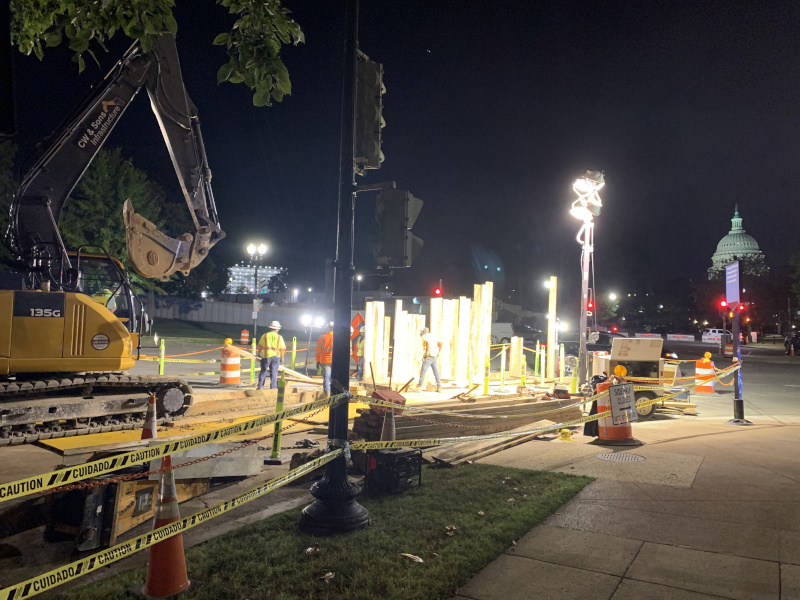 Economic drivers affecting business
What are some of the company's major economic drivers these days?
"At the end of the day," says Robertson, "production is what brings money in the door. But in today's world, you have to be safe, and you have to have a high-quality product. Safety and quality combined are going to equal what kind of production you can get. They're going to secure more work for the future."
He continues that safety is a number-one concern. CW & Sons' care for its workers means that it will sacrifice production in the name of safety, and this altruism is also attractive to other companies. That kind of ethical reputation drives such companies to seek out CW & Sons for future projects, especially for specialty projects and what Robertson calls the "deeper, harder construction in the district."
He adds that when you're 20 to 25 feet down in a tunnel, you've got to be sure you're safe. This level of commitment, he emphasizes, is a big part of his company's success.
The workforce shortages that have plagued sectors of the American economy elsewhere in the past three years haven't affected CW & Sons, as Robertson points out. He argues that when you do things the right way the first time, you gain a good reputation and good word-of-mouth publicity.
Robertson says that now the company has grown in size so much, a majority of its new hires come based upon that word-of-mouth recommendation. He adds that they come with references, and it helps CW & Sons to be more selective in its hiring process. The company believes in motivating its employees, and this in turn translates to a higher rate of retention and a low rate of turnover.
"The family network helps people feel welcome here," says Robertson.
For CW & Sons, infrastructure is the name of the game. Indeed, it's in the company's very name itself.
"Everything we do is infrastructure," says Robertson. "One of the things we like to say is that we're powering the most powerful city in the world."
Right now, he adds, the company is doing a lot of electrical and infrastructural work for Petco, the pet services-related and pet products chain of stores, and Exelon, a leading national provider of energy.
In the case of the latter company, as Robertson explains, CW & Sons are helping it maintain some of its electrical redundancies, which is a critical part of its energy grid. He explains that whether the job is handling water-related matters and/or sewer upgrades for Washington-based governmental agencies, or it's a small company you may never have heard of, CW & Sons approaches every job as if it's the only job.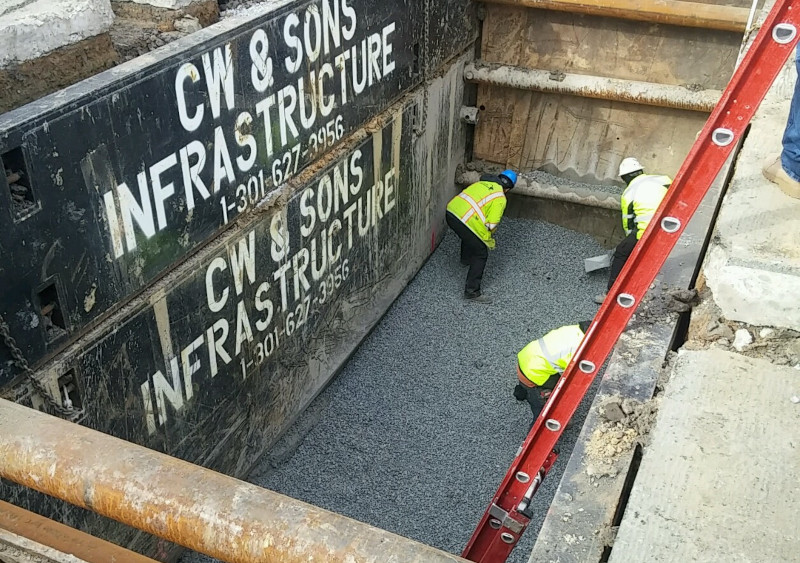 Laying the future groundwork
When asked what the future may look like for CW & Sons, Robertson relays that he hopes to see the company continue to grow from within.
"Of course," he allows, "that presents some of its challenges."
By this, he refers to the needs related to staffing up for bigger projects. Yet CW & Sons can stay ahead of the game, as Robertson points out, by keeping its collective eye on the ball and remaining in a mode of constant vigilance and excellence, especially vis-à-vis the company's competition.
Sheer perseverance is another secret weapon in CW & Sons' handy toolbox. As Robertson notes, once his men are on the job, they stick with it until that job is done right: completed to perfection.
What's a typical day like—on the job and out in the field?
For Robertson, it means a day of rising to challenges and meeting goals, and he loves a good challenge. What's the key? Teamwork. Put good people on the job, and then stand back and watch them go.
"Growing up in sports and having played football and baseball my entire life, you hear a lot of sports-related analogies, such as, 'You're only as good as your weakest link,'" says Robertson.
"Taking that into play today in the business world, it's very much the same thing. You have to make sure you surround yourself with good people—good team members, and a lot of our success here is driven by them and putting those good people in the places they need to be.
"My role is just trying to foster that motivation," he adds, "and maintain a level of motivation here, wherein everybody on our project team and on up to our superintendents feels motivated to come to work every day."
A good leadership team
Harbaugh says CW & Sons' leadership team has been in place since 2018.
For all their hard work and recognized efforts, he praises chief executive officer Chris Welch, controller Nancy Hall, and senior estimator Jim Bird.
Harbaugh further defines his role as president, and he cites the increasingly popular ESOP (or employee stock option plan) many companies are now adopting. Yet the latter is not for everyone, and CW & Sons, Harbaugh informs, doesn't need one.
"Chris didn't want to be as involved in the day-to-day operations," he adds. "He is leaving that to us more. He is not ready to sell the company to the employees or anything like that. We do have a great benefits package. He is also extremely generous with bonuses. People are here because they want to be here, and we pay a good rate.
"Our clients trust us," Harbaugh continues. "We are honest as the day is long. We may not be the cheapest out there, but we don't have to be. When we do work for our customers, they call us back."
"They are getting a quality product, and they are not getting change-ordered to death. They are notified about anything that is happening out there. This is not a game to us."
Having been in the field for more than 30 years, Harbaugh has seen "the worst out there."
"What Chris has built here and the people that we've got here and the culture that we enforce and continue to reinforce. It's all about being open and honest. If you hire us, you're going to get what you pay for. You're going to have a good quality product, and you're going to want to hire us back.
After further reflection, he concludes, "You may find someone cheaper, but you're not going to want to deal with the problems. You're going to want us."
AT A GLANCE
CW & Sons Infrastructure, Inc.
What: An undisputed leading utility contractor in the Mid-Atlantic region.
Where: Washington, D.C.
Website: www.cwsons.com
Holland Enterprises – www.hollandent.com
Holland Enterprise was founded in 2005 to provide trucking and hauling services. We grew to meet the demands of the DC area construction industry providing best in class traffic control, pavement marking & line striping, saw cutting and snow removal in addition to hauling. Our mission has always been to do more than just provide the region with the highest quality work. Our focus is on serving our community and keeping people safe. There is nothing more important to us than safety. Our team members go above and beyond to make every job site as safe as possible. 24/7 365 days of the year, you can rely on Holland Enterprise to be there for you, ready to take on any task. Our customer service, responsiveness and drive to get the job done right every time, gives us an edge over our competition. We are DDOT, DBE, MBE, CBE, MDOT, LDBE, and SHA/ATSSA certified.
Safe Lanes, LLC – safelanesllc.com
Safe Lanes LLC is a traffic management company that is dedicated to work zone safety established in 2015. Serving Maryland, Virginia, and the District of Columbia.
We are one hundred percent woman owned and managed. Safe Lanes is SWaM and DBE certified. Our goal is to provide our clients with quality service at an affordable rate.