AGCO Inc./Craftmark Solid Surfaces Inc.
Solid as stone
Business View Magazine interviews Larry Pulliam, Pres. Of AGCO Inc/Craftmark Solid Surfaces, for our focus on Manufacturing in the Cast Polymer Industry.
AGCO, Inc., the parent company for Craftmark Solid Surfaces, was founded in 1979 as a manufacturer of cultured marble vanity tops. The company's primary focus of providing countertops to the growing apartment industry in the metro Atlanta area was followed in the early 1980s by expansion into the single-family dwelling market for custom cultured marble tubs, shower pans, and shower enclosures. AGCO thrived over the decades by increasing its product offering, a growth trend that has continued to this day. As for Craftmark, the company offers one of the most diverse countertop product lines in the Atlanta area, including cultured marble and cultured granite for the bathroom, and solid surface, natural stone, and quartz products for kitchen or bath. It is known as the ultimate source for elegantly crafted and professionally installed decorative surfaces for the home.
Company President, Larry Pulliam, recalls the early days of the business: "We started in the cultured marble manufacturing business in 1979, here in Atlanta.  AGCO (which stands for A Georgia Company) was founded by my mom and dad with my older brother and sister and myself. It was truly just the five of us. I was still in college at the time and worked on the weekends, helping out when I could, until I was done school. It was pretty basic – we were manufacturers of cultured marble products and our customers were primarily multi-unit apartment builders – no residential homes. We started out in a 500- sq.-ft. building and added space by pouring a 250-sq.-ft. concrete pad outside that was uncovered."
The company sourced materials from major suppliers on a very limited scale, buying resin in 55 gallon drums, and calcium carbonate, used as a filler, in 50 pound bags  – one pallet at a time. As the company grew, it branched out into high-end, custom cultured marble work; very intricate custom applications that opened the door to a new and lucrative market. AGCO was covering the bottom (apartment side) and top (high-end custom side) of the market and the middle just fell into place. People came to know they were out there and had capabilities across the entire spectrum – everything from basic, easy countertops or window sills to the most elaborate top-line custom work for residential builders. They kept the commercial side but moved into the national builder scopes, and then regional and local builders in the Metropolitan Atlanta area.
The main AGCO facility, located in Norcross, Georgia, a northern suburb of Atlanta, encompasses a 100,000-sq.-ft. manufacturing operation on a 10-acre piece of property, with plenty of room left for expansion. There is also a satellite facility in Douglas (south Georgia), another in Douglasville (west side of Atlanta). The company sells to a network of kitchen and bath (K & B) dealers, nationwide; the K & B network are regular customers, including cabinet shops, retail home centers, and plumbing showrooms throughout the country. The split by division is 50 percent residential, 30-35 percent nationwide dealer, and the balance is commercial applications.
Larry explains, "The way the company is set up, AGCO manufactures our cast polymer products, our cultured marble, cultured granite, cultured onyx, and it also produces a line of solid surfacing materials for a few national brands we do contract manufacturing for. The AGCO side is a true manufacturer. We blend together resins, catalysts, fillers, and pigments to build a countertop, or bathtub, or shower pan, or just a sheet of material that can be re-processed into other products. The Craftmark side of our business is fabrication and processing on natural stone, quartz, and solid surfacing materials similar to what we build. We have about 150 to 160 employees in manufacturing and fabrication; we're pretty slim on the administration side and we don't have a very large sales force, which is unusual for a company that produces as diverse a product line and as much quantity as we do. We have order takers, not really salespeople."
There are no stock units. Every part produced, whether a bath vanity top or kitchen countertop is built to someone's specifications, and 98 percent are custom; the only exception: a small amount of standard-size manufactured shower pans and bathtubs. Automation of the manufacturing operations is a key focus. The stone division – Craftmark – uses CNC machines and CNC-controlled cutting equipment and polishing equipment. In addition, the marble processing and manufacturing operation has continuous casing machines that blend materials. Being set up as an assembly line manufacturing plant, even custom parts all move through the process in the same location and the same manner.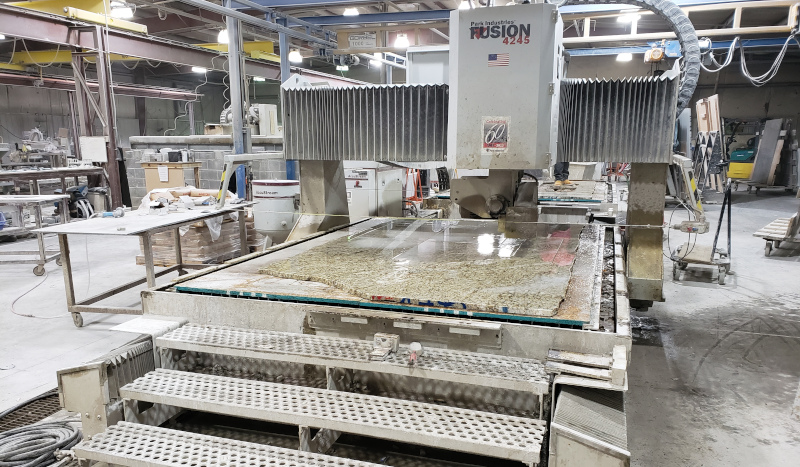 "Competition here is pretty strong," Larry admits, "but we've set ourselves apart in that there are a lot of people doing what we do, but only a handful that can handle the volume we handle. We've become a large volume producer of materials. The large national builders that build thousands of homes a year in this area need someone who can take care of 20 or 30 projects in a day, so we're in unique territory. Our distribution network covers local Metro Atlanta, north Georgia, and middle Georgia with our own delivery and installation crews, while the nationwide products going out to our dealer network are, in most cases, delivered LTL."
A shortage of skilled labor is one of the biggest issues facing AGCO. The state of Georgia is at a historically low unemployment rate – which is great, but when you're looking for people, it's also a challenge. "That's why we've looked so much into automation," says COO, Matt Pulliam. "Another big factor for us is that there is a lot of consolidation going on. It's been a splintered industry – lots of small local shops – but that is changing. So, we have to navigate how we can capitalize on this consolidation. Whether that's through consolidating, ourselves, with strategic acquisitions, or partnering with other manufacturers who may want to get out of manufacturing and just sell product and let us manufacture it for them."
Product innovation has soared in the last decade with the inception of new engineered stone products. And the search for lighter-weight components is ongoing at AGCO, since they ship across the country. The heavier the weight, the more it costs. Matt notes, "We're working with different types of light-weight fillers to see how they affect the properties once the products are cured. There's been some innovation on the natural stone side with new sintered stone products hitting the market that are even stronger than the quartz material. Since we make our own cast polymer products, we're always trying to mimic the sintered stone products that they're making with heat and pressure and lots of expensive equipment. To see if there's a way we can make that material without that expensive equipment. It's very exciting when we have a breakthrough; being on the forefront of innovation and having industry organizations call us to help out companies that are having trouble making something."
Larry adds, "We try to play a role and support the associations and organizations in our industry. Those valuable relationships are a great way to network. We're a member of ICPA (International Cast Polymer Association) and Matt serves on the Board of that Association. We also belong to NKBA (National Kitchen & Bath Association), ISFA (International Stone Fabricators Association), NSI (National Stone Institute), and NAHB (National Association of Home Builders)."
Over the next five years, AGCO anticipates that, due to consolidation in the industry, manufacturing product for other small manufacturers will be a huge outlet for growth. "We're a diversified company," says Larry. "We have a wide range of varying countertop products and can claim to be experts in those – from the cast polymer side, all the way through granite and quartz, and recycled materials like the new sintered offerings. We're at the forefront of those leading-edge materials because, in our industry, everyone looks for the next big product. And we want to make sure we position ourselves, so no matter what that new innovative product is, we're right there to provide our customers with the expertise to get those materials into their jobs and onto their jobsites."
Matt chimes in with his own perspective. "We're constantly trying to empower our current partners to be able to sell more – through new sales tools, applications, website, as well as offering them ways to put our products into different channels and places they weren't thinking about before. We're working to put our cultured marble product in a new light, change the dated perception, and bring it to the top of today's bath and kitchen offering."
Check out this handpicked feature on The Flexible Packaging Association – Connecting, advancing, leading.
AT A GLANCE
WHO: AGCO Inc./Craftmark Solid Surfaces Inc.
WHAT: Manufacturer of solid surface, cultured marble, and natural stone products
WHERE: Norcross, Georgia
WEBSITE: craftmarkcountertops.com