ActionCOACH
Building better businesses
Business View Magazine interviews Brad Sugars, Founder of ActionCOACH, as part of our focus on best business practices of franchise companies.
Founded in 1997 and based in Las Vegas, Nevada, ActionCOACH is the world's number one business coaching and executive coaching firm, with more than 1,000-plus offices in more than 75 countries. Since its inception, the company has served thousands of businesses and their owners around the world in every category imaginable.
ActionCOACH was started by Brad Sugars, a native of Brisbane, Australia, when he was in his early twenties. But even before that, Sugars possessed a natural talent for leadership and achievement as an entrepreneur. "When I was 16 years old, I won the Rotary Youth Leadership Award in my area," he recounts. "It's basically an award given to young people which means you get to go away for a week to learn about success and leadership and all sorts of things. So, I just became a studier, and when I got into business for myself, I was just a student of anything and everything."
"The business, itself, started purely by accident," Sugars continues. "I was a young man when I succeeded in other businesses and people often asked, 'How did you achieve that? What did you do different?' I honestly didn't think I did that much differently, but I started being asked to give talks, and when I started talking to people, they said, 'Can you help us?' I said, 'I'm not sure; maybe I'll call you every week and chat with you, because I'm too busy running my own businesses. What I'll do is,' and then I said the magic word, 'I'll coach you in business.'
"In the early days, people just wanted me to tell my story. Business ownership is one of the loneliest roads there is. When you're the guy or the gal who owns the business, you don't have anyone to talk to. You can't talk to your spouse about your problems – you kind of don't want them to know about them. If you worry them about things they don't have the knowledge to help you fix, all you're doing is making them worry about something. You don't talk to your staff; you don't talk to your bank manager. In fact you want to hide that stuff. It's a lonely road.
"After doing speeches in five or six countries, I started to really enjoy teaching people and realized that there are a lot of people who needed help with this stuff. I had an ability to communicate complex things, fairly simply. When it comes to business, I always go back to Einstein's statement: 'If you can't teach it simply, you don't understand it well enough to teach it.' I started working with business owners – showing them how to do it, because I found that if I keep building these business owners, they'll run a better business. Still, to this day, when I teach, it's always my goal to sit down and make it simplified for people.
"One day, a gentleman named Robert Kiyosaki, who's now very famous with the Rich Dad, Poor Dad series said to me, 'Why don't you come and teach with me at my business school for entrepreneurs?' I got so many requests to speak, I thought that maybe I needed to look at this as a separate business. I started out working with coaches on my team and eventually moved to building a large franchise organization based on the fact that we wanted to expand internationally. I gave away my first franchise to someone who was already on my team, just to prove whether franchising would work. At that time, white collar or intellectual property-based franchising almost didn't exist, although today, it's become quite popular. Back in our day, franchising was either cleaning or flipping burgers."
In addition, today, there are countless books, speeches, classes, and workshops devoted to motivating people to work more productively, but Sugars eschews the idea of merely motivating his clients, or asking them to change their attitude. "I'm an educator, not a motivator," he states. "I hate motivational speaking because my theory is that if you motivate an idiot, they just do stupid things. You've got to make certain that you're educating people. An educated person, who knows what to do, why to do it, and how to do it, becomes motivated. Attitude is definitely part of success, but the best attitude by someone who has no clue what they're doing is still someone who has no clue what they're doing. Now, does the attitude need to change in a lot of companies? Absolutely. It's a start, but it's only a part of success. Is it the key to it? Not really. Maybe it's the key to it if having an attitude shift makes you want to keep learning new things about how to get better at your job. But overall, the business has to do things differently – it's got to sell its product differently; it's got to market its product differently; it's got to do all these things, differently. If you don't have great execution, if you don't have simple systems in play, it doesn't matter how amazing your culture is – you're still not going to have a high performance business. Ultimately, if you want to change the success of a business, it's about a hundred ideas that add one percent, not one idea that adds a hundred percent. The silver bullet theory – the one thing you need to do to fix your business, never has happened and never will. Management is about productivity and competency, and competency and productivity are definitely high on the list of success factors in business."
Sugars reports that his company's systems are based on a directive once expressed by thinker and inventor, Buckminster Fuller: "If you want to create, you have to create a model or an artifact." "One of the good things about teaching," he says, "is that it made me contemplate: How do I actually do this? How do I get customers? How do I do customer service? What's the model for that? Once you create models, teaching intellectual concepts is not that hard; moving that knowledge is easy. So, every time I tried to teach something in business, I tried to teach it with a model of some sort – six steps to this, or three ways of that, or a five-way multiplier formula for profitability in business. By teaching it that way, it became something that people could understand and grasp and say, 'This isn't as hard as I thought it was.'"
Sugars also believes that, ultimately, coaching works for three main reasons. "Number one is just-in-time knowledge," he avers. "It's not like you've got to read 400 books to find out where to get the knowledge to do this. You're working with a coach who has a system that is knowledge-based so, time-wise, it's much better. The second reason coaching works is that you have someone that is on the outside looking in. The reality of business is that, if I said to you, 'I want you to look at these 10 other businesses and tell me 20 things they need to do to fix it,' you'll spot them, immediately, because you're on the outside looking in; whereas if I said to you in your own business, 'Tell me the 20 things you need to do to get your business growing,' it's the forest for the trees. The third reason coaching works is accountability. The best thing about being a business owner is you're your own boss; the worst thing is that you're your own boss. The business will grow to your level of incompetence and then it will stop and that's where a lot of business owners really do struggle. Luckily, we come along and give them a bit of a reminder of what they should be doing. If you're the owner and the CEO of the business, you're really good at lying to yourself from both sides, and you tell yourself, 'I'm doing a great job; I'm working as hard as I can.' But I bet if you employed someone else to do the job of being the CEO of your business, I guarantee you'd push them harder than you push yourself."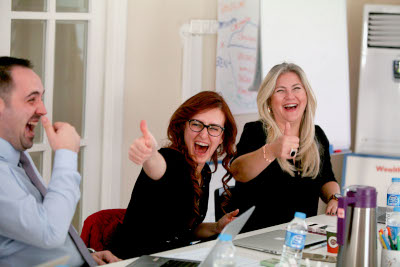 Sugars adds that there are four main reasons why ActionCOACH is the company to call when business is less than booming. "Number one is 24 years of systemized methodology on how to coach a business," he declares. "Before I wrote the book, The Business Coach, which actually shows the recipe for business success, we'd already coached 13,000 companies. So, we didn't write the system until we'd actually succeeded at implementing the system. The second reason is my people. In a service-based business, your people are your biggest asset or your biggest pain in the butt. So, when you find great people and you keep building great people that, in and of itself, is amazing. The third thing is community. We build a community of business owners, where we bring them together and we help them share and learn with, and from, each other. It gives them hope and the feeling that there are other people out there, like them, who have had to go through the same things. The fourth thing is the education that we give business owners is second to none. We make sure they all learn while they're getting the coaching. Coaching is about setting them up to succeed for the next level and the next level after that. When business owners go into business, they have big dreams and big goals, and most of them, somewhere along the way, lose those dreams and goals and end up with a goal of just paying the bills. If we can give them the education that allows them to make far better decisions and allows them to build a bigger dream and a bigger goal, then we're doing a good job."
According to Sugars, finding the right people who can do that job involves a strong measure of selectivity. "We accept only one of every 115 people that come to us wanting to be a coach," he says, "because we look at personality traits, we look at skill sets, we look at past experience, trainability, coachability – so we have quite an extensive matrix to find the right people. That being said, the most common factor is that they love helping people. It's the number one commonality in the success factors of our coaches as to who gets results with clients and who builds a great business with this. Of all the algorithms and everything you can go through, love of helping people is still the number one intrinsic factor that actually makes success happen."
Regarding the matching of his coaches to ActionCOACH's clients, Sugars says it's mostly based on the personalities of both parties. "Coaching works when there's a good personality match," he insists. "Skill set match, industry match – those things are not as important. What makes a good coaching relationship is where the people get along and where they can be in a relationship for a long period of time, because you're going to tell your coaches things and be very open with them."
Going forward, Sugars says that one of ActionCOACH's goals is to expand into as many as 120 countries, making sure it's serving as many businesses as possible. "When we sit down with a business owner in Mexico, they have the exact same problems as a business owner in London; the same problems as a guy in Chile. It's not like the problems are any different," he notes.
And with 1,000 coaches around the world, already coaching 15,000 businesses a week, Sugars maintains that the driver for all of his team is to create success for its business owner clients, by asking and answering some pertinent questions: How many jobs did you create this year? What was the increase in revenues in businesses that you worked with? What was the increase in economic impact you had in the businesses you built in your marketplace? Did the business owners grow by ten million, twenty million; did you add a hundred million in extra revenue?
"My definition of a business is a commercially profitable enterprise that works without you," says Sugars. "Can we teach someone to build a business that works without them? Absolutely we can; we do it a lot. That's the reality in what we do every day. We create more jobs; we create better businesses and better places to work."
Check out this handpicked feature on The Grand Junction – Economic Partnership Hungry for Innovation.
AT A GLANCE
WHO: ActionCOACH
WHAT: A business and executive coaching firm
WHERE: Las Vegas, Nevada
WEBSITE: www.actioncoach.com