Yakima Air Terminal – McAllister Field
Meeting the community's needs
Business View Magazine interviews Robert Peterson, Airport Director at Yakima Air Terminal – McAllister Field, for our focus on U.S. Regional Airports
A new year means new construction for Yakima Air Terminal – McAllister Field. Airport Director Robert Peterson met with Federal Aviation Administration officials in early January to review a five-year capital plan that includes a $3 million rehabilitation of the east general aviation apron set to take place this summer. Once that's finished, focus will turn to a 12-acre expansion to the south that could be further development for general aviation activity. It's all part of a continual effort to meet the needs of the Yakima, Washington community and the aviation industry.
Yakima Air Terminal – McAllister Field provides the Yakima Valley with valuable air transportation services and facilities. In July 2020, Washington State Department of Transportation – Aviation Division published an Economic Impact Study for all 134 airports throughout the state. The study evaluated each airport's direct economic impacts comprised of on-airport activities including employment and construction as well as money spent off-airport property by out of state visitors who arrive by commercial service or general aviation. Direct impacts have additional effects as money generated at and by airports flows through the economy. These effects are caused when a portion of direct business revenues are used to purchase goods and services in Washington (i.e., supplier sales) and worker income is re-spent within the state.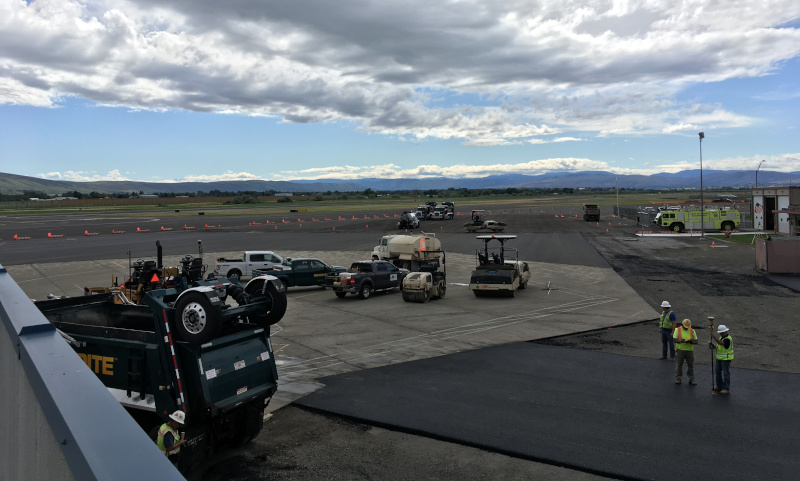 The study revealed the Yakima Air Terminal-McAlister Field produces 2,366 jobs with an overall labor income of $161,172,000 and an overall total economic impact of $591,034,000. This includes commercial air service provided through Alaska Airlines, charter air service from Swift Air and Sun Country Airlines, air cargo service provided by FedEx and United Parcel Services, emergency medical flights, aircraft manufacturing and testing, corporate aviation, and general aviation. "The airport is also one of the main diversion points for Seattle-Tacoma International Airport when they get fogged in," Peterson reports. "When the weather's really bad in the fall and the spring, where we get low visibility over SEATAC, a lot of the airlines divert to Yakima. Therefore, we want to make sure we're ready to respond to any type of emergency that they divert here for – whatever the reason."
A new Aircraft Rescue FireFighting (ARFF) apparatus is one of the ways Yakima Air Terminal-McAllister Field is ensuring that capability. A Federal Aviation Administration grant helped pay for the rig that was delivered in early January. Auxiliary equipment, such as hoses, linkages, and personal protective suits for firefighters are expected to follow soon. In all, it's an investment of about $1 million, with the Oshkosh Airport Products apparatus  accounting for about $761,000 and about $210,000 in auxiliary equipment making up the rest. When the rig was delivered, Oshkosh Airport Products personnel came out to provide a tutorial for the Yakima Fire Department as well as Yakima Air Terminal-McAllister Field employees.
"It's a wonderful piece of machinery," Peterson says. "The FAA typically requires you to replace your firefighting apparatuses about every 15 years. And our last fire apparatus that we received was about 2005. So it's perfect timing; we're on schedule to make sure that we meet emergency response demands for all aircraft that use the airport."
Like other airports over the last year, Yakima Air Terminal-McAllister Field had to adjust to the COVID-19 pandemic. Activity slowed, but never stopped. The lowest point was in April 2020 when only 276 people flew out of the airport. Things have increased about 800 percent since then, reaching about 3,000 departing passengers a month. Meeting the challenges of the pandemic was a collaborative effort between the airport, private contractors, airlines, and Transportation Security Administration.
New safety measures for passengers begin with vehicle parking. A private contractor manages the airport's parking facilities. Prior to the pandemic, the contractor installed pre-pay kiosks where passengers would enter their parking stall number, the number of days they would be gone, and then pay with a credit card. That was a lot of touching, so the contractor disabled those kiosks and put up signs directing people to either call or use a smartphone application to pay for parking. Security checkpoints have been modified to minimize contact between individuals, as well. Now, passengers can scan boarding passes and personal identification documents themselves. It's a similar situation at the boarding area, where passengers now scan their own ticket instead of handing their smartphone or paper boarding pass to a customer service agent. Inside the planes, airlines have implemented various means of sanitization, to include but not limited to electrostatic sanitizing systems, disinfecting arm rests, seats, and other high-touch surfaces.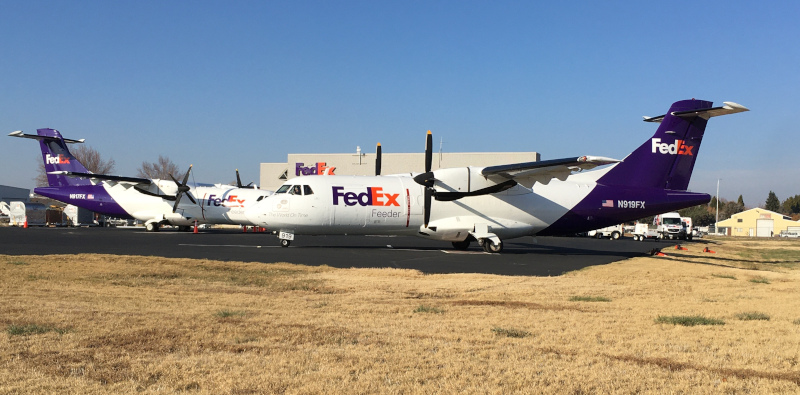 But airport management is looking far beyond the pandemic to ensure continued viability for years to come. And for Yakima Air Terminal-McAllister Field that means both maintenance and economic development. "As you may know, many airports throughout the U.S. were World War II airports that were either sold or gifted to local government entities to manage," Peterson explains. "And we are one of them; we're an old World War II training facility. With that said, there's a lot of aging infrastructure that we need to continue to take into consideration."
The pandemic provided an opportunity for the airport to complete capital projects with minimal disruption. One of those was a $1.5 million rehabilitation  project for Runway 9/27. The project also included crack and fog sealing the asphalt runway, installation of state-of-the-art LED runway edge lights, and replacement of electrical systems. There was a planned six-week timeline for the project, with the airport's primary runway completely shut down for about six days in that period.
Peterson recalls, "That runway was shut down, but looking back at about eight months to a year ago, when we were starting to plan this, we told the airlines, 'hey, you can't fly in because the crossing runway is just too short for your operations. We're going to have to cancel all these flights.' So in six days, we were anticipating four flights a day that we were going to cancel, where when the pandemic hit, a lot of the airlines back in March and April and May retracted their airline schedules and decreased their service. Ultimately, we went back to one to two flights a day. So, in reality, we took advantage of that downturn from the pandemic to monopolize on our capital improvement projects and we inconvenienced less passengers."
A long-term goal is to replace the airport's terminal building that was originally constructed in the 1950s. It has been expanded since then, but the end result is a disjointed design that does not promote efficient flow of passengers. In the next five or six years a plan will be developed to design a new building. A complete demolition of the old building will follow, likely near the beginning of the next decade. "We want to make sure our community has a state-of-the-art facility, and that allows us to continue to attract airlines into the local community and then we can continue to expand once we're over the pandemic," Peterson says. "It's just a matter of time before we'll get back to some form of normalcy. You gotta keep plugging away."
Creekside Business Park, located on about 15 acres of land leased from the airport, has provided the Yakima Valley with professional office and medical facilities. A number of specialty medical offices, from eye care to gastroenterology, are located there. "As the community continues to grow, we have the ability to expand their businesses here on airport property to not only provide the community with the support and space they need, but also provide diverse revenues for the airport to make sure that we're all sustainable," Peterson explains.
McCormick Air Center offers another opportunity for growth at the airport. The fixed base operator just built a new T-hangar, which allows approximately eight aircraft to be housed in the new facility. Those hangars are heated and protect smaller aircraft from the cold, snowy weather that comes to the Yakima Valley each winter. "So there is the option to build eight more," Peterson reports. "But right now we're waiting for that capacity to reach the first eight, which I think we now have one or two more bays left. And once that's done, we'll think about expanding hangar development at the airport. It's all about meeting that local community need as we transition the aviation industry."
AT A GLANCE
Yakima Air Terminal – McAllister Field
WHAT: A general aviation and commercial airport
WHERE: Yakima, Washington
WEBSITE: www.flyykm.com
Creekside Business Park – www.creeksidepark.com
Wide Hollow Development, LLC, presents Creekside Business Park – destined to be the premiere professional office and medical facilities location in the Yakima Valley. Creekside Business Park is a master planned professional business park situated along the water's edge on Wide Hollow Creek northeast of Washington and 40th Avenues. Distinctively designed with keen attention to detail, every aspect of the Park is exceptional – with infrastructure including high-end communications systems, three phase power, and parking ratios sufficient to accommodate high volume service industries.
Tree-lined wide sidewalks along both sides of the generous boulevards create a natural "park-like" business environment and a winding, creekside walking trail and picnic area adds to enjoyment of businesses and their guests.
The Marquis family has owned the property since 1972 and farmed it until 1998. Today, under Wide Hollow Development, LLC, the family owns the business park and is also the general contractor – building and maintaining all the buildings and land. Creekside Business Park currently has 15 buildings, with approximately 153,000 sq ft rented and 35 tenants from the medical/professional sector (including surgery centers). At present, 400 people are employed in various roles throughout the business park.
Ideally located directly north of the west runway of the Yakima Air Terminal, Creekside Business Park offers a prime variety of Class A office, retail and medical buildings for lease. The invitation includes a complimentary "Needs Assessment" of your current facilities and the projected future needs. When completed, you will have a proposed building design and space plan together with the total estimated annual facilities budget.
Creekside Business Park is an enviable place for businesses to call 'home'. The welcoming atmosphere of a cared for neighborhood encourages clients to visit and staff members to enjoy coming to work. And rest assured that the infrastructure, amenities, and maintenance service are second to none. No worries there. Sound inviting? The Wide Hollow Development team is looking forward to having your business join the Creekside community!  www.creeksidepark.com
Airlift Northwest – airliftnw.org
Airlift Northwest believes that all people deserve the highest-quality critical care no matter where they live. A not-for-profit service of UW Medicine, Airlift Northwest puts the latest discoveries, expertise, and innovative technology of that academic medical system into the air to help those in greatest need.
Learn more: airliftnw.org