Weymouth Club
The evolution of fitness
Business View interviews Sally and Steve Goldman, owners of Weymouth Club, and Jeffery Linn, Exec. Director, for our focus on Health & Wellness Facilities
Health and fitness has always been of prime importance but it seems to have taken on added significance in light of the COVID-19 pandemic. Staying physically active was not only associated with better outcomes when contracting the disease, it was also one of the few things that remained legally permissible during many nationwide lockdowns. But while exercising individually outdoors may have been legal, working out in a gym or fitness center was often prohibited.
One popular location that had to manage this COVID-related disruption was Weymouth Club, a family-friendly health, fitness, wellness, and recreation center based in Weymouth, Massachusetts. Started by husband-and-wife team Steve and Sally Goldman in 1988, the Club has evolved significantly over the years and continues to offer a range of top-quality services to its members.
"Steve had purchased a small indoor tennis club just prior to our marriage," Sally explains. "That was in the late 1980s, just as tennis clubs were starting to evolve into more multi-purpose facilities. We traded up our tennis club and bought Weymouth Club, which had eight indoor courts, eight outdoor courts, and a lot more land. We've now owned the Club for almost 34 years and it has been through 20 major renovations."
Those renovations have seen Weymouth Club develop an extensive range of services. As well as 12 full-size tennis courts, there's also a junior tennis center with three junior courts. According to Jeffery Linn, Executive Director at Weymouth Club, "Five years ago, we also started evolving our tennis facilities from a fitness standpoint. Two tennis courts were converted into a large fitness space along with a mezzanine. So, now there are approximately 14,000 square feet dedicated to fitness."
Other club expansions have involved aquatics, including a large recreational pool that was recently renovated, a competitive lap pool of eight lanes, indoor and outdoor splash parks, as well as a splash pad and two hot tubs. "Aquatics is certainly our unique strength," Linn continues. "We have an entire outdoor swim complex that hosts group exercises during the summer."
Apart from swimming, Weymouth Club also boasts a cycle studio, a mind-body yoga studio, and a spa – complete with a range of therapies from acupuncture to facials. "Our kids center was another major expansion in terms of delving further into the family market," Linn notes. "We have a 10,000 square foot kids center, a basketball court, a dance school, and drop-off services for families. We have a lot of flexible space now to help create a truly unique experience for our younger guests."
Although the facility's 220,000 square feet provides a huge number of different services, Weymouth Club wouldn't be able to do so without some external support. For example, the company has built up a strong relationship with Bay State Physical Therapy to offer a number of personalized therapy sessions.
While Weymouth Club has certainly undergone several successful expansions over the years, nothing could have prepared it for last year's disruption – when the COVID-19 pandemic forced many gyms and fitness centers to shut. "We had several great years but then the COVID situation, and going further back, the recession in 2008 certainly hit us hard," Sally admits. "We took a hard look at everything and were determined to continue. We were fortunate that we could keep a fair amount of our staff on board even when we were closed and it gave us time to come up with different business strategies on how we were going to get through this."
One major challenge stemming from the pandemic was regrowing Weymouth Club's membership. Many individuals stopped their fitness regimes, simply due to safety concerns or other personal reasons. "We have added probably between four and five hundred thousand dollars worth of club safety measures," Linn says. "As a result of COVID, we were shut down for 16 weeks. So we created custom barriers between our exercise spaces, introduced an air sanitizer system, and developed an outdoor fitness space."
The safety initiatives championed by Weymouth Club have definitely been welcomed by its customers. The business is now operating at 80% of its active membership base. As an outdoor activity, the club's tennis facilities certainly received huge support, providing one of the activities that a majority of members felt comfortable taking part in.
"We also had a tremendous advantage in the marketplace because of the amount of space that we have," Linn explains. "It meant we could be very flexible by moving, for example, our group exercise classes into our youth tennis center. We could really spread people out. But that meant there was also some frustration because we had to abide by the same guidelines as a small, 5,000 square foot facility."
"We also brought in a product called Viking Pure," Steve adds. "This is an anti-bacterial spraying system that is completely green and has a kill time for all bacteria and viruses of 10 seconds. We spent a lot of time and money researching the most effective cleaning solution that would allow people to feel safe but also get on with their workout."
In addition to Weymouth Club's core fitness offerings, it also offers a number of high-quality camps for children and parents to enjoy. "When you have children, summer days are incredibly long," says Sally. "I was talking to my sister, who is a school teacher, and we started discussing the possibility of starting a summer camp to keep kids entertained when school is out. That was 34 years ago, and the camps are still going strong to this day."
Weymouth Club now offers camps for 12 or 13 weeks in the summer, depending on when Labor Day falls, as well as during every school vacation and one-off days, like Columbus Day, Veterans Day, Martin Luther King Day, and the day after Thanksgiving. The camps started off being centers for tennis, fitness, and the arts, but have now added several other programs.
"We are a licensed camp with an early drop-off program and a late pickup program, and we really take pride in playing a role in a child's development," Sally notes. "Tennis is really good for brain development and we have very skilled teachers that make it incredibly fun while the kids are learning. We often do theme days – such as Color Olympics, we have camper versus counselor, mystery day – lots of things that just make for a fun experience."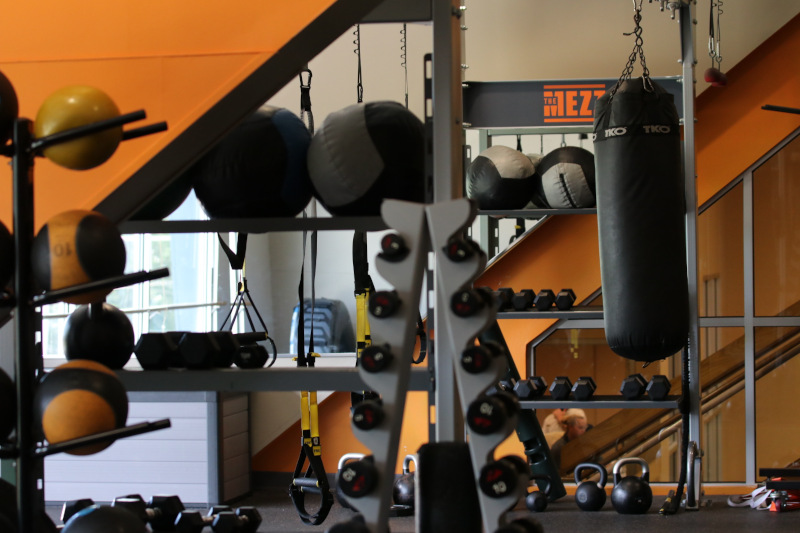 The evolution of the summer camps, as well as Weymouth Club generally, speak to an organization that is never happy to stand still. "We are still in development as far as the facility itself is concerned and there is still a list of things we'd like to see happen, including a new front entrance and redoing the building facially, as well as a big plan for the renovation of all our locker rooms," says Steve. "What separates us from other clubs is the fact that we keep looking to the future and how we can continue improving for our members."
Linn adds, "I think for us, the things we will keep looking at are around how we can continue to position ourselves strongly within the family market. What facilities should we expand and what new ones should we create. I also think we'll get more involved with medical and wellness services. For example, we are just launching a diabetes program and we've formed our own medical advisory board."
For Sally Goldman, the continued success of Weymouth Club depends on more than just one factor. She shares, "The delivery of our programs is key, but so is our staff and company culture. The relationships we have with our members and customers are everything. Plus, there's a certain culture of excellence that we always strive for. We want to continue improving, continue learning, and continue delivering."
AT A GLANCE
Weymouth Club
What: A family-friendly health, fitness, wellness, and recreation center
Where: Weymouth, Massachusetts
Website: www.weymouthclub.com
Viking Pure Solutions – www.vikingpure.com
Since 2014, Viking Pure has been on a mission to innovate the way we clean and disinfect. Our EPA-approved solutions are stronger than bleach yet completely environmentally friendly and safe for employees and customers. To date, more than 3.3 million toxic chemicals have been replaced by these easy-to-use and more effective natural solutions.