West Springfield, Massachusetts
Sitting at the crossroads of history and continued growth
Whether you call it the "crossroads of New England," the "retail capital of Western Massachusetts" or any one of a number of other names, West Springfield, Mass. is a city in growth mode that has a tremendous number of reasons for optimism.
West Springfield, with a population of nearly 30,000, sits at the center of Hampden County and is part of the Greater Springfield area which has a combined population of around 700,000. Bordered by the Connecticut and Westfield Rivers, West Springfield has maintained its small town feel, even as it is adding more amenities and developments. Many residents and visitors consider the city a center for not only retail and entertainment, but also active leisure activities like hiking, recreation, and other outdoor options.
Mayor William Reichelt grew up in the city and says that "everything is five minutes away from us that live here." That's the approximate length of his commute to work at the city offices or to get to one of many newer big box retailers on Riverdale Street that have moved in like Costco and Home Depot. It has easy access to Interstates 90 and 91, two highways that run east/west and north/south, respectively. Neighboring Springfield is the county seat, and with a population of 130,000 offers everything West Springfield residents need from a big city.
Even larger cities are accessible as well. Albany is 90 minutes away. Boston is just over an hour and Hartford is 45 minutes to the south. While many residents of West Springfield work in larger, neighboring towns, the city has marketed itself as a great option for those residents who can telecommunicate for work and are looking for a slightly slower lifestyle, little to no traffic congestion, and affordable living options.
West Springfield Planning Director Allyson Manuel says the expansion of housing options is one of the city's primary goals. Small, single-family subdivisions are in demand although the pace of new construction slowed since the pandemic. There is greater interest among multi-family housing developers to support the needs of an increasingly large transitional population in the city, such as recent college graduates with no kids, refugees, and retirees.
At times, West Springfield has struggled to keep its recent high school, technical school, and college graduates in the city given the number of opportunities in larger cities throughout the state and around New England. "We hope remote work opportunities, affordable housing, and (increased) transportation options may reduce our brain drain," says Mayor Reichelt
This steadily growing population and increasing demand are also attractive to new and existing employers who have rewarded West Springfield with low vacancy rates and an active new business environment. New retail businesses that are moving into the city include restaurants, coffee shops, cannabis dispensaries, and more. "We want to steer the (recruiting) of new businesses to what is in demand from our residents," says Manuel.
Up to $40 million in water and sewer investments have been made in West Springfield over the past seven years, but more infrastructure improvements are needed, according to Reichelt. This is especially true for the stormwater system. "It is something that was neglected for a number of years so now we're spending money where it's needed for the first time in decades. Having adequate infrastructure helps attract business and residential opportunities," Reichelt adds.
West Springfield has been bonded $10 million for paving. Massachusetts Gaming Commission dollars from the nearby MGM Casino allow the city to afford more investments to make more improvements in walkability and accessibility.
Many of these investments are designed to not only support existing residents and businesses but help bring in new opportunities to support a common and reimagined downtown area for the city. The paving dollars are supporting the construction of a new downtown roundabout and other projects. Sidewalks have been and will continue to be expanded and new LED lighting supports outdoor dining, sidewalk sales, and a more attractive and festive atmosphere for downtown businesses.
Like many cities and towns in Massachusetts, West Springfield has its "Commons" that offer a park-like setting for residents among a vibrant downtown atmosphere. But Reichelt says these Commons have been underutilized in West Springfield for many years. In addition to the new LED lighting and crosswalk improvements, the city is adding park benches and 21st Century amenities like fast Wi-fi and power outlets.
"We want our residents and guests to feel comfortable and safe here," Reichelt says. To continue improving upon its offerings, the city's Parks and Recreation Department is drafting an open space and recreation plan to support the updating and creation of trails, sports fields, pickleball courts, and other facilities at its parks and public areas. A recent highlight is the development of the Bagg Brook Heritage Trail, which offers hiking along wetlands for people of all abilities, even those who regularly use wheelchairs. Despite the New England climate, year-round events and programs are held in the parks, such as a winter nighttime storybook walk along a trail lit up with ice globes. Reichelt says residents and town officials are always thinking of "creative ideas" for uses and events at these parks.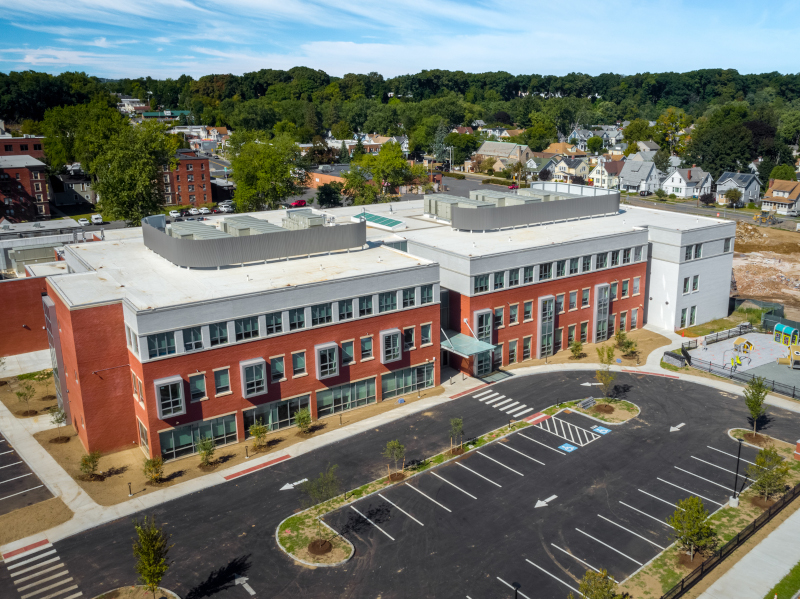 Like much of Massachusetts, West Springfield is looking to invest in both sustainability and green features. West Springfield is a state-certified "Green Community", and has undertaken sustainability projects like adding an all-electric vehicle to its fleet, and adding electric vehicle charging stations. There is also an emphasis on redeveloping underutilized properties rather than building new. Meanwhile, the Commonwealth of Massachusetts offers residents and business owners various tax incentives for qualifying energy-saving upgrades and renewable energy investments such as solar power.
West Springfield Public Schools are widely praised for its quality and commitment to students. The district includes more than 4,400 students and offers a 12-to-1 student-to-teacher ratio in its high school, middle school, and multiple elementary schools. It has planned over the next several years to expand three of its elementary schools while combining a couple of existing ones so that all students can benefit from modern facilities and high-tech upgrades.
As mentioned, West Springfield has a diverse population of refugees that is reflected in its student population. The city has the highest number of refugees per capita in the state, with more than 50 languages spoken by students in the high school. "This is a real benefit to our community because that diversity really makes us stronger," Reichelt says.
West Springfield also benefits from a plethora of community colleges and universities in the area including Springfield Technical Community College and the University of Massachusetts' flagship Amherst campus about 30 minutes away. In fact, West Springfield is located along the "Knowledge Corridor", an area known for higher education and research institutions running from New Haven, Connecticut to Greenfield, Massachusetts. "There are many educational and career opportunities within the state and near West Springfield for our graduating students," Reichelt says.
Reichelt's main objectives over the next five years are well-defined as many of them revolve around modernizing the city's infrastructure. One pressing need, he highlights, is the need to build a new police station. The current station is housed within the city office building. West Springfield will look to acquire additional land to help with the police station and other development as well as to support the growth of its schools. Modernization of many city facilities is part of the plan as well. "We want to make the investments we need so we don't need to worry about our (school and city) buildings crumbling over the next 50 years," Reichelt says.
The second main priority according to Reichelt points towards creating a vibrant downtown area similar to other small cities in the region, a place where there are numerous activities, businesses, and other events.
Finally, additional steps will be taken to modernize the local government, and its resources and improve the responsiveness to residents.
"We're excited about the future because the potential we have is limitless," Reichelt concludes.
AT A GLANCE
West Springfield, Massachusetts
What: an economically vibrant town with manufacturing and high-tech opportunities
Where: Located in Massachusetts within an hour of Boston
Fontaine Bros., Inc. – www.fontainebros.com
Fontaine Bros. is a fourth-generation construction management and general contracting firm with offices in Springfield and Worcester, Massachusetts.  We have completed more than $2 billion in construction projects in Springfield and across the Commonwealth of Massachusetts.   Our focus on quality, collaboration, safety, and client satisfaction has fueled our company's growth since 1933.